July 30, 2012
Salted Caramel Icebox Pie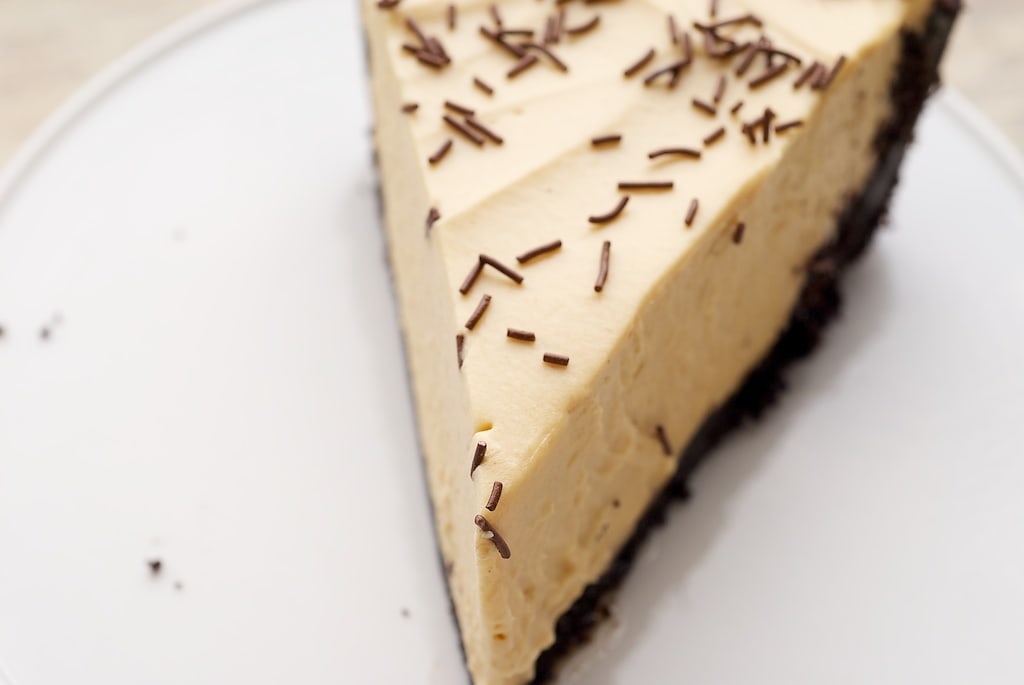 I've been making my share of icebox desserts this summer. They're one of my favorite it's-too-hot-to-bake desserts. Really, though, I'm happy most any time of the year with an easy, cold, amazingly delicious dessert.
The inspiration for this pie came a couple of days ago when I spotted a jar of Trader Joe's salted caramel in my pantry. I've never been that inspired to improve my caramel-making skills, so store-bought is just fine with me most of the time. And, of course, make it salted caramel and we're really talking! When I also spotted some chocolate wafer cookies, I knew I was in business.


We start with a simple cookie crust made of just three ingredients. I used Nabisco's Chocolate Wafers. I love their dark chocolate flavor and knew they'd work so very well with caramel. If you can't find them, chocolate graham crackers or even Oreos will work.
The filling is quite simple itself. Again, just a handful of ingredients make this creamy, caramel-y filling. The saltiness of the caramel is subtle, but you can bump it up a bit more by adding a few pinches of salt. This will also, of course, work just fine with non-salted caramel. Make it as is, or add a bit of salt to the mixture. If your jar of caramel is a little bigger than 10 ounces, go ahead and use it all. The extra caramel won't have much effect on the texture of the filling.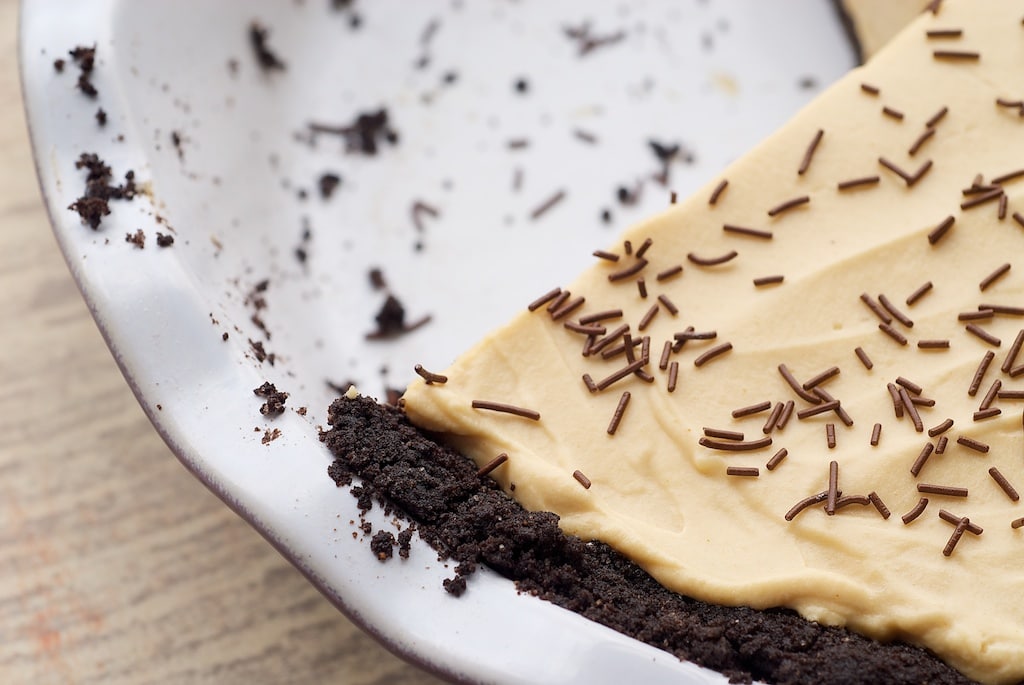 Quinn has asked me to tell you that this is his favorite dessert ever. I have to admit that it ranks pretty high for me as well. My only complaint is that I should have made it when we could share it with friends. It's far too dangerous to have this one all to ourselves.
Salted Caramel Icebox Pie
Yield: 8 to 10 servings
Prep Time:25 minutes
Cook Time:10 minutes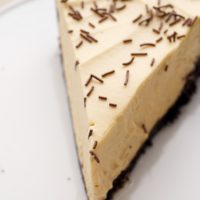 Ingredients:
For the crust:
2 cups chocolate wafer crumbs*
1/4 cup granulated sugar
1/2 cup unsalted butter, melted
For the filling:
8 ounces cream cheese, softened
1 cup confectioners' sugar
1 teaspoon vanilla extract
1-2 pinches of fine salt, optional
10 ounces salted caramel sauce or topping (I used Trader Joe's)
1 & 1/2 cups heavy cream
1-2 tablespoons chocolate sprinkles or shavings
Directions:
To make the crust:
Preheat oven to 350°.
Combine all crust ingredients in a medium bowl, stirring until moistened. Press mixture on bottom and up sides of a 9-inch pie pan. Bake for 10 minutes. Allow to cool.
To make the filling:
Mix cream cheese, confectioners' sugar, vanilla, and salt until combined. Mix in caramel.
Whip cream until soft peaks form. Gently fold whipped cream into cream cheese mixture. Sprinkle top of pie with chocolate.
Pour filling into baked crust. Refrigerate 8 hours or overnight before serving. Keep pie refrigerated.
Notes:
*To get 2 cups of chocolate wafer crumbs, you will need almost an entire 9 ounce package of cookies. Pulse cookies in food processor until finely ground. Alternatively, place cookies in a sealable plastic bag and roll over with a rolling pin until ground.