October 19, 2006
Chocolate Chip Date Nut Cookies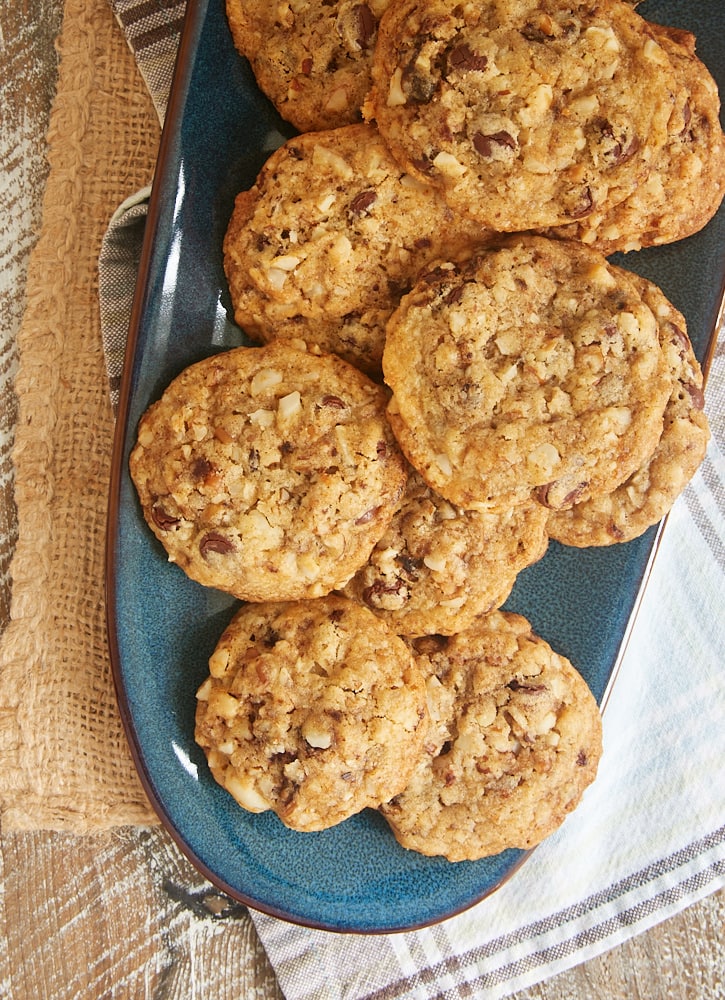 Chocolate Chip Date Nut Cookies are jam-packed with all kinds of good things. With plenty of nuts and sweet, chewy dates, these cookies are a big-time winner!
An alternate name for these cookies would be Cleaning out the Pantry Cookies because that's basically what I did. I was staring at my pantry shelves trying to think of something to bake when I realized that I had accumulated so many different things from my baking exploits that they were taking over the whole space.
The discouraging thing, though, was that it was maybe a half cup of this and a quarter cup of that. Not really enough to use for a single recipe. That's when it hit me. Why not just throw it all together and see what happens? I'll tell you what happened. These fantastic Chocolate Chip Date Nut Cookies happened.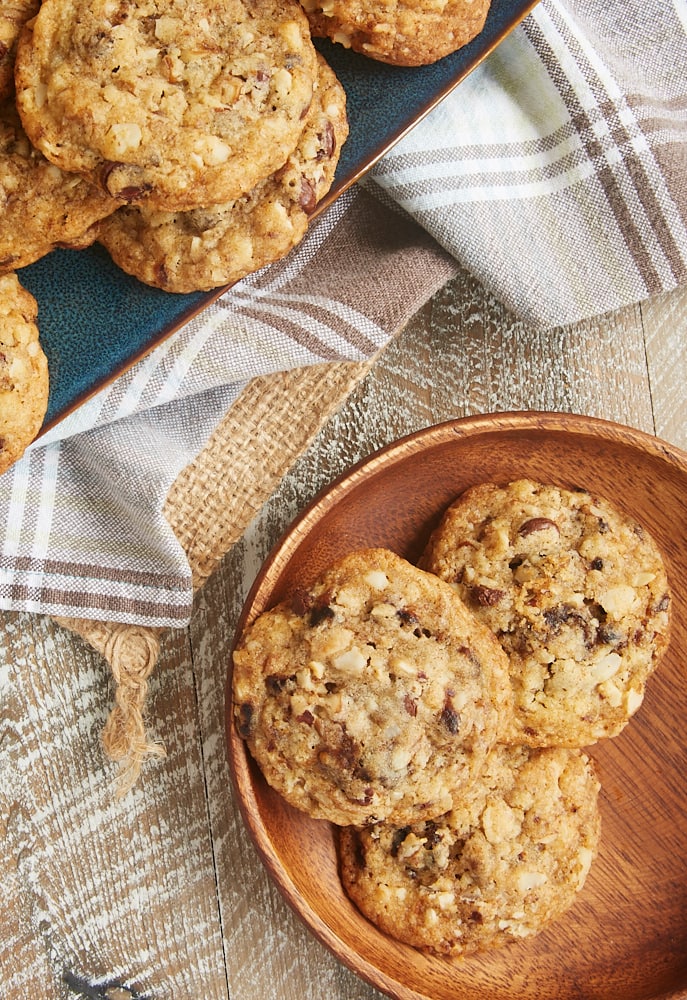 So, I made a big batch of a basic vanilla cookie dough with plenty of butter. Once this was mixed, I began adding some of my favorite ingredients to the dough. I started with lot of nuts – pecans, almonds, macadamias, and hazelnuts. Of course, there have to be chocolate chips. And I tossed in some dates, too, for good measure. Feel free to substitute whatever you happen to have on hand. Trust me – it's liberating!
As I mentioned, these cookies have plenty of butter to make them soft and oh-so flavorful. All of that butter also means that these cookies are more likely to spread. That makes this dough an excellent candidate for chilling before baking. If you don't have time to give it an overnight refrigerator stint, just an hour or so will certainly help. And, hey, if they spread, they'll still taste great!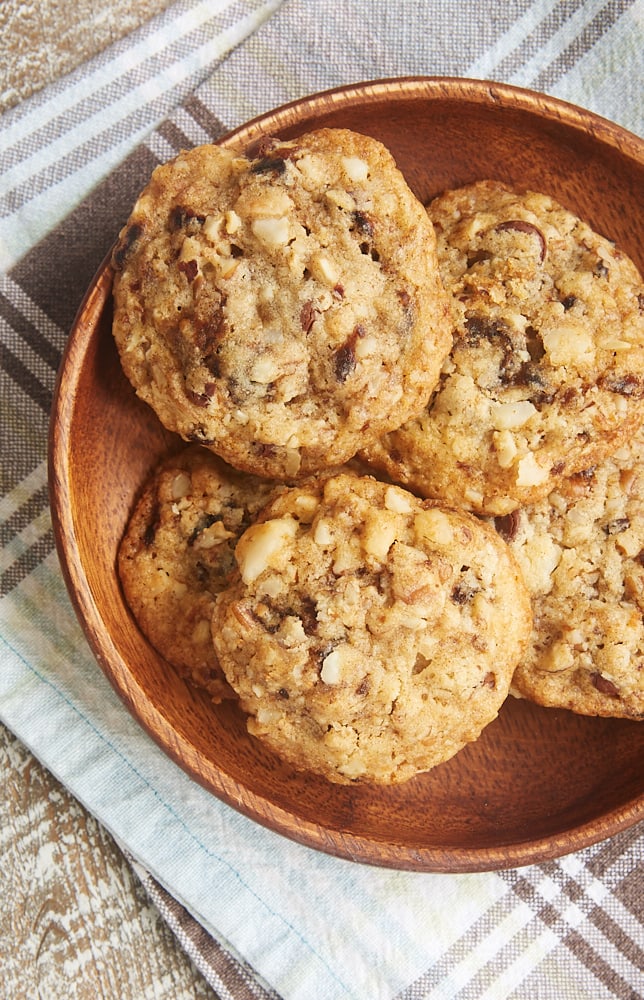 I had the best results with using a scoop to portion the dough and then rolling the dough into balls. You won't need to flatten the dough, as the cookies will want to spread as they bake. Be sure to leave plenty of room between the cookies. I recommend leaving about 3 inches between cookies so you don't end up with one giant cookie on the pan.
I love, love, love all the flavors in these cookies. As I told someone to whom I gave a bag full, if you don't like your first bite, keep going because you may like your second. If you're a fan of cookies with plenty of flavor, then you're going to love these!
Find more cookie recipes in the Recipe Index.
More Date Nut Recipes
We are a participant in the Amazon Services LLC Associates Program, an affiliate advertising program designed to provide a means for us to earn fees by linking to Amazon.com and affiliated sites.
Chocolate Chip Date Nut Cookies
Yield: about 60 cookies
Prep Time:15 minutes
Cook Time:14 minutes per pan
Chocolate Chip Date Nut Cookies are jam-packed with so much flavor! There's also plenty of crunch and a wonderful soft texture.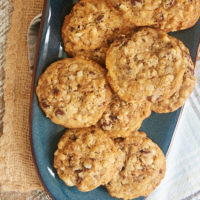 Ingredients:
2 & 1/4 cups (270g) all-purpose flour
1 teaspoon baking soda
1/2 teaspoon baking powder
1/2 teaspoon salt
1 & 1/4 cups (283g) unsalted butter, softened
1 cup (200g) granulated sugar
2/3 cup (134g) firmly packed light brown sugar
2 large eggs
1 & 1/2 teaspoons vanilla extract
2 & 1/2 cups (300g) chopped nuts*
1 cup (149g) chopped dates
3/4 cup (128g) semisweet chocolate chips
Directions:
Whisk together the flour, baking soda, baking powder, and salt. Set aside.
Using an electric mixer on medium speed, beat the butter, sugar, and brown sugar until light and fluffy. Add the eggs, one at a time, mixing well after each addition. Mix in the vanilla.
Reduce mixer speed to low. Gradually add the flour mixture, mixing just until combined.
Stir in the nuts, dates, and chocolate chips.
Cover the dough and refrigerate overnight. (You can reduce the chill time, if you don't mind a little more spreading when the cookies are baked.)
Preheat oven to 350°F. Line baking sheets with parchment paper or silicone liners.
Divide the dough into 2-tablespoon portions (a cookie scoop works well for this), and roll the dough between your hands to form balls. Place each dough ball on the prepared pans, leaving about 3 inches between cookies.
Bake 12 to 14 minutes, or until the cookies are golden brown. Cool the cookies on the pans on a wire rack for 5 minutes. Then transfer the cookies to a wire rack to cool completely.
Notes:
*Use a variety! I like pecans, almonds, hazelnuts, and macadamias. The weight measurement will vary depending on the types of nuts used.