These savory homemade Corn Muffins are light, moist, and super fluffy. They make a perfect side dish for soups, chili, or jambalaya and are great on their own with a bit of butter. You can whip up this corn muffin batter in less than ten minutes!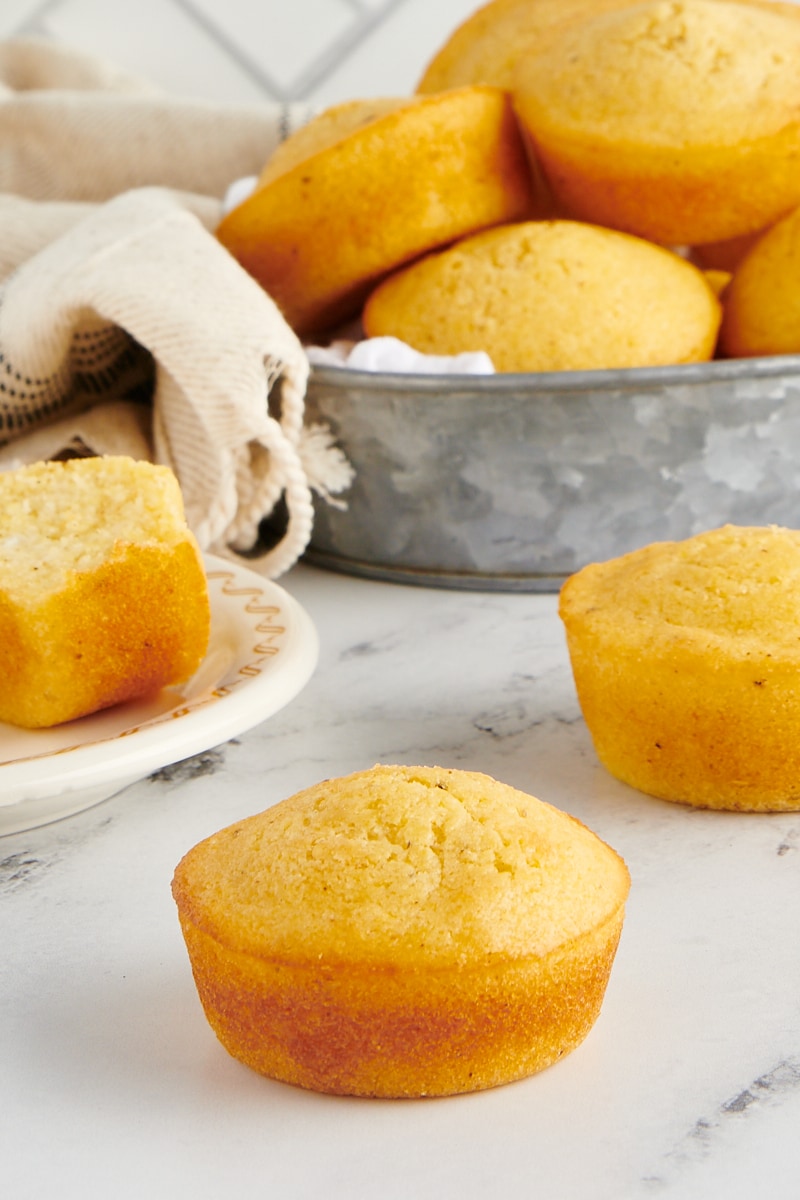 Savory Corn Muffins
Please don't laugh, but many years ago, I received a cookbook entitled Cooking with Friends as a gift. Friends, as in Rachel, Monica, Chandler, etc. The book, however, was a pleasant surprise, containing many recipes I've repeatedly made over the years. One of my favorites is a recipe for corn muffins. A little different in texture than traditional Southern cornbread, I like to serve these with soups, chili, jambalaya, and the like.
I know that baking at dinnertime might seem like a heavy lift during the week, but these muffins are really easy to prepare. You can mix the batter in less than 10 minutes, and they taste way better than anything out of a box!
This simple corn muffin recipe works for a few reasons.
You don't need any special ingredients. If I had to guess, I'd bet you have every component already in your pantry. You don't need anything fancy for these corn muffins.
The cornbread batter is easy to make. All you need is a couple of mixing bowls and a spatula to make these corn muffins. You won't even need an electric mixer!
We use melted butter. A lot of corn muffin recipes use oil for their batter. I love using butter instead. It adds a massive amount of flavor to this simple recipe.
I think you'll love these savory corn muffins so much they'll become a dinner staple in no time!
Should Corn Muffins Be Sweet?
There's a lot of debate on this, and the answer probably depends on where you live. Some areas of the country love sweet cornbread, while others like it to be savory. While I omit the sugar in this recipe, you can add some based on your taste preferences. Start with just a couple of tablespoons of sugar. A little goes a long way.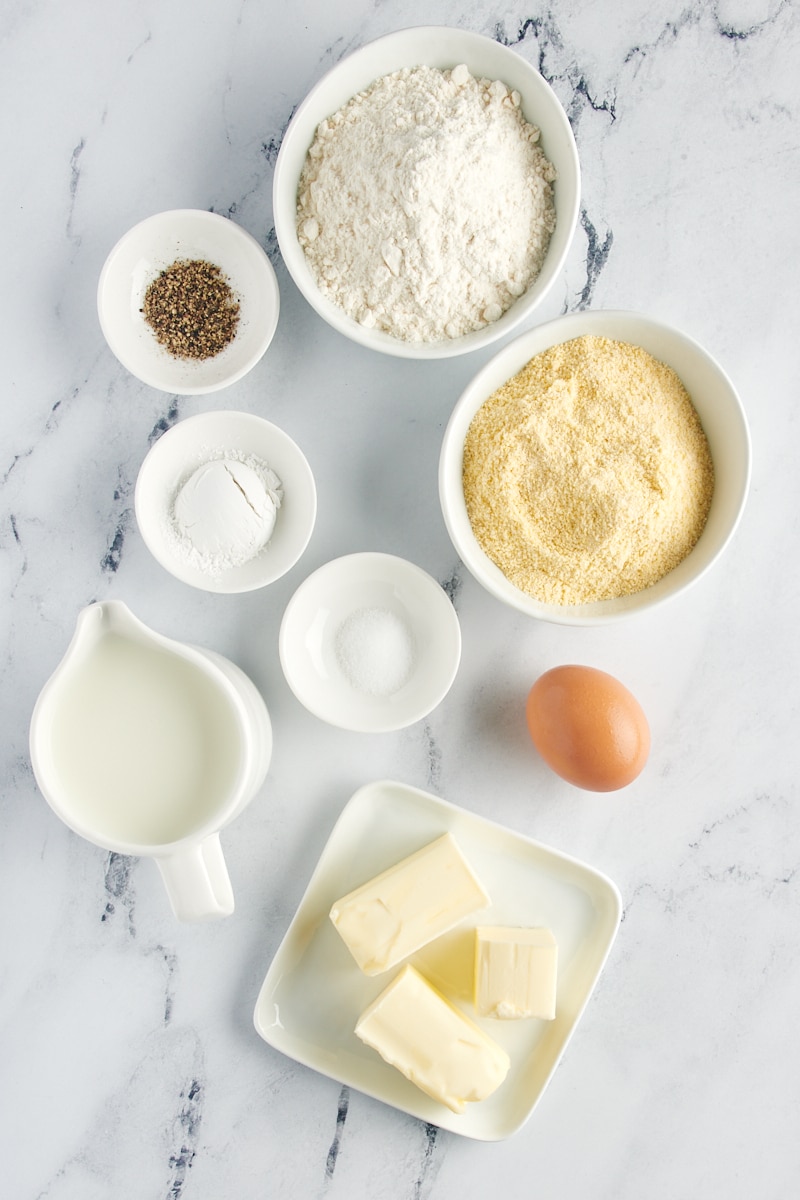 What You'll Need
All-purpose flour – Measure by weight or use the spoon and sweep method.
Cornmeal. Fine cornmeal makes a moist and tender muffin.
Baking powder
Salt
Black pepper
Unsalted butter – Melted and slightly cooled.
Egg: Bring the egg to room temperature for best results.
Milk: Slightly warmed; you can use any kind of milk for this recipe.
How to Make Corn Muffins
Preheat the oven. Preheat the oven to 375°F.
Prepare the muffin tins. Line or grease 12 standard muffin cups.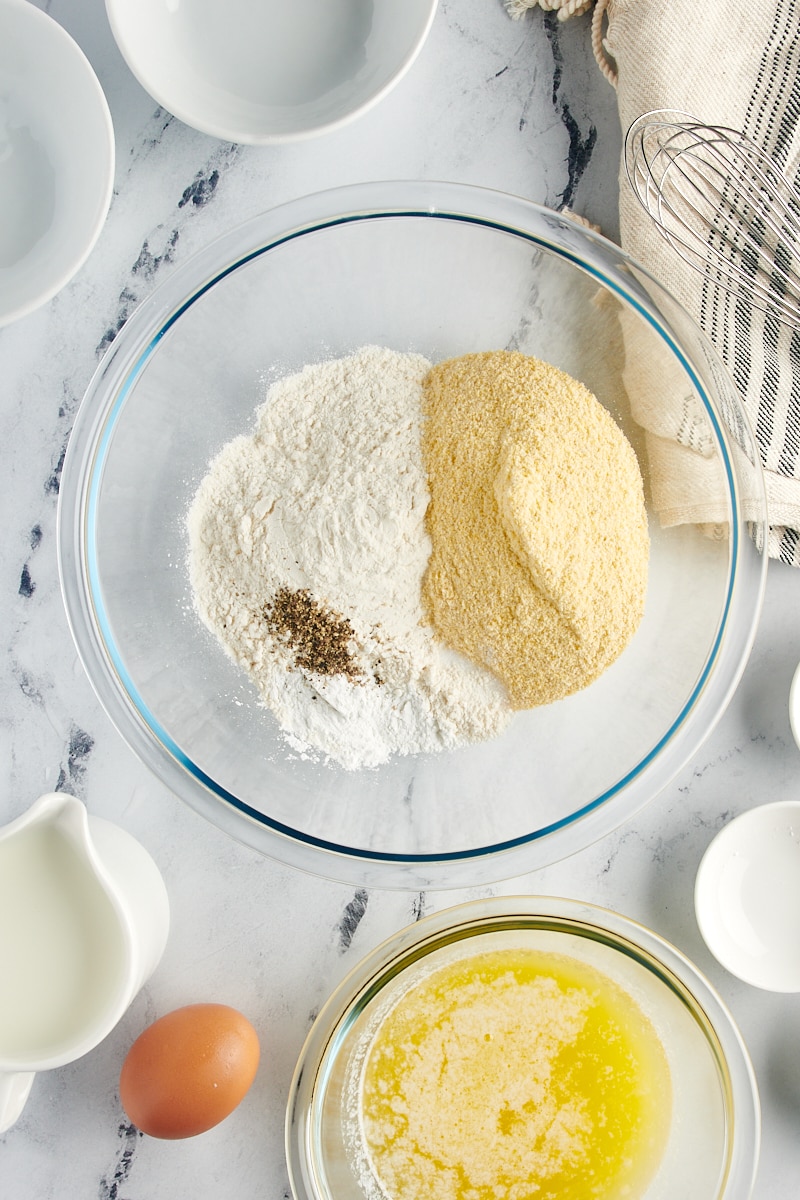 Combine the dry ingredients. Place the flour, cornmeal, baking powder, salt, and pepper in a large bowl. Whisk the ingredients together until they're fully combined. Set the bowl aside for now.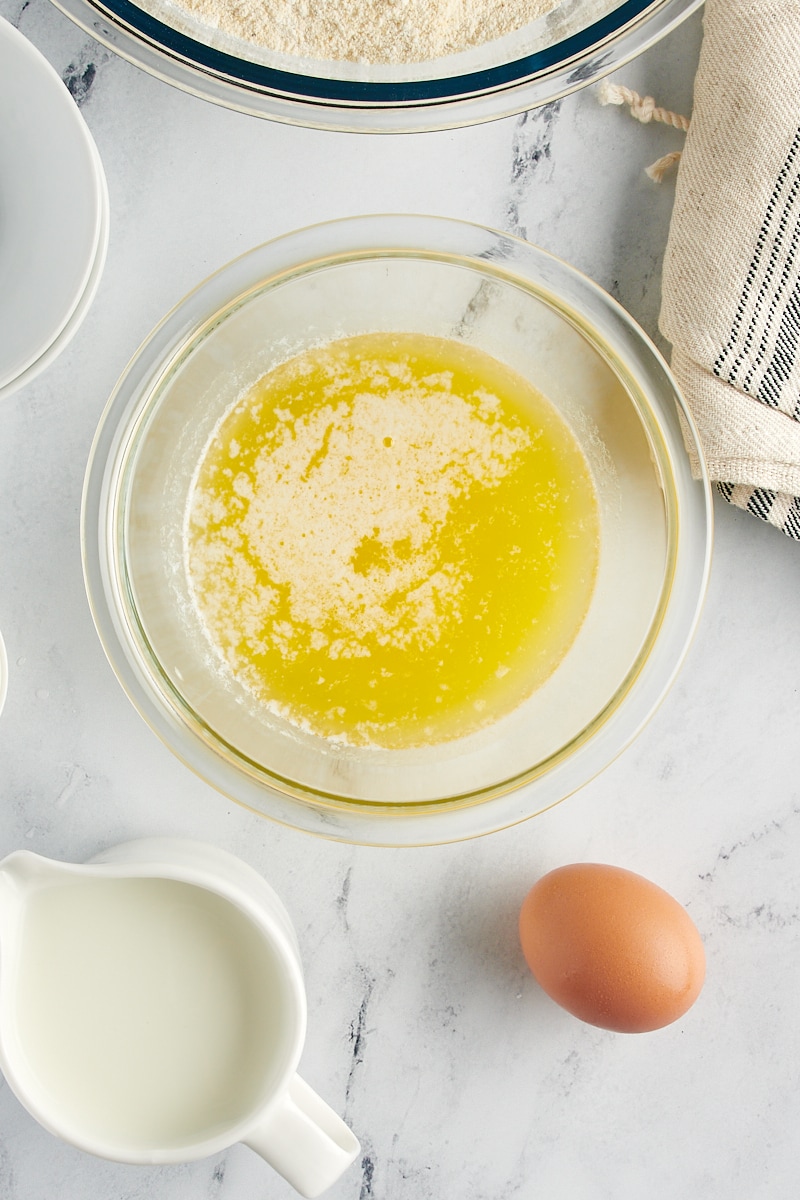 Combine the wet ingredients. In a medium-sized bowl, combine the melted butter and egg with a whisk. Be sure that the butter isn't too hot at this stage or it will start to cook the egg. Stir in the milk.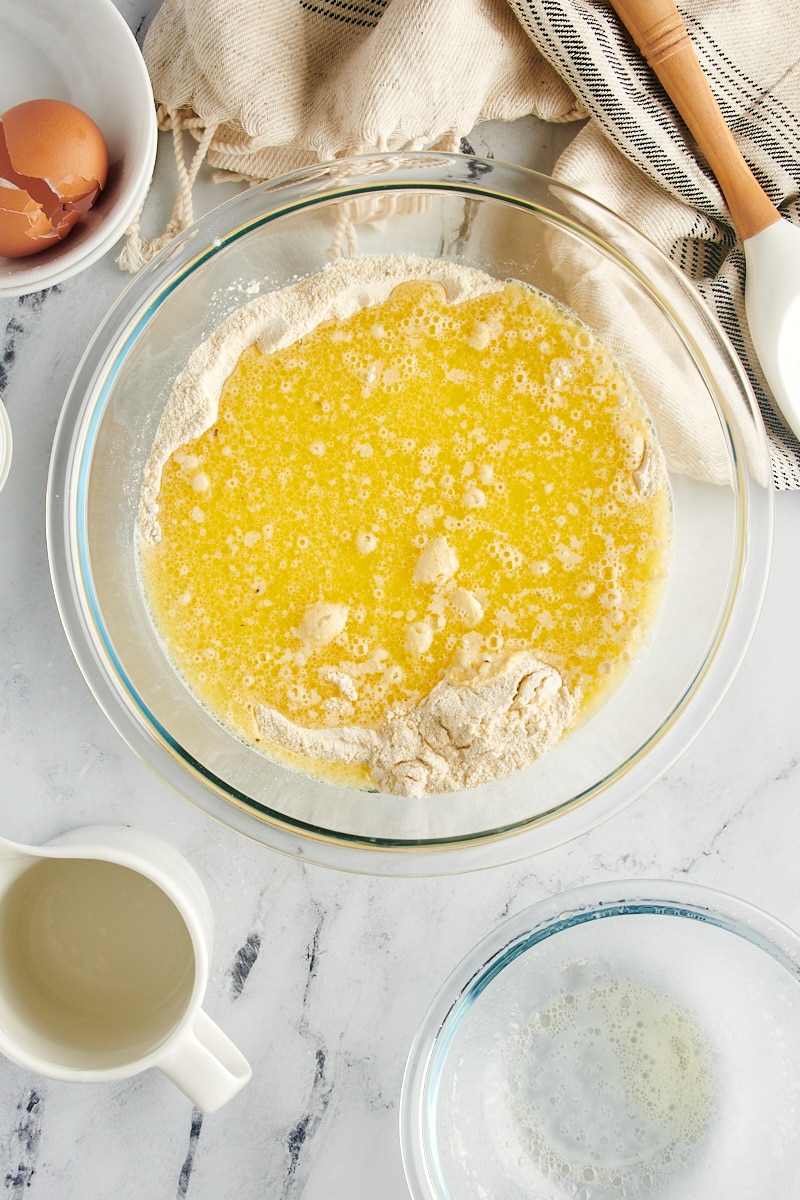 Add the wet ingredients to the dry. Add the butter mixture to the flour mixture. Stir the two together with a spatula until it's just combined. You don't need to over-stir the cornbread batter. A few lumps are perfectly fine.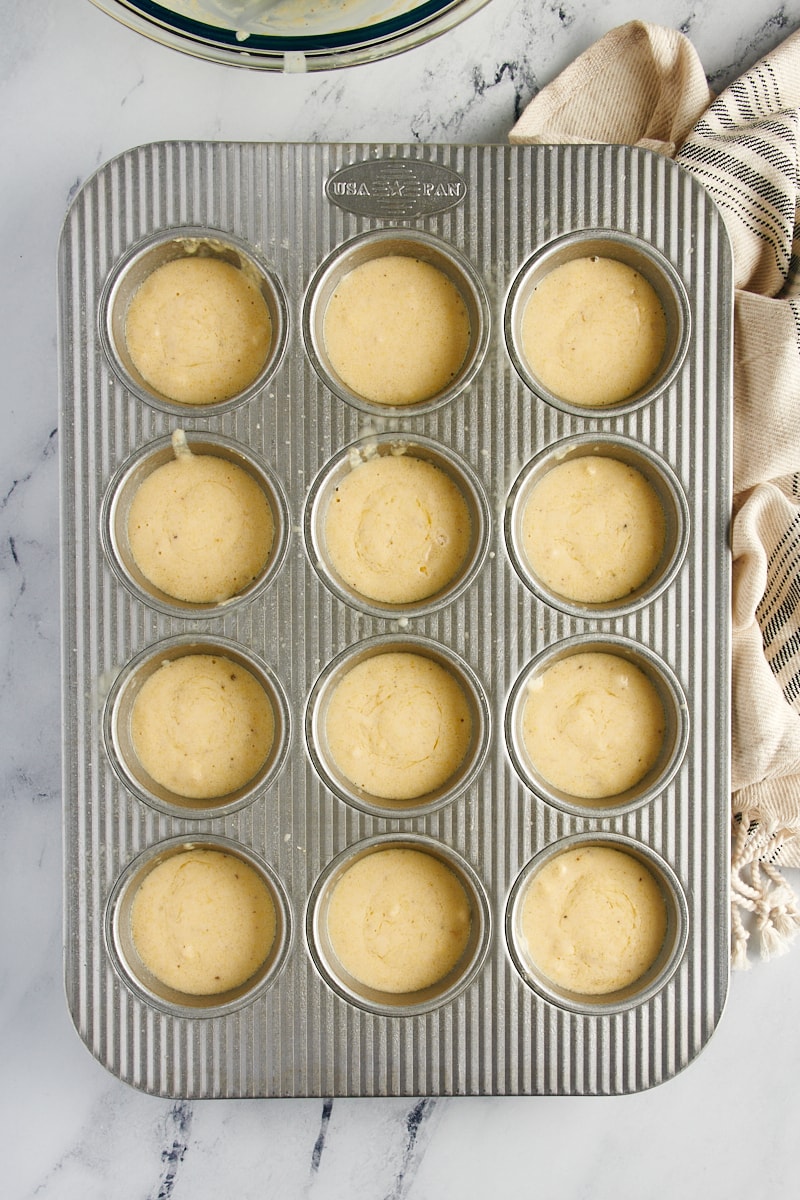 Divide the batter. Divide the cornbread batter into the 12 prepared muffin cups. Fill each cup about 3/4 full. If you have any extra batter in the bowl, you can add a little more to each cup. Try to keep them evenly filled so the cornbread will cook evenly. I like to use a cookie scoop for this, but you can also use a spoon.
Bake. Bake the corn muffins for 20 to 25 minutes or until they're slightly browned on top. If you insert a toothpick into the center of a muffin, it should come out clean. If you still notice unbaked batter, put the muffins back into the oven for 2-3 more minutes and check them again.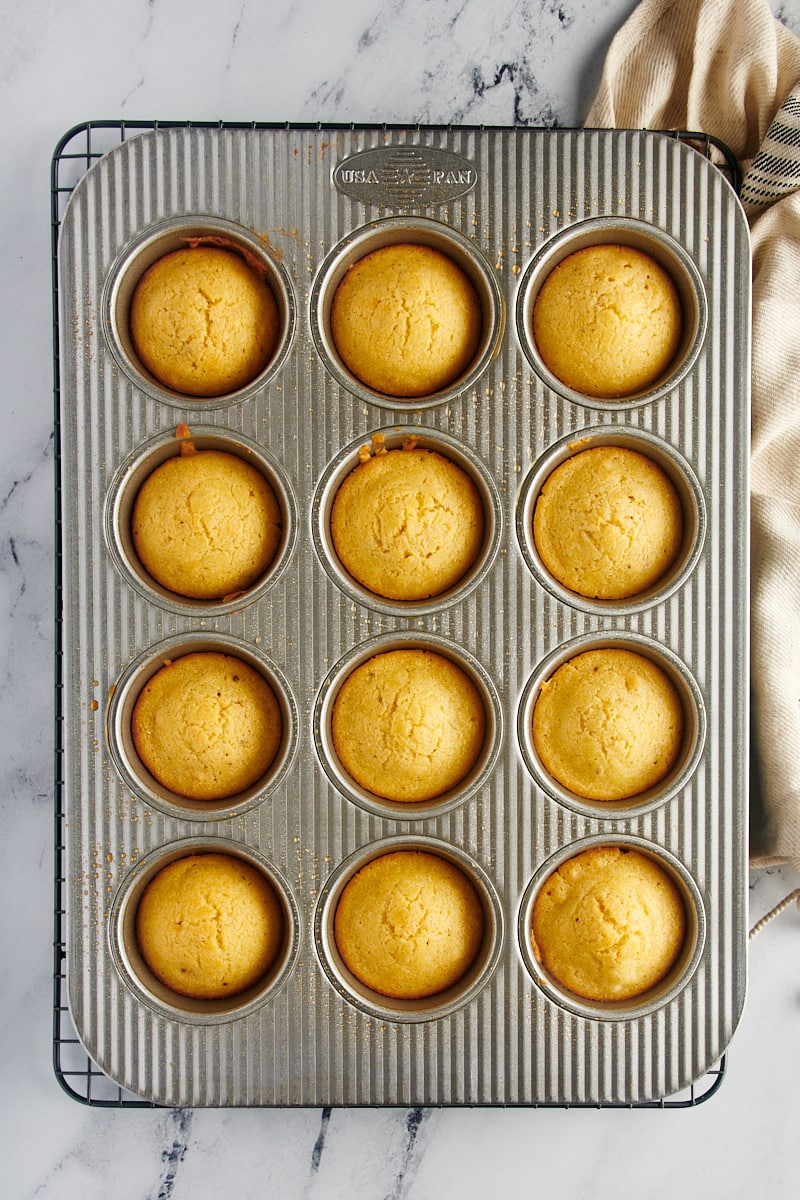 Cool. Cool the muffins in the pan on a wire rack for 5 minutes before serving. These savory corn muffins are definitely best served warm.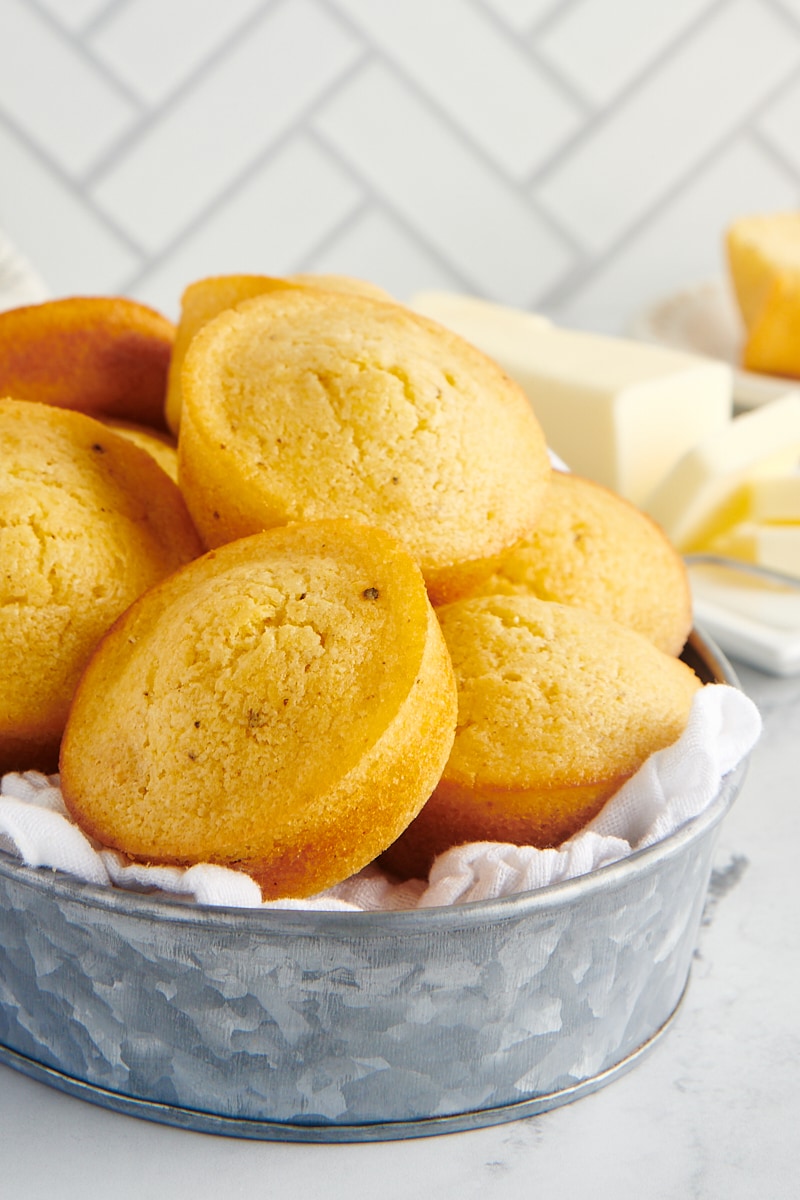 Storage Instructions
Store any leftover corn muffins in an airtight container on the counter for up to 2 days. If you'd like them to last a little longer, you can place them in the refrigerator for up to a week.
Can I Freeze These Corn Muffins?
Corn muffins are easy to freeze and can be stored in an airtight container for up to 3 months. If you have a vacuum sealer, use the manual mode, so you don't squish them. When you're ready to eat the cornbread, thaw the muffins on the counter for 3-4 hours before serving. I think these taste better warmed up after being in the freezer. Heat them in the microwave at 50% power for 30 seconds. Take care not to overheat, or the corn muffins will get a little tough.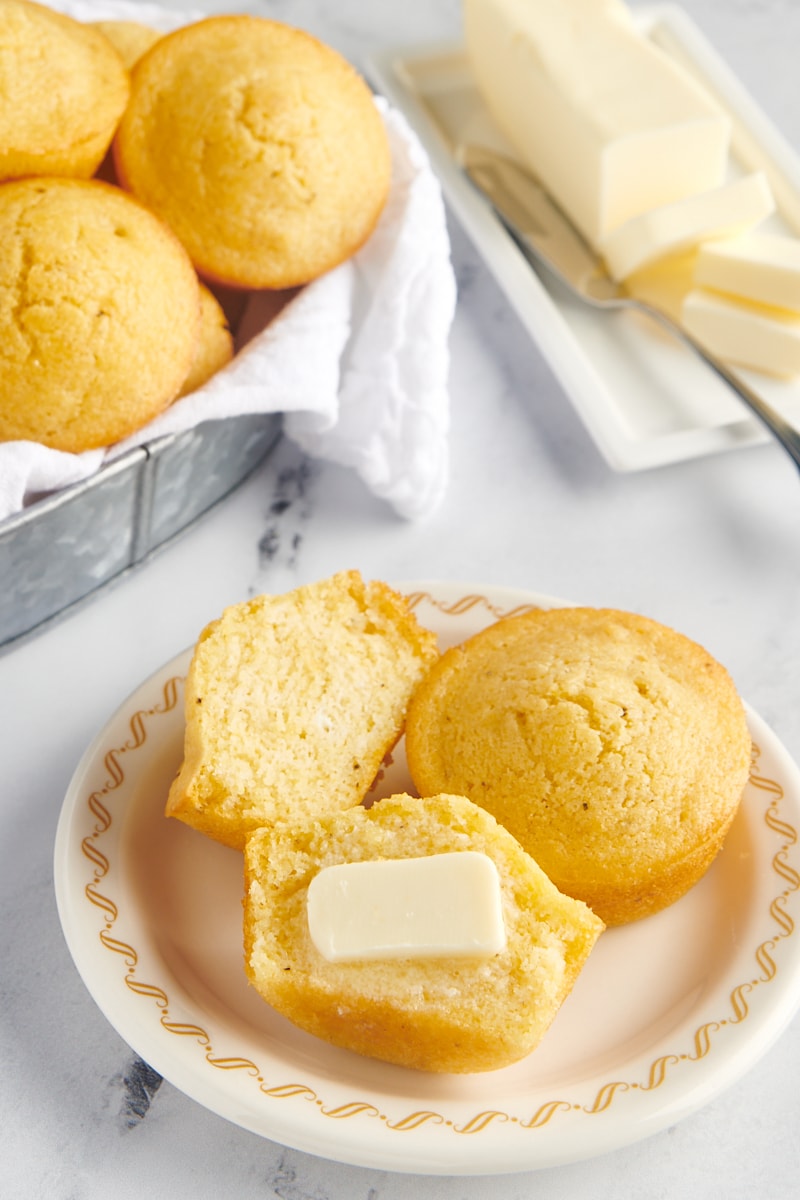 Variations
The great thing about corn muffins is that they're really adaptable. You can add all sorts of flavorful ingredients to make this corn muffin recipe yours! Here are some ideas to get you started.
Add jalapeños. If you want to spice things up, add 1 or 2 stemmed and minced jalapeño peppers to the batter. Jalapeño cornbread is pretty amazing!
Add scallions and cheddar. Cheddar and scallions make delicious additions to basic cornbread as well. The cheese will add savory warmth, and the scallions will provide some nice texture.
Play with seasoning. Simple variations to these corn muffins can also be pretty amazing. Play with some of your favorite spices and see how they work. Chili flakes and spicy seasoning blends add a little pop to this corn muffin recipe.
Convert corn muffins to cornbread. If you'd rather make these corn muffins as a loaf of cornbread, the conversions are really easy. Check out this article on how to do it.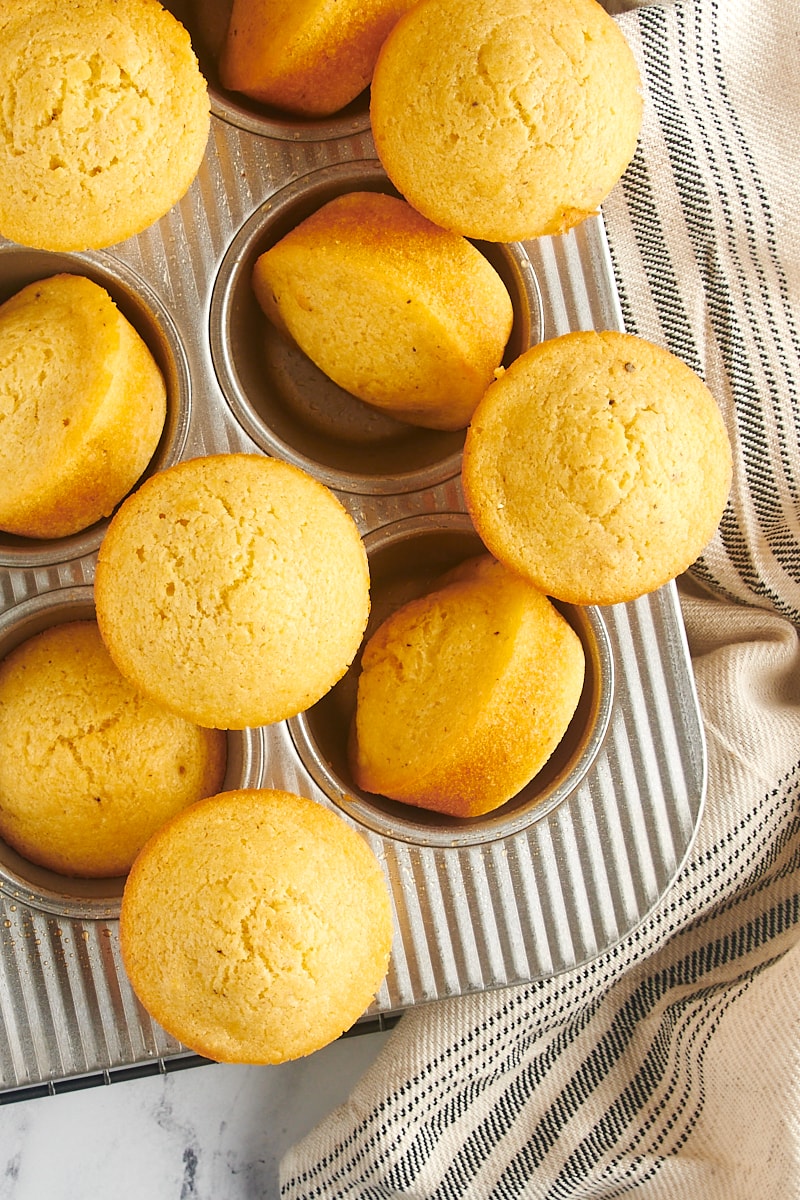 Other Delicious Muffin Recipes to Try