August 14, 2013
Plum and Almond Crostata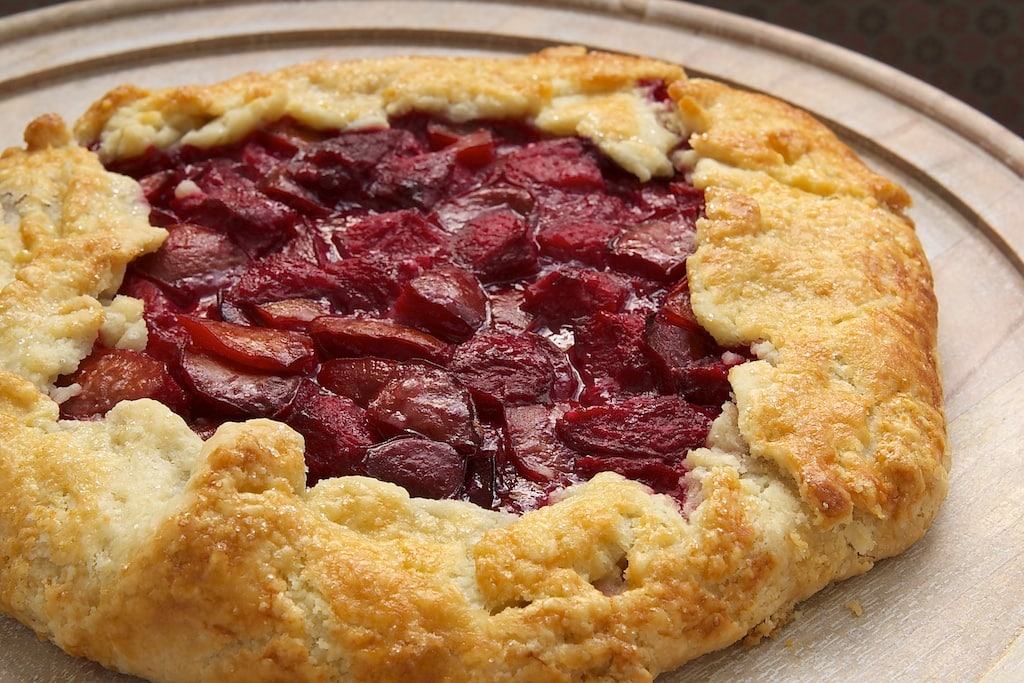 I'm so excited to share another Haagen Dazs Moment for Me with you! If you've been following the fun, you'll remember my first Moment for Me involved a Jams, Jellies, and Preserving class.
Shortly after that, I got to take an Italy al Fresco cooking class at Sur la Table. This blog is all about baking, of course, but I do love cooking as well. And, Italian food is one of my favorites. So, I was very excited for the chance to learn how to make some new Italian dishes.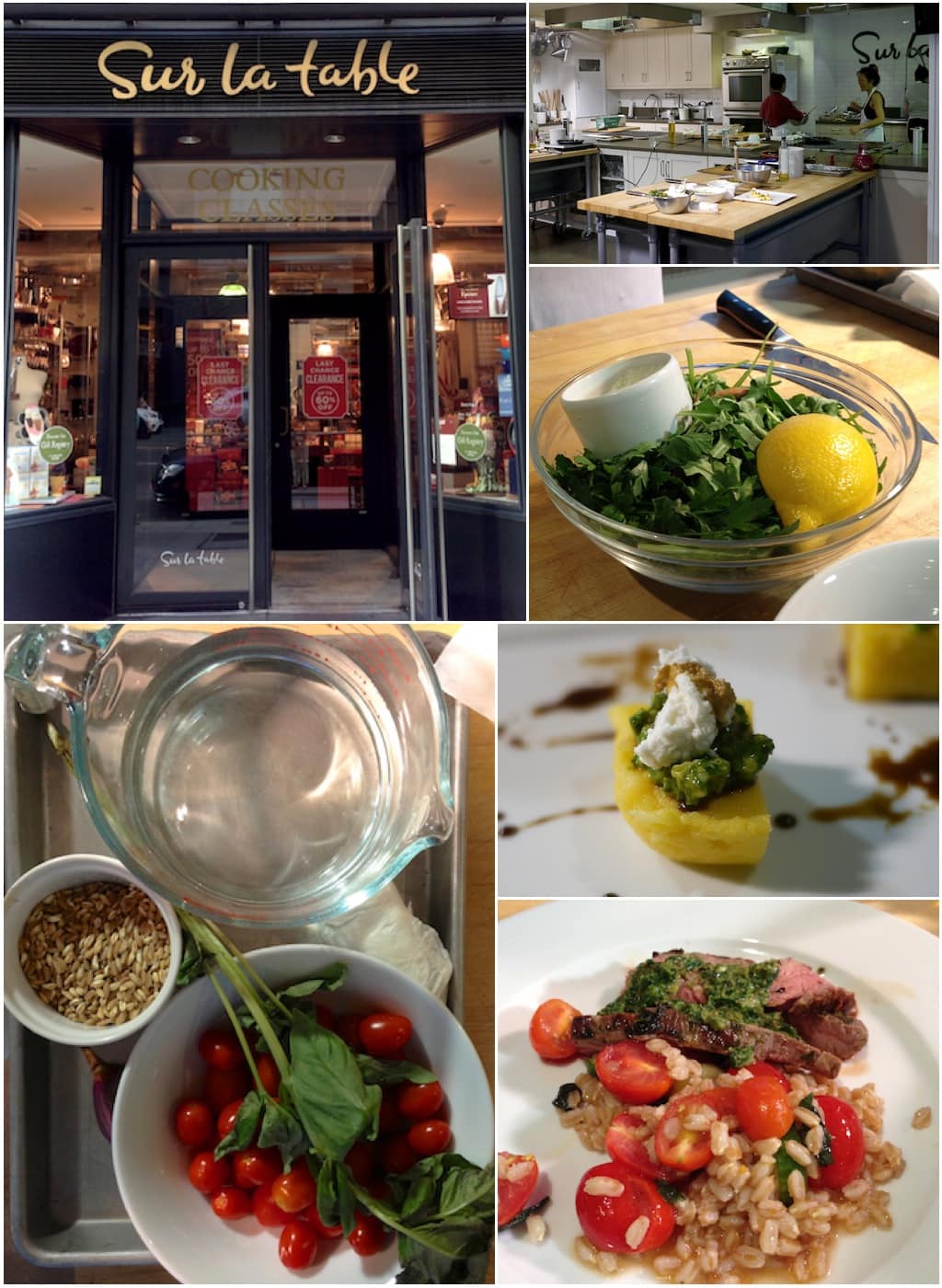 We worked in groups to make some amazing food. There were delicious dishes like Polenta Bites with Arugula Pesto, Farro Salad, Grilled Marinated Steak with Salsa Verde, and a Plum Crostata. Since that class, I've had daydreams about that crostata. When I spotted some beautiful plums at a local market, I knew that I had to try to replicate it.
I've had a long-standing love/hate relationship with pie crust. I always hated when I would make a pie crust that just didn't look as nice as I wanted. At some point, I accepted that they just aren't always perfect. And, you know what? That's okay. We get far too caught up in making our food look good when what's most important is that it tastes good. Who's with me?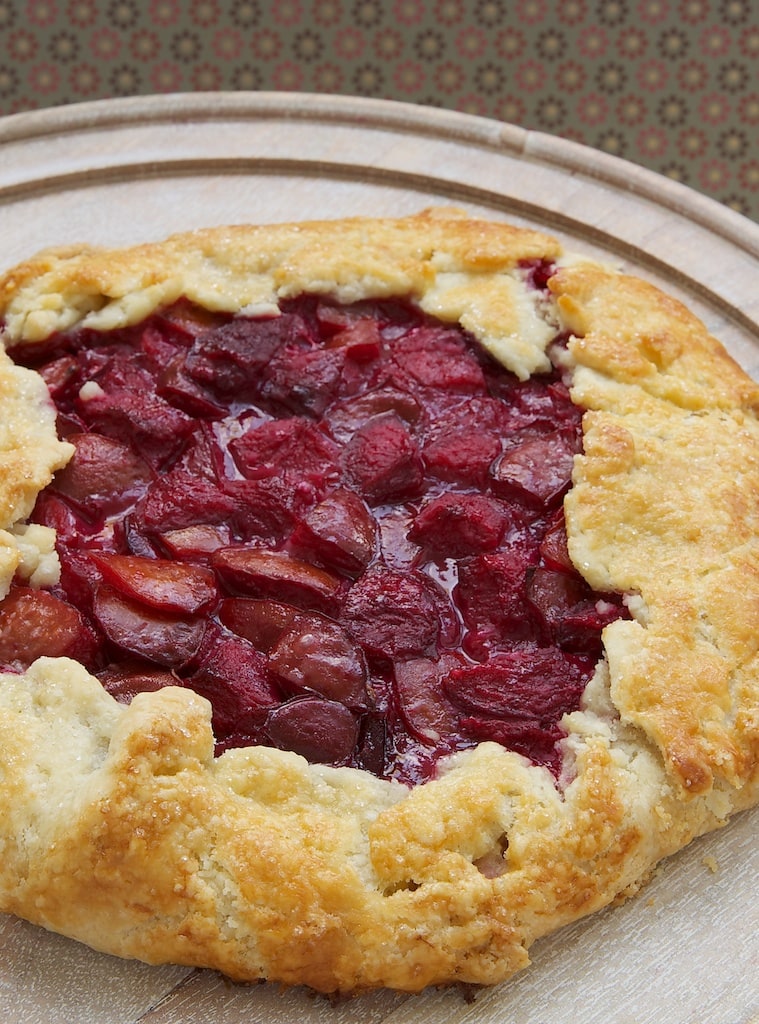 Crostata simply means tart. This kind of free-form tart is also called a galette in the French world of baking. Or, just call it a rustic tart. No matter what you call it, if you have pie crust angst, then this kind of tart is the way to go. You don't even need a pie plate. If you can roll out your dough into something resembling a circle, you've got this.
The filling couldn't be simpler. A little almond paste followed by fresh plums, sugar, and flour. Most any fruit will work, too. So, if you've got fresh peaches or blueberries or some other favorite, try a little experimenting with one or more fruits to find your favorite version.
Find more pie recipes in the Recipe Index.
Plum and Almond Crostata
Yield: 8 to 10 servings
Prep Time:25 minutes
Cook Time:40 minutes
This simple pie is a wonderful combination of fresh plums and almonds!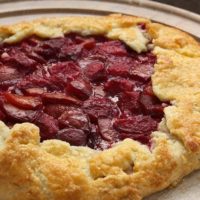 Ingredients:
For the crust:
3 tablespoons water
1 & 1/4 cups all-purpose flour
1 teaspoon granulated sugar
1/2 teaspoon salt
1/2 cup cold unsalted butter, cut into 1/2-inch cubes
For the filling:
1 to 1 & 1/2 pounds plums, pitted and sliced
1/4 cup granulated sugar
1 & 1/2 tablespoons all-purpose flour
2 to 3 tablespoons almond paste*
1 large egg, lightly beaten
sanding sugar
Directions:
To make the crust:
Place the water in a small bowl and refrigerate.
In a large bowl, combine the flour, sugar, and salt. Add the cold butter. Use a pastry blender or a fork to mix the butter into the flour mixture. Mix until the butter is the size of small peas.
Add a tablespoon of cold water and continue mixing. Mix until the dough holds together when pinched, adding more water as needed.
Gather the dough together into a ball. Place on a sheet of plastic wrap. Flatten the dough into a disc about 6 inches wide. Wrap tightly in plastic wrap. Refrigerate for about 2 hours.
Remove the dough from the refrigerator and allow to sit at room temperature for 10-15 minutes, or until slightly softened.
Preheat oven to 400°F. Line a baking sheet with parchment paper or a silicone liner.
Lightly flour a work surface and place the pie dough on it. Roll out the dough into a circle about 1/8-inch thick and 13 inches in diameter.
Carefully transfer the crust to the lined baking pan.
To make the filling:
Place the plums in a medium bowl. Add the sugar and flour, and toss to coat.
Crumble the almond paste and sprinkle over the crust, leaving about a 1 & 1/2-inch border around the edges.
Place the fruit mixture on top of crust and almond paste, again leaving about a 1 & 1/2-inch border around the edges of the crust.
Fold the edges of the crust up and over the edges of the filling, leaving the center open. Press the top edges of the dough together to help the crust hold its shape. Check the folded edges at the bottom of the crust for any spots that need patched. Patch as needed to help prevent the filling from spilling out.
Brush the beaten egg over the top of the crust. Sprinkle with sanding sugar.
Bake 35 to 40 minutes, or until the crust is deep golden brown and the fruit is bubbling.
Cool on pan on wire rack for 15 to 20 minutes. Then, carefully transfer the crostata to a serving plate.
Slice and serve warm. If desired, serve with ice cream or sweetened whipped cream.
Notes:
*I give a range for the almond paste because of its strong flavor. Use as much as you like, or omit it if you're not a fan.
Filling recipe adapted from many sources, including Sur la Table's The Art and Soul of Baking, Food & Wine, and Martha Stewart.
I have been chosen by Haagen Dazs as an ambassador for their Moment for Me campaign. I was provided with admission to the class described above. This post is not sponsored by or affiliated with Sur la Table, although I highly recommend their classes. All opinions written are my own. This post contains affiliate links.
Be sure to share your own #HDMoment on social media. Your moment may be featured by Haagen Dazs!