When I was working on recipes for 5 Ingredient Baking, I made a brown butter coffee cake that I really, really loved. As you likely well know, I have a weakness for brown butter. And with as much as I also love coffee cakes, I couldn't resist taking the recipe I used in the book and adapting it to make this nutty version.
This is the kind of cake I like to bake on a Friday afternoon or Saturday morning to provide us with a sweet treat for the weekend. It is just sweet enough to satisfy a dessert craving while providing a little morning treat as well.

The filling and topping are quite simple. Instead of a crumb-like mixture, I just combined chopped pecans with a bit of brown sugar and a hint of cinnamon. It keeps this recipe simple while still adding plenty of flavor and crunch.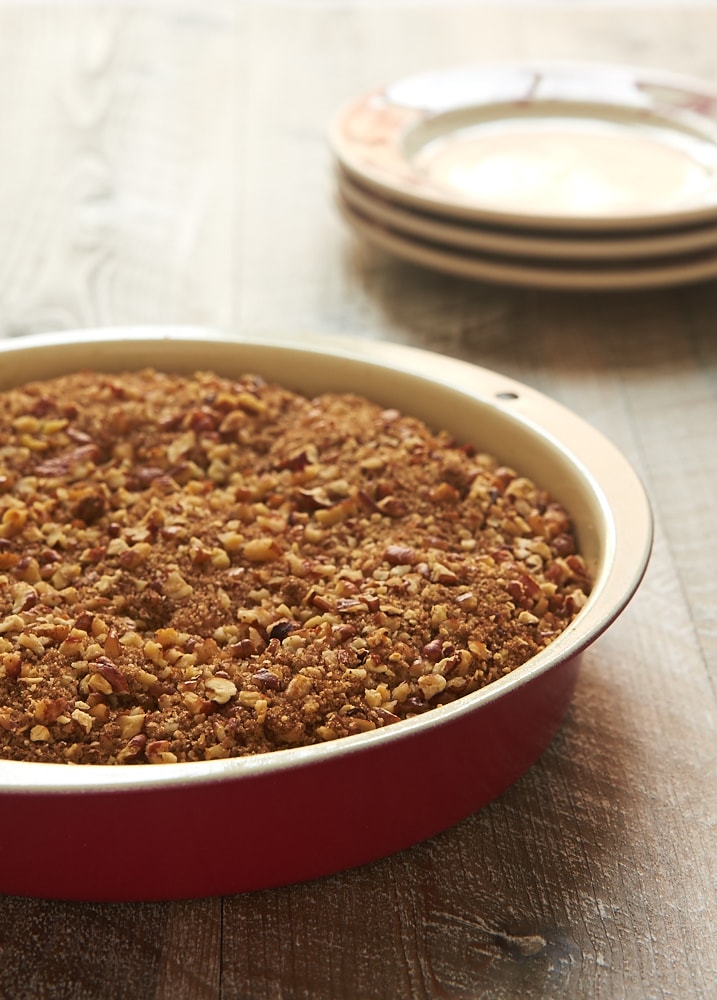 As with most coffee cakes, the batter is a bit thicker than a conventional cake batter. On the pourable/spreadable spectrum, it's more toward the spreadable end. It can be a bit tricky to spread the last half of the batter over the filling, but it will work just fine if you drop the batter in smaller portions all over the filling and then spread each one. You may think you don't have enough batter on the top layer to achieve that lovely ribbon of filling through the middle of the cake. But it will be rise up nicely as it bakes to create that effect.
This coffee cake has a subtlety about it that's really quite lovely. It's not too sweet. There's not too much cinnamon. Yet it still has a wonderful, delightful flavor. I love the nuttiness from those sweet, cinnamon-y pecans on top that get toasted as the cake bakes. And, of course, the little bit of nuttiness and richness from the brown butter makes it even better.