December 19, 2012
n-Layer Brownies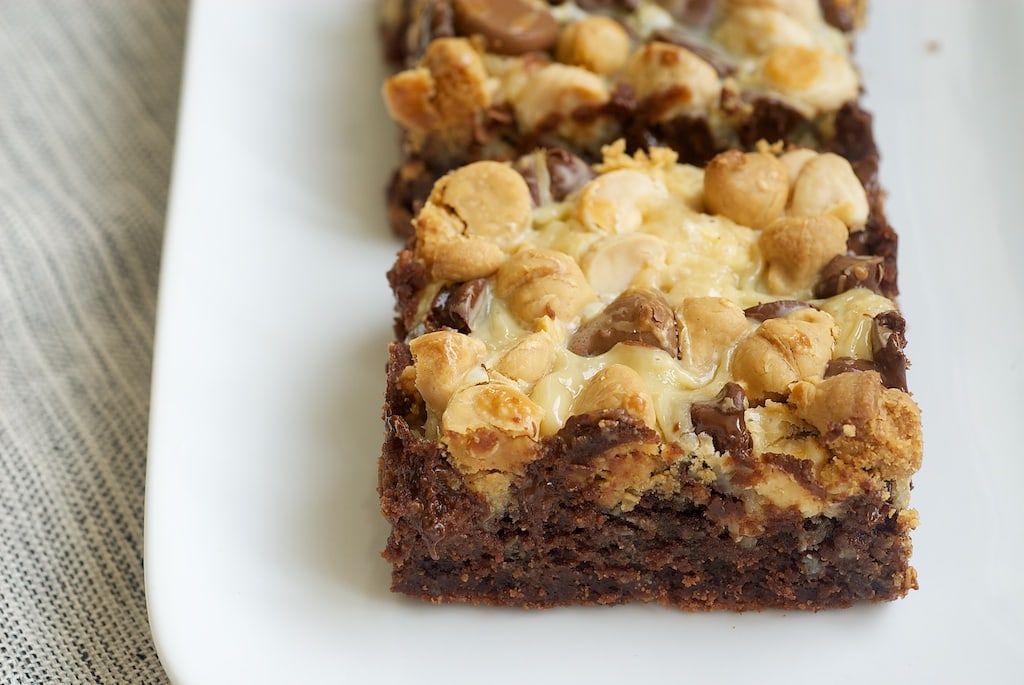 So, here's the thing. This recipe is one of the bonus recipes in my new cookbook that's available in the iBookstore. My intention was not to share it here on BoB, but I've gotten such strong reactions to these that I feel that it would be a disservice to you non-iPad owners.
These brownies took less than an hour from the ghost of an idea to warm, gooey chocolate awesomeness. I was inspired by those Magic Cookie Bars we all know and love. While they are perfectly delicious with their graham cracker crust, it seemed that making the base a fudgy brownie would make something decidedly amazing.
I was so right.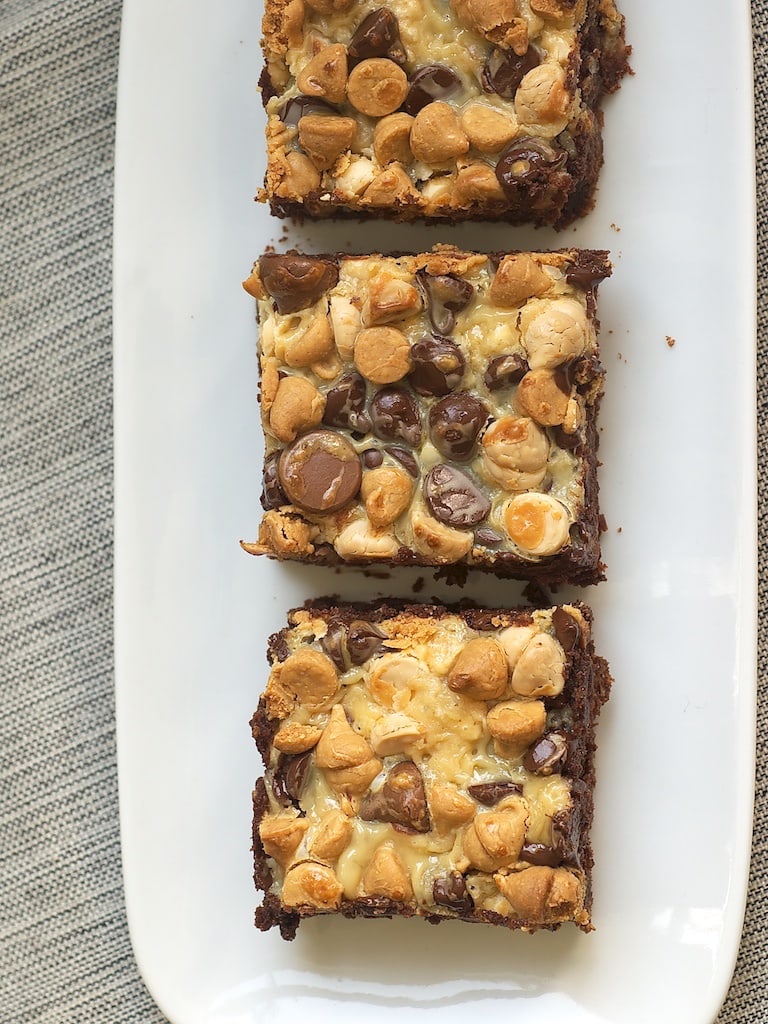 I sent these to my best taste-testers, and I understand there was cursing at their deliciousness. For those of you with delicate ears, I'll skip over any direct quotes.
The best part about these, to me, is that you get a nice layer of unadulterated brownie. On top of that fudgy brownie, pile on your favorite toppings. Use as many as you want. That's the origin of the name. Make a few layers or a whole slew.
The brownies you see here were made with hazelnuts, semisweet chocolate chips, milk chocolate chips, and peanut butter chips. Get creative! Toffee bits, butterscotch chips, nuts, coconut, or pretty much whatever is in your pantry.
Find more brownie recipes in the Recipe Index!
n-Layer Brownies
Yield: 16 2-inch brownies
Prep Time:20 minutes
Cook Time:47 minutes
n-Layer Brownies can be whatever you want them to be! Start with a delicious brownie, and then add on all your favorites!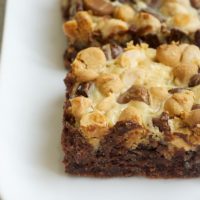 Ingredients:
6 ounces (1 cup) bittersweet chocolate
1/2 cup unsalted butter
1 cup all-purpose flour
1/2 teaspoon salt
1 cup granulated sugar
2 large eggs
2 teaspoons vanilla extract
1 & 1/2 to 2 cups assorted toppings – chocolate chips, peanut butter chips, chopped nuts, coconut, toffee bits, etc.
1/2 cup sweetened condensed milk
Directions:
Preheat oven to 350°F. Grease a 9-inch baking pan. Line with parchment paper so that the paper overhangs on two opposite sides.
Place the chocolate and butter in a microwave-safe bowl. Heat in the microwave at half power in 30-second increments until the butter is melted and the chocolate melts when stirred. Stir until smooth. Set aside to cool slightly.
Whisk together the flour and salt. Set aside.
Beat the sugar and chocolate mixture until well-blended. Add the eggs, one at a time, beating well after each addition. Mix in the vanilla. Add the flour mixture in 3 or 4 portions, mixing just until combined.
Transfer the batter to prepared pan. Bake for 12 minutes.
Sprinkle the toppings over the partially baked brownies. Pour the condensed milk evenly over toppings.
Bake 30-35 minutes, or until set. Cool completely in the pan on a wire rack.
Then, using the overhanging parchment, lift out the brownies onto a cutting board. Cut into bars using a sharp knife.