I've had a hankering to bake brownies for the last couple of weeks. The fact that I wanted to try something different was holding me back. Let me tell you, coming up with a variation of brownies I've not previously shared with you is a tall order after more than 9 years of making brownies for this blog.
Cookies are generally never very far from my mind, either. Yet somehow I'd never thought about combining them with brownies. But once that idea got in my head, I knew I wouldn't be able to let it go until I'd make a cookie-brownie hybrid.

I started with my favorite basic brownies recipe. I made a bit more batter than usual to ensure that I'd end up with some big, tall bars. Then I made a basic chocolate chip cookie dough. Both of those are simple, straightforward recipes. Don't be put off by the long list of ingredients. There's a good bit of ingredient duplication, and both the batter and the dough will mix up quickly.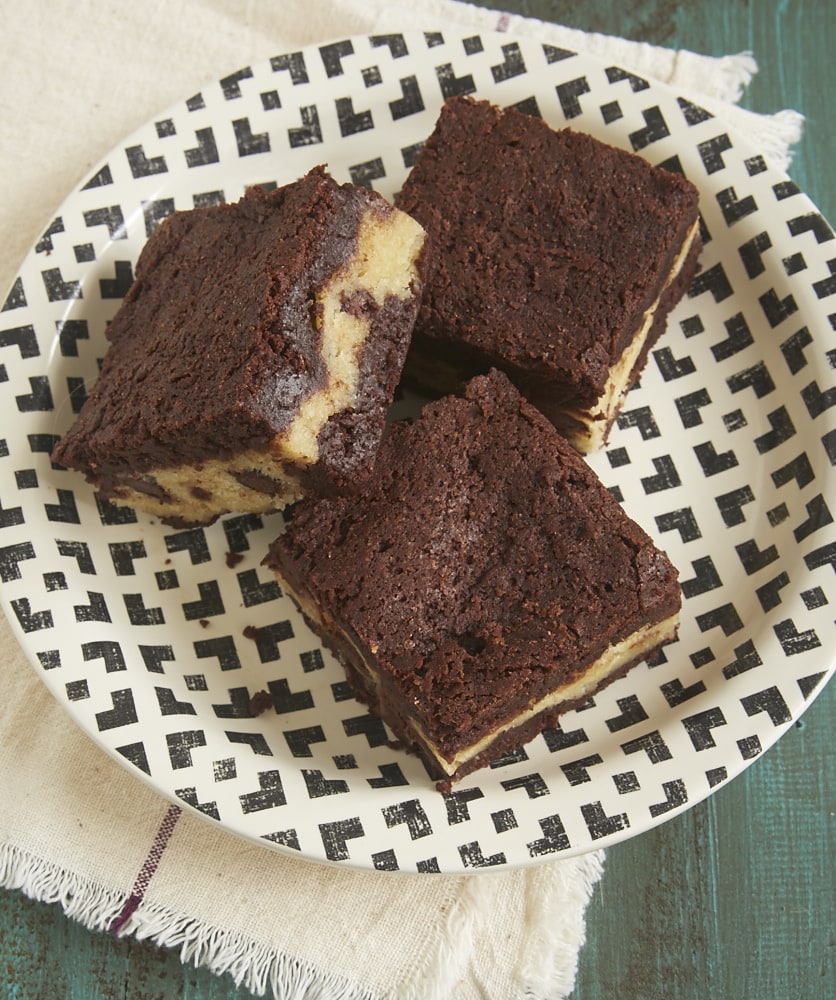 The layering is probably the trickiest part. I envisioned clear layers of brownie – cookie – brownie. Spreading the layers on top of each other is a bit challenging, but it's absolutely doable. The trick is to drop the cookie dough in small dollops over the bottom layer of brownie batter. Then gently spread it until it's more or less an even layer. Then do the same with the top layer of brownie batter.
If you prefer a quicker method, then just dollop the cookie dough over the bottom layer of brownie batter without spreading out the dough. Then just dollop the remaining brownie batter on top of that. It will all spread out a bit in the oven. You'll just end up with a little less uniform distribution. It will taste just as good, though!
Whichever aesthetic route you take, the end result is a sweet, rich, indulgent treat that's sure to become a new favorite. These little guys pack a big punch, so a small bite goes a long way. They're perfect for sharing!