Talk about festive holiday desserts! This Chocolate Peppermint Cake combines layers of rich chocolate cake with creamy peppermint buttercream and a crunchy candy cane garnish. This simple cake is perfect for Christmas!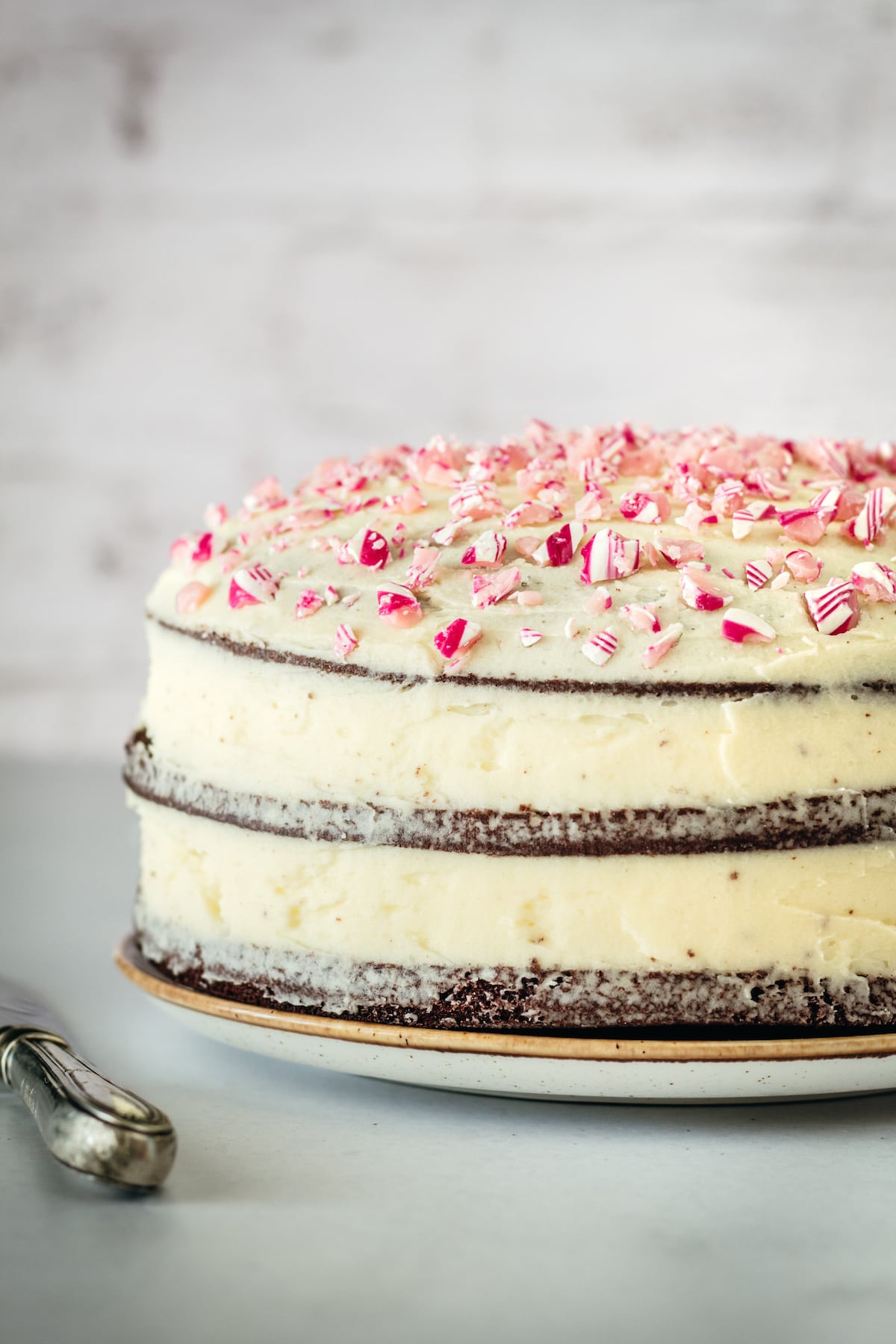 A Festive Minimalist Layer Cake!
If peppermint bark is one of your favorite holiday treats, you'll love this Chocolate Peppermint Cake! It combines those same flavors in the form of a beautiful layer cake. The buttery peppermint frosting reminds me of the creamy white chocolate peppermint bark base, and the crunchy little bits of candy cane really seal the deal.
This is the perfect cake for people who want to be the type of person to decorate cakes, but can't quite pull it off. If this sounds familiar, trust me—I can relate. I have a baking blog, but I am not a cake decorator. I'm always looking for minimalist cake recipes that look beautiful without requiring the skill of an artist. I absolutely love the way this Chocolate Peppermint Cake looks, and it's easy enough for beginning bakers and novice decorators!
Love chocolate and peppermint desserts? Try Chocolate Peppermint Whoopie Pies and Peppermint Cheesecake Brownies, too!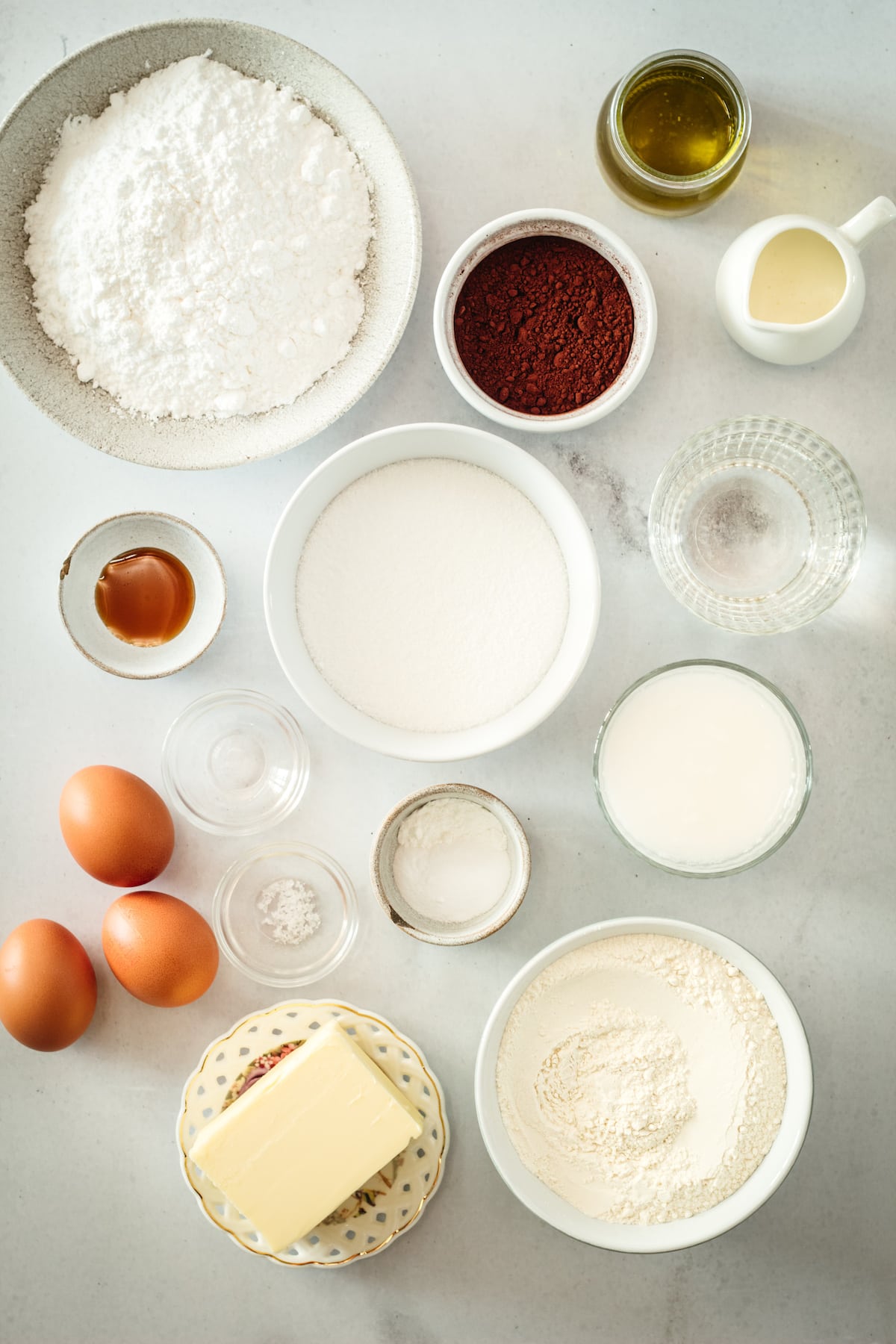 What You'll Need
See the recipe card at the bottom of this post for ingredient quantities and full instructions. The ingredients for this recipe are pretty straightforward, but I just want to note that you need to make sure you buy peppermint extract, not mint. The flavor is actually quite different because mint extract is made with spearmint.
For the chocolate cake:
All-purpose flour – Measure by weight for best results.
Granulated sugar
Cocoa powder – You can use either natural or Dutch-process cocoa powder. You may see some difference in the cake's color, flavor, and height with each.
Baking soda
Baking powder
Salt
Buttermilk – You can make your own by combining a scant cup of whole milk with a tablespoon of apple cider vinegar or lemon juice. For other options, see Buttermilk Substitutes in Baking.
Vegetable oil – You can substitute canola oil if you have that on hand.
Eggs – Make sure they're room temperature; they'll whip up into a fluffier cake that way.
Peppermint extract
Vanilla extract
Hot water
For the peppermint buttercream:
Unsalted butter – The butter needs to be softened so it's easy to beat.
Heavy cream – Don't substitute milk here—you want the rich, creamy flavor of heavy cream.
Peppermint extract
Vanilla extract
Confectioners' sugar – For the smoothest frosting, sift the sugar.
How to Make Chocolate Peppermint Cake
This beautiful cake is quite simple to make. You'll need a hand mixer or stand mixer to make the frosting, but you can mix the cake batter with just a whisk and a big mixing spoon!
Prepare. Preheat the oven to 350°F and grease three 9-inch round cake pans, then line them with parchment paper.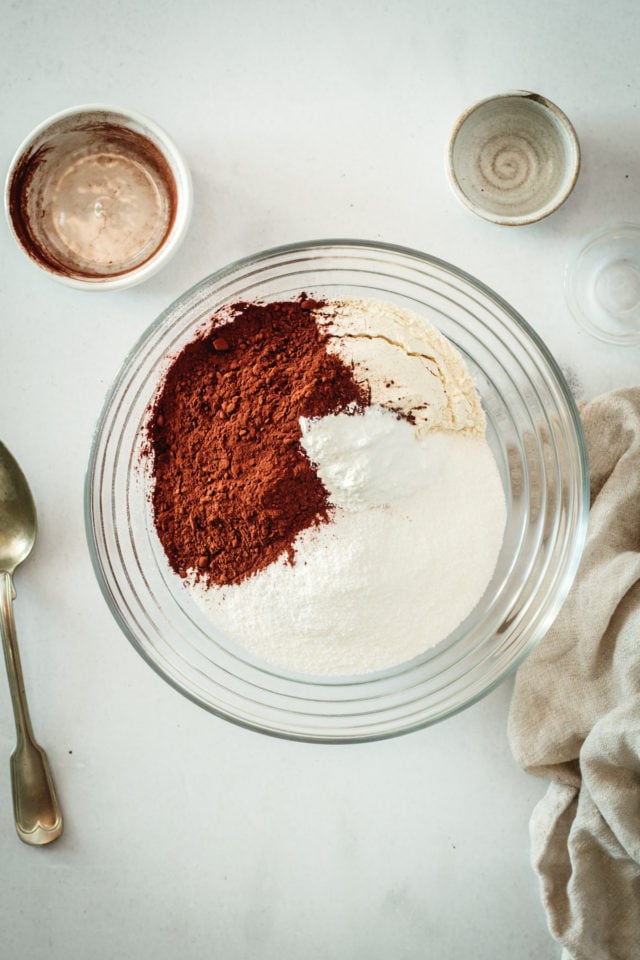 Sift dry ingredients. Sift the flour, sugar, cocoa powder, baking soda, baking powder, and salt into a large bowl.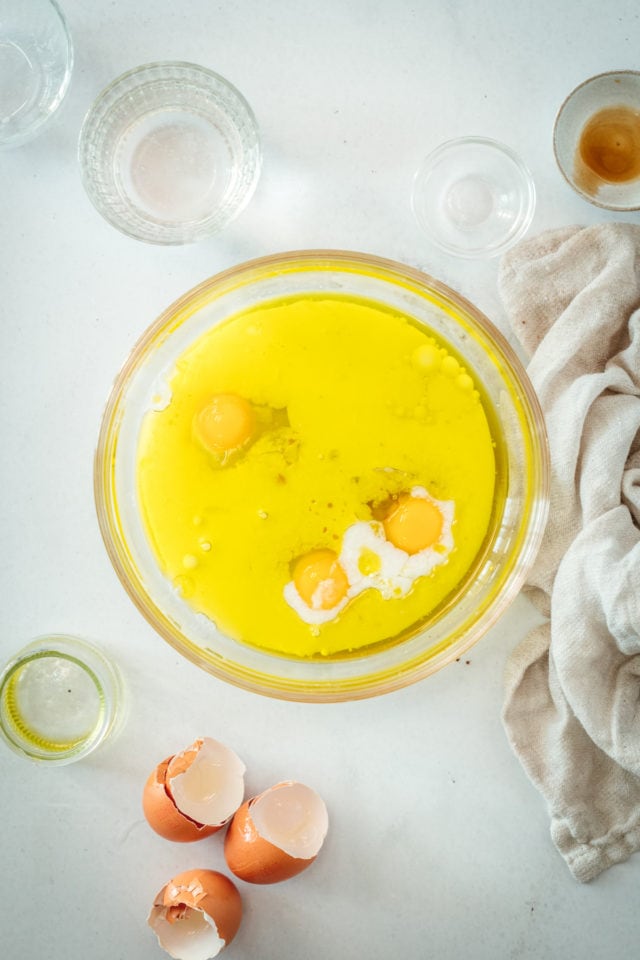 Combine wet ingredients. In another bowl, combine the buttermilk, oil, eggs, and extracts, then slowly add the hot water, whisking constantly.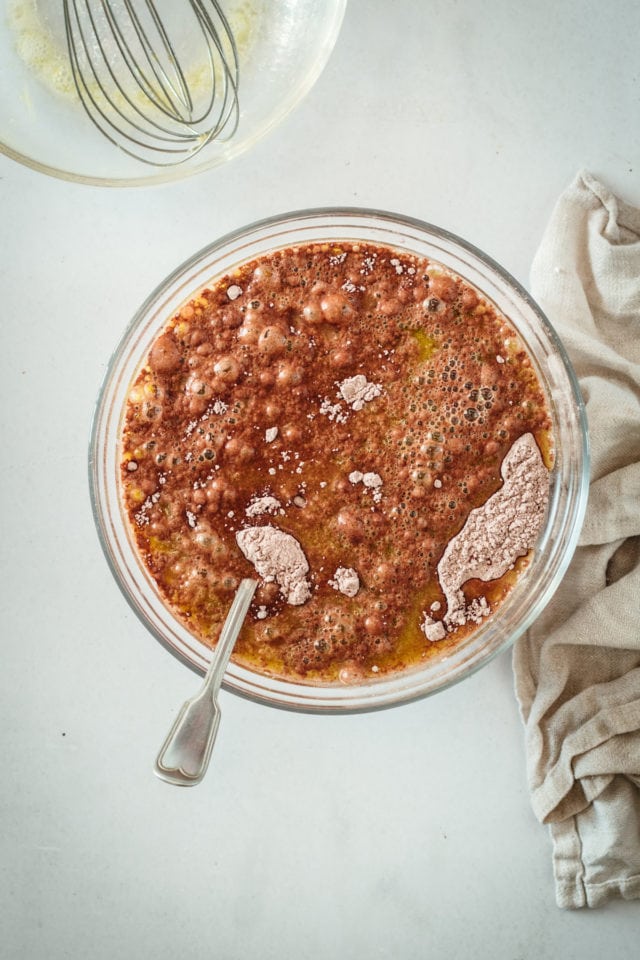 Finish the batter. Add the wet ingredients to the bowl with the dry ingredients and mix until just combined.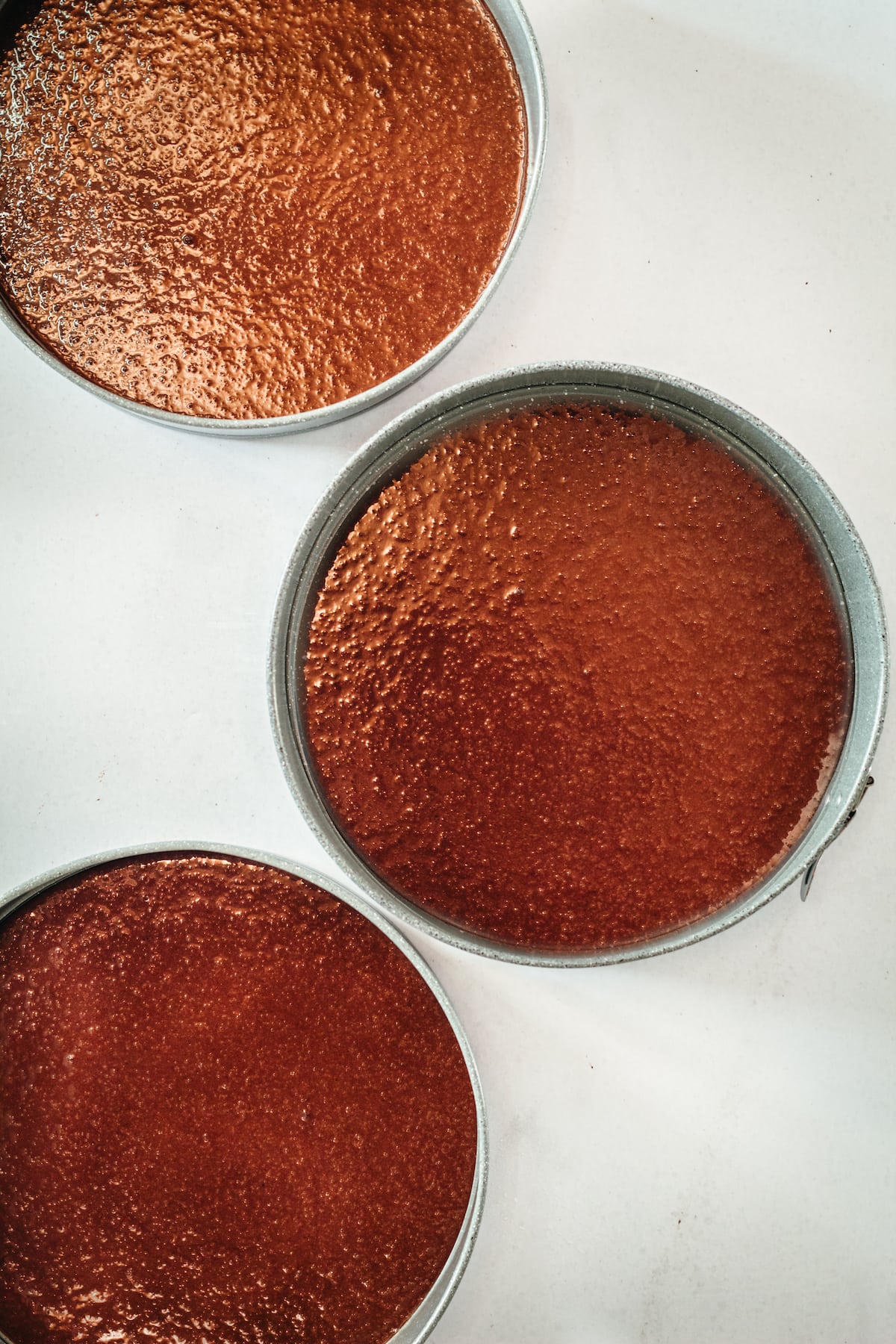 Bake. Divide the batter evenly among the three prepared pans, then bake for 18-22 minutes, or until a toothpick inserted in the centers comes out clean.
Cool. Let the cakes cool in the pans for 10 minutes, then remove the cake layers from the pans and place them on wire racks to cool completely. (Read why every baker needs a wire cooling rack.)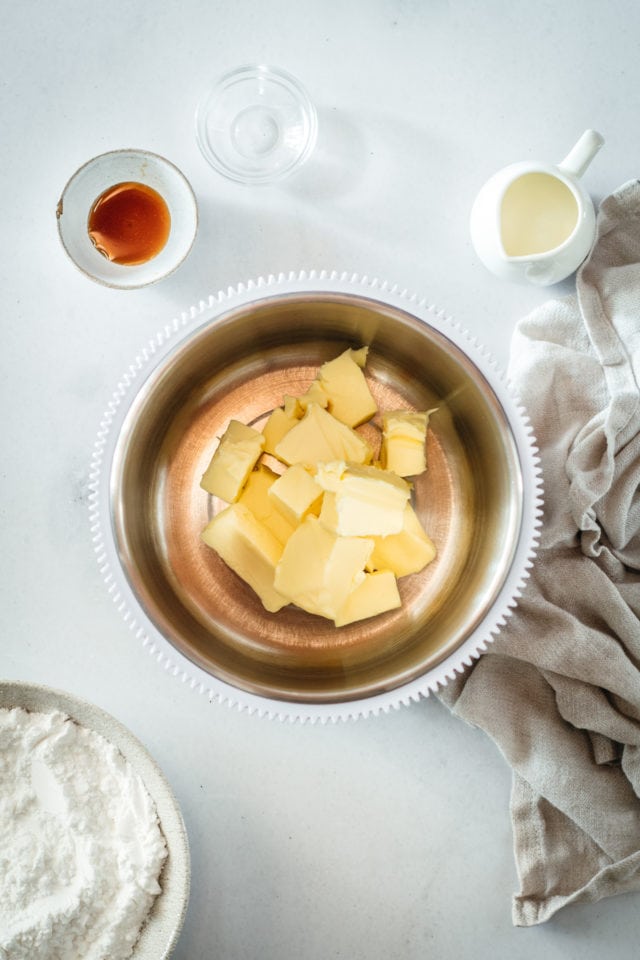 Make the buttercream. Use an electric mixer on medium speed to beat the butter until light and fluffy, then beat in the heavy cream, peppermint, and vanilla extract. Add the confectioners' sugar and beat until light and fluffy.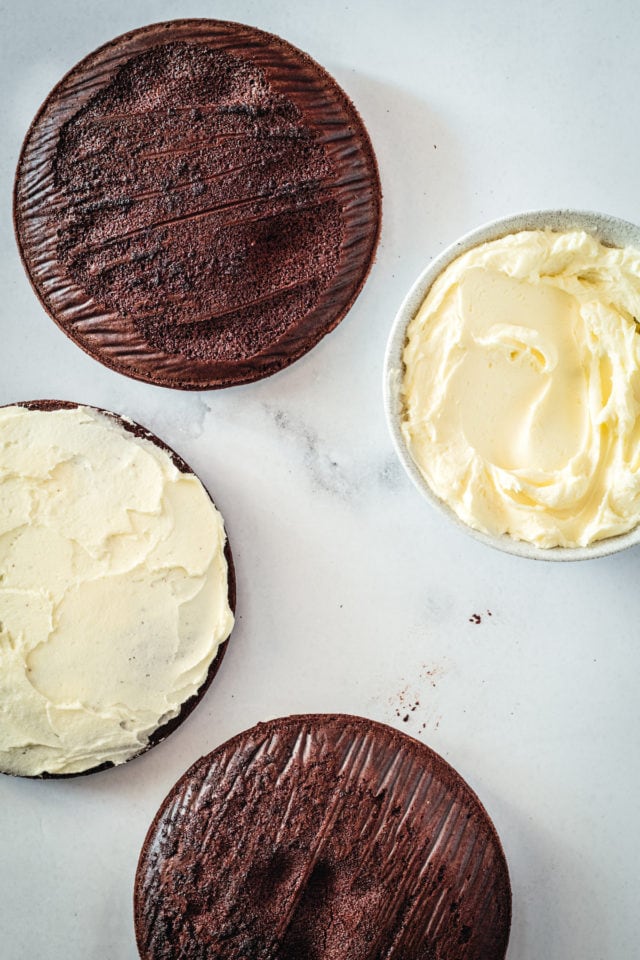 Assemble. Spread the frosting between the cake layers and stack them one on top of the other. Then, spread the remaining frosting on the top and sides of the cake. Garnish with crushed peppermints or candy canes, if desired.
Tips for Success
Here are some tips for making and assembling your cake:
Adding the hot water. It's important to go slowly when adding the water to the wet ingredients, otherwise the eggs will cook!
Making even layers. If your cakes are a little bit domed in the middle, you can use a serrated knife to shave off the dome to ensure the cake is flat before you assemble the layers.
Decorating ideas. You can add a bit of red food coloring to the frosting for a delicate pink color (just make sure you don't overdo it!) or sprinkle crushed candy canes between the cake layers for more crunch.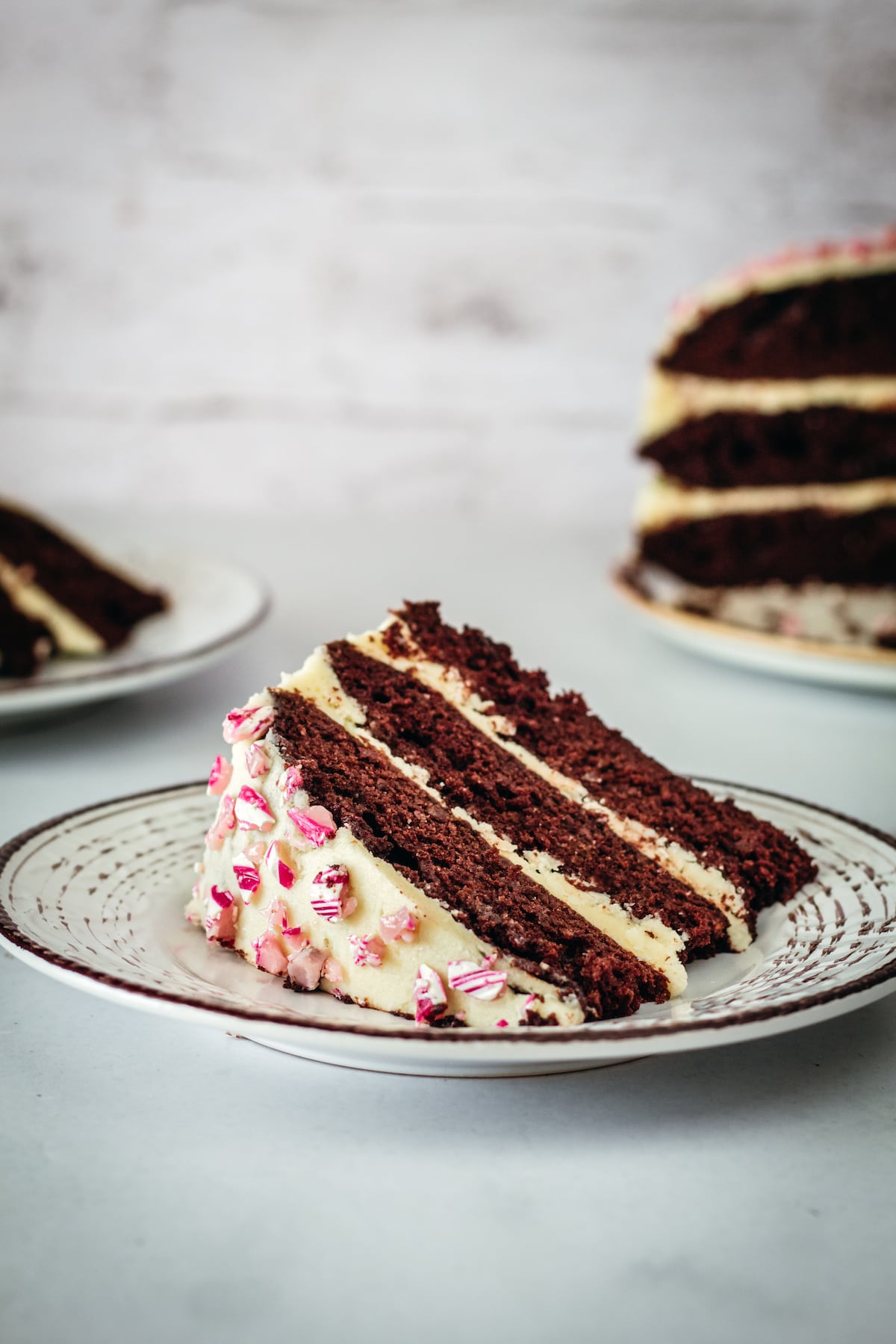 How to Store
You can store this cake in an airtight container (or well-wrapped) in the refrigerator for up to 5 days. Let it sit on the countertop a bit to come to room temperature before serving.
Can This Recipe Be Frozen?
Wrap any leftover cake slices in plastic wrap, place them in an airtight, freezer-safe container, and store them in the freezer for up to 3 months. Let each slice thaw for 1 hour before eating. You can also freeze the entire cake if you want to make it in advance; to keep the frosting from sticking to the plastic wrap, freeze it unwrapped just until the frosting is frozen through, then wrap it and return it to the freezer.