March 7, 2016
Almond Poppy Seed Thumbprint Cookies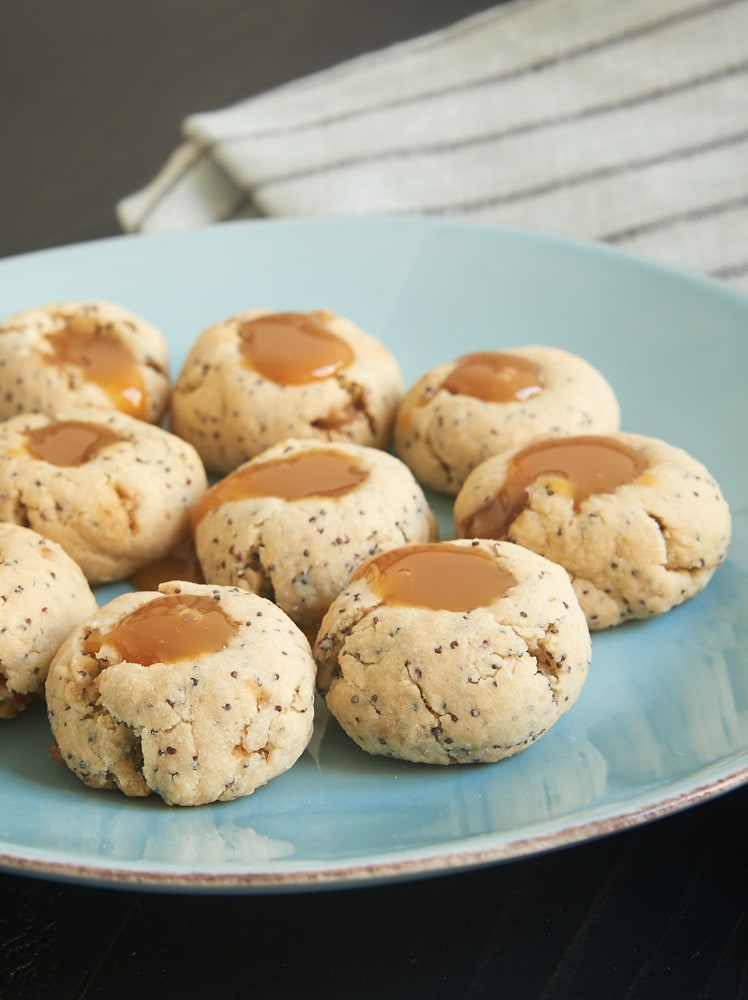 It's been far too long since I made a batch of thumbprint cookies! I'm not one to make beautifully and elaborately decorated cookies, but I do enjoy making lovely cookies that are simple to make. Thumbprint cookies fit that bill perfectly. Filling that little indention in the cookies instantly takes them from everyday cookies to something special!
These cookies are a simple variation of my Lemon Thumbprint Cookies. For the almond version, I just made a few changes, opting to use brown sugar, almond extract, and poppy seeds.

Despite the word "almond" in the title, there aren't any actual almonds in these cookies. There is, however, a nice bit of almond extract to give them a wonderful almond flavor. If you want a little more almond represented, try topping them with chopped or sliced toasted almonds.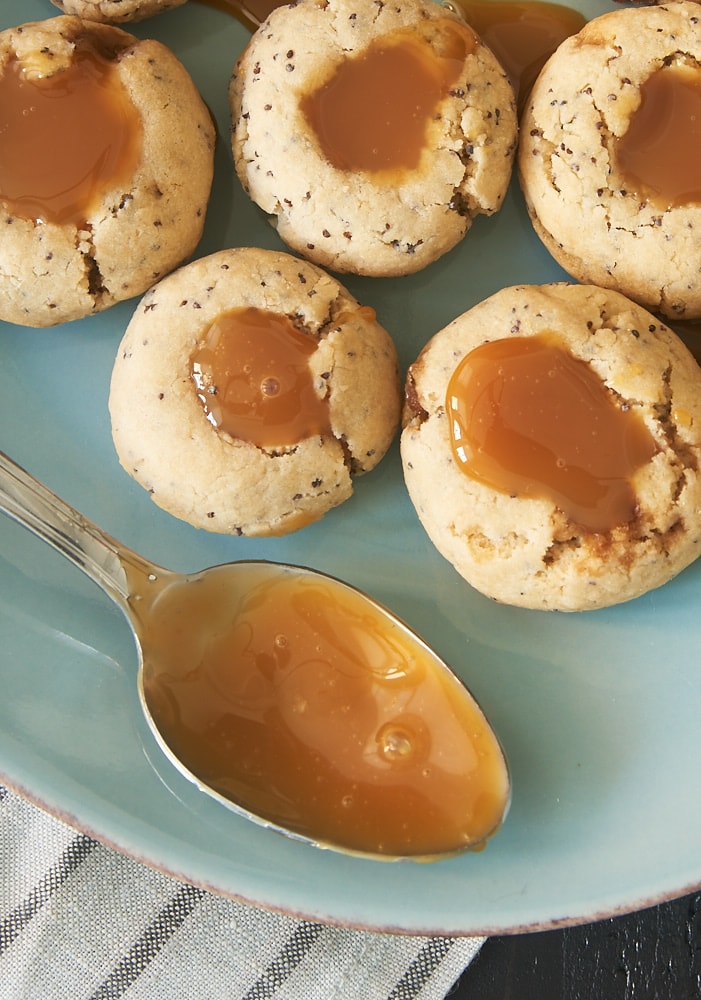 The poppy seeds add a nice bit of crunch and a little more nuttiness to these cookies. Plus, they just make them a lot more interesting, don't you think? I love seeing all those seeds throughout the cookies!
The cookies themselves are so soft and not too sweet. They are essentially a shortbread, so they tend to be a bit crumbly. Some of them will likely crack open a bit, too, as they bake. Don't fret if that should happen to your cookies. I think it makes them unique and creates little crevices and cracks for the filling.
I opted to use a store-bought caramel sauce to fill these. I love the flavor combination and the gooey factor. You can, of course, use another type of filling. Fruit preserves (ooooh, cherry!), nut butter, dulce de leche… so many options!
Visit the Recipe Index for more cookie recipes!
Almond Poppy Seed Thumbprint Cookies
Yield: 24 cookies
Prep Time:25 minutes
Cook Time:14 minutes per pan
These simple, nutty cookies are filled with store-bought caramel for a lovely, sweet treat!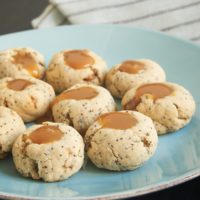 Ingredients:
1 & 1/2 cups all-purpose flour
2 tablespoons poppy seeds
1/4 teaspoon baking soda
1/4 teaspoon salt
4 ounces cream cheese, softened
1/4 cup unsalted butter, softened
1/2 cup firmly packed light brown sugar
1 teaspoon almond extract
1/4 to 1/2 cup caramel sauce
Directions:
Whisk together the flour, poppy seeds, baking soda, and salt. Set aside.
Using an electric mixer on medium speed, beat the cream cheese, butter, brown sugar, and almond extract until light and fluffy.
Reduce mixer speed to low. Gradually add the flour mixture, mixing just until combined. The mixture will be crumbly but should hold together when pinched.
Refrigerate the dough for about 30 minutes.
Preheat oven to 350°F. Line baking sheets with parchment paper or silicone liners.
Using a tablespoonful of dough at a time, roll the dough into balls* and place on the prepared pans, leaving about 2 inches between the cookies.
Bake 10 to 14 minutes, or until the edges are lightly browned.
While the cookies are still warm, use the end of a wooden spoon to make an indentation in the top of each cookie. After the cookies have cooled for 5 minutes, transfer the cookies to a wire rack to cool completely.
Fill the indentions of each cookie with 1/2 to 1 teaspoon of caramel.
Notes:
*This is a crumbly dough. I recommend squeezing each tablespoon of dough in your hand a few times to compact it a bit and help it hold together. Then you should easily be able to roll it between your palms to form a ball.