March 14, 2014
Chocolate Pudding Pie with Peanut Butter Filling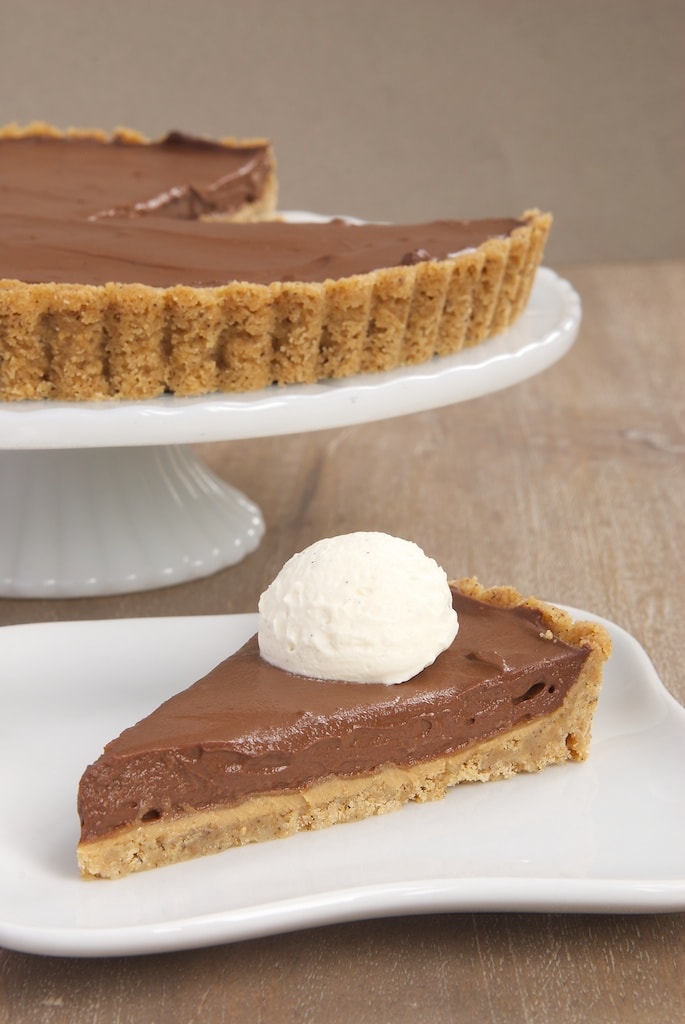 Remember yesterday when I touted the virtues of homemade Double Chocolate Pudding? Oh, but it's good. But, it seems I might have had an ulterior motive for sharing it. This pie.
If you aren't familiar with it, a pudding pie is exactly what it sounds like. It's pie + pudding. But, it's so much more than the sum of its parts. This, my friends, is the kind of dessert that should come with an addiction warning because it's just that good.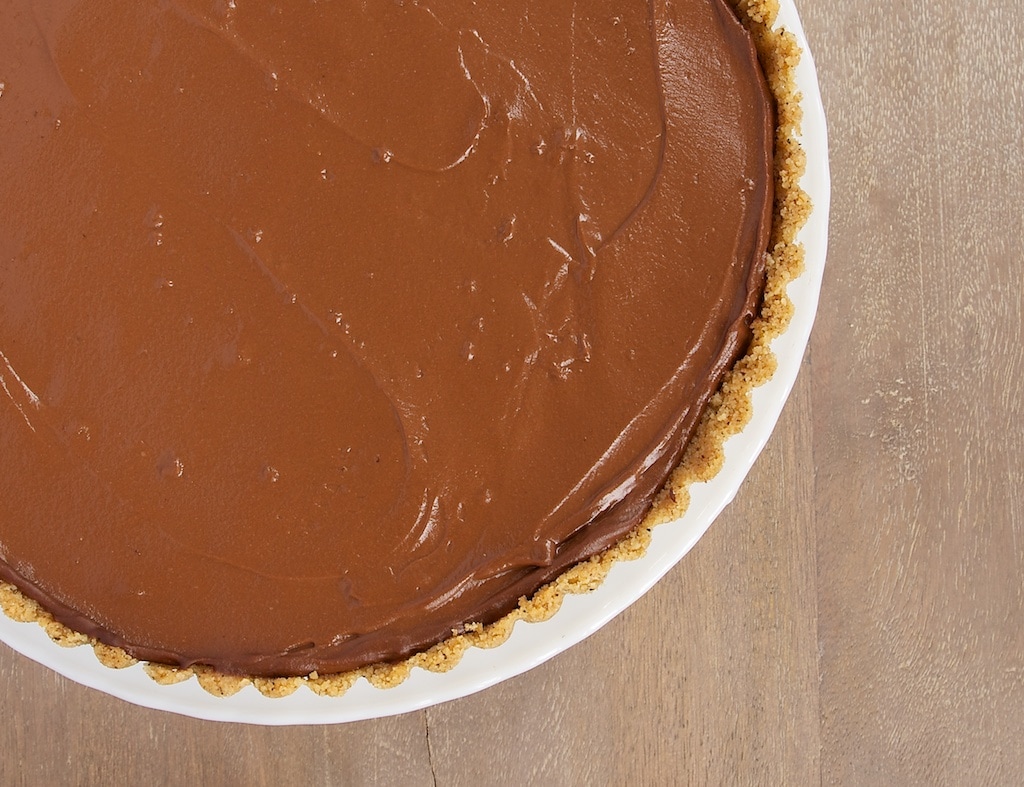 It starts with a cookie crust made from vanilla wafers. You can use any kind, but I'm partial to Trader Joe's. Next, for a fun variation, add a thin layer of peanut butter on top of the crust. It just gives you a little flavor surprise that goes so well with the rest of the pie. You can use another spread flavor (like chocolate-hazelnut! or cookie butter!) for some variety, or omit it for a more traditional pudding pie.
The filling is that same Double Chocolate Pudding I shared with you yesterday. Just fill up the crust with your freshly made pudding, cover it, and try very hard to wait a couple of hours before digging into this glorious pie.
Chocolate Pudding Pie with Peanut Butter Filling
Yield: 8 to 10 servings
Prep Time:25 minutes
Cook Time:25 minutes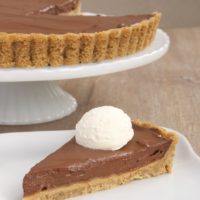 Ingredients:
For the crust:
7 ounces vanilla wafers
5 tablespoons unsalted butter, melted and slightly cooled
1 tablespoon packed light brown sugar
1/4 teaspoon salt
For the filling:
1/3 cup creamy peanut butter
1/3 cup granulated sugar
1/4 cup unsweetened cocoa powder
2 tablespoons cornstarch
1/4 teaspoon salt
2 cups milk
4 ounces bittersweet chocolate, finely chopped
1 tablespoon unsalted butter
2 teaspoons vanilla extract
Directions:
To make the crust:
Preheat oven to 350°.
Place cookies in the bowl of a food processor. Pulse until ground. Add melted butter, brown sugar, and salt. Pulse until combined.
Press crust mixture firmly and evenly into the bottom and up the sides of a 9-inch round tart pan or pie pan.
Bake 12 to 15 minutes, or until crust is dry and set. Cool completely.
To make the filling:
Once the crust has cooled, place peanut butter in a microwave-safe bowl. Heat 20 seconds, or until pourable. Spread warm peanut butter evenly onto the cooled crust. Refrigerate while you prepare the filling.
Place sugar, cocoa powder, cornstarch, and salt in a heavy saucepan. Stir to combine.
Place saucepan on the stovetop over medium heat. Add about 1/2 cup of milk. Whisk to combine with sugar mixture.
Gradually add remaining milk and continue cooking, whisking constantly, until the mixture begins to boil. Continue cooking for 3 to 5 minutes until mixture has thickened.
Remove pan from heat. Add chocolate, butter, and vanilla. Stir until smooth.
Transfer mixture to cooled crust and spread evenly. Cover with plastic wrap, placing the wrap directly onto the surface of the pudding. Refrigerate for at least 2 hours.
Serve with sweetened whipped cream, if desired.
This recipe was originally developed for Go Bold with Butter, where I am a paid contributor.