January 15, 2014
Jam-Swirled Coffee Cake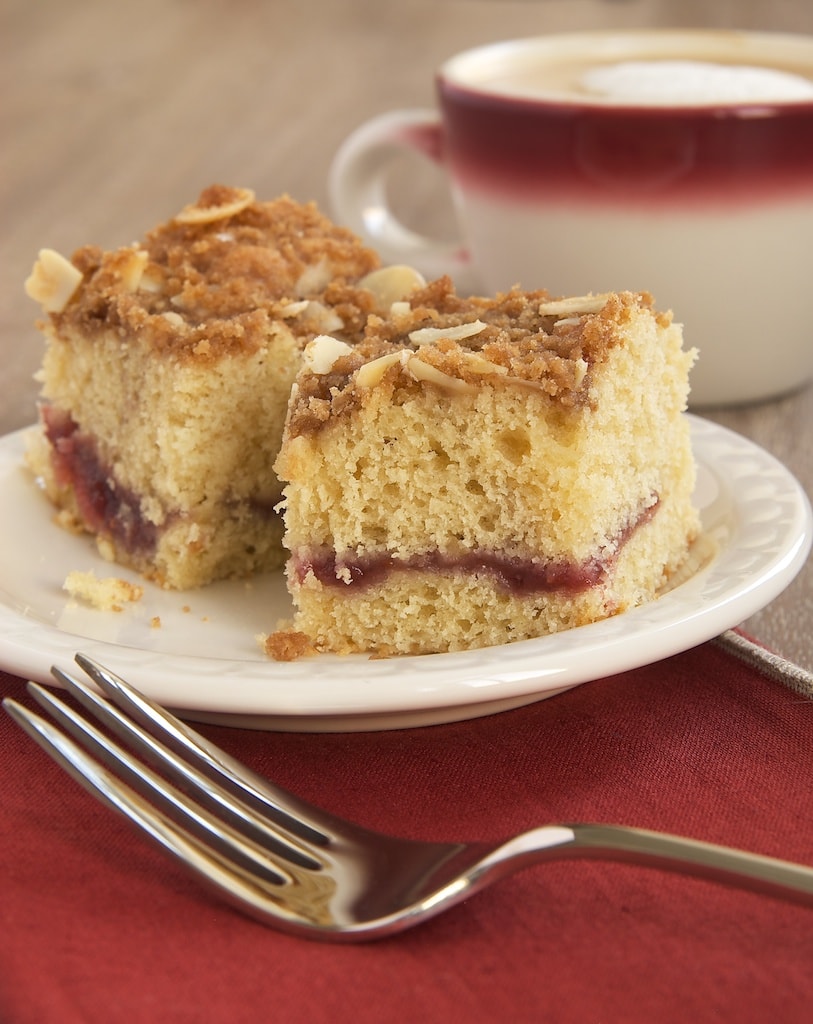 I have a bit of a baking addiction to coffee cakes. I don't know what it is about them. Is it the usual presence of a crumb topping? Is it how simple they are to make? Or, is it the justification of eating cake for breakfast? Whatever the reason, it seems that I just keep baking them. I try to keep it reined in so that I spread them out on BoB among the other goodies.
This particular coffee cake looks pretty ordinary on first glance. After you slice into it, however, you'll find a layer of jam running through the cake and adding a little burst of sweetness to every bite.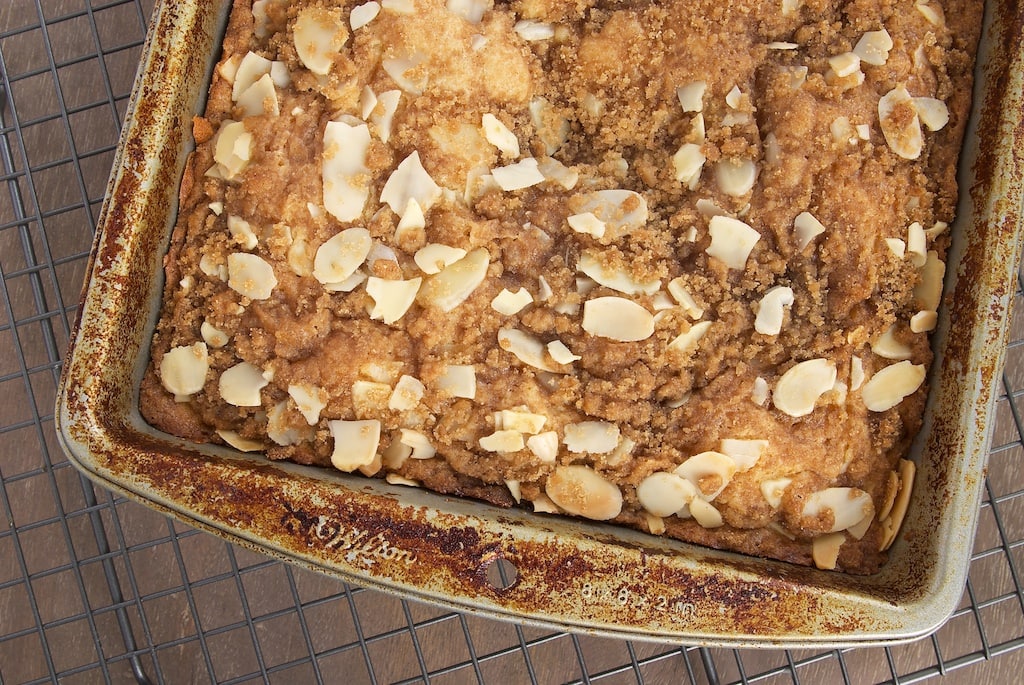 I used one of my favorites, Sarabeth's Strawberry Raspberry Preserves. It's nice and sweet, which works really well with the flavors of the coffee cake and the topping. I also like the color of those preserves in contrast to the cake. You can, of course, use your favorite flavor of jam or preserves. Have fun experimenting with different flavors!
Jam-Swirled Coffee Cake
Yield: 16 servings
Prep Time:25 minutes
Cook Time:35 minutes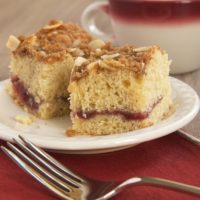 Ingredients:
For the cake:
1 & 3/4 cups all-purpose flour
2 teaspoons baking powder
1/2 teaspoon salt
1/2 cup unsalted butter, softened
1/2 cup granulated sugar
1/4 cup packed light brown sugar
1 large egg
1 teaspoon vanilla extract
1/2 cup milk
1/3 cup jam or preserves
For the topping:
1/4 cup packed light brown sugar
2 tablespoons all-purpose flour
1 tablespoon unsalted butter, cold and cut into small pieces
1/4 teaspoon ground cinnamon
pinch salt
1/4 cup sliced almonds
Directions:
To make the cake:
Preheat oven to 350°. Grease an 8-inch square baking pan.
Whisk together flour, baking powder, and salt. Set aside.
Using an electric mixer on medium speed, beat butter, sugar, and brown sugar until light and fluffy. Mix in egg and vanilla.
Reduce mixer speed to low. Add flour mixture in three portions, alternating with two portions of milk. Mix just until combined.
Transfer half of batter to prepared pan.
Spread jam over batter, leaving about a 1/2-inch border around the edges.
Top with remaining batter and gently spread over the jam.
To make the topping:
Use a fork to mix brown sugar, flour, butter, cinnamon, and salt until crumbly. Stir in almonds.
Sprinkle topping evenly over cake.
Bake 30 to 35 minutes, or until the edges are browned and a pick inserted into the center comes out clean.
Cool completely in pan. Cut into squares.
This recipe was originally developed for Go Bold with Butter, where I am a paid contributor.