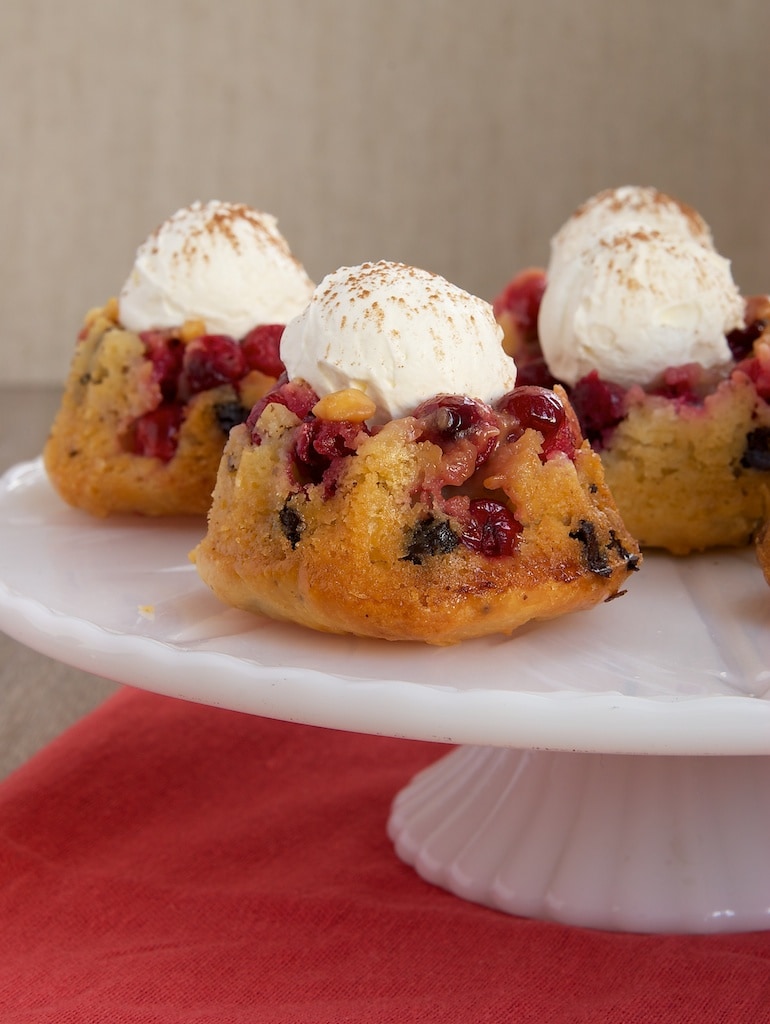 I hope you have enjoyed the holiday cookie baking spree I've been having lately. I'm moving on to other things, although I still have some cookies to share with you this season. But, today, we move on to something else synonymous with holiday baking – cranberries!
Specifically, we're talking cranberries, white chocolate, and chocolate chips baked into tiny upside-down cakes. All of that chocolate makes them sweet, and the cranberries offer both sweet and tart. And don't you just love mini desserts?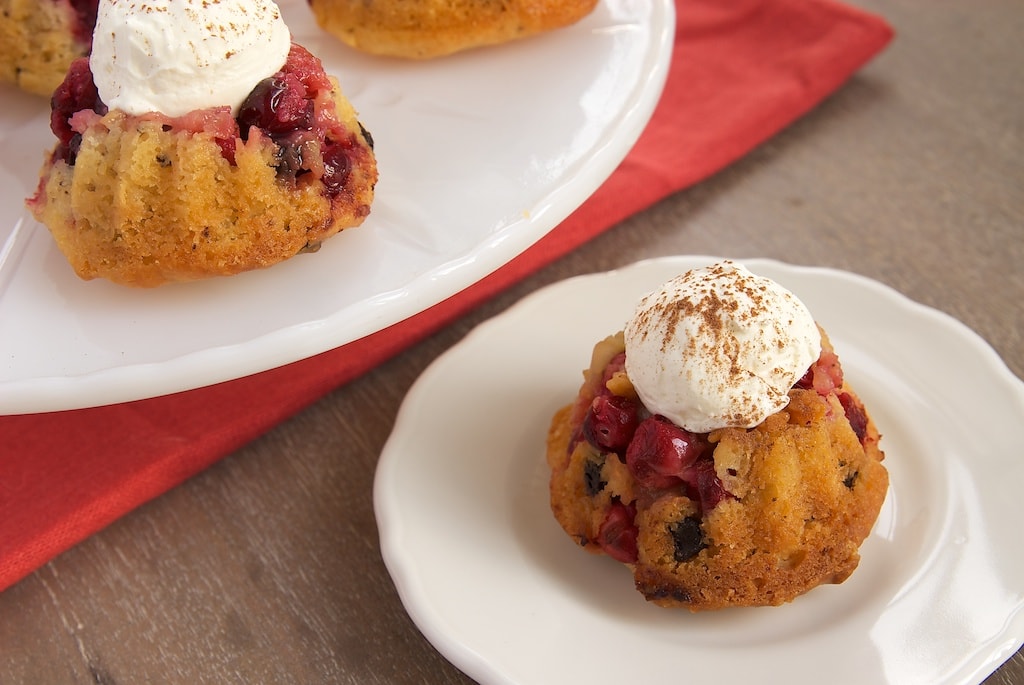 You may remember that earlier this year I spent some time in Nashville at the Southern Baking Retreat, thanks to Martha White and White Lily. Since that wonderful trip, I've talked a lot about all the biscuits we baked. But, one of the other fun things we did was come up with ways to use Martha White muffin mixes in creative ways.
These little cakes use chocolate chip muffin mix as a shortcut ingredient. It makes mixing these up so quick and easy. And, the combination of flavors is simply delicious. On top of all that, these look so elegant on a dessert tray.
Yield: 12 mini cakes
Prep Time: 15 minutes
Cook Time: 30 minutes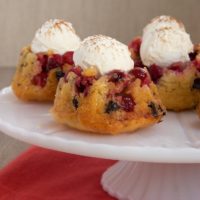 1/2 cup unsalted butter, melted
1/2 cup white chocolate chips
1 & 1/2 cups cranberries, fresh or frozen & thawed
1 cup sour cream
1/2 cup milk
2 tablespoons sugar
1/2 teaspoon almond extract
2 7.4-ounce packages Martha White Chocolate Chip Muffin Mix
sweetened whipped cream and cocoa powder, for garnish
Directions:
Preheat oven to 350°. Grease 12 standard-sized muffin cups.*
Spoon 2 teaspoons of melted butter into each cup. Divide white chocolate chips and cranberries evenly among muffin cups.
In a medium bowl, combine sour cream, milk, sugar, and almond extract. Stir in muffin mix. Divide batter evenly among muffin cups.
Bake 25 to 30 minutes, or until golden brown.
Place a large cutting board or baking sheet over muffin pan. Invert pan to remove the cakes. Serve warm topped with whipped cream and cocoa powder.
Notes:
*You can also bake these in mini Bundt pans, although it will make 15 or 16 cakes instead of 12. Just fill the mini Bundt cups about 2/3 full.
Disclosure: I was provided with products by Martha White. All opinions are my own.