April 3, 2009
Peanut Butter Cookies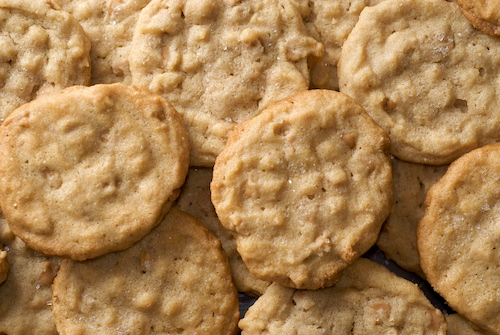 I was recently challenged to make peanut butter cookies by someone who has sampled many varieties. I readily accepted and went home to find just the right recipe. Do you have any idea how many recipes there are out there for peanut butter cookies? I was a tad overwhelmed, to say the least.

After pouring myself into studying recipe after recipe, I finally decided on this one from The Magnolia Bakery Cookbook: Old-Fashioned Recipes From New York's Sweetest Bakery. I have made several recipes from their cookbooks with wonderfully delicious results.
I liked the slight break from traditional peanut butter cookies with the addition of peanut butter chips. I had recently procured a rather large bag of miniature ones that were just begging to be used. I don't think the chips really added that much extra peanut butter flavor, but I still liked the idea.
They were a bit crispier than I would have liked. I adjusted the baking time down by a minute or so on later batches and was much more pleased with those. I would have liked to experiment with a little sprinkling of salt on top, but in the end I didn't vary from the recipe.
These cookies received raves from everyone who tried them. My challenger declared them the best she's ever had. In that respect, I feel as if I accomplished something big.
I'm not sure I would choose this recipe as my staple recipe for peanut butter cookies. That's not to say that they are anything less than delicious. But, there are many more variations to be tried. I am officially on the hunt for the best!