This Blueberry Ginger Pie is loaded with sweet, juicy berries and the zing of freshly grated ginger. Meet your new favorite summer pie recipe!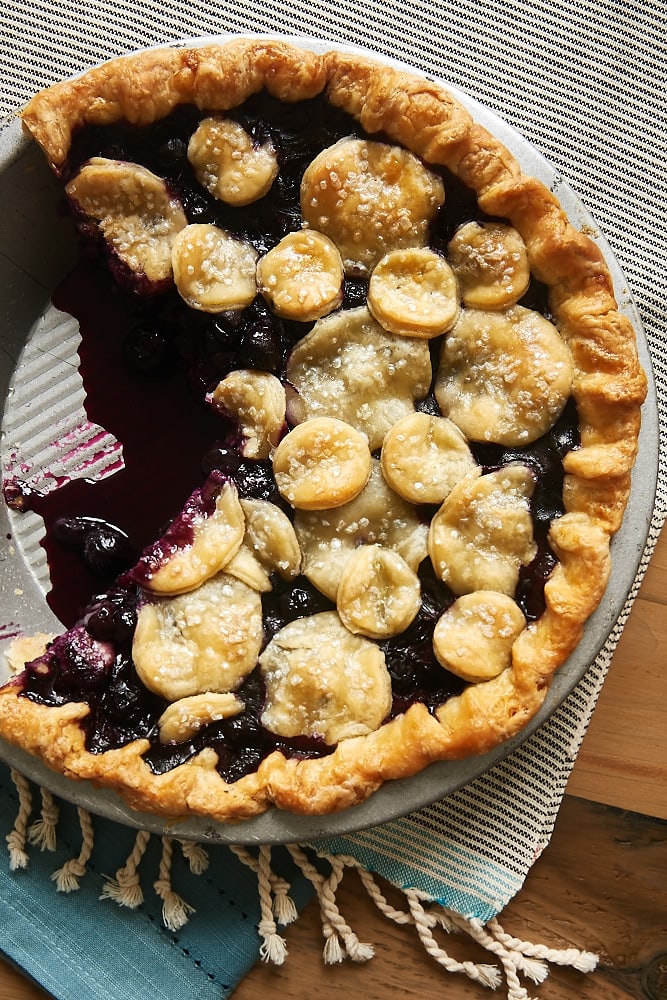 Homemade Blueberry Pie—With a Twist!
Blueberry pie is one of the simple pleasures of summer. Sweet, juicy, and just a bit messy—but that's okay, because all that extra juice on the plate is perfect for pairing with a scoop of vanilla ice cream. Summer just isn't complete until you've enjoyed a slice or two, and I have a feeling this Blueberry Ginger Pie will be your new favorite recipe.
A couple of years ago, I took a preserving class where we made some lovely blueberry preserves with a hint of ginger. I was surprised by how much that little bit of ginger improves an already good thing. It adds an understated warmth that's such an amazing complement to the blueberries. Remembering how much we loved those blueberry preserves, I knew that freshly grated ginger would be the perfect addition to blueberry pie.
Traditionally, blueberry pies tend to be double-crust pies, either with a lattice top or a whole crust. For something a bit different, I cut out circles from pie dough and placed them randomly over the top of the filling. It gives it a bit of a fun, whimsical look. Plus, it's a lot simpler and more forgiving than a lattice top!
What You'll Need
Scroll down to the recipe card below this post for ingredient quantities and full instructions.
For the crust:
All-purpose flour – Learn more: How to Measure Flour
Granulated sugar
Salt
Unsalted butter – This needs to be quite cold; you can even pop it in the freezer for a bit.
Very cold water – You can place ice cubes in the water to chill it, then take them out just before measuring.
For the filling:
Blueberries – You can use frozen blueberries when they're not in season, but fresh are best!
Granulated sugar
Cornstarch
Freshly grated ginger
Lemon – You'll need the juice and the zest; zest the lemon first, then juice it.
Unsalted butter – Learn more: Unsalted or Salted Butter: Which is Better for Baking?
Egg
Water
Sparkling sugar – This is optional, but it adds visual appeal and a delightful crunch and sweetness to the top crust.
How Do You Prepare Fresh Ginger?
While they sell fancy ginger graters at kitchen stores, you really only need a standard microplane or box grater here. Because you're grating the ginger (as opposed to slicing it) and the skin is so thin, there's no need to peel it before grating—just wash it well first.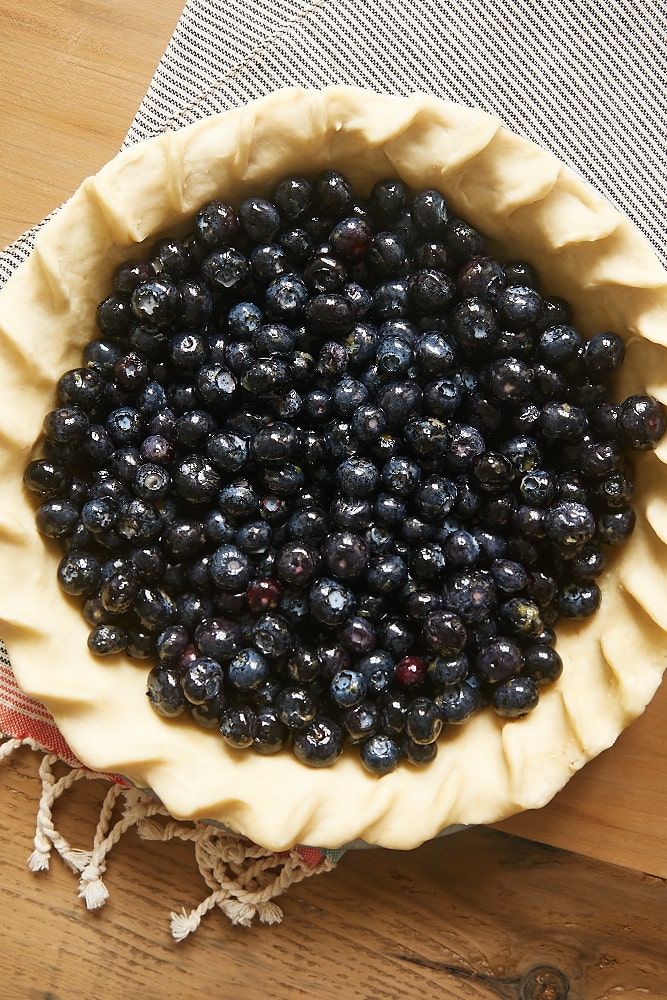 How to Make Blueberry Ginger Pie
If you'd like to break this recipe into two days, you can make the dough for the crust the day before, then assemble the next day.
To make the crust:
Mix the dry ingredients and butter. Combine the flour, sugar, and salt in a large bowl. Add the chilled butter and mix it in using a pastry blender or a fork. When you're done, the largest bits should be no bigger than the size of peas.
Finish the dough. Add the cold water a tablespoon at a time, then stir just until the mixture comes together into a dough.
Chill. Divide the dough in half and flatten each portion into a disc about an inch thick. Wrap the two pieces in plastic wrap and refrigerate for at least 2 hours.
Roll out the dough. Place one chilled disc of dough on a lightly floured work surface. Roll it out into a circle, about 1/8-inch thick.
Finish. Carefully place the rolled out dough into a 9-inch pie plate. Trim and crimp the edges as desired, then return it to the refrigerator to chill while you make the filling.
To make the filling:
Prepare. Preheat your oven to 350°F and line a rimmed baking sheet with parchment paper to catch any filling that bubbles over.
Combine the filling ingredients. In a large bowl, stir together the blueberries, sugar, cornstarch, ginger, zest, and juice.
Cut the pieces for the top crust. Place the remaining disc of pie dough on a lightly floured surface and roll it out to about 1/8-inch thick. Use a small round cookie cutter, or a few different sizes, to cut out circles of dough.
Assemble. Pour the blueberry mixture into the chilled pie crust, then scatter the pieces of butter over the top. Arrange the dough circles over the filling to cover most of the top, but leave some spots uncovered to allow the filling to vent.
Make the egg wash. Whisk the egg and water in a small bowl. Lightly brush the edge of the pie crust and the dough circles with the egg wash. If desired, sprinkle the top of the crust with sanding sugar.
Bake. Set the pie plate on the baking sheet and place them in the oven. Bake for 55 to 60 minutes, or until the crust is golden brown and the filling is bubbly. Cool your Blueberry Ginger Pie completely before serving.
How Full Should You Fill a Pie?
A general rule of thumb is to fill your crust about 1/2 inch from the top. More than this and the blueberry mixture will bubble up onto your top crust and turn it blue!
Tips for Success
Read my summer baking tips for hints and tips on baking during the summer heat. Here are some additional pointers for perfect blueberry ginger pie!
Measure accurately. Use a kitchen scale when possible. Otherwise, spoon and sweep to avoid over-measuring the dry ingredients.
Use your favorite pie crust. I've included my usual pie crust recipe, but feel free to use your preferred recipe for a double crust.
Fresh is best. You'll get the best results with fresh blueberries, although yes, you can use frozen in a pinch. I recommend using fresh lemons and ginger as well.
Get creative with the topping. Instead of circles, you can have fun with different shapes—stars, diamonds, leaves, whatever you like! A lattice top is a great choice, too.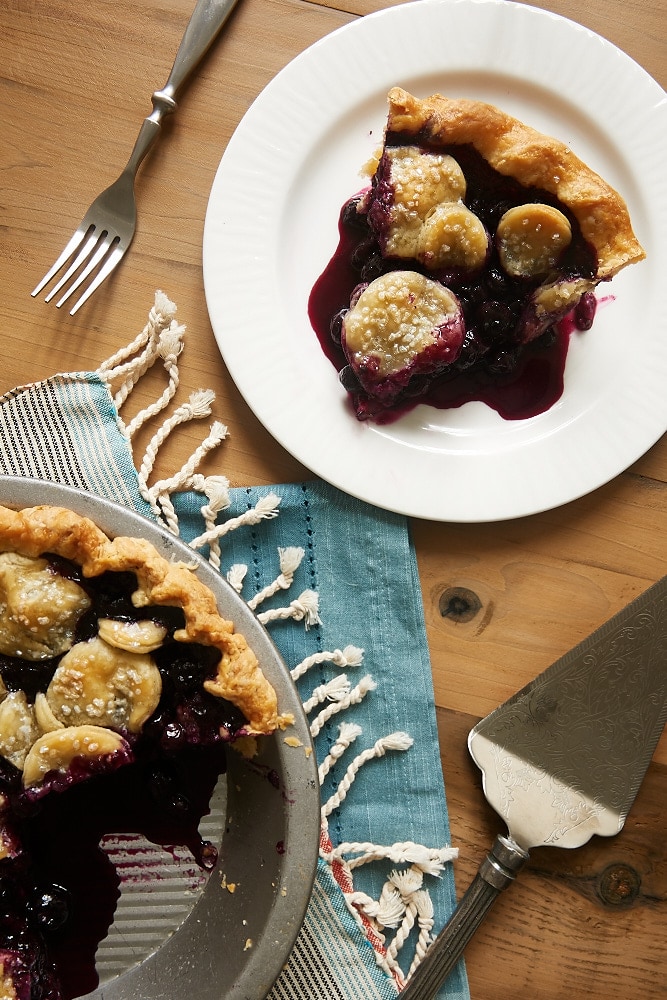 Serving Suggestions
If you like, top off slices of this beauty with a scoop of vanilla ice cream (preferably the kind with flecks of vanilla bean!) or some sweetened whipped cream. Or just enjoy your blueberry ginger pie by itself in all its sweet, juicy, messy glory.
How to Store
Fruit pies can be stored at room temperature or in the refrigerator. Per USDA guidelines, you can safely store them for up to 2 days at room temperature, or if you want your pie to last longer, refrigerate it for 4 to 5 days. Either way, be sure to cover it with plastic wrap or foil, or transfer smaller portions of leftovers to an airtight storage container.
Can I Freeze Blueberry Ginger Pie?
Yes, you can freeze blueberry ginger pie for up to 3 months. Wrap it tightly or, if you're storing leftovers, place them in an airtight storage container. Let the pie thaw at room temperature before serving.
Find more pie recipes in the Recipe Index.
More Berry Pie Recipes
I've got a few more easy berry pie recipes to share with you that are perfect for summer!