Chocolate Coconut Almond Cheesecake is a rich, creamy, flavorful, decadent, gorgeous dessert! A great choice for a special occasion!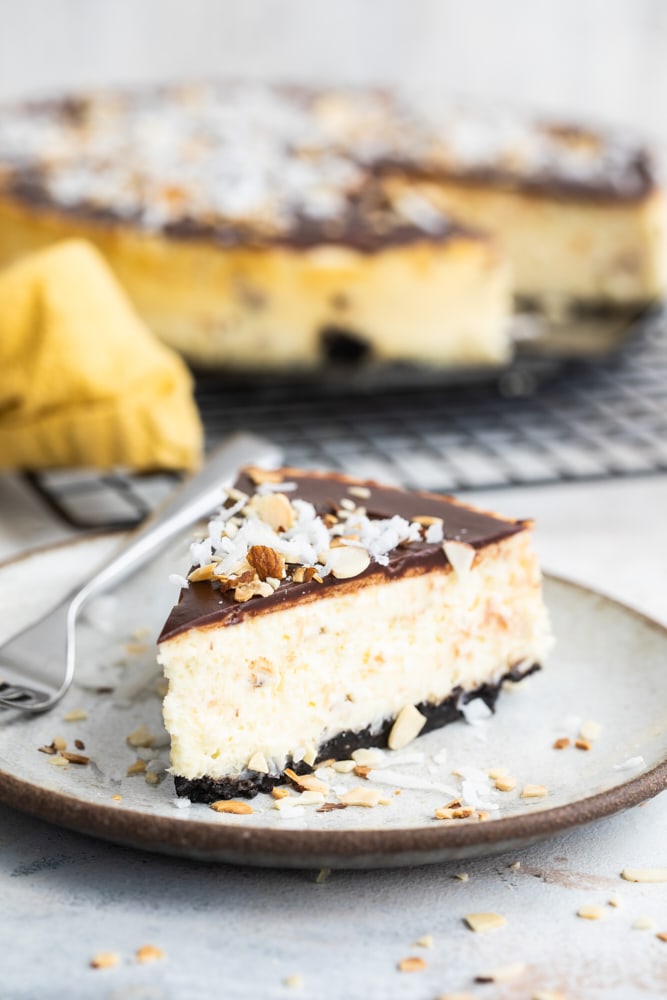 Sometimes you need a gorgeous, decadent dessert. And that's just what this Chocolate Coconut Almond Cheesecake is. This beauty is really just fantastic.
I'll take cheesecake most any way I can get it. But add in great flavors like coconut and chocolate and almonds, and I have zero chance of resisting. It's just. so. good.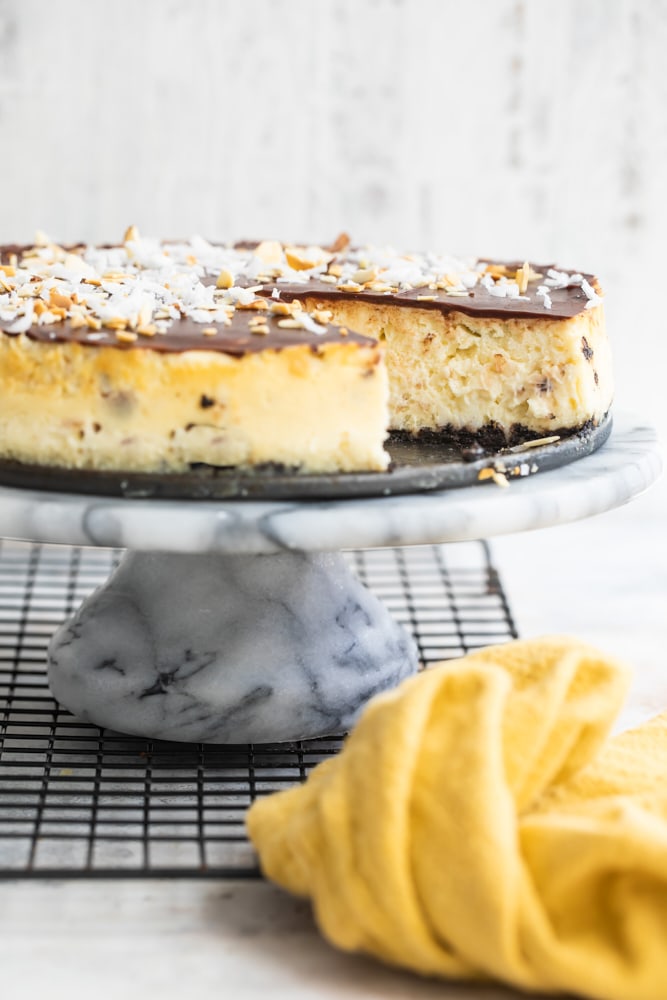 If you're a fan of Almond Joy candy bars, you're going to adore this cheesecake. It's got all of those great flavors combined with rich, creamy cheesecake. Heck, we could certainly just call this an Almond Joy Cheesecake!
This method of baking cheesecake has been my preferred method for many years. It takes a little longer, but I've yet to have a cheesecake turn out anything less than beautiful this way. Plus, you don't have to struggle with a water bath or any other fussy method to achieve cheesecake perfection!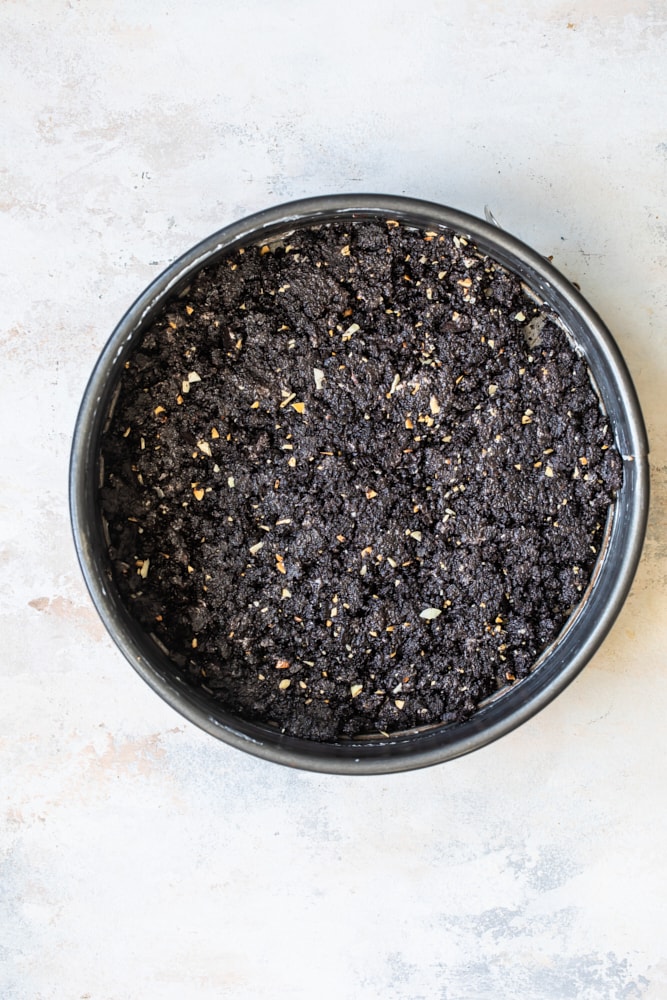 Tips for Success
Measure accurately. You'll get the best results when everything is well-measured.
Bring the cream cheese to room temperature. Allowing the cream cheese to come to room temperature will make your cheesecake smoother and lump-free.
Toast the coconut and almonds. While this isn't an absolute requirement, you'll get a bolder, richer flavor if you toast these ingredients. Spread them in a single layer on a lined, rimmed baking sheet. Bake at 350°F for 10-12 minutes or until toasted and fragrant. Be sure to stir occasionally to prevent burning, especially with the coconut.
Place the springform pan on a lined, rimmed baking sheet. Springform pans can develop little gaps, which can leak. Setting the pan on a baking sheet will catch any potential leaks or spills.
Don't skip the extra oven time. While this cheesecake isn't complicated to make, the method for baking means lots of oven time. Stick to this method for a beautiful, crack-free cheesecake.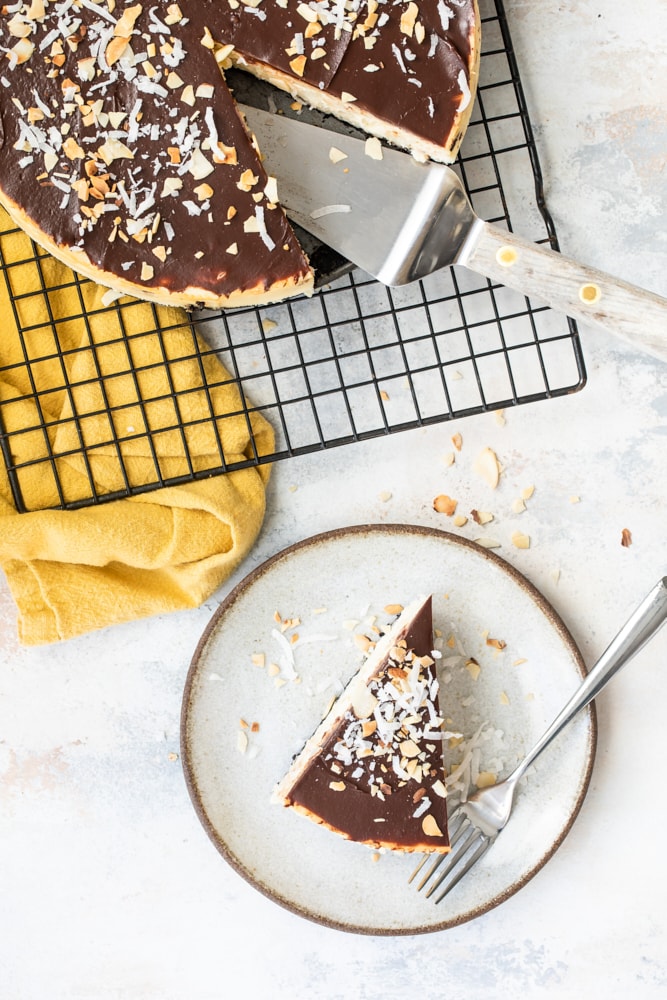 This beautiful cheesecake is just the thing for a special occasion when you want your dessert to be a showstopper. It's rich and creamy and completely drool-worthy!
Find more cheesecake recipes in the Recipe Index.
More Show-Stopping Cheesecake Recipes