October 6, 2016
Caramel Apple Crumb Cake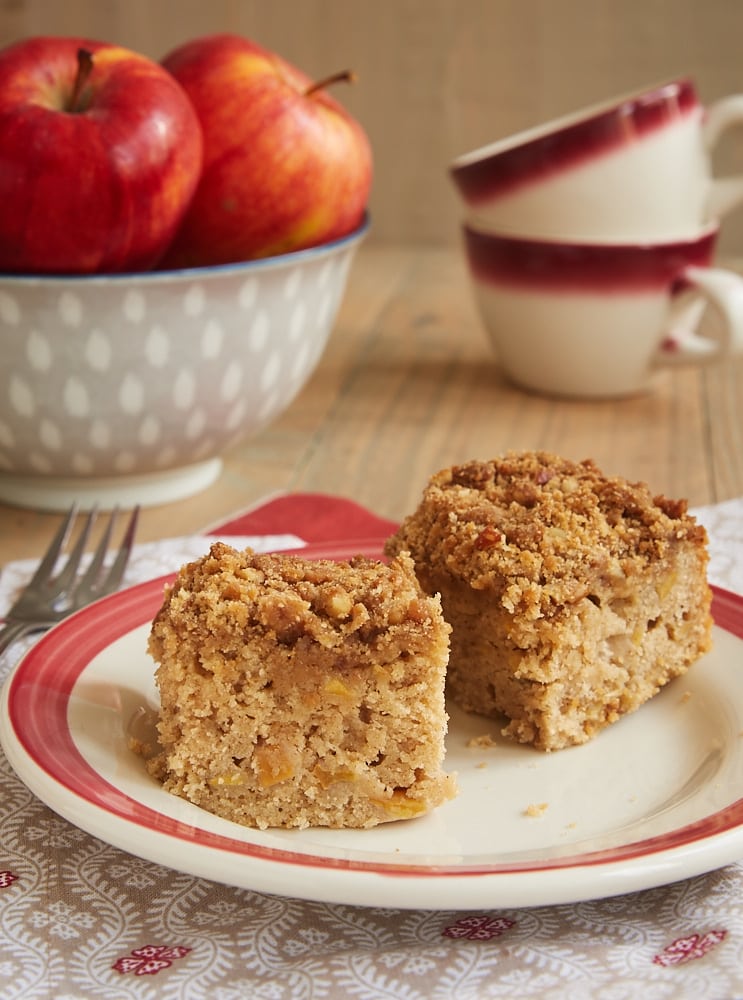 I can't believe I'm this far into fall without sharing an apple recipe with you! I'm usually counting the days until I can start baking with them, but I'm somehow a bit behind this year. But, I'm happy to tell you that this Caramel Apple Crumb Cake is well worth the wait.
This wonderful cake combines apples with one of its favorite companions – caramel! There's just something magical about the pairing of sweet apples and rich caramel that's irresistible. And such a quintessential fall flavor must!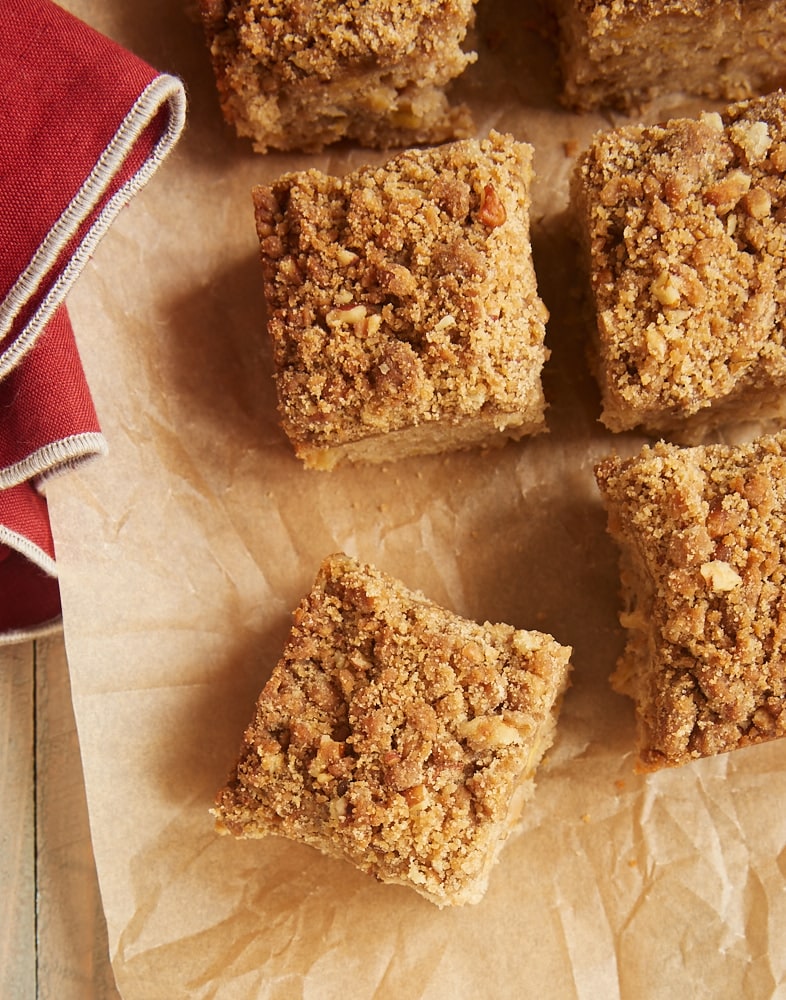 There are plenty of apples mixed right into the cake. That makes this cake incredibly moist and soft. The texture is really lovely. And the caramel comes in with the crumb topping. Melted caramel gets mixed into an otherwise traditional nutty crumb. And it's pretty amazing.
I've actually made this crumb topping previously on BoB. I shared Caramel Crumb Coffee Cake with you quite a while ago, but I recently rediscovered it and really wanted to put that fantastic crumb topping to use again. It's so good that I honestly think I could just eat it all by itself. But, of course, it's even better when paired with this sweet, simple apple cake.
This is a great cake for anything from a snack to a simple dessert. If you're a coffee or tea drinker, this cake is just begging to be devoured alongside your favorite hot beverage. Or just grab a slice for a sweet treat on a fall day!
Find more apple recipes in the Recipe Index.
Caramel Apple Crumb Cake
Yield: 12 servings
Prep Time:25 minutes
Cook Time:35 minutes
Sweet apples and rich caramel combine in this wonderfully delicious Caramel Apple Crumb Cake.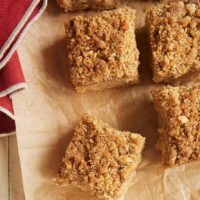 Ingredients:
For the topping:
3 tablespoons unsalted butter
3 ounces soft caramels or caramel bits
3/4 cup all-purpose flour
1/3 cup firmly packed light brown sugar
1/4 cup chopped pecans
1/4 teaspoon salt
For the cake:
2 cups all-purpose flour
1 & 1/2 teaspoons ground cinnamon
1 teaspoon baking powder
1/2 teaspoon salt
1/2 cup unsalted butter, softened
1/2 cup granulated sugar
1/4 cup firmly packed light brown sugar
1 large egg
1/2 teaspoon vanilla extract
3/4 cup milk
1 medium apple, finely chopped*
Directions:
To make the topping:
Place the butter and caramels in a microwave-safe bowl. Heat in microwave at half-power in 30-second increments until melted. Stir until smooth. Set aside to cool.
Combine the flour, brown sugar, salt, and pecans in a small bowl. Add the cooled caramel mixture and mix with a fork or your fingers until crumbs form. Set aside.
To make the cake:
Preheat oven to 350°F. Grease an 8-inch square baking pan.
Whisk together the flour, cinnamon, baking powder, and salt. Set aside.
Using an electric mixer on medium speed, beat the butter, sugar, and brown sugar until light and fluffy. Add the egg and vanilla, and mix until combined.
Reduce mixer speed to low. Add the flour mixture in three portions, alternating with two portions of milk. Mix just until combined.
Stir in the chopped apple.
Spread the batter evenly in the prepared pan. Sprinkle the topping over the top of the batter.
Bake 30 to 35 minutes, or until the cake has browned and a pick inserted into the center comes out clean.
Notes:
*Be sure to pick an apple that's good for baking. I usually use Gala or Fuji. You can choose to peel the apple or not.