September 29, 2014
Butterscotch Oatmeal Sandwich Cookies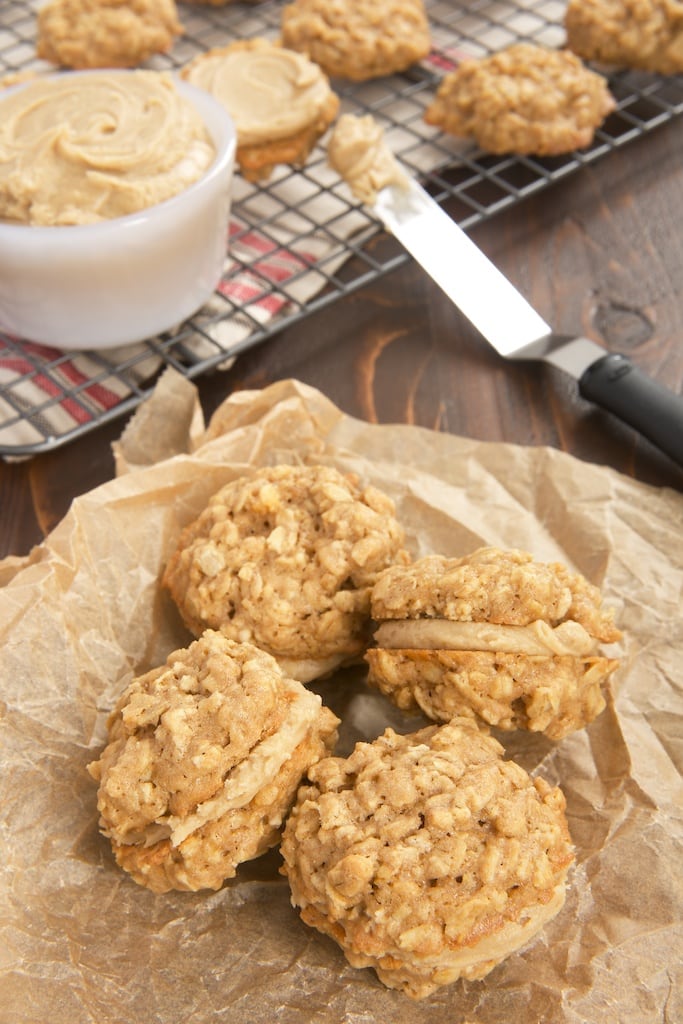 I have a long-standing love of cookie baking. As you can see, it happens quite a bit in my kitchen. Baking cookies for a good cause is even better. September is Childhood Cancer Awareness Month. When OXO asked again this year if I'd like to bake some cookies to benefit Cookies for Kids' Cancer, I immediately signed up.
So, let's talk cookies!
The cookies you see here are fairly traditional oatmeal cookies, and my basic go-to oatmeal cookie recipe. They are chewy cookies with lots of oats and a touch of cinnamon. If you are a fan of oatmeal cookies, you'd be more than happy just making a batch of these cookies and stopping right there. But, I added some big flavor with what is my new frosting obsession.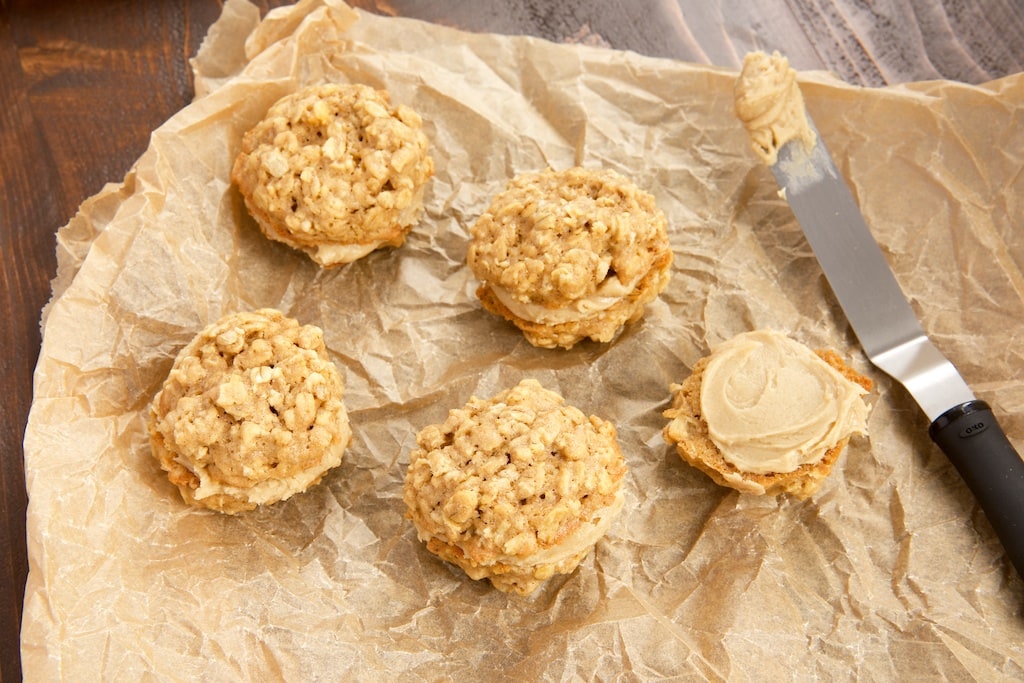 This super simple butterscotch frosting is so, so good. It only takes a few ingredients to make, and the taste is amazing. Spread a little (or a lot) between two oatmeal cookies, and you've got one spectacular sandwich cookie. The combination of those chewy oatmeal cookies with that butterscotch frosting is just magical!
Now, let's talk about "Baking a Difference."
In addition to my cookie contribution, many of my fellow bloggers are also busy baking cookies this month. And OXO is donating $100 to Cookies for Kids' Cancer for each of our blog posts about the campaign! In social media, look for #OXOGoodCookies to see what everyone is sharing this month. You can also see all the cookies made for this great cause on OXO's Good Cookies Pinterest Board. And be on the lookout for OXO products marked with special Cookies for Kids' Cancer stickers, as they will donate 25 cents for each product sold.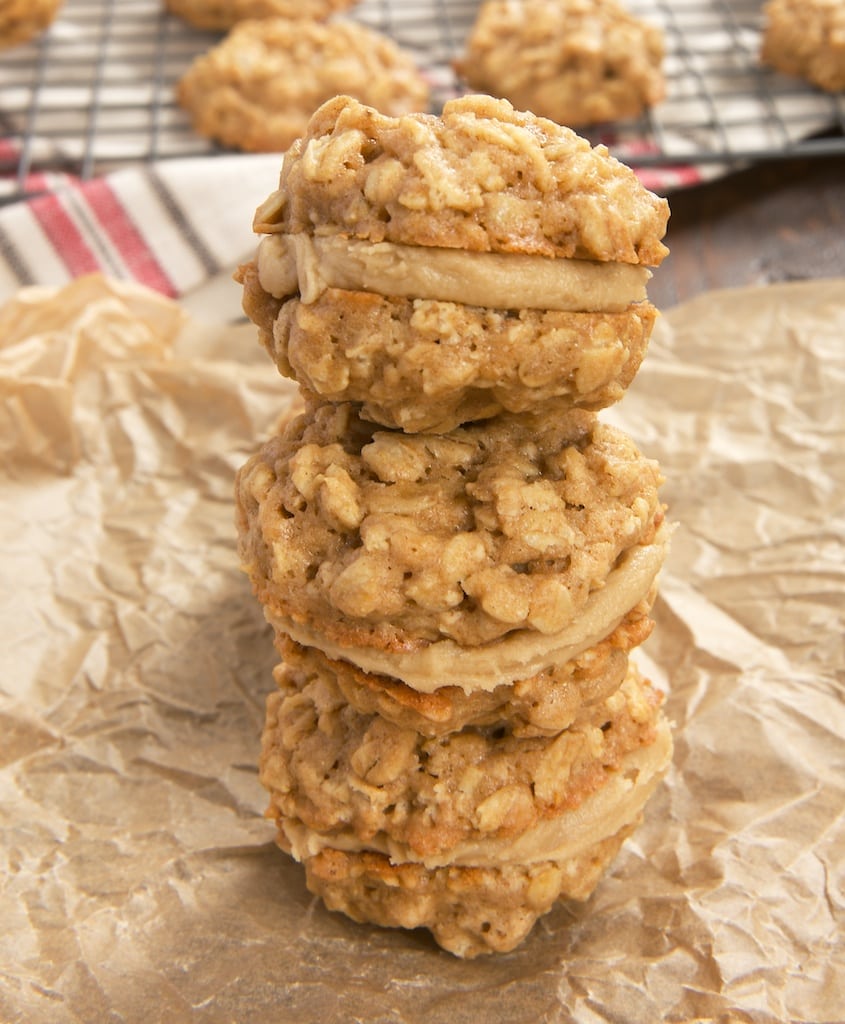 Butterscotch Oatmeal Sandwich Cookies
Yield: about 21 sandwich cookies (42 cookies)
Prep Time:25 minutes
Cook Time:20 minutes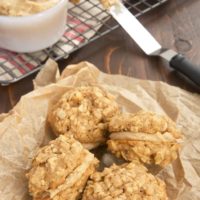 Ingredients:
For the cookies:
1 & 1/4 cups all-purpose flour
1 & 1/2 teaspoons ground cinnamon
1/2 teaspoon baking powder
1/2 teaspoon salt
3 cups rolled oats
3/4 cup unsalted butter, softened
1 cup packed light brown sugar
2 large eggs
1 teaspoon vanilla extract
For the frosting:
1 cup packed light brown sugar
1/2 cup unsalted butter
1/4 cup heavy cream
1 teaspoon salt
1 teaspoon vanilla extract
1 & 1/2 cups confectioners' sugar
Directions:
To make the cookies:
Preheat oven to 350°. Line baking sheets with silicone liners or parchment paper.
Whisk together flour, cinnamon, baking powder, and salt. Stir in oats. Set aside.
Using an electric mixer on medium speed, beat butter and brown sugar until light and fluffy. Add eggs, one at a time, mixing well after each addition. Mix in vanilla.
Reduce mixer speed to low. Gradually add oat mixture, mixing just until combined.
Drop dough by tablespoonfuls onto prepared pans, leaving about 2 inches between cookies. Flatten each cookie slightly.
Bake 12 to 15 minutes, or until lightly browned.
Cool on pans for 5 minutes. Then, transfer cookies to a wire rack to cool completely.
To make the frosting:
Place brown sugar and butter in a medium heavy saucepan. Cook over medium heat, stirring occasionally until butter is melted and mixture is combined. Bring to a low boil, stirring occasionally, and cook until thickened (about 3-4 minutes).
Remove pan from heat. Carefully add cream (mixture will bubble) and stir to combine. Stir in salt and vanilla.
Transfer to a large mixing bowl. Allow mixture to cool to room temperature.
Gradually add confectioners' sugar while beating with an electric mixer on medium speed. Mix until smooth.
Spread frosting on the bottoms of half of the cookies. Top each frosted cookie with another unfrosted cookie.
OXO was kind enough to send some cookie baking tools my way, including a Cookie Spatula, 3 Piece Spatula Set, and Icing Knife. All opinions written are my own.