September 28, 2015
Chocolate Hazelnut Swirl Blondies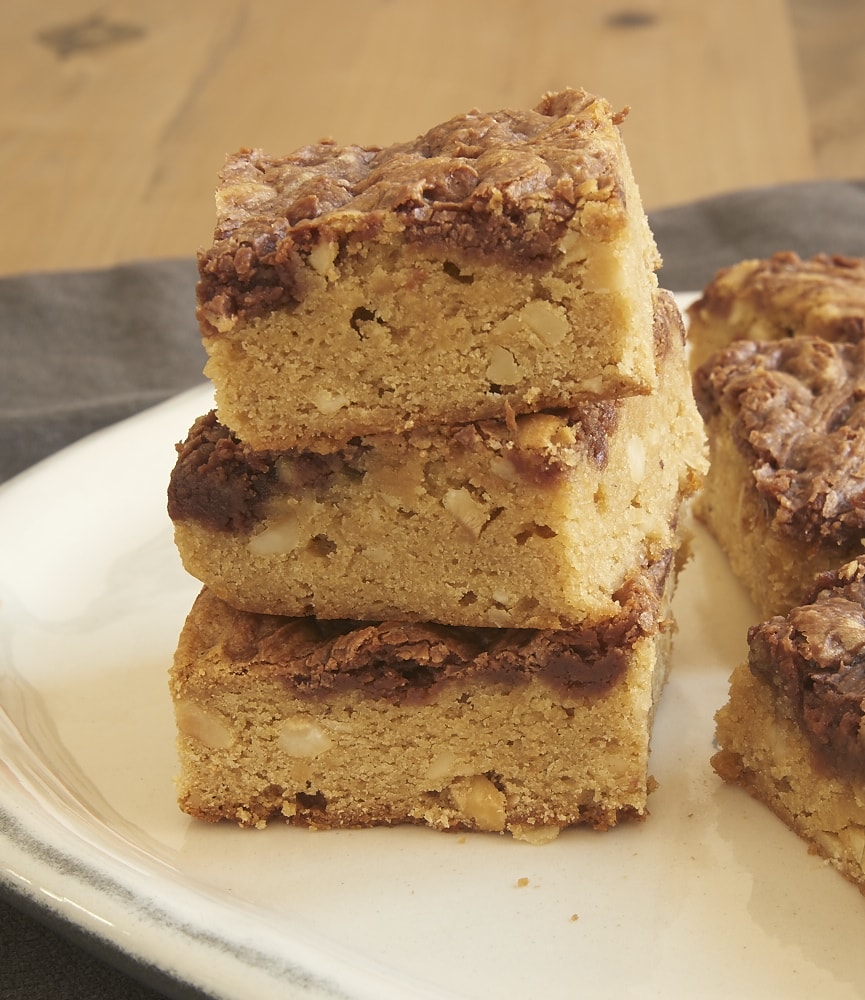 I have unrealistic swirling expectations. At least a few times every year, I dream up some recipe that involves something getting swirled into something else. Sadly, not everything is meant to be swirled. Or maybe I'm just not very good at making it happen.
In any case, I'm happy to tell you that these blondies are happily and wonderfully swirled with a pretty fantastic combination of cream cheese and chocolate-hazelnut spread. And they're oh-so good.

When it comes time to swirl the topping, the best approach is to drop small dollops of the mixture over the top of the blondies. Then use a thin knife to swirl the topping into the blondie batter. I tend to start with a looping pattern just to get it mixed in a bit. Then you can use that same knife to draw lines across the topping to add to the pattern.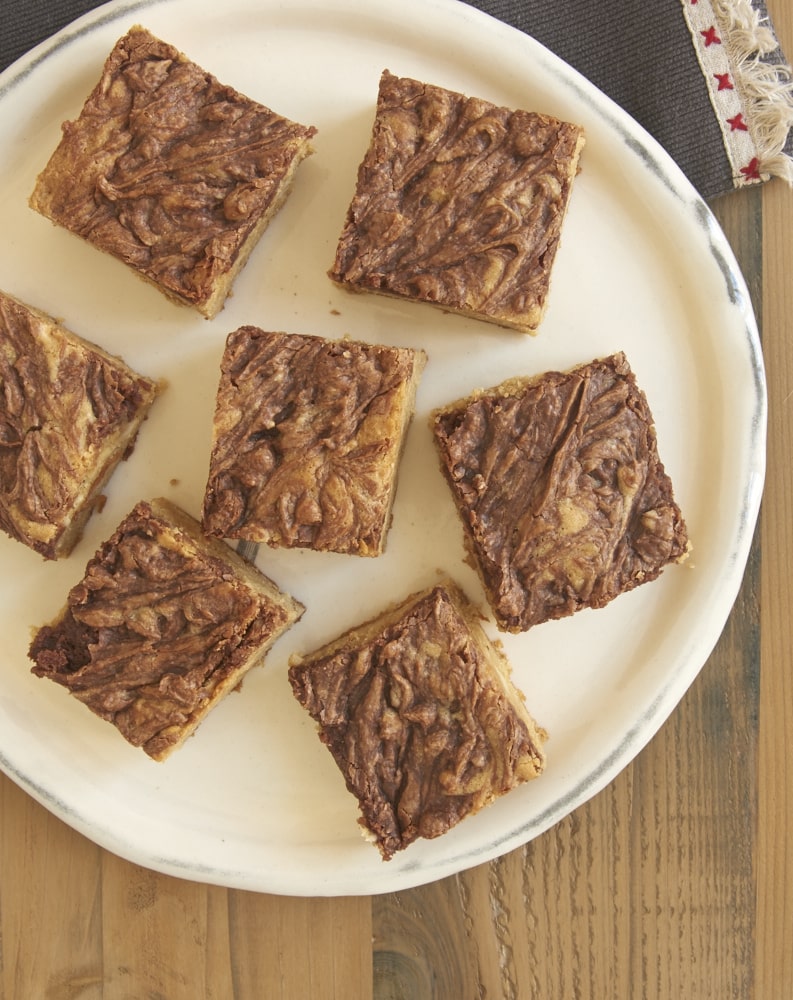 You may want to wipe off your knife periodically to keep things a bit neater. And don't fret if the top looks a bit lumpy when you're done. It will even out a bit in the oven while still leaving a bit of interesting terrain on top.
Underneath that swirl is a sweet, soft blondie that gets a little crunch from some chopped hazelnuts. Those nuts also serve to enhance the flavor of the chocolate-hazelnut swirl. If you want to bump up the chocolate aspect, try reducing the hazelnuts to 1/2 cup and mix in about 1/2 cup finely chopped semisweet chocolate.
Find more blondie recipes in the Recipe Index.
Chocolate Hazelnut Swirl Blondies
Yield: 24 2-inch bars
Prep Time:25 minutes
Cook Time:35 minutes
These sweet, nutty Chocolate Hazelnut Swirl Blondies are topped with a delicious swirl of chocolate-hazelnut spread.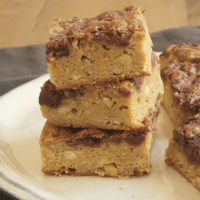 Ingredients:
For the blondies:
2 cups all-purpose flour
1 teaspoon baking powder
1/2 teaspoon salt
1 cup unsalted butter, melted and cooled
1 & 1/2 cups firmly packed light brown sugar
2 large eggs
1 teaspoon vanilla extract
3/4 cup finely chopped hazelnuts
For the topping:
4 ounces cream cheese, softened
1/4 cup chocolate-hazelnut spread*
1/4 cup granulated sugar
Directions:
To make the blondies:
Preheat the oven to 350°F. Grease a 9″x 13″x 2″ baking pan.
Whisk together the flour, baking powder, and salt. Set aside.
Using an electric mixer on medium speed (or just a mixing spoon), mix the butter, brown sugar, eggs, and vanilla until thoroughly combined. Reduce mixer speed to low, and gradually add the flour mixture. Mix just until combined. Stir in the hazelnuts.
Spread the blondie batter evenly in the prepared pan.
To make the topping:
Using an electric mixer on medium speed, beat the cream cheese, chocolate-hazelnut spread, and sugar until thoroughly combined.
Drop the topping mixture by small amounts (2-3 teaspoons at a time) over the top of the blondies. Use a thin knife to swirl the chocolate mixture into the top third of the blondie batter.
Bake 30 to 35 minutes, or until a pick inserted into the center comes out clean. Cool the blondies in the pan before cutting into bars.
Notes:
*Nutella used to be the only chocolate-hazelnut spread game in town, but now there are many other brands. Just use your favorite brand.