Brown Butter Oatmeal Date Cookies with Maple Glaze are filled with so much amazing flavor. These aren't your ordinary oatmeal cookies!
I'm probably the only food blogger in existence who doesn't like pumpkin. I know it has amazing popularity, but it's just not my thing. Other than one quick bread (that I like a surprising amount), you'll not find much of it around here.
But there are fall flavors a-plenty to be enjoyed! And I managed to put about 82% of them in these Brown Butter Oatmeal Date Cookies with Maple Glaze. Of course, I'll take these flavors any time of year, but there's something about fall that makes me want to break out all of my favorite comforting baking flavors and enjoy them to their fullest. And that's just what these cookies are all about.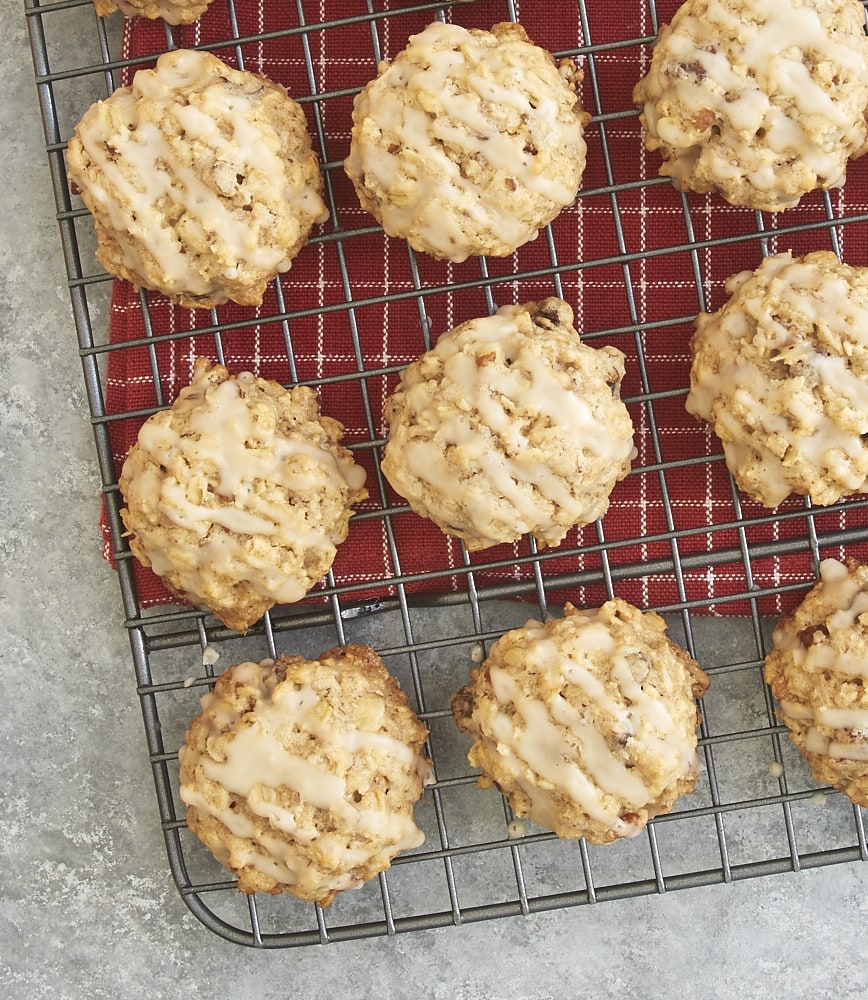 With that sweet maple glaze topping off these cookies, the sweetness of the cookies is dialed back a bit so that you're not overwhelmed with sweet flavor when you bite into them. If you're opting to make these without the glaze, just keep in mind that they're a little less sweet than normal. But, seriously. You're not going to want to skip that glaze!
There's a whole lot of flavor going on in these cookies. The nutty brown butter flavor, the chewy oats, the sweet dates. And then they're topped off with a simple, tasty maple glaze. With all of that flavor, I like to make these cookies on the small side – only a tablespoonful of dough for each. That makes for great little 2-bite cookies that have enough taste to seem like a bigger cookie.
Find more cookie recipes in the Recipe Index.
More Oatmeal Cookie Recipes
This recipe was originally developed for Clabber Girl, where I am a paid contributor.