July 23, 2015
Peanut Butter Chocolate Delight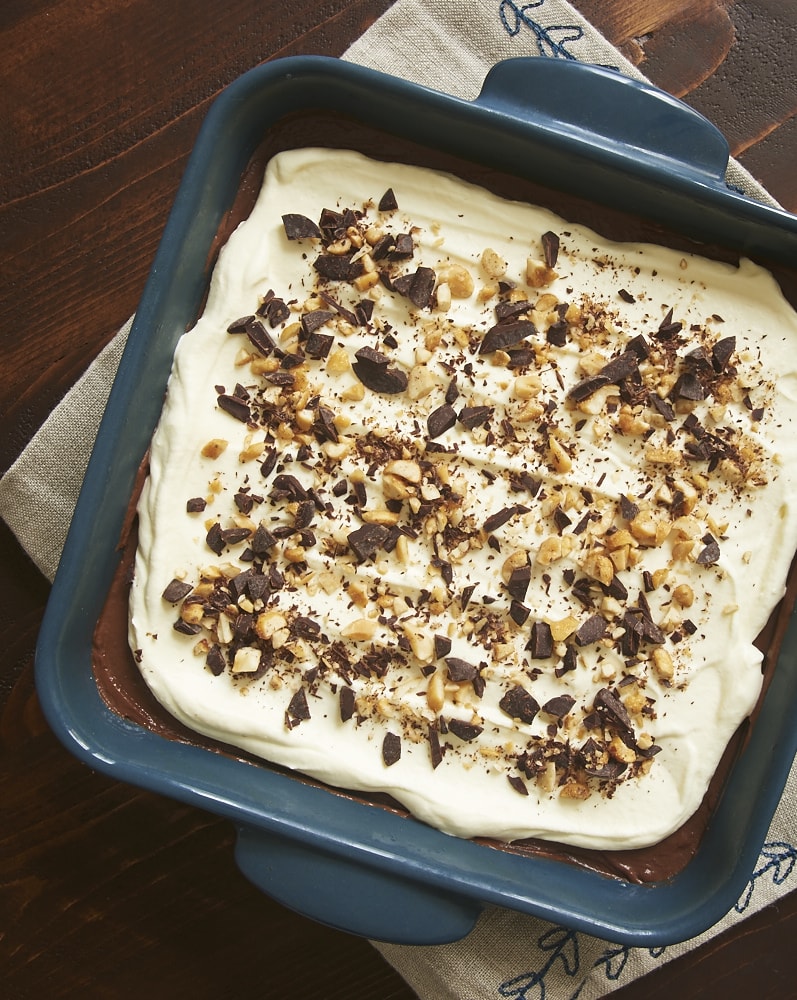 Just about every church potluck I enjoyed in the South featured a dessert called Chocolate Delight. It was this magical dessert made up of layers of shortbread crust, chocolate pudding, and whipped cream. I always felt it was aptly named, as it was always a true delight to eat.
I've only made that dessert a few times, and none of those recently. But I was recently inspired to give it a go when I saw a version that featured an extra layer made of peanut butter. Because what's better than chocolate? Chocolate and peanut butter, of course!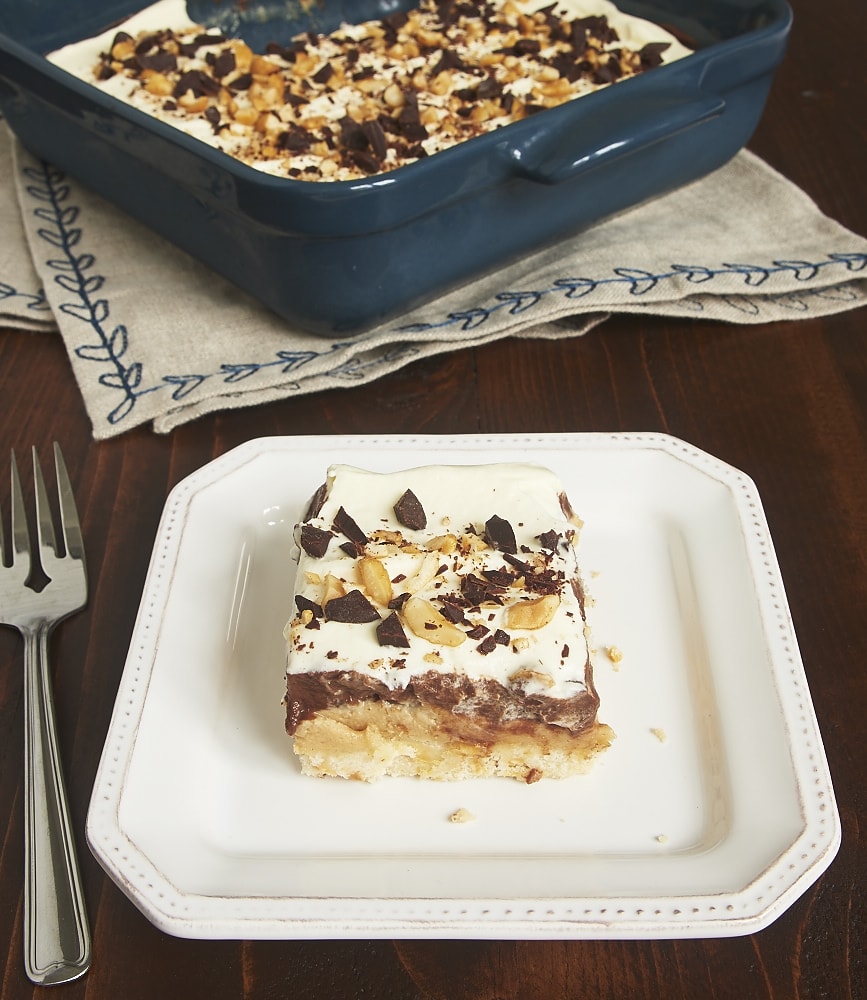 A nutty shortbread crust gets things started. Mixing some chopped roasted peanuts into the crust adds a nice crunch to an otherwise smooth, creamy dessert. That's then topped with a sweet peanut butter-cream cheese layer. Next up is chocolate pudding. Then it's all topped with sweetened whipped cream. That all certainly qualifies as delightful!
All of those Chocolate Delights I sampled over the years were made with pudding mix and frozen whipped topping. Now, of course, I can't help but take the from-scratch approach with my favorite chocolate pudding and some simple sweetened whipped cream. They're both so simple to make (and so very good!) that it's worth the 15 or 20 extra minutes it will take you to make the homemade versions.
Find more chilled desserts in the Recipe Index.
Peanut Butter Chocolate Delight
Yield: 9 to 12 servings
Prep Time:40 minutes
Cook Time:18 minutes
Layers of shortbread, peanut butter, chocolate pudding, and whipped cream make this Peanut Butter Chocolate Delight irresistible!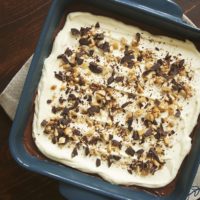 Ingredients:
For the crust:
1 & 1/4 cups all-purpose flour
1/2 cup chopped peanuts*
2 tablespoons granulated sugar
1/4 teaspoon salt
1/2 cup unsalted butter, cold and cut into 1/2-inch cubes
For the filling:
3/4 cup heavy cream
2 tablespoons granulated sugar
4 ounces cream cheese, softened
1/2 cup packed light brown sugar
1/4 cup smooth peanut butter
1 recipe Double Chocolate Pudding
chopped chocolate, for garnish
chopped peanuts, for garnish
Directions:
To make the crust:
Preheat oven to 350°F.
Stir together the flour, peanuts, sugar, and salt. Add the butter and mix with a pastry blender, a fork, or your fingers until thoroughly combined. The mixture will be crumbly but should hold together when pinched.
Transfer the mixture to an 8- or 9-inch square pan. Press firmly and evenly into the bottom of the pan. Bake 15 to 18 minutes, or until golden brown. Set aside to cool completely.
To make the filling:
Place the cream in a large, cold mixing bowl. Using an electric mixer with a whisk attachment, beat at medium-high speed until the cream begins to thicken.
Sprinkle the granulated sugar over the cream. Continue beating until you can lift the whisk out of the whipped cream and a peak that curves downward forms in the cream. This should take 4 to 5 minutes. Set aside.
Using an electric mixer on medium speed, beat the cream cheese, brown sugar, and peanut butter until thoroughly combined and smooth. Add 1/4 cup of the whipped cream, and fold gently to combine.
Spread the peanut butter mixture evenly over the cooled crust. Set the pan in the refrigerator while you prepare the pudding.
Loosely cover and refrigerate the remaining whipped cream.
Make Double Chocolate Pudding as directed through the addition of the chocolate, butter, and vanilla. Allow the pudding to cool for about 15 minutes. Then stir again thoroughly and spread evenly on top of the chilled peanut butter layer.
Cover the pudding with plastic wrap, pressing the wrap directly onto the top surface of the pudding. Refrigerate for at least 2 hours.
Before serving, remove the plastic wrap and spread the reserved whipped cream over the top of the chilled pudding. Sprinkle with chopped chocolate and peanuts for garnish.
Notes:
*I recommend either roasted or honey roasted peanuts.