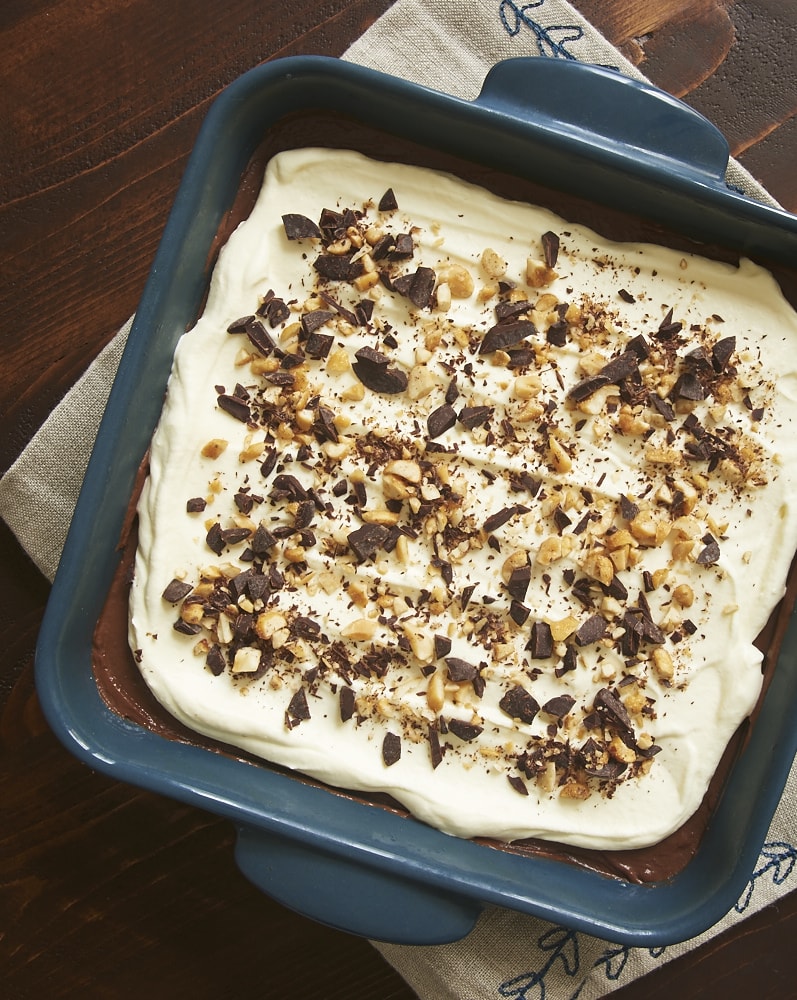 My Favorite Chocolate Delight Recipe
Just about every church potluck I enjoyed in the South featured a dessert called Chocolate Delight. It was this magical dessert made up of layers of shortbread crust, chocolate pudding, and whipped cream. I always felt it was aptly named, as it was always a true delight to eat.
I've only made that dessert a few times, and none of those recently. But I was recently inspired to give it a go when I saw a version that featured an extra layer made of peanut butter. Because what's better than chocolate? Chocolate and peanut butter, of course!
What You'll Need
Here's a quick overview of what you'll need to make this chocolate delight recipe with a peanut butter layer. Be sure to scroll down to the recipe card for specific amounts.
For the Crust
All-purpose flour
Chopped peanuts – I recommend either roasted or honey roasted peanuts for maximum flavor.
Granulated sugar
Salt
Unsalted butter – Cold and cut into cubes. Check out my post about why I use unsalted butter.
For the Filling
Heavy cream
Granulated sugar
Cream cheese – Use cream cheese in a block, not whipped cream cheese.
Light brown sugar – You can also use dark brown sugar.
Smooth peanut butter – I don't recommend chunky or natural peanut butter for this recipe.
Double Chocolate Pudding – You're going to use my chocolate pudding recipe, then let it cool.
Chocolate – Chopped up and sprinkled on top. Use good quality milk or semisweet chocolate. You can also use chocolate chips if you want to skip the chopping part!
Peanuts – More of the roasted or honey roasted peanuts, chopped up and sprinkled on top.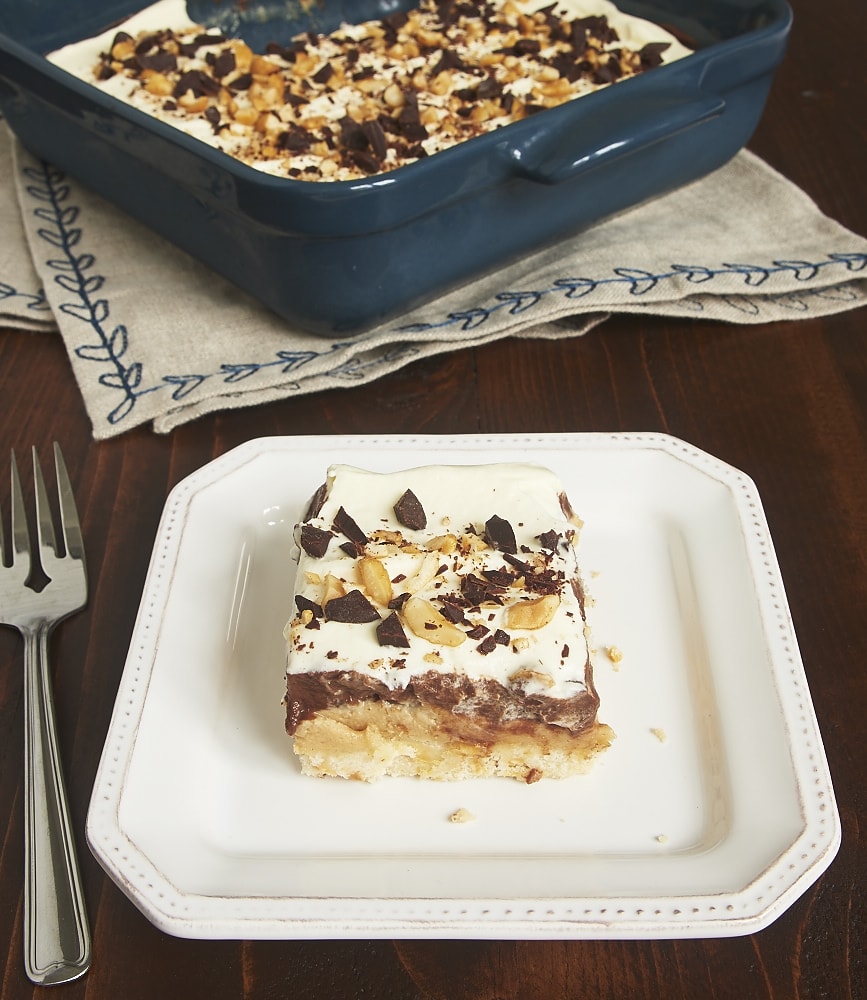 How to Make Peanut Butter Chocolate Delight
Here is a brief overview of the main steps in this recipe.
First, make a nutty shortbread crust. Mixing some chopped roasted peanuts into the crust adds a nice crunch to an otherwise smooth, creamy dessert. Bake the crust and then set it aside to cool.
Whip the cream. You are basically going to make whipped cream with a soft peak.
Make the peanut butter layer. Combine the peanut butter with the cream cheese and brown sugar, then beat it until smooth. Mix in some of the whipped cream, then spread the peanut butter mixture over the cooled crust.
Next up is chocolate pudding. We are going to use my super easy pudding recipe that makes this chocolate delight really stand out! Let it cool for a bit, then spread it on top of the peanut butter layer.
Chill in the refrigerator. Let it chill for at least 2 hours.
Top with the rest of the sweetened whipped cream. That all certainly qualifies as delightful!
Do I have to make the pudding and whipped cream from scratch?
All of those Chocolate Delights I sampled over the years were made with pudding mix and frozen whipped topping. Now, of course, I can't help but take the from-scratch approach with my favorite chocolate pudding and some simple sweetened whipped cream. They're both so simple to make (and so very good!) that it's worth the 15 or 20 extra minutes it will take you to make the homemade versions.
How to Store
You can store your peanut butter chocolate delight in the refrigerator for up to 5 days. This recipe can also be made in advance, which makes it perfect for parties or get-togethers.
Find more chilled desserts in the Recipe Index.