October 1, 2014
Italian Herb and Cheese Breadsticks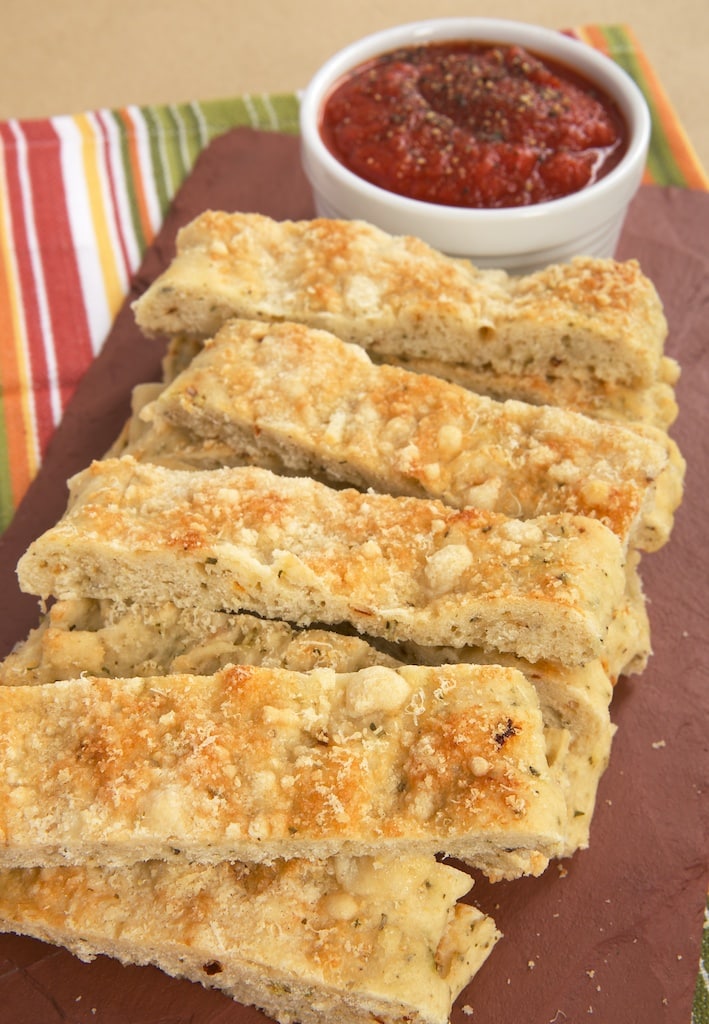 I have what I consider an above average fear of baking with yeast. I've tried it here and there over the years, but I'm just not great with it. Every year, I make a big bullet point on my baking bucket list to do more yeast baking. Someday I'll convince myself to practice more.
In the meantime, I'm thankful for Krusteaz Flatbread Mixes. These simple mixes are a great way to ease yourself into yeast baking. Just combine the mix, the included yeast, a little water, and a little oil. Then let it rise for a short time, shape it, and bake it. That's it!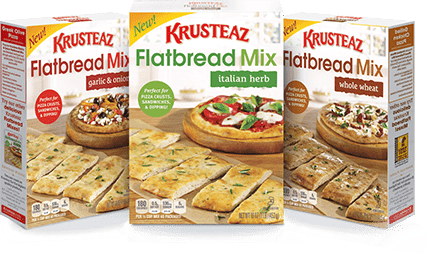 The mixes are available in three varieties – Italian Herb, Whole Wheat, and Garlic and Onion. I've tried them all, and we've been really pleased with each of them. They are a great, quick way to add a simple side of bread to dinner. Or, turn them into pizza or even tacos!
These simple breadsticks are one of our favorite ways to enjoy the mixes. You can use any variety for breadsticks, but we especially like the Italian Herb mix. There's plenty of flavor in the mix, but we tend to like big flavors so I usually bump up the seasoning with some garlic powder and red pepper flakes. Then, of course, there must be lots and lots of cheese on top! Then, just serve with your favorite homemade or store-bought marinara. Instant snack or party food!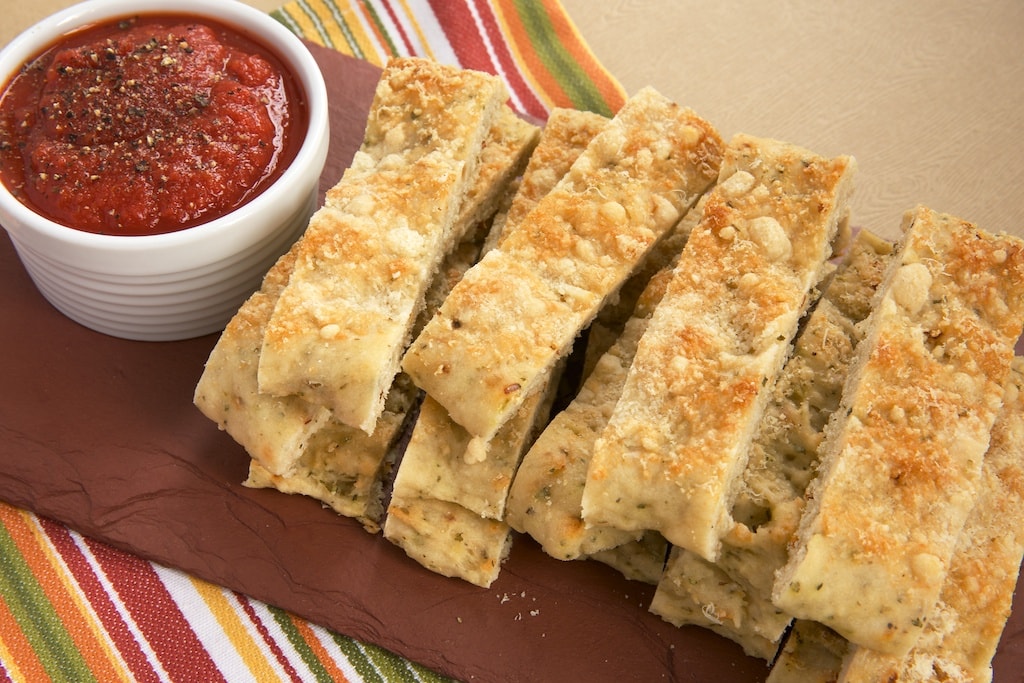 Scroll past the recipe to find out how you can win a Krusteaz Flatbread kit!
Italian Herb and Cheese Breadsticks
Prep Time:10 minutes
Cook Time:11 minutes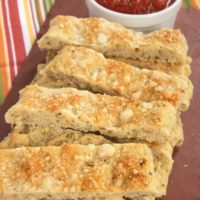 Ingredients:
1 box Krusteaz Italian Herb Flatbread Mix*
2 teaspoons red pepper flakes
1 teaspoon garlic powder
1/2 teaspoon freshly ground black pepper
1 cup warm water (115° to 125°)
1/4 cup olive oil
Parmesan cheese, to taste
your favorite marinara, for dipping
Directions:
Preheat oven to 475°. Lightly grease or line baking baking sheets.
Stir together mix and yeast from the box. Stir in red pepper flakes, garlic, and pepper.
Add warm water and oil, and stir until dough forms a ball.
Cover dough and let rest 10 minutes.
Divide dough into two equal portions and transfer to prepared pans. With floured hands, pat out dough into 2 rectangles about 1/4-inch thick.
Sprinkle with Parmesan cheese.
Bake 7 to 11 minutes, or until edges are golden brown.
Slice and serve warm with marinara.
*Any of the Krusteaz Flatbread mixes will work fine. I really like the flavor of the Italian Herb for the breadsticks.
If you'd like to try these flatbread mixes, then I have great news for you! Krusteaz is going to send one of you a Flatbread kit! You'll have plenty of mixes and tools to create some great, simple flatbread recipes in your own kitchen. Here's what's included in the kit:
2 Italian Herb Flatbread mixes
2 Whole Wheat Flatbread mixes
2 Garlic & Onion Flatbread mixes
Krusteaz recipe cards, apron, kitchen timer, and pizza cutter
See the widget below for entry details and requirements. Please note that the winner must be a U.S. resident 18 years or older. If you are unable to see the widget, make sure your browser is updated or try viewing this page in another browser.
Be sure to add bakeorbreak at gmail dot com to your contacts so that a winning email from me doesn't end up in your spam folder. If a winner doesn't respond to my email within 48 hours, another winner will be chosen.
Good luck!
Disclosure: I have been chosen by Krusteaz to be a paid brand ambassador. Giveaway is provided and sponsored by Krusteaz. All opinions written are my own.