September 22, 2014
Mini No-Bake Chocolate Cheesecakes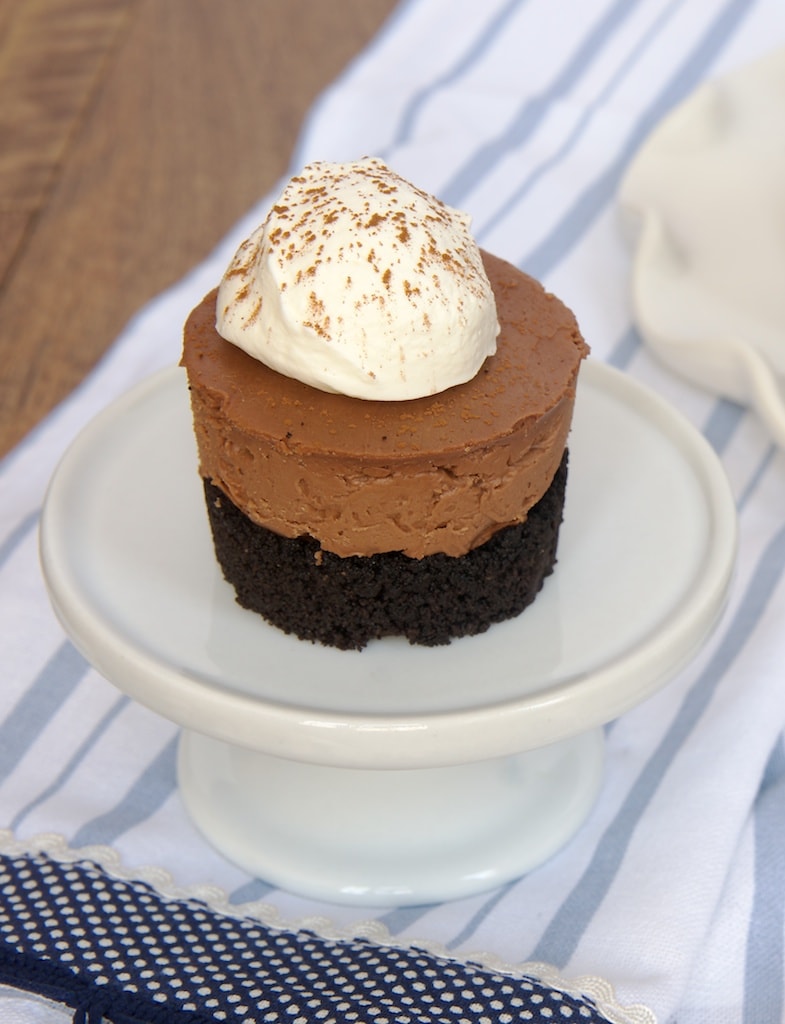 I never need much of an excuse to make mini desserts, but today's tiny sweets are for a very special occasion. My friend Lauren of Keep it Sweet Desserts is having a baby boy, and a bunch of us are surprising her with a virtual shower featuring all things mini!
I went all out chocolate with these little guys. I started with a simple chocolate cookie crust and then topped it with a wonderfully simple no-bake chocolate cheesecake filling. They have such a wonderful chocolate flavor and they are so smooth and creamy and cool.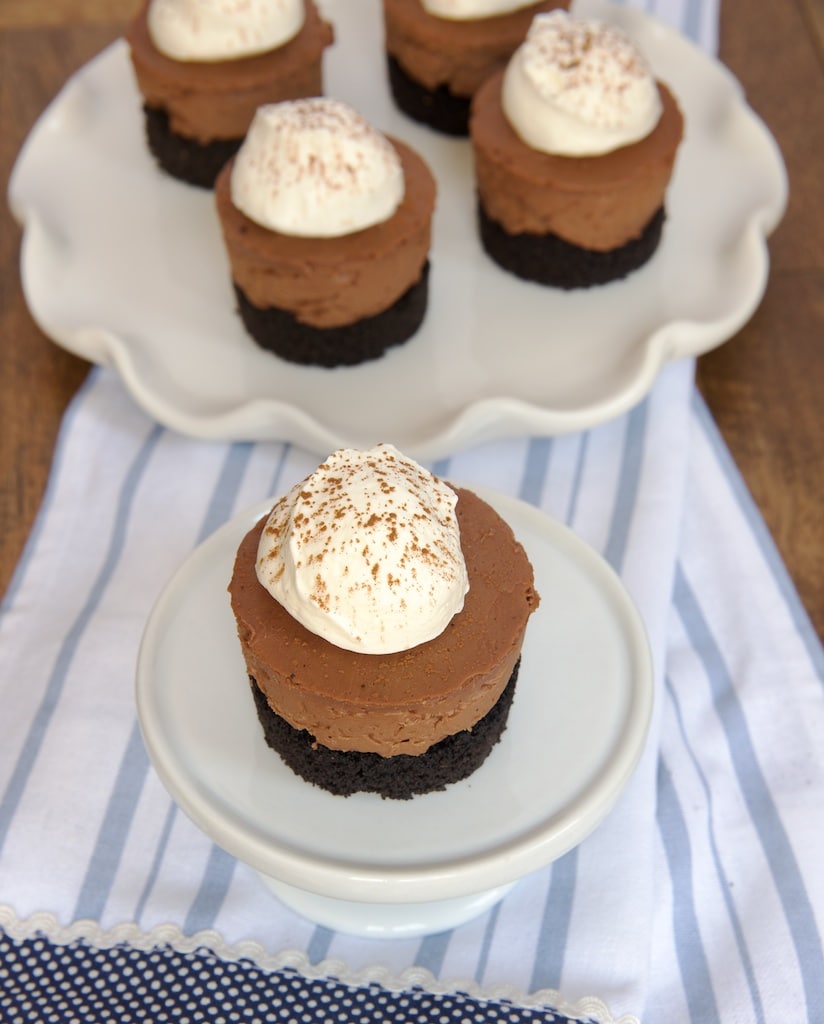 I used my mini cheesecake pan for these minis. It's such a great pan for mini cheesecakes, whether you're baking them or making no-bake versions. It's the best way to get mini cheesecakes without using paper liners.
I do suggest that you fill them with just a bit of filling at a time, press it in well, and continue adding more until they're full. That will help you fill them completely with no gaps. You can try piping it in, but keep in mind that the filling is a a bit thick.
As this is a baby shower, I resisted the urge to spike that filling with some liqueur, but feel free to do so if you like. I am sure a coffee-flavored or hazelnut-flavored liqueur would just be lovely. But for the baby shower, we'll just skip it.
We are a participant in the Amazon Services LLC Associates Program, an affiliate advertising program designed to provide a means for us to earn fees by linking to Amazon.com and affiliated sites.
Mini No-Bake Chocolate Cheesecakes
Yield: 12 mini cheesecakes
Prep Time:20 minutes
Mini No-Bake Chocolate Cheesecakes are so deliciously rich, cool, and creamy. Plus, they're super simple to make!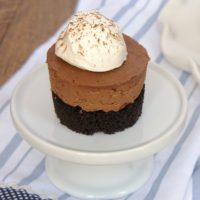 Ingredients:
For the crust:
6 ounces chocolate wafer crumbs*
1/4 cup unsalted butter, melted
For the filling:
16 ounces cream cheese, softened
3/4 cup granulated sugar
2 tablespoons sour cream
1 teaspoon vanilla extract
6 ounces bittersweet chocolate, melted and cooled
sweetened whipped cream and cocoa powder, for garnish
Directions:
To make the crust:
Combine cookie crumbs and butter until moistened. Divide crust mixture evenly among 12 cups of a mini cheesecake pan.
Press crust firmly and evenly into the bottoms of the pan.
Place pan in refrigerator while you prepare the filling.
To make the filling:
Using an electric mixer on medium speed, beat cream cheese and sugar until blended and smooth. Mix in vanilla and sour cream.
Add cooled chocolate and mix until well combined.
Divide filling among the cups of the mini cheesecake pan. To get a smooth, solid filling, add filling a tablespoon at a time and use a small spatula or spoon to press the filling down into the cups. You can also pipe the filling into the cups if you prefer.
Chill cheesecakes in pan at least 6 hours.
Carefully remove the cheesecakes by pressing up from the bottom of the cheesecake pan.
Serve with sweetened whipped cream and a sprinkling of cocoa powder.
Notes:
*I used Nabisco's Famous Chocolate Wafers. You could also use chocolate graham crackers or most any crisp chocolate cookie.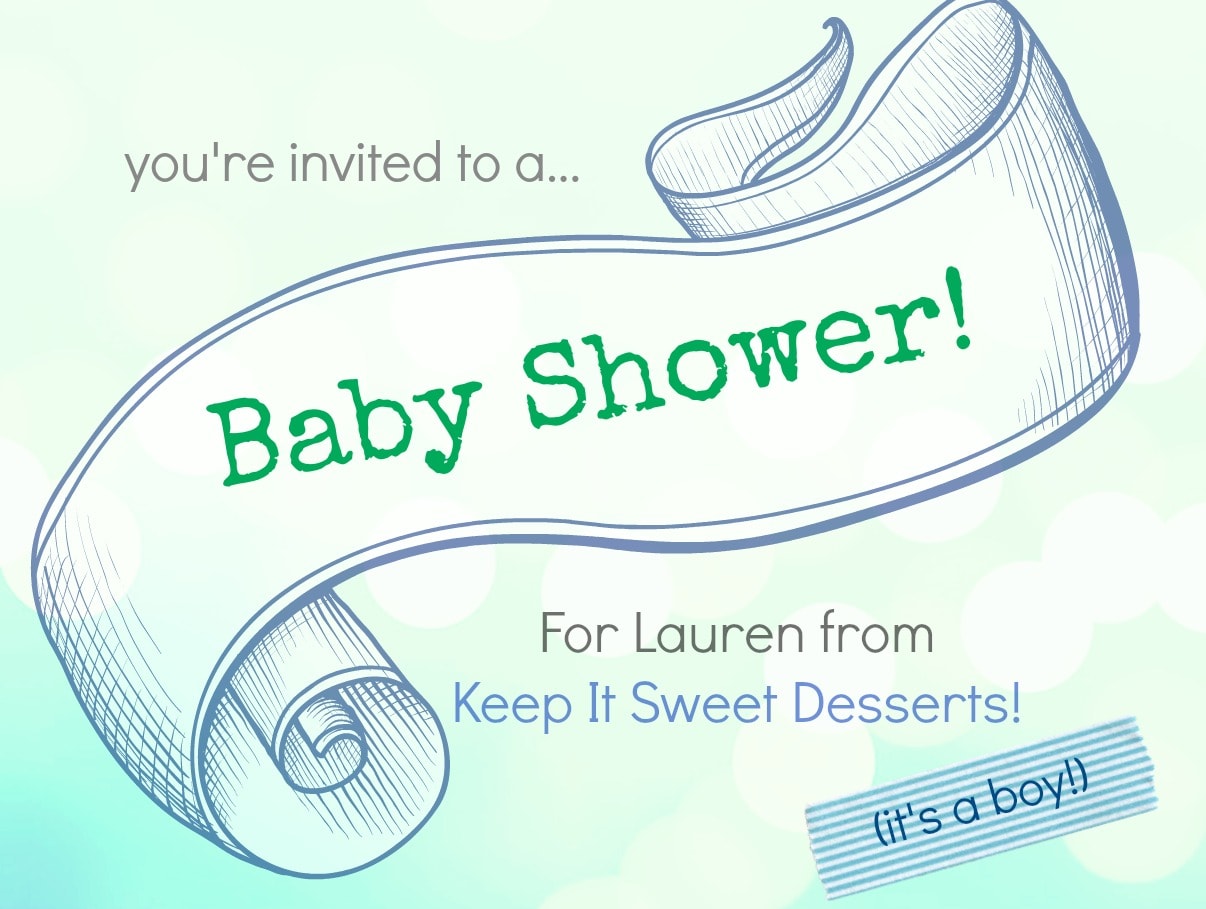 Be sure to visit all of these tasty blogs to see what everyone made to help Lauren celebrate the arrival of her sweet baby boy! And drop by Lauren's blog to wish her the best!
Mini Pumpkin Layer Cakes from The Baker Chick
Mini Apple Spice Cupcakes from Dinners, Dishes, and Desserts
Mini Nutella Brownies from The Cooking Actress
Mini Iced Oatmeal Cookie Apple Pies from Girl Versus Dough
Pickles in a Blanket from The Lemon Bowl
Mini Cookie Cocktail (and Mocktail!) from We Are Not Martha
Mini Chocolate and Peanut Butter Fondant Cakes from London Bakes
Double Decker Birthday Cake Blondie Bites from Baker By Nature
Mini Brown Butter Pumpkin Cupcakes from Eats Well With Others
Roasted Caprese Stack with Peaches from Warm Vanilla Sugar
Crunchy Cookie Butter M&M Bars from The Avid Appetite
Mini Pumpkin Streusel Pies from Espresso and Cream