This recipe for Spice Cake Doughnuts with Vanilla Bean Glaze was originally developed for Clabber Girl, where I am a paid contributor.
Happy fall, everyone! This is my favorite time of year, with its cool days, changing leaves, and great clothes. It won't be long until you'll find me in our neighborhood park taking endless photos of leaves and sipping a hot chocolate, all while wearing some new favorite scarf, sweater, and boots.
And, of course, I love fall baking. Besides the obvious apples and pears, there are some flavors that I tend to associate with fall. One of my favorite fall flavors is actually a combination of flavors, specifically spices. Combine some cinnamon, nutmeg, allspice, etc., and I'm positively giddy. I just love adding those great fall spices to all kinds of things.
In fact, one of my favorite things is just a simple spice cake. So, I thought I would take the idea of a spice cake and turn it into doughnuts. You wouldn't believe how good my apartment smelled when I was baking these. I really expected the neighbors to track the scent to my door and start demanding samples.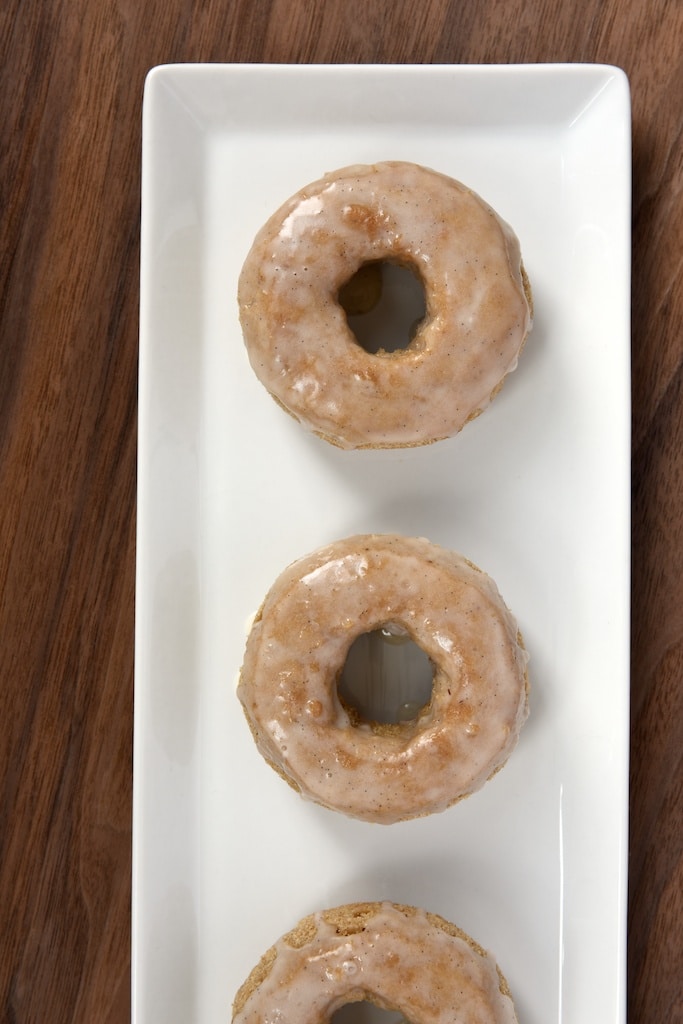 Then, I topped each one in a simple vanilla glaze to add a little extra sweetness. I used one of my favorite ingredients, vanilla bean paste, for the glaze. If you prefer to use a vanilla bean, I've included info on how to do that in the recipe. Or, if you just have vanilla extract, it's a straight substitution. You will, however, miss out on those lovely vanilla specks!
I baked these in my doughnut pan, which I must confess I don't use nearly as much as I should. Being able to bake homemade doughnuts so simply is both good and bad. Good because hello, doughnuts. Bad because it's so tempting to make batches and batches of them. If you don't have a doughnut pan, don't let that hold you back from making these beauties. Although I've not tried it, I believe these would work just fine in muffin pans.
I have to tell you that we absolutely loved these little guys. They have such a wonderful flavor and texture. And that sweet vanilla glaze gives them just enough extra sweetness to make them pretty perfect. These doughnuts are a great weekend treat. Or for all you coffee drinkers out there, I bet one of these would be just lovely with a cup of your favorite coffee.
We are a participant in the Amazon Services LLC Associates Program, an affiliate advertising program designed to provide a means for us to earn fees by linking to Amazon.com and affiliated sites.