May 15, 2014
Pineapple Crumb Cake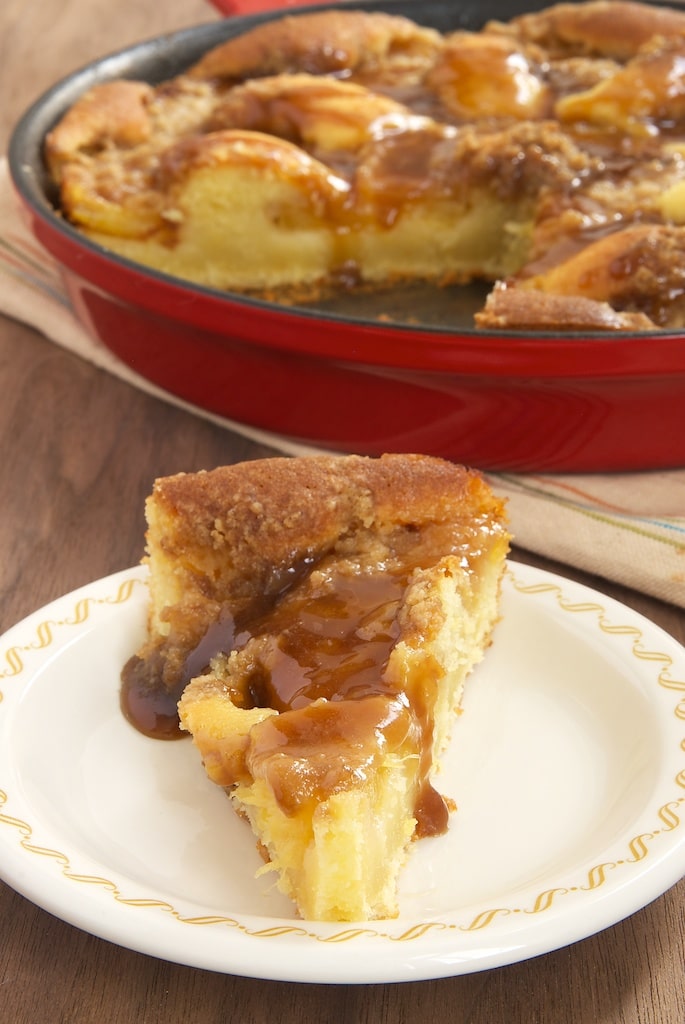 In all my years of baking and blogging, I have somehow never shared a pineapple recipe with you. Sure, there have been a few Hummingbird Cake variations with some pineapple present. But, we're talking about dessert that's all about pineapple.
Recently, a BoB follower on Facebook asked me for a pineapple cake recipe. When I realized that I didn't have one ready to share, I knew that I had to remedy that as soon as possible. Then, as luck would have it, I happened upon a recipe that sounded just perfect.
Now I'm going to attempt to tell you all the reasons why this cake is so, so good. I'm sure I won't be able to get to all of them, but we'll at least hit the high points.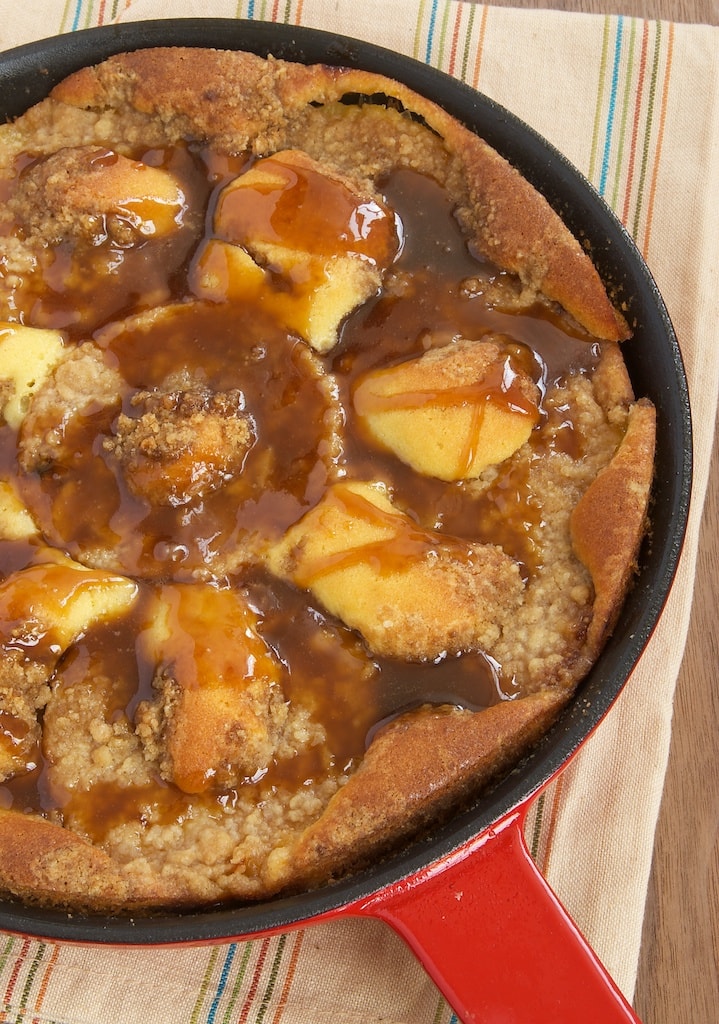 First of all, it's one of those magical one-layer cakes that I love. No stacking layers, no frosting. Then, there's the plus of making it all with just a couple of bowls and one skillet.
Unlike a lot of pineapple cakes, there's no upside-down aspect. After the pineapple rings are caramelized a bit in the skillet, they go right on top of the cake and are covered with a lovely crumb topping. And, as if all that weren't enough, there's a glorious caramel-y glaze to go on top. There's a bit of lemon in that glaze that makes it work so well with the sweet, tart pineapple on the cake.
This isn't what I'd call a pretty cake. It's a bit more… rustic. It's bumpy and uneven and gooey and sticky. And it's absolutely delicious! I have to say that I'm not the biggest fan of pineapple, but I am a huge fan of this cake. As soon as I took my first bite, I was completely smitten. And, Quinn promptly added this cake to his favorites list, saying that he'd never turn down a slice of it.
Pineapple Crumb Cake
Yield: 8 to 10 servings
Prep Time:25 minutes
Cook Time:45 minutes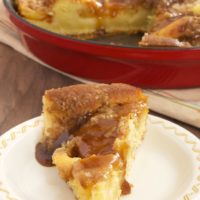 Ingredients:
For the topping:
1/3 cup all-purpose flour
1/4 cup packed dark brown sugar
2 tablespoons unsalted butter, softened
pinch salt
For the cake:
2 teaspoons canola oil
8 fresh pineapple rings, 1/2-inch thick
1 & 1/2 cups all-purpose flour
3/4 cup granulated sugar
3/4 teaspoon baking powder
1/4 teaspoon salt
6 tablespoons unsalted butter, softened
3/4 cup milk
1/2 teaspoon vanilla extract
3 large egg yolks
For the glaze:
1/4 cup packed dark brown sugar
1 tablespoon dark corn syrup
1 tablespoon unsalted butter
1 tablespoon fresh lemon juice
pinch salt
Directions:
To make the topping:
Place flour, brown sugar, butter, and salt in a small bowl. Use a fork or your fingers to combine until mixture is crumbly.
Cover and refrigerate.
To make the cake:
Heat canola oil in a 10-inch cast-iron skillet over medium-high heat.
Add 4 pineapple rings to the skillet. Cook until lightly browned on each side (about 1 minute per side). Remove pineapple and repeat with remaining 4 pineapple rings.
Allow skillet to cool for 15-20 minutes. Then, use a paper towel to wipe skillet.
Preheat oven to 350°.
In a large bowl, combine flour, sugar, baking powder, and salt.
Add butter. Using an electric mixer on medium speed, beat until combined. Add milk and vanilla, and beat at low speed until combined.
Increase mixer speed to high and continue beating for 2 minutes.
Reduce mixer speed to low. Add egg yolks, one at a time, mixing well after each addition.
Transfer batter to cooled skillet. Arrange pineapple rings over batter, overlapping as needed. Sprinkle with topping.
Bake 35 to 40 minutes, or until cake is golden brown.
To make the glaze:
Place brown sugar, corn syrup, butter, lemon juice, and salt in a small saucepan.
Cook over medium heat, stirring frequently, until mixture simmers. Continue cooking for another minute until mixture is smooth.
Drizzle glaze over cake.