January 20, 2014
Chocolate Almond Roll-Ups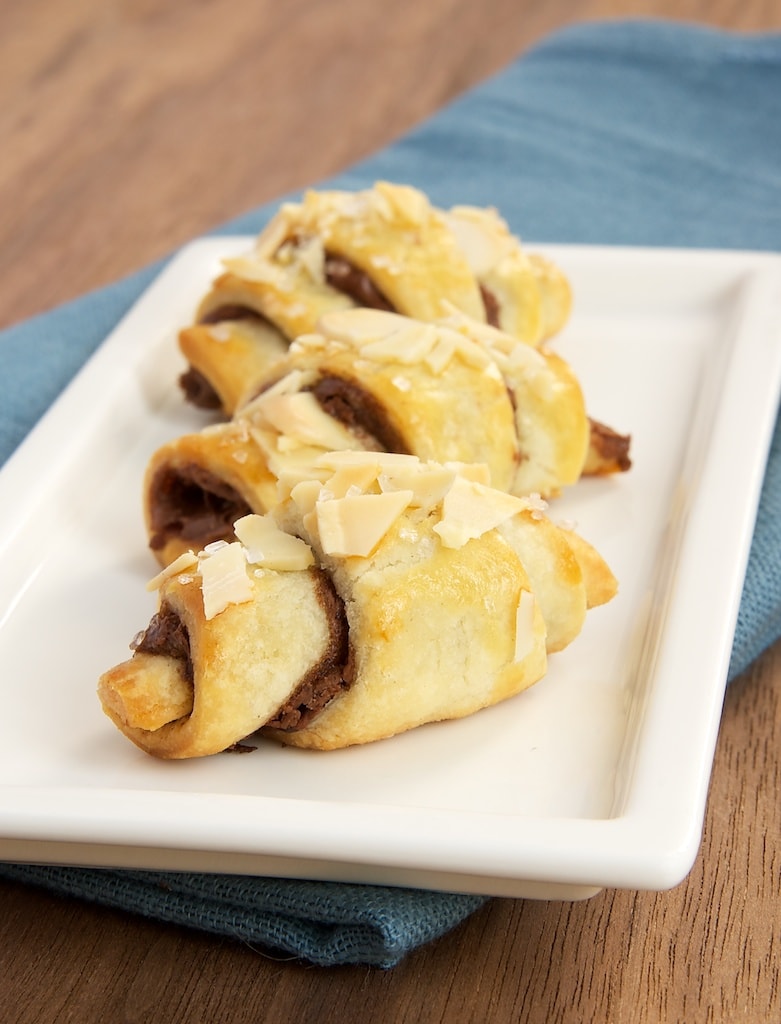 I'm a big fan of simplicity. It makes life a lot nicer, doesn't it? And, here on BoB, I hope that translates into approachable and delicious baking recipes that anyone can make easily.
Case in point: these little guys.
This is one of those recipes that makes me want to put quotes around the word recipe. Because I'm not entirely sure this even qualifies as a recipe. Five ingredients, some quick assembly, a little oven time, and then… dessert!

The premise is so simple. Chocolate-almond goodness spread onto a pie crust. Roll them up. Egg wash, almonds, coarse sugar. Oven. Done. It doesn't really get much simpler than that.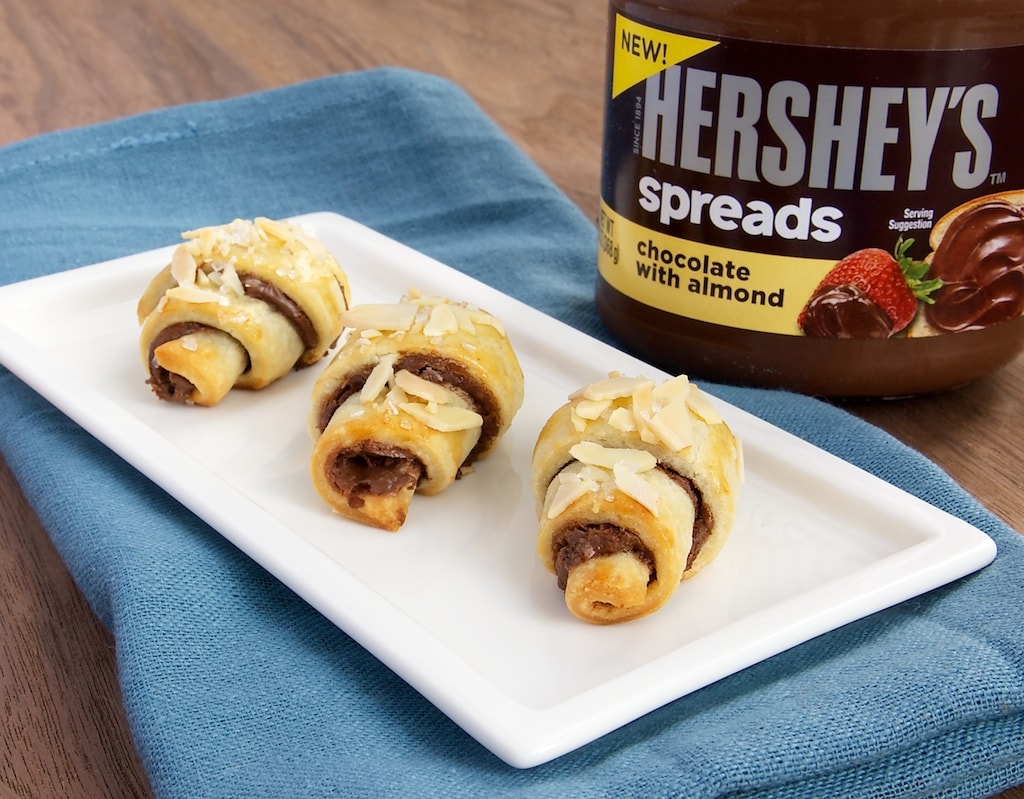 Let's talk pie crust. In most cases, I'm a big proponent of homemade pie crust. Why? Honestly, it's not that hard to make and it just tastes better. But, with this recipe, the perfectly round shape of a store-bought crust works really well. Whichever one you want to use will be just fine.
I used one of the new Hershey's Spreads for the filling. (If you aren't familiar with the new spreads, read about them here and here.) I went with Chocolate with Almond because I think I've decided it's my favorite of their three varieties. You can, of course, use your favorite flavor to tweak these to your tastes. Change the almonds to another nut, or omit them and just sprinkle with coarse sugar.
These are a great sweet treat to throw together when you need dessert in a hurry or when you just have a sweet craving you want to satisfy with minimal effort. If you're with me on the whole simplicity thing, you'll agree that you get a pretty big payoff for such a quick and easy recipe.
Scroll past the recipe for details on how you can win a set of the new Hershey's Spreads.
Chocolate Almond Roll-Ups
Yield: 16 roll-ups
Prep Time:15 minutes
Cook Time:10 minutes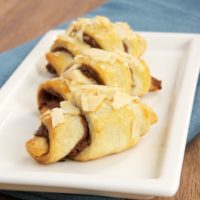 Ingredients:
pie crust for a 9-inch pie
1/3 cup Hershey's Chocolate with Almond Spread
1 large egg, lightly beaten
1 to 2 tablespoons slivered almonds, roughly chopped
sanding sugar, optional
Directions:
Preheat oven to 400°. Line a baking sheet with a silicone liner or parchment paper.
Roll out pie crust to a 11-inch circle. Cut into 16 triangles.*
Spread each triangle with about a teaspoonful of chocolate spread. Spread almost to the edges.
Beginning with the short side, roll loosely toward the opposite point. Place each roll on prepared pan.
Brush each with beaten egg.** Sprinkle with almonds and sanding sugar.
Bake 8 to 10 minutes, or until golden brown. Cool on pans on a wire rack.
Notes:
*Make the triangles like you're cutting a pizza. Use a pizza wheel if you have it. I used a knife to cut the pie crust round in half, and then continued cutting each piece in half until I had 16 triangles.
**You won't need the entire egg for the egg wash. Just brush a light coating over the top surface of each roll-up.
Hershey's is giving one Bake or Break reader one each of the new
Hershey's Spreads
along with some fun and flavorful pairings.
See the widget below for entry details and requirements. Please note that the winner must be a U.S. resident 18 years or older. If you are unable to see the widget, make sure your browser is updated or try viewing this page in another browser.
Be sure to add bakeorbreak at gmail dot com to your contacts so that a winning email from me doesn't end up in your spam folder. If a winner doesn't respond to my email within 48 hours, another winner will be chosen.
Disclosure: This post is sponsored by Hershey's. All opinions are my own.