September 11, 2018
Black and White Marble Crumb Muffins
Have your chocolate and vanilla at the same time with these Black and White Marble Crumb Muffins!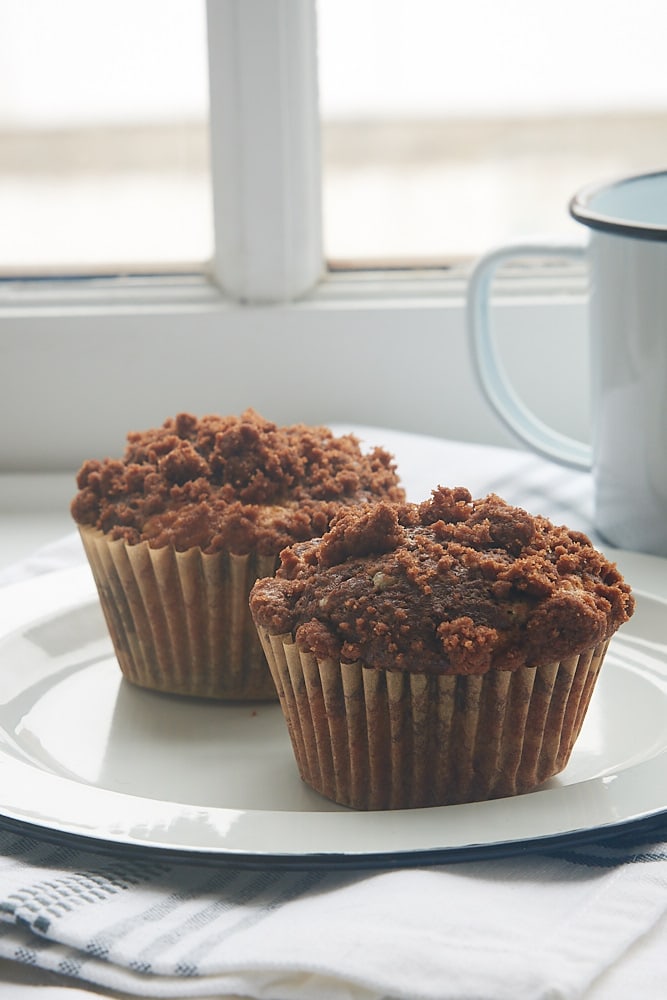 One of the first things I baked after we moved to our new place was a batch of these Black and White Marble Crumb Muffins. They were inspired by some muffins I bought on impulse when shopping for groceries. I was so smitten with the marbled chocolate and vanilla combo with a chocolate crumb topping that I knew I had to try to bake something similar.
The batter for these muffins starts out innocently enough as a simple vanilla batter made with yogurt. But then magical things happens when half of that batter gets mixed with some cocoa powder. Now you have two muffin batters to marble together to make a little chocolate and vanilla muffin magic.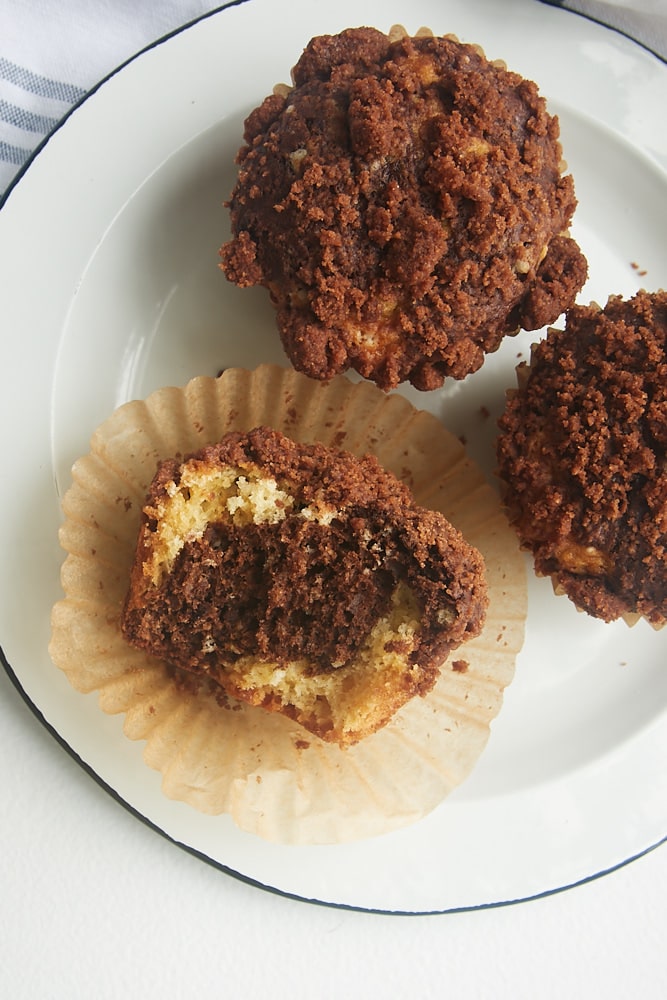 And let's not forget that crumb topping. It's not your ordinary crumb topping. No, this is a chocolate crumb topping. Oh, yeah. And to make it even better, there's a hint of cinnamon for a lovely flavor addition. The whole package is sweet and soft and just plain delicious.
As I mentioned, these muffins are made with yogurt. That keeps them nicely soft and moist. You can use plain or vanilla yogurt in the recipe. I almost always have vanilla yogurt on hand, so I usually use that and just omit the vanilla extract in the recipe. You'll still get plenty of vanilla flavor even without the extract.
If you like, you can leave your mixer unplugged for these muffins in favor of stirring by hand. Either way is just fine. Either way, just be careful not to overmix the batter.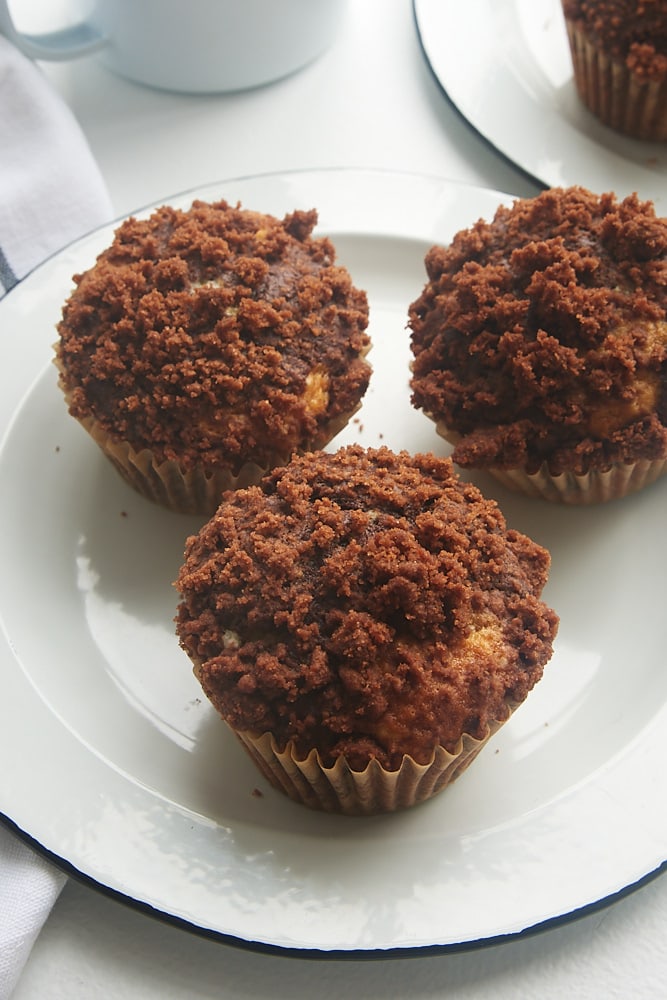 When it comes time to transfer the batter to the muffin cups, it's really simple to create the marbled effect. Just alternate teaspoonfuls of the two batters in the muffin cups. Don't worry about being accurate about it. Just measure it roughly and dollop it in the cups. There's no swirling involved, and you'll still get a nice marbled look.
These Black and White Marble Crumb Muffins are a wonderfully sweet treat for breakfast or brunch. I can attest that they also make a mighty fine afternoon snack. They're so good with such great flavor that I'm happy to enjoy one most any time of day!
Find more muffin recipes in the Recipe Index.
More Crumb Muffin Recipes
We are a participant in the Amazon Services LLC Associates Program, an affiliate advertising program designed to provide a means for us to earn fees by linking to Amazon.com and affiliated sites.
Black and White Marble Crumb Muffins
Yield: 12 standard size muffins
Prep Time: 25 minutes
Cook Time: 20 minutes
Black and White Marble Crumb Muffins combine chocolate and vanilla in a simple muffin. Great for breakfast or an afternoon snack!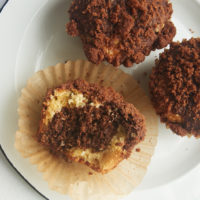 Ingredients:
For the crumb topping:
1/3 cup (40g) all-purpose flour
1/4 (50g) cup packed light brown sugar
1 tablespoon (5g) unsweetened cocoa powder
1/8 teaspoon ground cinnamon
pinch of salt
2 tablespoons (28g) unsalted butter, cold and cut into small cubes
For the muffins:
1 & 3/4 (210g) cups all-purpose flour
3/4 (150g) cup granulated sugar
1 teaspoon baking powder
1/2 teaspoon baking soda
1/4 teaspoon salt
1/2 cup (122g) plain or vanilla yogurt
1/4 cup (56g) unsalted butter, melted and slightly cooled
2 large eggs, lightly beaten
1/2 teaspoon vanilla (You can omit if using vanilla yogurt.)
2 tablespoons (10g) cocoa powder
Directions:
To make the crumb topping:
Combine the flour, brown sugar, cocoa powder, cinnamon and salt.
Add the butter, and mix with a fork, a pastry blender, or your fingers until the mixture forms crumbs. Set aside. (Refrigerate if you have a warm kitchen.)
To make the muffins:
Preheat oven to 375°F. Grease or line a standard 12-cup muffin pan.
Combine the flour, sugar, baking powder, baking soda, and salt. Make a well in the center of the mixture.
In a separate bowl, combine the yogurt, butter, eggs, and vanilla (if using). Add to the well in the flour mixture, and mix just until combined.
Transfer half of the batter to a separate bowl. Add the cocoa powder to one half of the batter, and mix until combined.
Alternate dropping the two doughs by teaspoonfuls into the prepared muffin cups. (Each will be about 2/3 full when you're done.) Top with crumb topping.
Bake the muffins 18 to 20 minutes, or until a pick inserted into the center comes out clean. Cool in the pan 10 minutes before transferring the muffins to a wire rack to cool completely.