September 5, 2017
Brownie Bottom Peanut Butter Pie Bars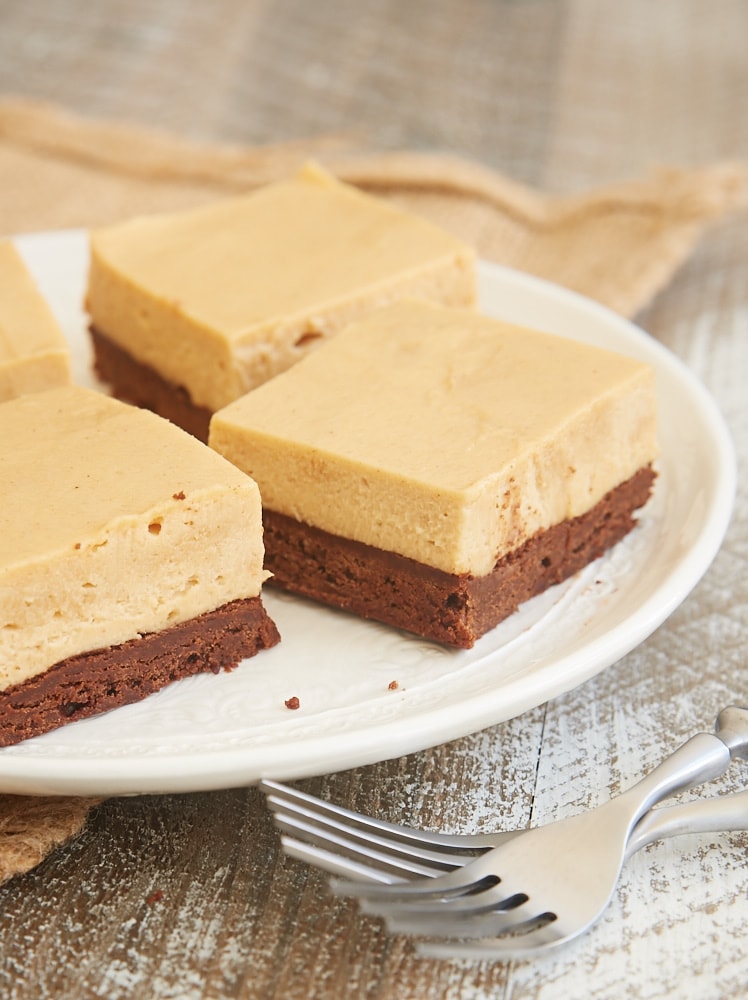 You likely don't need me to extol the fine qualities of the combination of peanut butter and chocolate. If you've followed BoB for any length of time, you've likely noticed my abiding love of those two flavors. And I know that many of you share that love, too.
All that adoration considered, I very much enjoy sharing new and delicious ways to enjoy chocolate and peanut butter in a sweet treat. These Brownie Bottom Peanut Butter Pie Bars certainly fit that bill. The idea is simple, really. A thin layer of brownies combined with a no-bake peanut butter pie filling. And they're absolutely fantastic!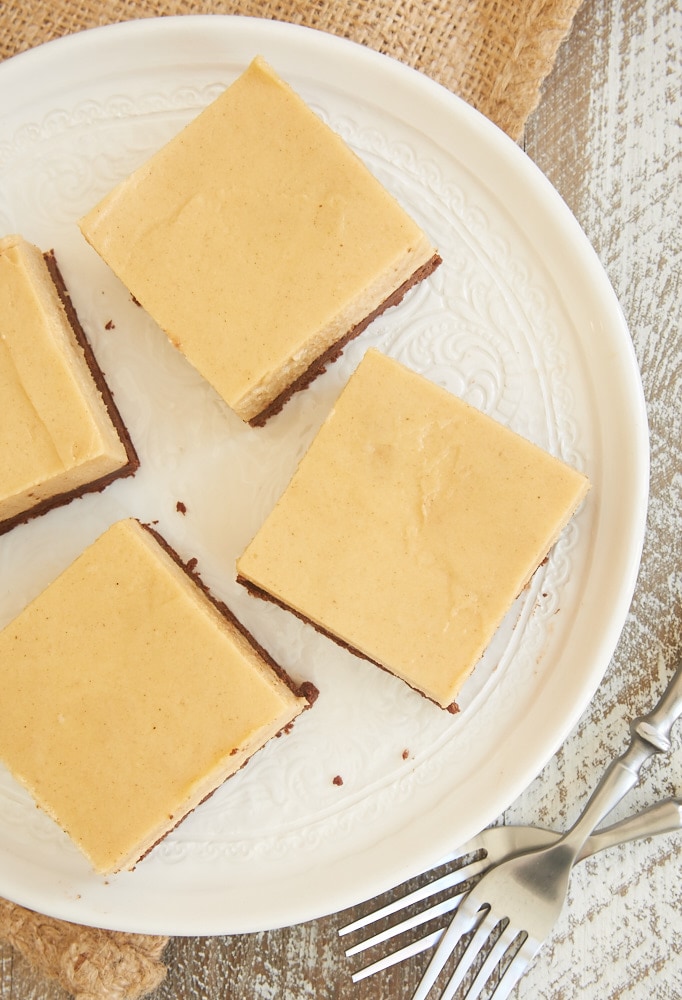 The pie part of these bars is a variation of a long-time favorite, Peanut Butter Chocolate Chip Pie. That version features a graham cracker crust and lots of chocolate chips in the filling. You can, of course, add chocolate chips to the bar version if you want to add more chocolate to the mix.
The brownie representative here is my go-to brownie recipe. It works well here because they're sturdy enough to hold up to all of that pie filling without getting soggy. Half of any brownie recipe that fits an 8-inch pan will work if the brownies aren't overly soft or too fudgy. Just be sure to reduce the baking time with the thinner brownies.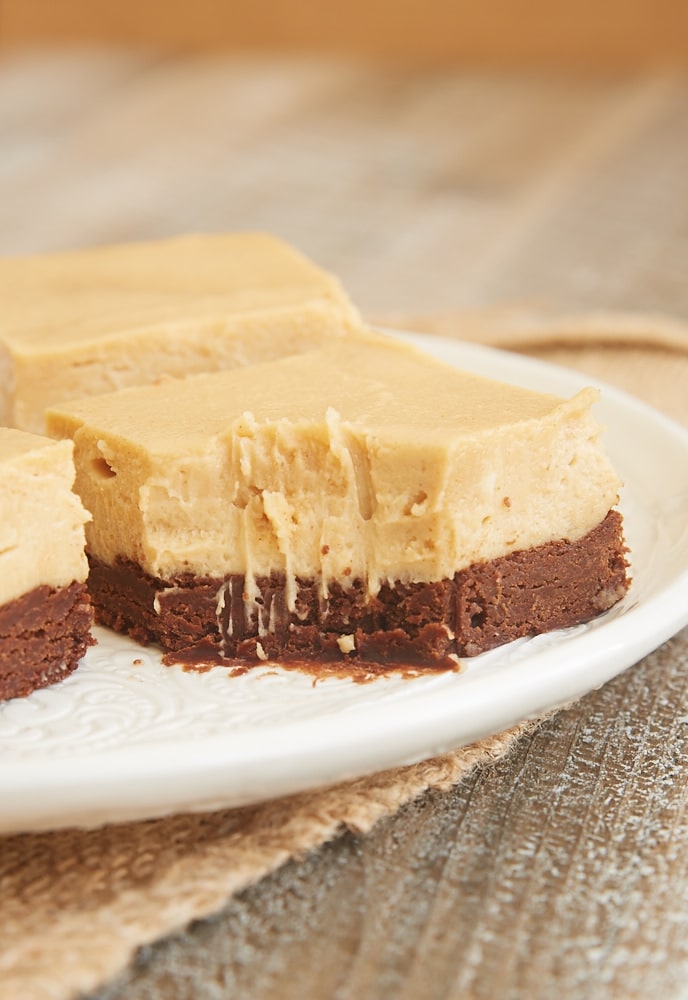 I love that even though these bars keep the flavor profile simple, they're so many kinds of dessert at once. They're brownies. They're bars. They're pie. They're even a little bit cheesecake.
All of that makes them quite versatile. They are a great dessert for a casual gathering, but they're just as good to keep in your refrigerator to enjoy for a few days whenever a sweet craving strikes. Once you try them, you'll be looking for most any excuse to make them!
Find more bar recipes in the Recipe Index.
Brownie Bottom Peanut Butter Pie Bars
Yield: 12 servings
Prep Time: 35 minutes
Cook Time: 20 minutes
Rich brownies combine with a sweet, creamy peanut butter pie filling to make these fantastic Brownie Bottom Peanut Butter Pie Bars!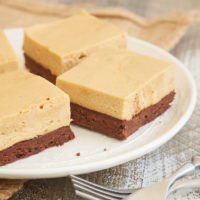 Ingredients:
For the brownies:
3 ounces bittersweet chocolate, roughly chopped
1/4 cup unsalted butter
1/4 cup granulated sugar
1/4 cup firmly packed brown sugar
1 large egg
1/2 teaspoon vanilla extract
1/4 teaspoon salt
1/2 cup all-purpose flour
For the pie filling:
8 ounces cream cheese, at room temperature
1 cup creamy peanut butter
1 cup confectioners' sugar, sifted
1/2 teaspoon vanilla extract
3/4 cup heavy whipping cream
Directions:
To make the brownies:
Preheat oven to 350°F. Grease an 8-inch square baking pan.
Place the chocolate and butter in a microwave-safe bowl. Heat at half power in microwave in 30-second increments until butter has melted and chocolate melts when stirred. Stir until smooth. Set aside to cool slightly.
Combine the sugar, brown sugar, egg, vanilla, and salt. Add the chocolate mixture, mixing until combined. Add the flour, mixing just until combined.
Transfer the batter to the prepared pan and spread evenly. Bake 15 to 20 minutes, or until a pick inserted into the center comes out with moist crumbs. Set the pan on a wire rack and allow to cool completely.
To make the pie filling:
Using an electric mixer on medium speed, beat the cream cheese, peanut butter, confectioners' sugar, and vanilla until thoroughly combined and smooth.
In a separate bowl, use an electric mixer with a whisk attachment to whip the cream until soft peaks form. Gently fold the whipped cream into the cream cheese mixture. Do not overmix.
Pour the filling over the cooled brownies. Refrigerate for about 4 hours, or until set, before serving. Keep refrigerated.