October 20, 2016
Autumn Spice Pear Cobbler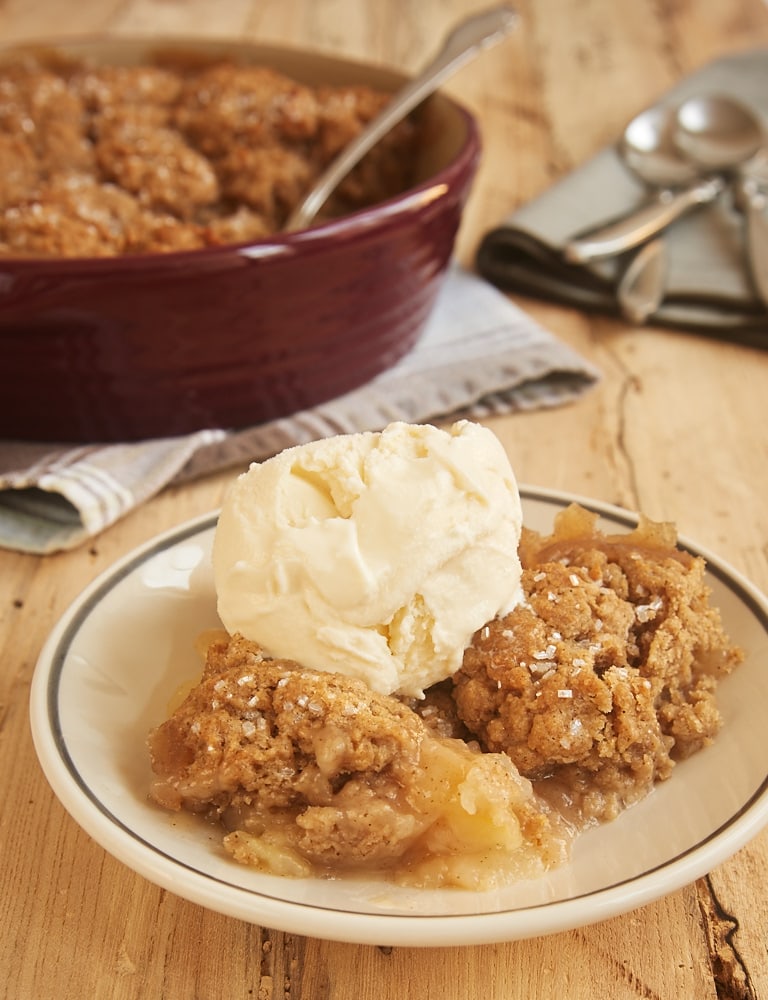 My spice drawer gets a good workout in the fall. I want to add fall spices to as many things as possible! Warm, comforting cobblers made with fall fruits are a perfect candidate for doing just that.
This cobbler features my favorite fall fruit – pears! I feel like poor pears get overlooked when the pumpkin craze hits. But as someone who doesn't enjoy pumpkin madness, I far prefer the subtle sweetness of a perfect pear.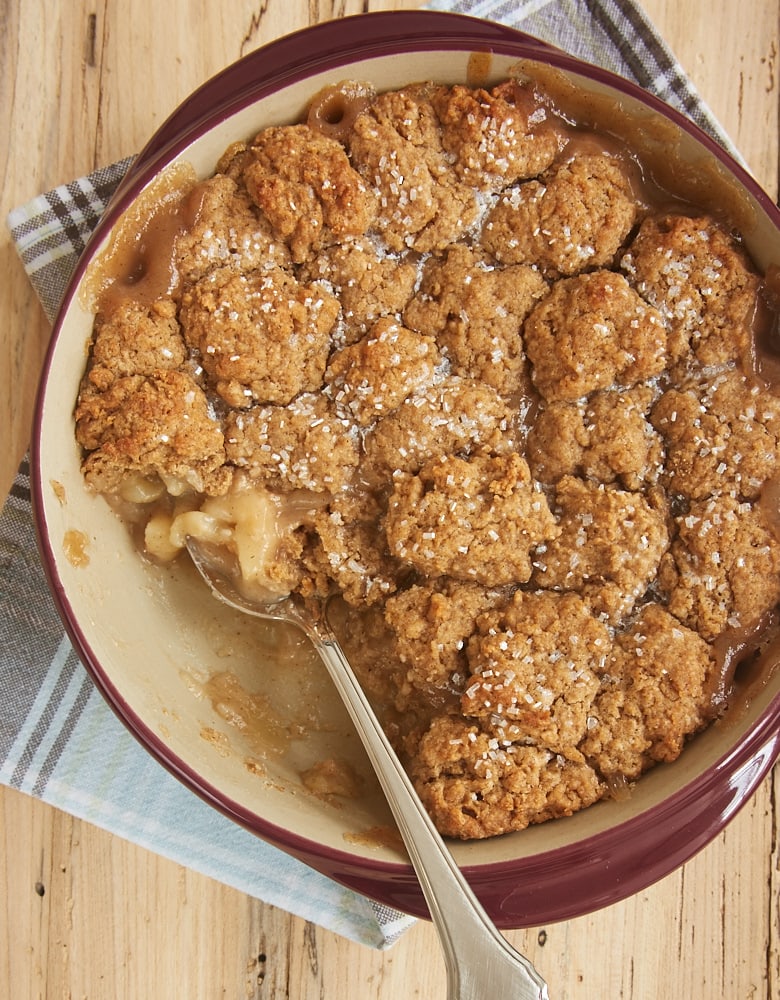 The filling for this cobbler is simply fresh pears, brown sugar, butter, some added flavor, plus a little flour to help thicken it a bit. All of that is cooked briefly on the stovetop to give it a wonderful caramel-like flavor.
The topping is a simple one, but the combination of spices adds such amazing flavor. I'm completely smitten with this wonderful, warm blend of autumn spices – cinnamon, nutmeg, allspice, coriander, and ginger. The mixture of spices is a perfect complement to the pears. If you have a blend you really like, then feel free to use your favorite combination and ratio of spices.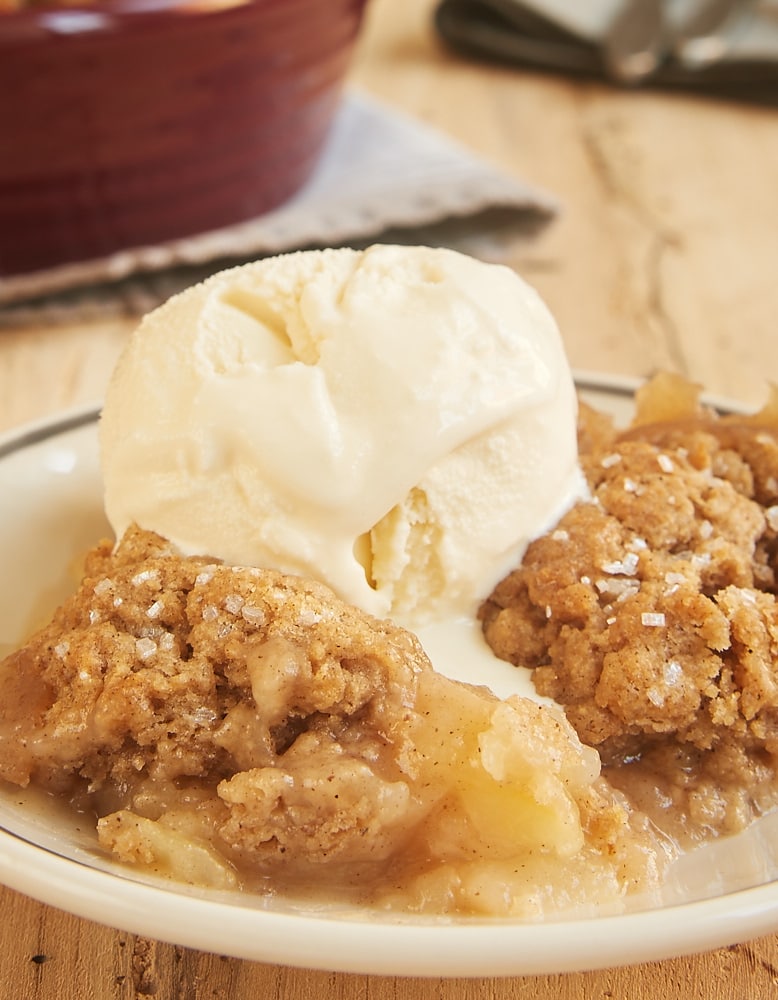 I added cinnamon to both the filling and topping. I tend to like lots of cinnamon, but you can opt to omit it (or just dial it back) in the filling if you like. Having a bit of spice carry over into the filling ensures that there's spice in every bite.
Serve this cobbler warm or at room temperature. Ice cream is the perfect companion, especially to warmed servings. I recommend either vanilla or salted caramel ice cream. No matter how you serve it, I think you'll find that this is one of those desserts that disappears quickly. Be sure to get your serving first!
Find more cobbler recipes in the Recipe Index.
Bake or Break is a participant in the Amazon Services LLC Associates Program, an affiliate advertising program designed to provide a means for us to earn fees by linking to Amazon.com and affiliated sites.
Autumn Spice Pear Cobbler
Yield: 6 to 8 servings
Prep Time: 25 minutes
Cook Time: 35 minutes
Sweet pears and a wonderful, warm blend of spices combine for this simple and delicious Autumn Spice Pear Cobbler.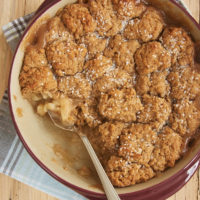 Ingredients:
For the filling:
3 tablespoons unsalted butter
4 medium pears, peeled and chopped into about 1/2-inch pieces
3/4 cup granulated sugar
1/4 cup all-purpose flour
1/2 teaspoon ground cinnamon
1/4 teaspoon salt
1/2 teaspoon vanilla extract
For the topping:
1 & 1/2 cups all-purpose flour
1/2 cup firmly packed light brown sugar
1 teaspoon baking powder
1 teaspoon ground cinnamon
1/2 teaspoon ground caradamom
1/4 teaspoon ground ginger
1/4 teaspoon ground allspice
1/8 teaspoon ground nutmeg
pinch of salt
1/4 cup unsalted butter, cold and cut into 1/2-inch cubes
1/4 cup milk
sanding sugar, for garnish (optional)
Directions:
To make the filling:
Preheat oven to 350°F.
Melt the butter in a skillet over medium heat. Add the pears, sugar, flour, cinnamon, and salt, and stir to combine.
Continue cooking, stirring frequently, until the sugar has dissolved and the mixture is bubbly. Allow the mixture to bubble for 2 or 3 minutes, or until thickened.
Remove from heat. Stir in the vanilla.
Transfer the filling to a 1-quart baking dish. Set aside while you make the topping.
To make the topping:
Combine the flour, brown sugar, baking powder, cinnamon, cardamom, ginger, allspice, nutmeg, and salt.
Add the butter, and mix with a pastry blender, a fork, or your fingers until the butter is about the size of peas.
Add about 3 tablespoons of the milk, and continue mixing the dough. Add the remaining milk, a small amount at a time, and mix just until the dough comes together.
Drop the dough by tablespoonfuls over the top of the filling. Sprinkle with sanding sugar, if using.
Place the baking dish on a lined, rimmed baking sheet to catch any potential spills.
Bake 30 to 35 minutes, or until the topping is browned and the filling is bubbly.
Serve warm or at room temperature.