I tend to gravitate toward fruit desserts in warmer weather. That is most assuredly due to the presence of fresh local berries seemingly everywhere I look. I find it just too difficult to resist stocking up and enjoying them while I can. But occasionally, it's nice to throw in some other flavors, too, for some variety and to avoid berry burnout. (Is that a thing?)
Despite the presence of so, so many blueberries, raspberries, lemons, and more in my kitchen, I decided to take a bit of a fruit break for a special dessert to serve for a recent dinner with friends. For these cheesecakes, I went with two of my favorite flavors – chocolate and dulce de leche. If that's not enough to convince you, there's cheesecake. That's always a good idea.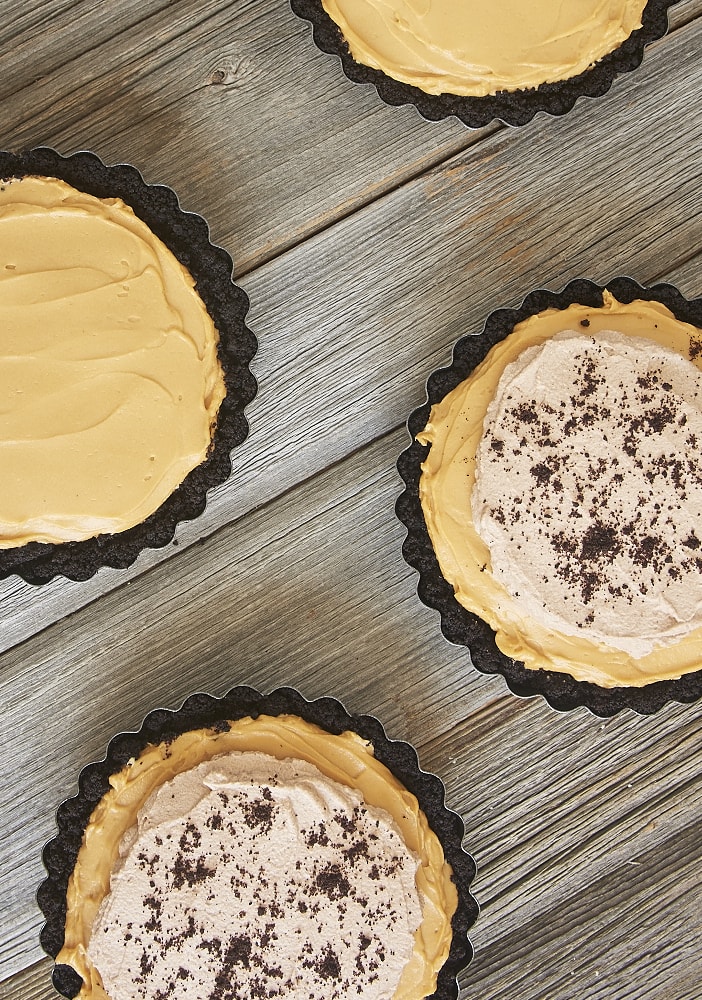 This is one of those recipes that is so simple yet so amazingly good that it doesn't even make sense. A two-ingredient crust plus a no-bake cheesecake? Oh, yeah. Sign me up for that.
If you want to fill the crusts with the cheesecake and stop there, you'll be very happy indeed. Of course, for the sake of the fancy factor, I topped them with a little chocolate whipped cream and some extra cookie crumbs.
I made four small cheesecakes to make serving a bit simpler. The smaller size will definitely serve two. Or maybe just one if you're ambitious. But if you prefer, you can make one 9-inch round cheesecake using a pie or tart pan.
Visit the Recipe Index for more no-bake recipes!
This post contains affiliate links.