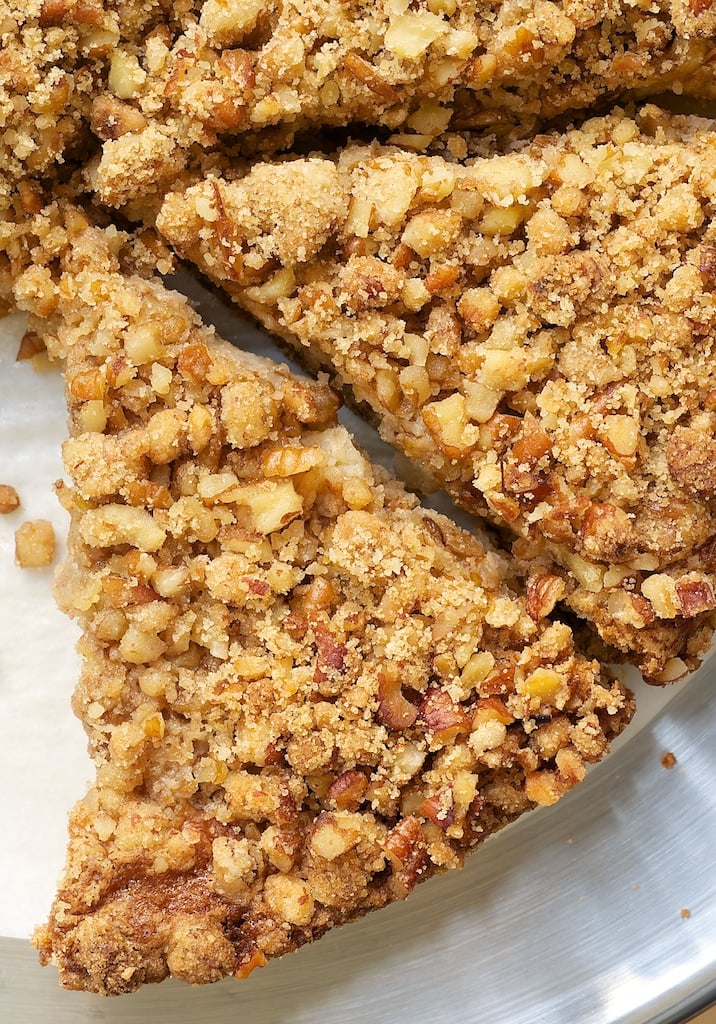 While some people call this apple season, I like to think of it as pear season. They are, by far, my favorite fruit to bake with this time of year.

I found this recipe at Pinch My Salt, a food blog I've been following for years. A while back, Nicole made this cake. Either I missed it the first time around, or I just forgot about it. In any case, I recently found it and knew it was a must-bake.
I only made a couple of changes, the biggest being omitting the ginger and cloves. I'm not much of a fan of either, but go with her original recipe if you like them. I also added a bit of cinnamon to the streusel because, well, I adore cinnamon.
This cake has a lovely, light texture and an equally lovely flavor supplied by lots of pears, cinnamon, and pecans. It's an amazingly quick and easy dessert to make. I think it's just perfect on its own. But, if you want to dress it up a bit, take Nicole's advice and add some caramel sauce and whipped cream.
Yield: 8 to 10 servings
Prep Time: 25 minutes
Cook Time: 40 minutes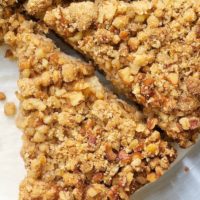 For the streusel:
3/4 cup coarsely chopped pecans
1/4 cup all-purpose flour
1/4 cup packed light brown sugar
2 tablespoons unsalted butter, melted
1/4 teaspoon ground cinnamon
For the cake:
1 cup all-purpose flour
1/2 teaspoon baking powder
1/2 teaspoon baking soda
1 teaspoon ground cinnamon
1/4 teaspoon ground nutmeg
1/4 teaspoon salt
2/3 cup granulated sugar
1/2 cup sour cream
1/4 cup oil
1 large egg
1 teaspoon vanilla extract
1 medium pear, peeled, cored, and chopped
Directions:
Preheat oven to 375°. Grease an 8-inch round cake pan.
To make the streusel, place all streusel ingredients in a small bowl. Mix until combined. Set aside.
To make the cake, whisk together flour, baking powder, baking soda, cinnamon, nutmeg, and salt in a large bowl. Set aside.
Whisk together sugar, sour cream, oil, egg, and vanilla. Pour sugar mixture into flour mixture. Mix until smooth.
Pour batter into prepared pan. Sprinkle chopped pears over the cake batter. Sprinkle streusel evenly over top of pears and batter.
Bake 35-40 minutes, or until edges are browned and a pick inserted into the center comes out clean. Cool in pan for 10-15 minutes. Then, carefully remove from pan* and cool completely on a wire rack.
Notes:
*The streusel can be a bit messy when you remove the cake from the pan. To get the cake right-side-up, you'll need to flip the cake twice. Place a cutting board on top of the cake pan and turn out of the pan. Then, place a serving dish face down on the cake and flip over.