It's holiday gift crunch time, my friends! But never fear because I've put together a collection of some of my favorite gifts for the bakers in your lives. Or for yourself. I've been known to buy myself a little something from time to time. 😉
These gifts range from stocking stuffers to larger gifts. I've tried to find some fun things that are not on the usual gift lineup for this year's collection. I hope you'll find some inspiration among my picks. Happy holidays!
Stocking Stuffers
We never made a big deal about stocking gifts in my family. But once I met Quinn, that definitely changed. Now, we just give each other stocking gifts for Christmas. It's so much fun to find fun little things to get for each other! Here are a few winners for your baker's stocking.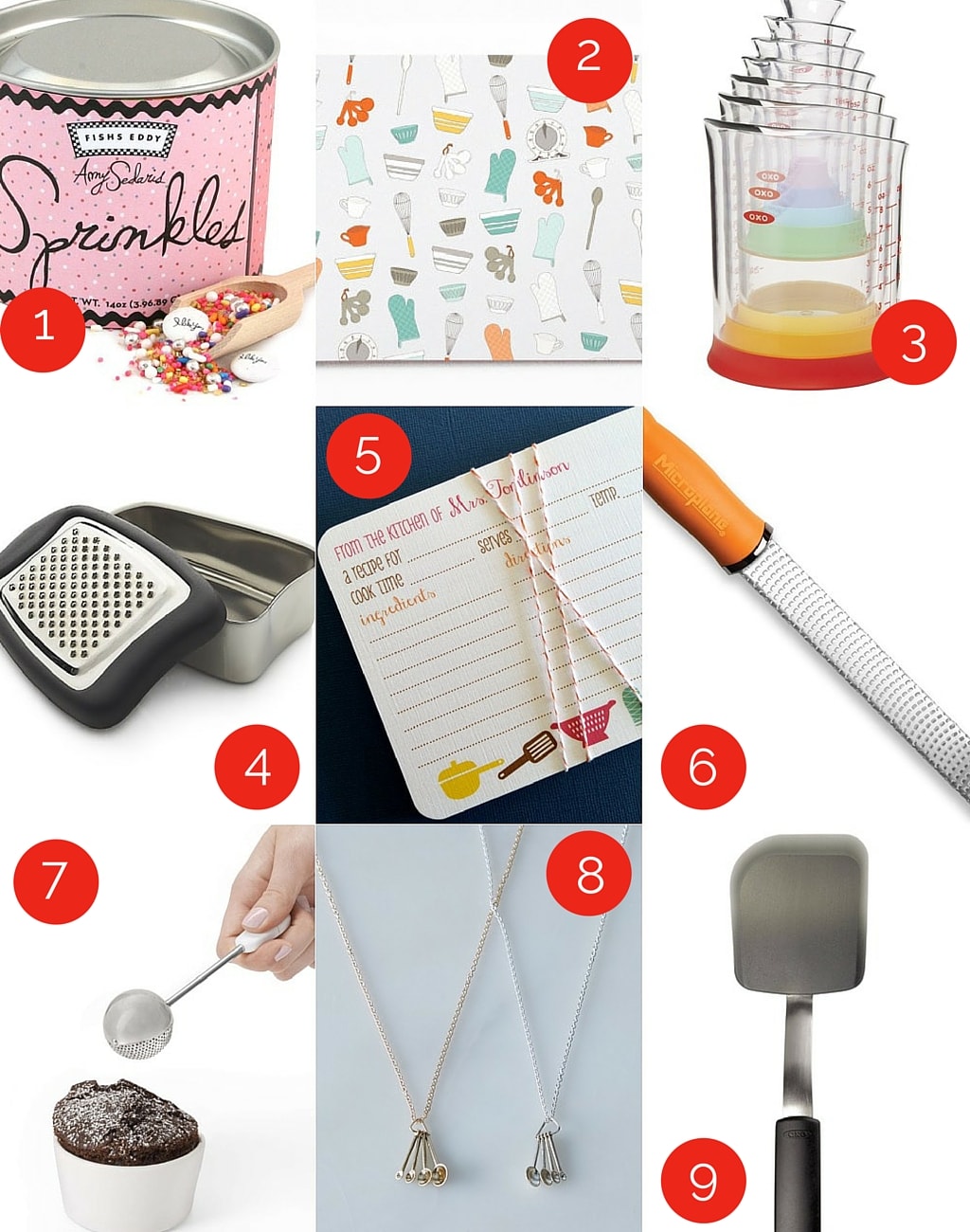 1. How fun are these "I Like You" sprinkles from Fishs Eddy? I don't really use sprinkles that often, but I'd be so happy to get a tin of these and find any excuse to use them.
2. I love this Baker's Notecard Set from one of my favorite Etsy sellers, Print Stitch and Paste. I've ordered several printed items from Cara, and I've loved every one of them! She also has some personalized items if you can allow a little extra time to get your gift delivered.
3. For participating in this year's Food Blogger Cookie Swap, OXO sent me this 7-Piece Nesting Measuring Beaker Set. I adore these little guys. If you like to measure all your ingredients before you begin baking (and you so should!), these are perfect! I really like to use the small ones to measure extracts. It's nice to have those ready to go in a measurer that will stay upright.
4. This little beauty is a nutmeg grater. Now before you scoff and proclaim this a silly thing that no one needs, let me tell you that I've had one for years. And I absolutely love it. It gets used pretty routinely in my kitchen.
5. I love paper and stationary, and these personalized recipe cards make me positively giddy. Give them to your favorite baker, and maybe they'll be inspired to part with their super secret baking recipe!
6. One of my very favorite kitchen tools is this Microplane zester/grater. It's the perfect tool for zesting citrus and ginger.
7. This OXO Baker's Dusting Wand is one of my favorite tools I discovered this year. It is absolutely wonderful to use for a perfect dusting of confectioners' sugar or cocoa powder.
8. It's fun to get surprised by something a little more than the usual stocking stuffer. How fun to sneak in this lovely Measuring Spoons Necklace from Food 52!
9. A Silicone Cookie Spatula may not seem all that exciting, but believe me when I tell you that these are a baker's favorite. I use mine quite often not just for cookies, but also for brownies and bars.
Cookbooks
This year I published my first cookbook, and I now have a new appreciation for what it takes to write one. So it seemed fitting to feature some great baking and dessert cookbooks in my gift guide. As you can see from the collection of books below, I have some very talented friends who have written some fantastic cookbooks this year!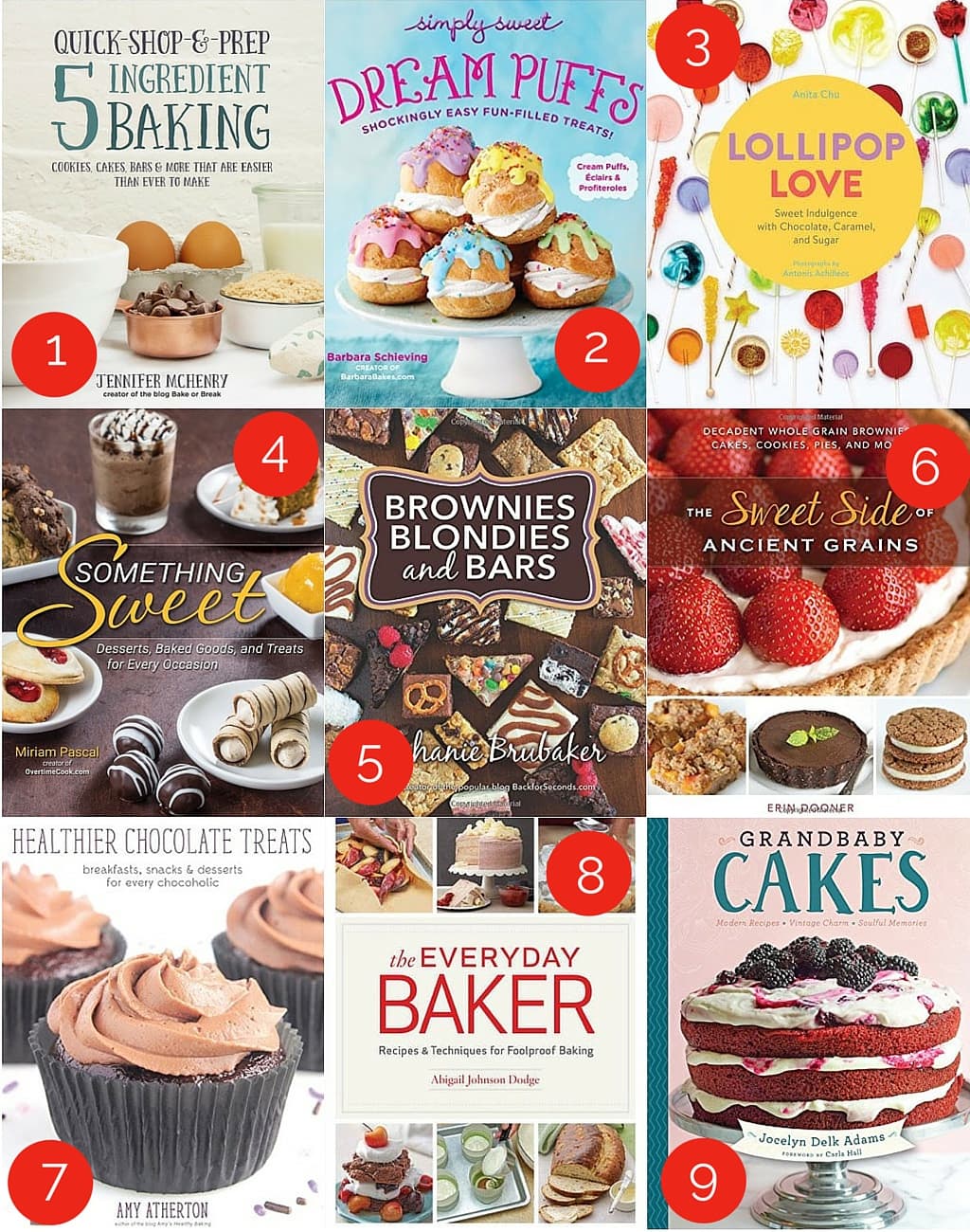 1. I have to include my own book here, right? Quick-Shop-&-Prep 5 Ingredient Baking is full of simple recipes with big results. I think you'll love it, whether you're a beginner or an expert!
2. Simply Sweet Dream Puffs by Barbara Schieving of Barbara Bakes makes me want to make nothing but cream puffs for the foreseeable future.
3. I'm not really a candy maker but Dessert First's Anita Chu makes me want to change that with her fun book Lollipop Love!
4. Miriam Pascal of Overtime Cook wrote such a beautiful book full of drool-worthy treats. Something Sweet: Desserts, Baked Goods, and Treats for Every Occasion is sure to please any baker!
5. Stephanie Brubaker's book is filled with some of my favorite things to bake – Brownies, Blondies, and Bars! Be sure to check out her blog, Back for Seconds.
6. The Sweet Side of Ancient Grains: Decadent Whole Grain Brownies, Cakes, Cookies, Pies, and More is a beautiful book from Erin of Texanerin Baking that explores baking with whole grains. Great for bakers who want to add some healthier options to their recipe collection!
7. Healthier Chocolate Treats: Breakfasts, Snacks & Desserts for Every Chocoholic by Amy Atherton of Amy's Healthy Baking is another great choice for bakers planning to eat a bit healthier in the new year.
8. I met Abby Dodge years ago at a cookie swap, and she was just as lovely as I had ever hoped. Her books are some of my favorites, and her new book, The Everyday Baker: Recipes and Techniques for Foolproof Baking is no exception!
9. My friend Jocelyn of Grandbaby Cakes published her book Grandbaby Cakes: Modern Recipes, Vintage Charm, Soulful Memories this year, and it has taken off like a rocket! It's such a beautiful book filled with mouthwatering desserts alongside stories of her family. This is the kind of book you'll want to read cover to cover!
Even More Gifts
Now for everything else! These larger gifts run the gamut from utility to just pretty. Most of these are on my wish list, too!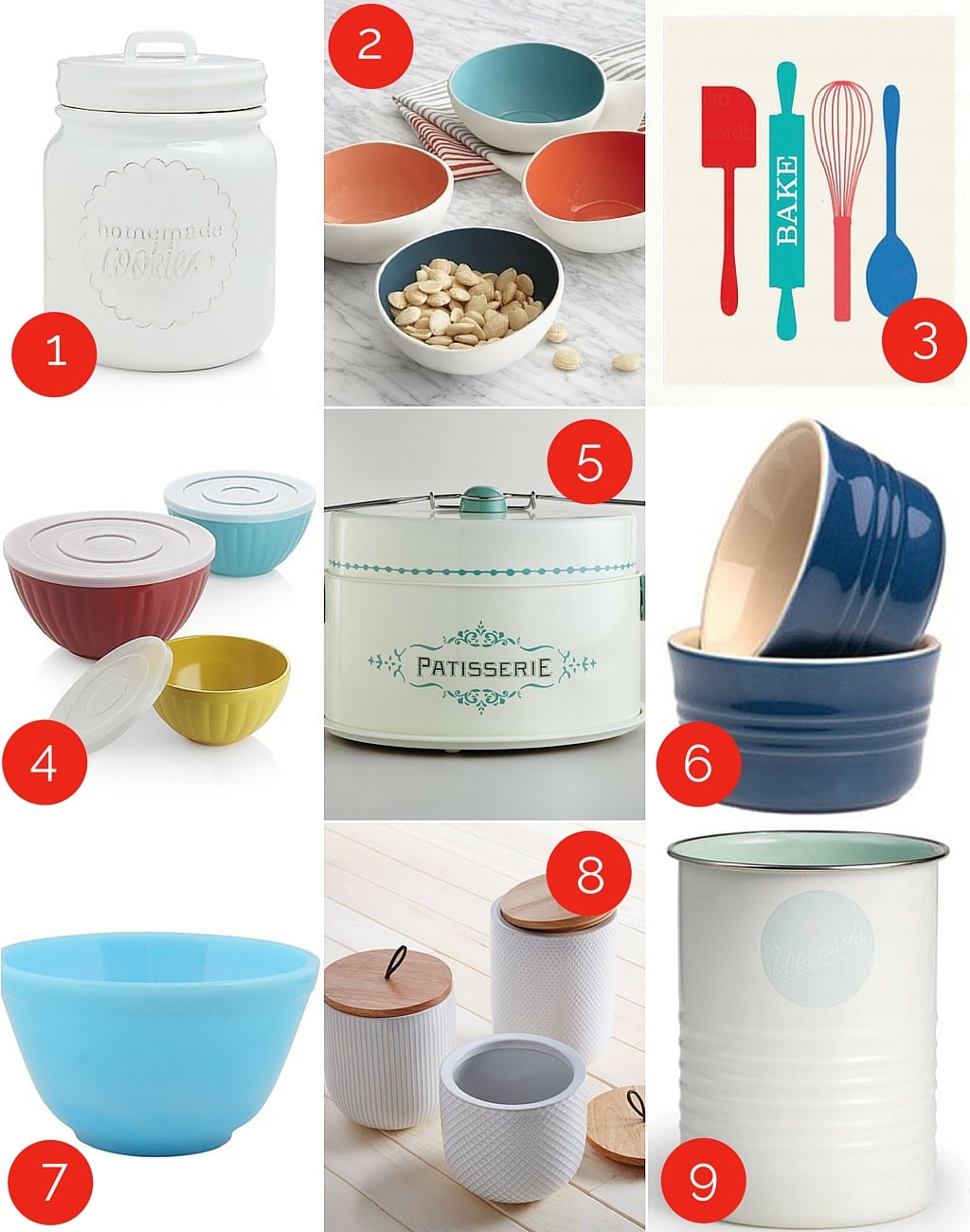 1. For the cookie baker on your list, this Homemade Cookie Jar from Crate and Barrel is just the thing!
2. I love these Color Glaze Prep Bowls from West Elm! They're great for getting your ingredients ready for baking or for serving small bites.
3. This Baking Art Print from Etsy is adorable. I've been trying to figure out a spot for it in my own kitchen!
4. Prep & Store Bowls are perfect for both mixing batters and doughs as well as for storage. As someone who bakes a lot, I can tell you that you can never have enough of these!
5. At some point over the last few decades, cake carriers got boring. That's why I'm so happy to see this Cream Patisserie Cake Carrier from World Market! It's good to see pretty and practical in one place!
6. I'm a sucker for mini desserts, so these Le Creuset Ramekins are an obvious favorite. Le Creuset also has some adorable Petite Tart Dishes, too.
7. I have one of my grandmother's old mixing bowls that looks a bit like this Robin's Egg Mixing Bowl from Fishs Eddy. It's pretty enough to earn a permanent spot on the kitchen counter!
8. We have a West Elm in our neighborhood, and I think I've stopped and looked at their Textured Kitchen Canisters at least a dozen times. They're really, really lovely, and I'm determined to find a spot for them!
9. Living in a New York apartment means we don't have a lot of storage space. At last count, I think I have four utensil holders on my counter. That's why I like to find nice ones to display, like this Baker's Tools Tin from King Arthur Flour.
I hope these gift ideas have been helpful. I'm afraid that after putting together this collection, I added more to my own wish list than to my shopping list!
Have a safe, delicious, wonderful holiday season! And bake something delicious!
This post contains affiliate links.