August 3, 2015
Cherry Plum Slab Pie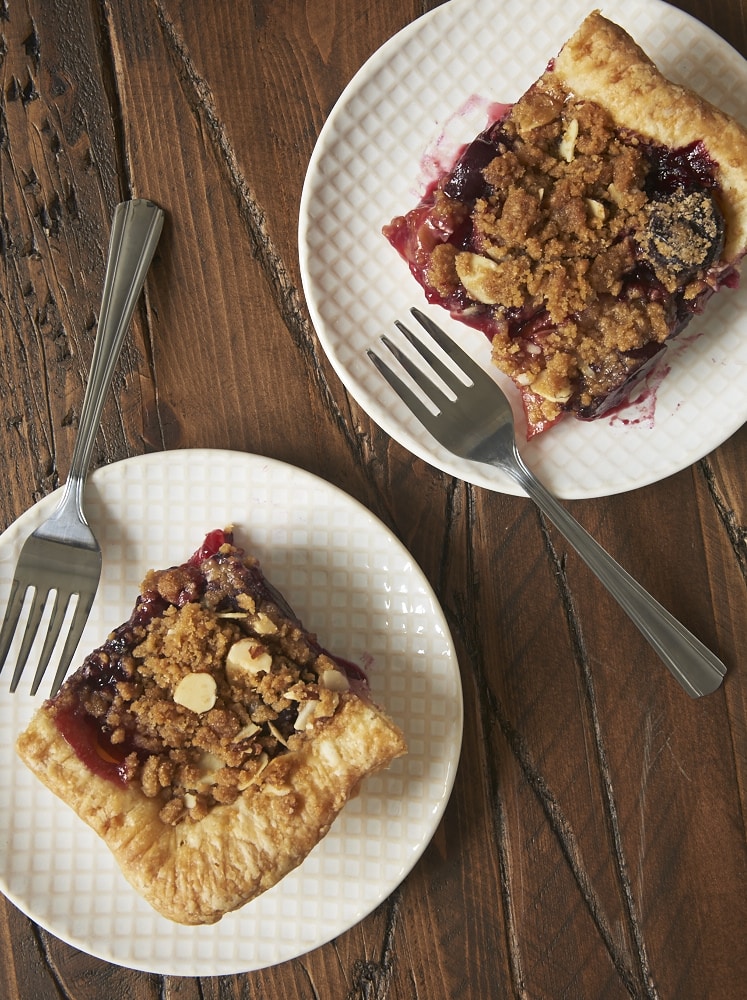 Besides blueberries, my favorite summer fruits are cherries and plums. I start snatching up cherries as soon as I spy the first ones at the market. By the time plums show up here, I've usually gotten my blueberry fever under control. Then I can enjoy fresh plums until it's time to make the transition to apples and pears.
Of course, pie is a winner year-round. And a slab pie is a pretty awesome way to make lots of pie. This pie is made in a quarter sheet pan, giving you almost twice as much pie as a standard 9-inch round pie. You can pretty much always sign me up for more pie.

As opposed to a traditional round pie, the shape of this pie allows one of the greatest baked good choices – corner, edge, or middle. If you're a big fan of pie crust, you'll want to call dibs on a corner piece. If you're more excited about gooey fruit filling, then one of those center pieces is all yours.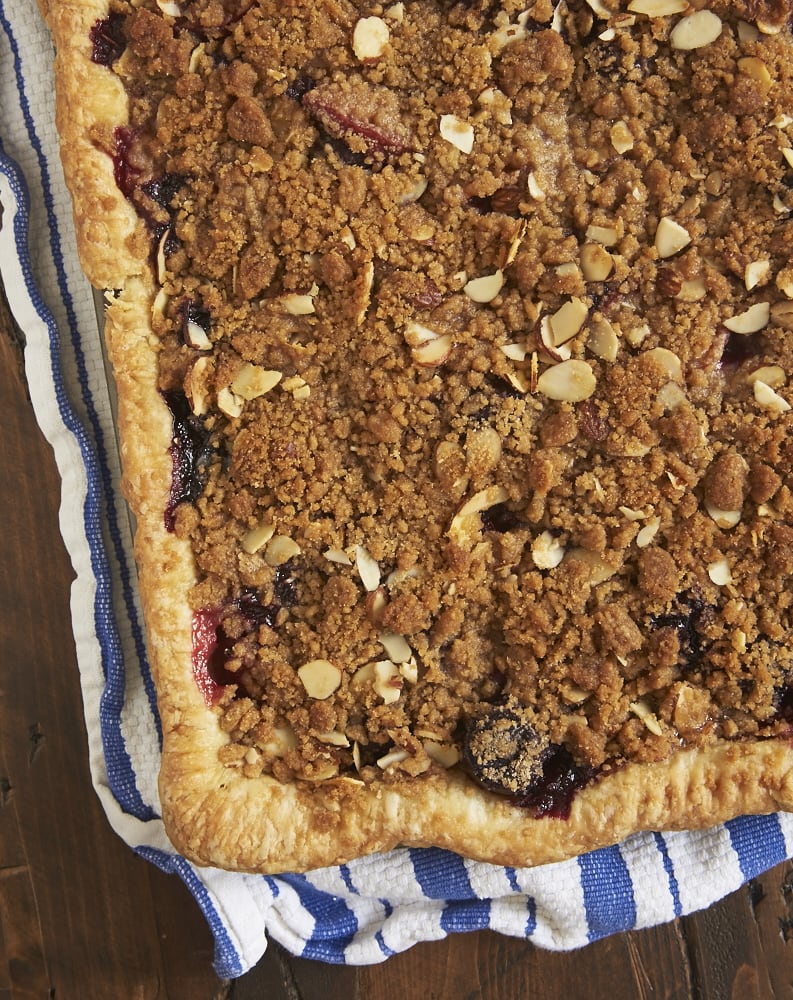 To make the crust, you just need enough pastry for a double crust pie. I used my go-to pie crust, but you can certainly use your favorite recipe if you prefer. I won't even judge if you go with store-bought crust, although I will gently remind you that homemade is tough to beat.
Instead of another layer of crust, a sweet crumb tops off this pie. It's made with plenty of brown sugar, butter, a hint of cinnamon, and almonds. Did you know that almonds belong to the same family as stone fruits? So, it's like a family reunion in this pie! If you like, mix up the fruits here with some other stone fruits like peaches or apricots.
This pie is really great served warm, but room temperature is equally as good. If you like, top slices with a scoop of ice cream or some sweetened whipped cream. But honestly, it's so very, very good that it doesn't really need it. Just grab a fork and go for it.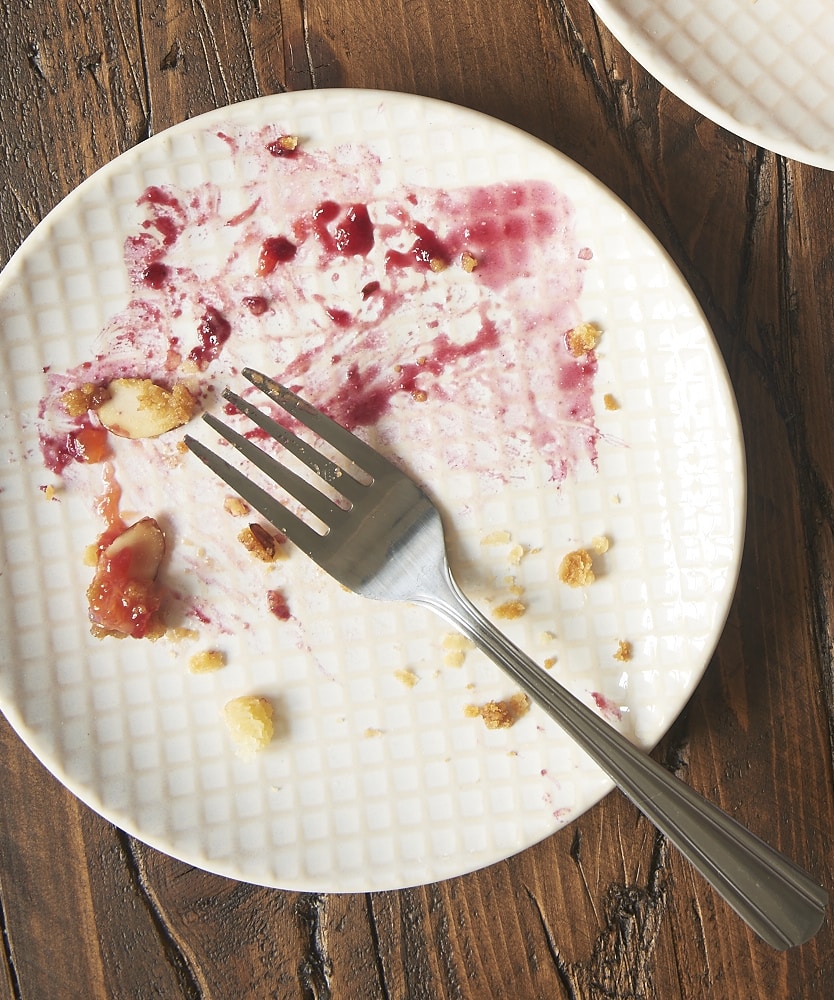 I'm a dessert sharer. I have to be with all the baking I do. But every once in a while, I make something we like so much that it's a little harder to part with it. Luckily, this is a whole lot of pie, so I kept a little more of it than usual for Quinn and me. And we thoroughly enjoyed every single luscious bite.
Find more pie recipes in the Recipe Index.
This post contains affiliate links. If you make a purchase through one of the links, I'll receive a
small commission at no additional cost to you.
Cherry Plum Slab Pie
Yield: 24 to 30 servings
Prep Time:30 minutes
Cook Time:1 hour
Sweet cherries and plums fill this delicious Cherry Plum Slab Pie. A great dessert for feeding a crowd!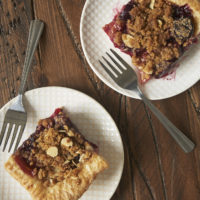 Ingredients:
For the crust:
2 & 1/2 cups all-purpose flour
2 teaspoons granulated sugar
1 teaspoon salt
1 cup unsalted butter, cold and cut into 1/2-inch cubes
1/4 to 1/2 cup very cold water
For the filling:
3 pounds total sweet cherries and plums
1/2 cup granulated sugar
3 tablespoons cornstarch
juice of 1 medium lemon
For the crumb topping:
1 & 1/2 cups all-purpose flour
1 cup firmly packed light brown sugar
3/4 cup sliced almonds
1 teaspoon ground cinnamon
1/2 teaspoon salt
10 tablespoons unsalted butter, cold and cut into 1/2-inch cubes
Directions:
For the crust:
Whisk together the flour, sugar, and salt in a large bowl. Add the butter and mix with a pastry blender or fork until the mixture resembles coarse meal and the butter is the size of small peas.
Add 1 tablespoon of water and continue mixing. Add more water as needed, 1 tablespoon at a time, until a dough forms.
Wrap the dough tightly in plastic wrap. Refrigerate for at least 2 hours.
Remove the dough from refrigerator. If necessary, let it sit at room temperature for 10 to 15 minutes until slightly softened but still cold.
Lightly flour a work surface. Roll out the dough into a rectangle about 1/8-inch thick.
Transfer the dough to a quarter sheet pan (approximately 9″x 13″). Trim any excess dough from the edges, or tuck under the excess dough to form a thicker edge. Crimp the edges as desired for a decorative edge.
Place the pan in the refrigerator while you prepare the filling.
To make the filling:
Pit the cherries and plums. Slice the plums into 1/4-1/2″ slices. Cut the cherries in half if you prefer smaller pieces.
In a large bowl, stir together the cherries, plums, sugar, cornstarch, and lemon juice. Set aside.
To make the crumb topping:
Preheat oven to 375°F.
Combine the flour, brown sugar, almonds, cinnamon, and salt. Add the butter, and mix with a pastry blender, a fork, or your fingers until crumbs form. Set aside.
Transfer the filling to the chilled crust, spreading evenly. Sprinkle the crumb topping over the top of the filling.
Place the pan on a larger rimmed baking sheet lined with parchment paper to catch any spills.
Bake 50 to 60 minutes, or until the crust is browned and the filling is bubbly. Allow the pie to cool before serving.