June 10, 2015
Strawberry Whoopie Pies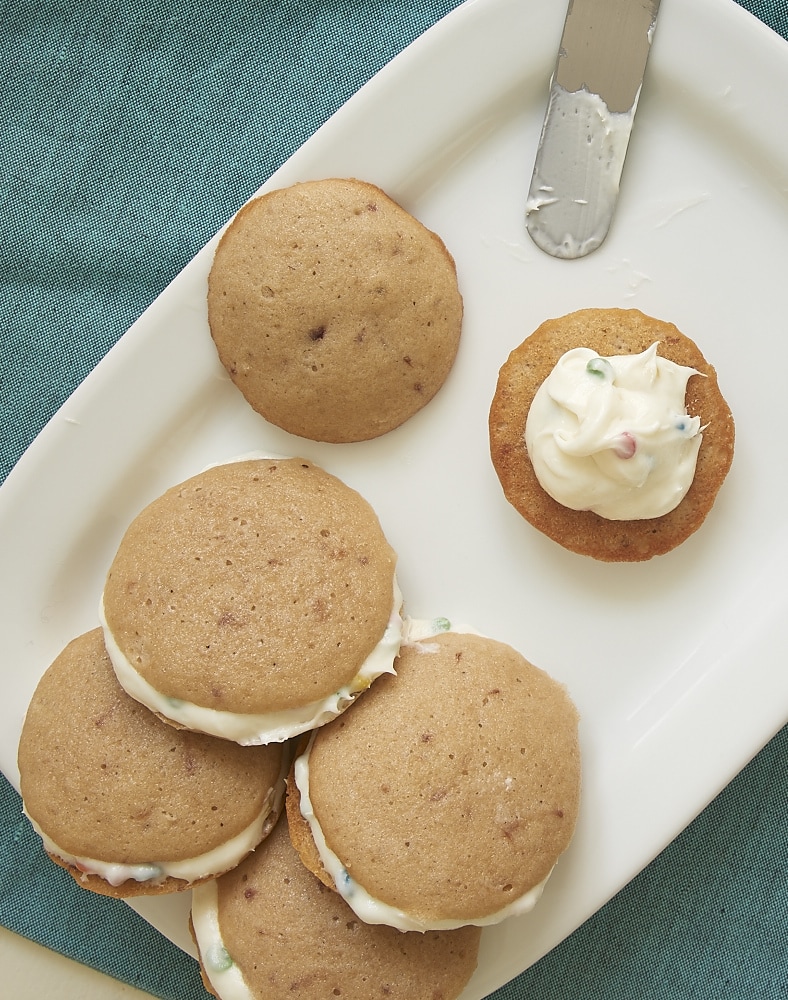 I have a slight obsession with whoopie pies. Granted, I haven't baked very many myself, but I've certainly eaten my share, thanks to a lovely bakery in my neighborhood. They're a brilliant combination of cake and frosting, all in a handheld delivery system. What's not to love?
Speaking of obsessions, I think it's more than a safe bet that many of you have had your own obsession with Betty Crocker's Rainbow Chip Frosting. That sweet, happy frosting just tastes like a celebration, doesn't it?

I have great news for those of you who have been missing that colorful frosting. It's coming back! After a petition, tons of emails, and even some Facebook groups asking for the return of Rainbow Chip Frosting, your pleas have been heard, and that favorite frosting will be back on the shelves soon.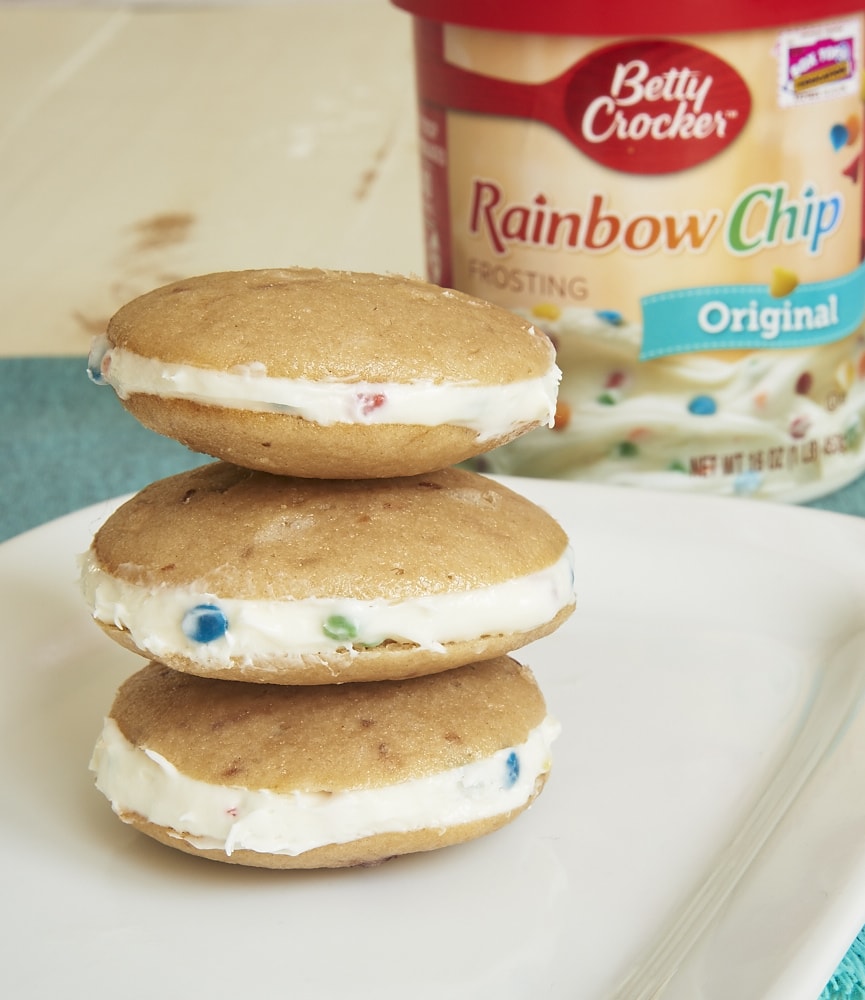 Betty Crocker asked me to help celebrate Rainbow Chip Frosting's triumphant return, and my thoughts went immediately to whoopie pies. I'd had an idea for strawberry whoopie pies for a while, and that yummy frosting seemed like the perfect pairing.
I used one of my favorite strawberry preserves to add a really lovely strawberry flavor to these little treats. Be sure to use preserves or jam without any big lumps of fruit so that you'll be able to pipe the cakes more easily. As I told you with my last batch of whoopie pies, piping is not one of my great skills, but whoopie pies are pretty forgiving. Mine usually look pretty rough going into the oven (as you can see here), but they will almost always come out all smooth and pretty.
If you, too, are excited about the return of Rainbow Chip Frosting, then you'll want to be one of the first to get your hands on some! And here's how you can do that! Head over and enter Betty Crocker's Rainbow Chip Sweepstakes for a chance to win one of 100 Rainbow Chip prize packs. Good luck!
Strawberry Whoopie Pies
Yield: 18 to 20 whoopie pies
Prep Time:25 minutes
Cook Time:10 minutes
Little strawberry cakes are sandwiched around a sweet frosting for a fruity, handheld treat!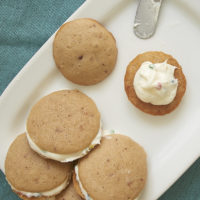 Ingredients:
2 cups all-purpose flour
1/2 teaspoon baking powder
1/4 teaspoon baking soda
1/4 teaspoon salt
1/2 cup unsalted butter, softened
3/4 cup granulated sugar
2 large eggs
1 teaspoon vanilla extract
1/4 cup strawberry preserves
1/4 cup sour cream
Rainbow Chip Frosting
Directions:
Whisk together flour, baking powder, baking soda, and salt. Set aside.
Using an electric mixer on medium speed, beat the butter and sugar until light and fluffy. Add the eggs, one at a time, mixing well after each addition. Mix in vanilla. Mix in preserves.
Reduce mixer speed to low. Add the flour mixture in 3 portions, alternating with 2 portions of sour cream. Mix just until combined.
Refrigerate the batter for 30 minutes.
Preheat oven to 350°F. Line baking sheets with parchment paper or silicone liners.
Using a pastry bag with a large plain top or a plastic storage bag with the corner snipped, hold the bag vertically and close to the lined pan. Pipe the batter in 1-inch circles, leaving about 2 inches between each.
Bake 8 to 10 minutes, or until the edges are browned and the centers spring back when touched. Cool completely.
Frost the bottoms of half of the whoopie pies. Top with the remaining whoopie pies so that the bottoms face each other.
This post is sponsored by Betty Crocker. I received products and compensation for my time. All opinions written are my own.