I have a slight obsession with whoopie pies. Granted, I haven't baked very many myself, but I've certainly eaten my share, thanks to a lovely bakery in my neighborhood. They're a brilliant combination of cake and frosting, all in a handheld delivery system. What's not to love?
Speaking of obsessions, I think it's more than a safe bet that many of you have had your own obsession with Betty Crocker's Rainbow Chip Frosting. That sweet, happy frosting just tastes like a celebration, doesn't it?

I have great news for those of you who have been missing that colorful frosting. It's coming back! After a petition, tons of emails, and even some Facebook groups asking for the return of Rainbow Chip Frosting, your pleas have been heard, and that favorite frosting will be back on the shelves soon.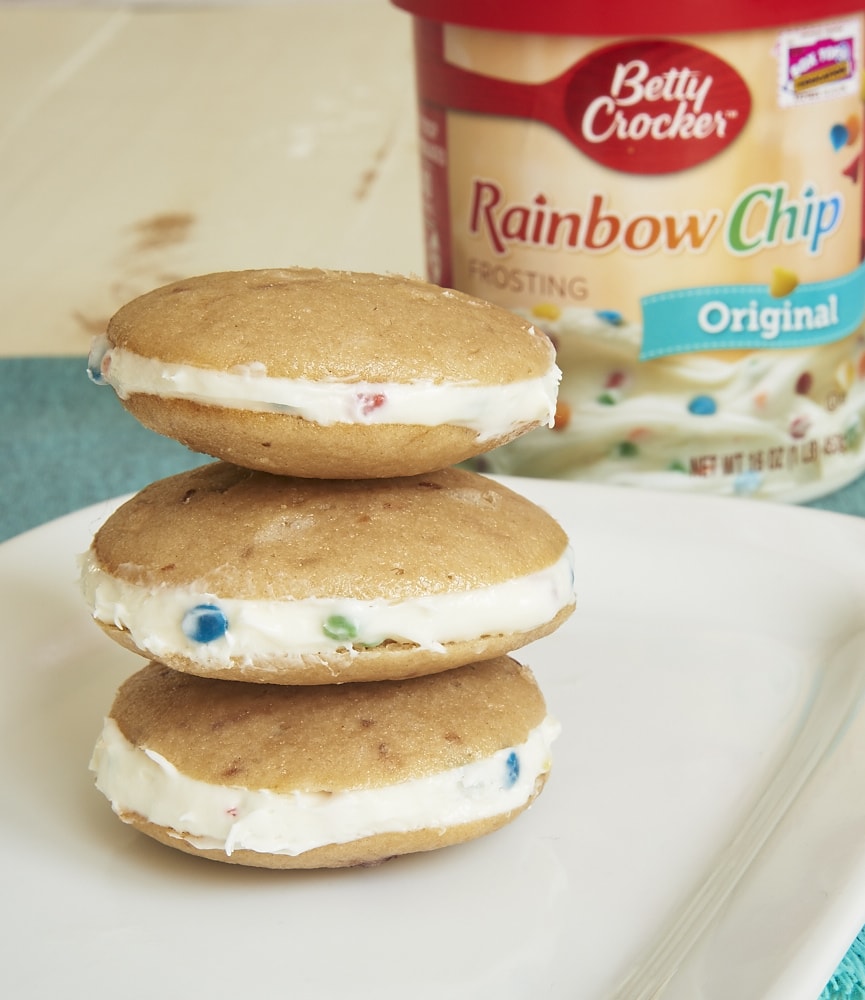 Betty Crocker asked me to help celebrate Rainbow Chip Frosting's triumphant return, and my thoughts went immediately to whoopie pies. I'd had an idea for strawberry whoopie pies for a while, and that yummy frosting seemed like the perfect pairing.
I used one of my favorite strawberry preserves to add a really lovely strawberry flavor to these little treats. Be sure to use preserves or jam without any big lumps of fruit so that you'll be able to pipe the cakes more easily. As I told you with my last batch of whoopie pies, piping is not one of my great skills, but whoopie pies are pretty forgiving. Mine usually look pretty rough going into the oven (as you can see here), but they will almost always come out all smooth and pretty.
If you, too, are excited about the return of Rainbow Chip Frosting, then you'll want to be one of the first to get your hands on some! And here's how you can do that! Head over and enter Betty Crocker's Rainbow Chip Sweepstakes for a chance to win one of 100 Rainbow Chip prize packs. Good luck!
This post is sponsored by Betty Crocker. I received products and compensation for my time. All opinions written are my own.