October 13, 2014
Peanut Butter Bundt Cake with Milk Chocolate Ganache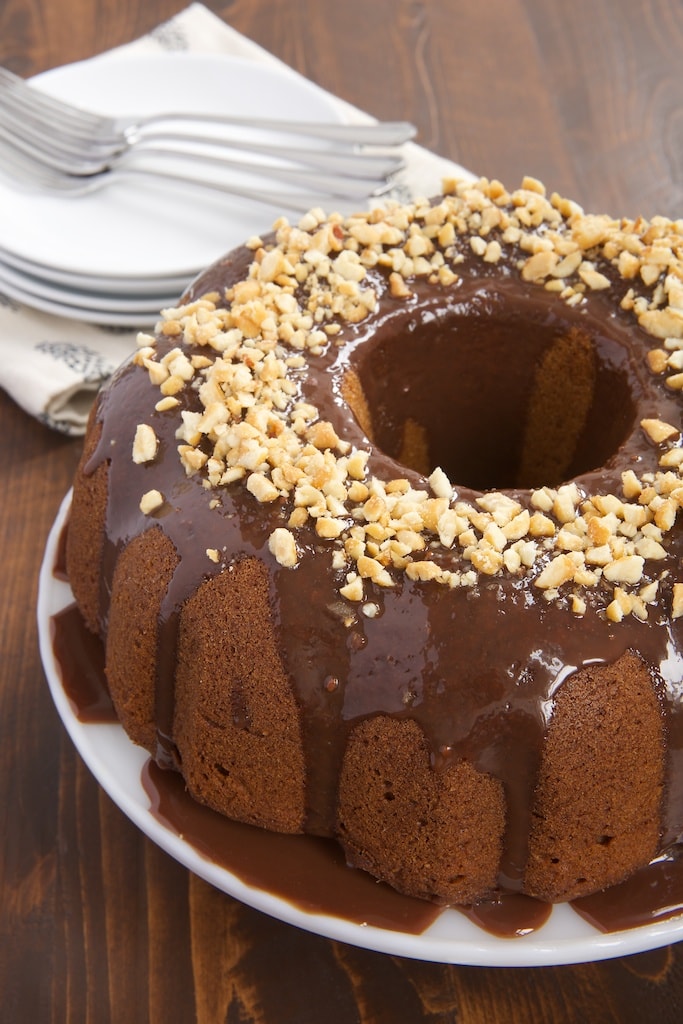 Oh, the magic of peanut butter and chocolate. I've been a big fan since I was old enough to hold a peanut butter cup. And if you hang around BoB long enough, you'll see that fabulous combination show up pretty often.
My latest installment in my continuing chocolate/peanut butter love affair is this gorgeous Bundt cake. As I'm also a huge fan of Bundt cakes, this one is even more exciting for me. Simple and delicious? You can always sign me up for that!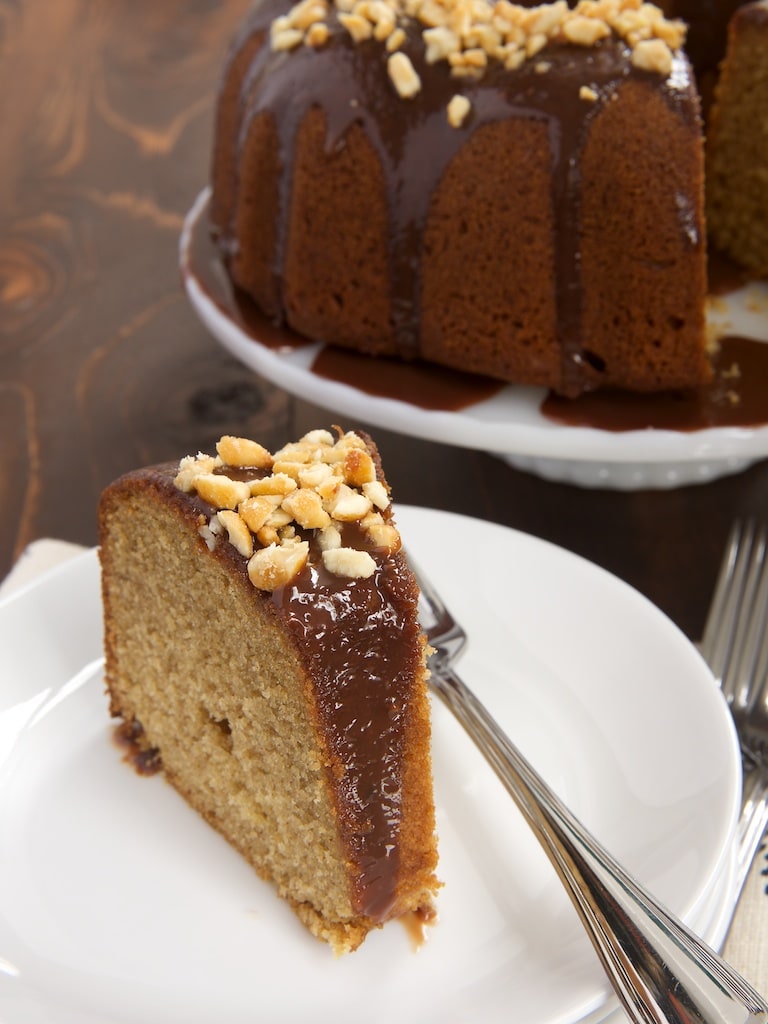 The cake itself is a subtly sweet beauty flavored with peanut butter and brown sugar. It's a surprisingly delicate cake, as many Bundt cakes tend to be a bit dense. It's quite lovely on its own for a simple dessert or an afternoon snack.
To incorporate my chocolate/peanut butter obsession and to push it into full-fledged dessert territory, I topped it with a milk chocolate ganache. The beauty of ganache, other than the creamy chocolate flavor, is its simplicity. With two ingredients and about 5 minutes of actual work, you can have a beautiful, delicious ganache that's just the perfect complement to this cake.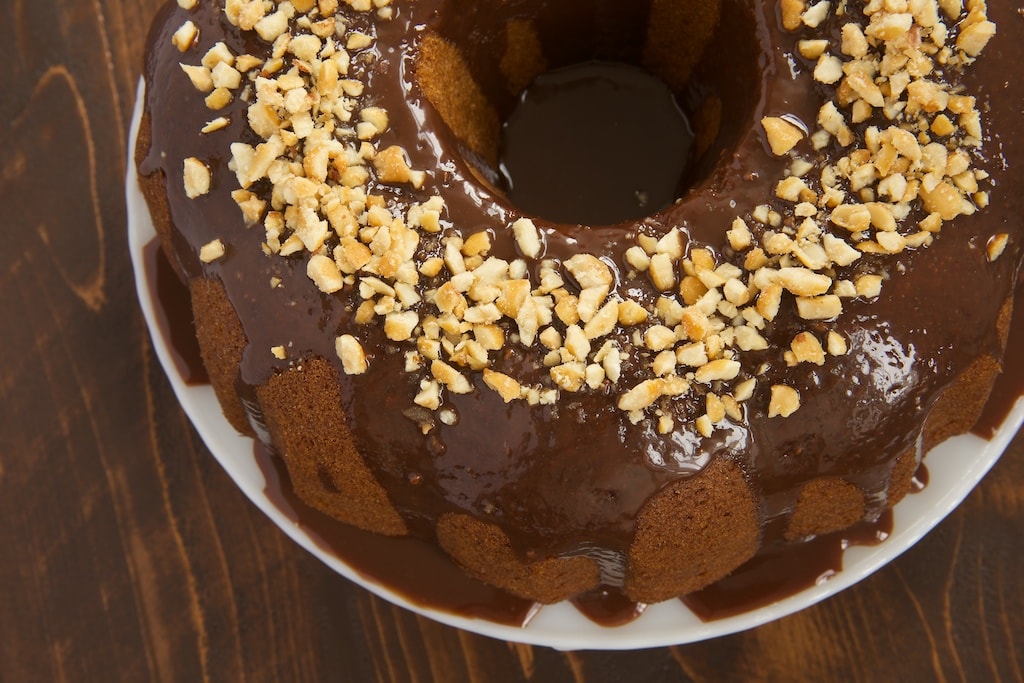 For a simple topping, I used chopped honey roasted peanuts. I like the crunch they add, as well as the extra peanut flavor. But you could use peanut butter cups or even a mix of chocolate chips and peanut butter chips if you prefer.
If you love chocolate and peanut butter like I do, this is one cake not to be missed. Besides the great flavor, I love how gorgeous it is. The beauty of this cake in relation to how simple it is to make means this one is even more of a winner in my book!
Peanut Butter Bundt Cake with Milk Chocolate Ganache
Yield: 10 to 12 servings
Prep Time:30 minutes
Cook Time:1 hour 10 minutes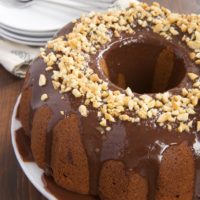 Ingredients:
For the cake:
2 & 1/2 cups all-purpose flour
1 & 1/2 teaspoons baking powder
1 teaspoon baking soda
1/2 teaspoon salt
1/2 cup unsalted butter, softened
1 cup packed light brown sugar
1/2 cup granulated sugar
1 cup creamy peanut butter
2 teaspoons vanilla extract
3 large eggs
1 cup milk
For the ganache and topping:
4 ounces milk chocolate, chopped
1/2 cup heavy cream
2 to 3 tablespoons chopped honey roasted peanuts
Directions:
To make the cake:
Preheat oven to 350°. Grease and flour a 10-cup Bundt pan.
Whisk together flour, baking powder, baking soda, and salt. Set aside.
Using an electric mixer on medium speed, beat butter, brown sugar, and sugar until light and fluffy. Add peanut butter and vanilla, and beat until thoroughly combined. Add eggs, one at a time, mixing well after each addition.
Reduce mixer speed to low. Add flour mixture in three portions, alternating with two portions of milk. Mix just until combined.
Transfer batter to prepared pan and spread evenly.
Bake 1 hour to 1 hour 10 minutes, or until a pick inserted into the center comes out clean and the cake is golden brown.
Cool cake in pan on a wire rack for 15 minutes. Then, invert the pan and remove the cake from the pan to continue cool on a wire rack.
To make the ganache:
Place chocolate in a heatproof bowl. Set aside.
Place cream in a heavy saucepan and heat over medium-low heat just until you begin to see bubbles around the edges of the pan. (Do not boil.)
Carefully pour the cream over the chocolate. Allow to sit (without stirring) for about 5 minutes, or until the chocolate has melted. Then, whisk until smooth.
Drizzle ganache over cooled cake. Sprinkle with chopped peanuts. Serve immediately or allow a few minutes for the ganache to set.