These Fudgy Nutty Streusel Bars feature layer upon layer of deliciousness with a sweet and salty kick!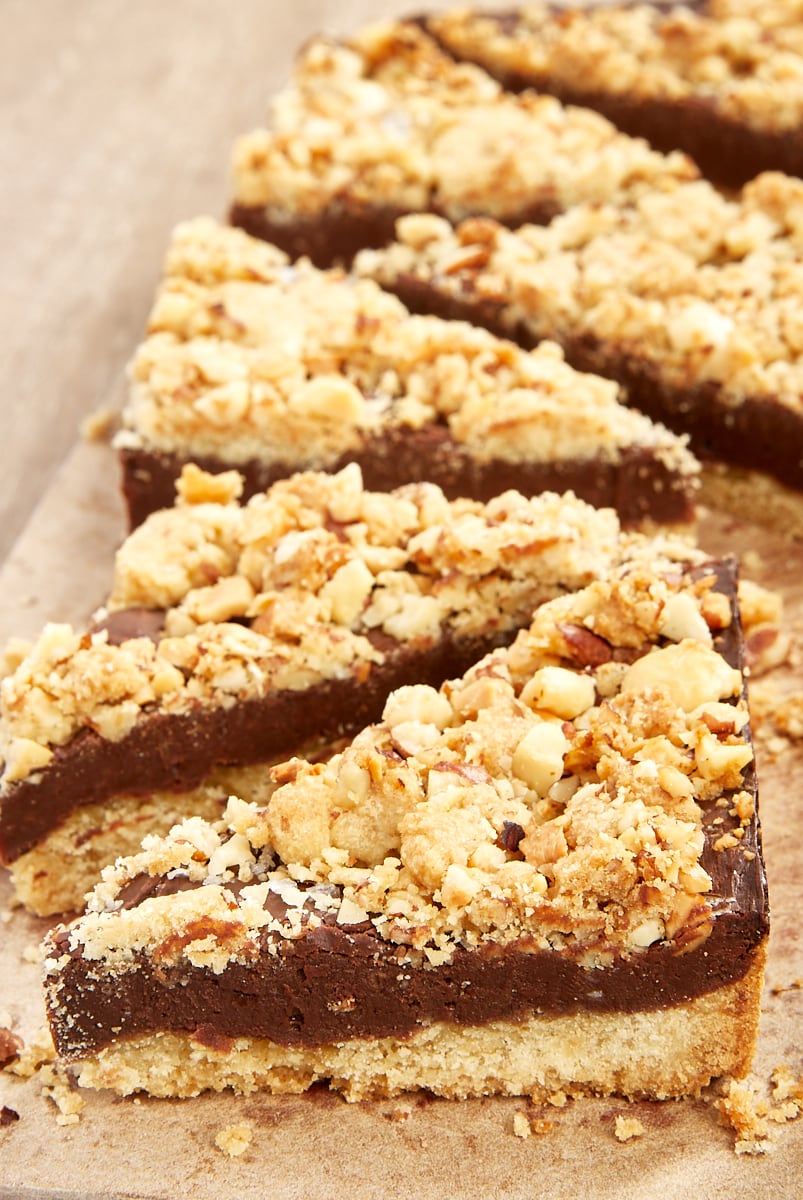 Fudgy Nut Bars with Streusel Topping
As much as I love taking advantage of berry season, I just can't resist sprinkling in some chocolate here and there. Chocolate is always in season, right?
My recent desire to bake something chocolate-y led me to these bars. They take advantage of a whole lot of dark chocolate along with a buttery crust, a little extra salt, and a streusel topping with toasted nuts.
I seriously couldn't love these cookie bars more. They are chewy and crunchy and salty and rich all rolled into one package. I always adore sweet and salty, but you can use as much or as little coarse salt as you like.
I love the simplicity of the two-ingredient chocolate layer. It's so fudgy! Be sure to use some of your favorite dark chocolate for these to make the most of it.
Can't get enough nutty desserts? Try my Salty Mixed Nut Cookies and Extra Nutty Brownies next!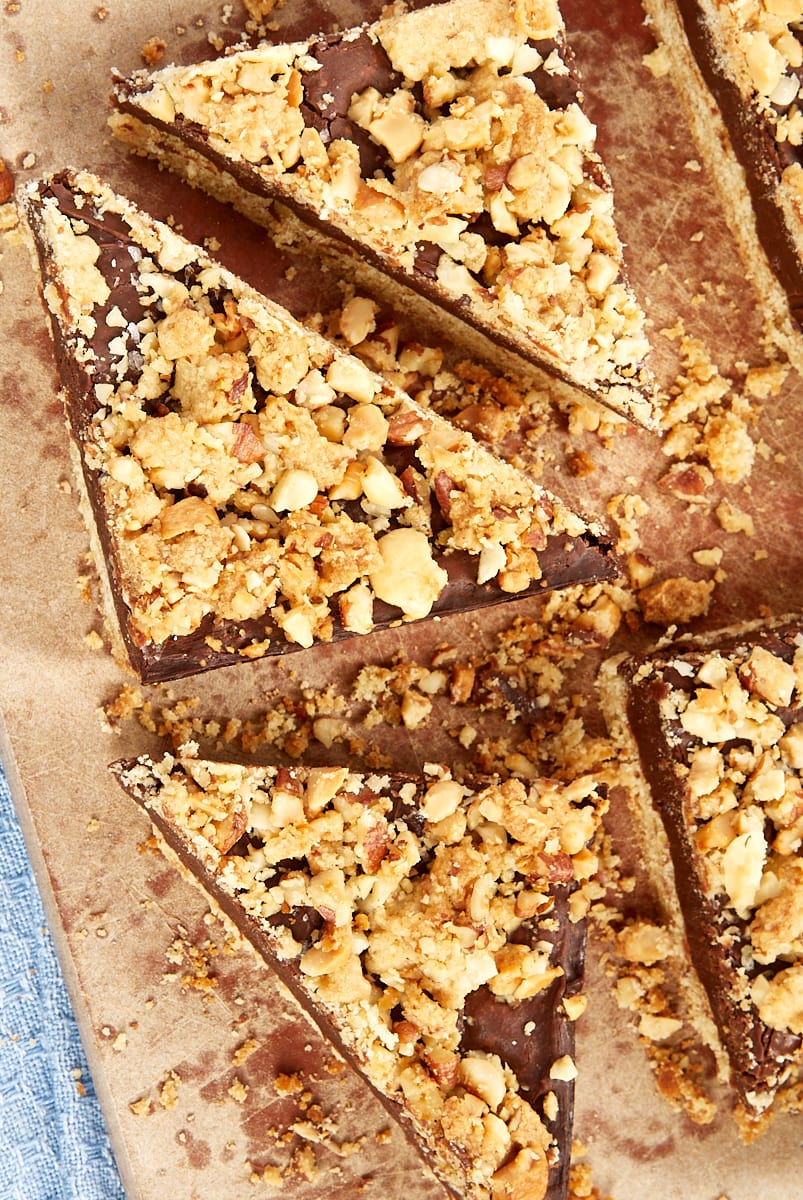 What You'll Need
Scroll down to the recipe card at the bottom of this post for the ingredient amounts and full instructions. Here's a quick glance at the ingredients you'll need along with a few notes about them.
All-purpose flour – Measure by weight for best results. Otherwise, use the spoon and sweep method to help prevent over-measuring.
Baking powder
Salt
Unsalted butter – Set out the butter before baking to allow it to soften. Read more: How to Soften Butter
Brown sugar – I recommend light brown sugar for this recipe. Be sure yours is firmly packed or measure by weight.
Egg – You'll just need an egg yolk. Eggs are easier to separate when they're cold, so do that first and then allow the yolk to come to room temperature. (Need a use for that egg white? Whip up a half batch of Cinnamon Pecan Puffs!)
Toasted nuts – You can use any combination of nuts or just one kind. Pecans, cashews, almond, hazelnuts, walnuts, peanuts… whatever you like!
Bittersweet chocolate – If you prefer, use semisweet chocolate. Bar or block chocolate will likely melt better, but you can also use good quality chocolate chips.
Sweetened condensed milk – Look for this in the baking section. Be sure to get the sweetened kind.
Coarse salt – Most any large-flake salt will work. I like to use sea salt.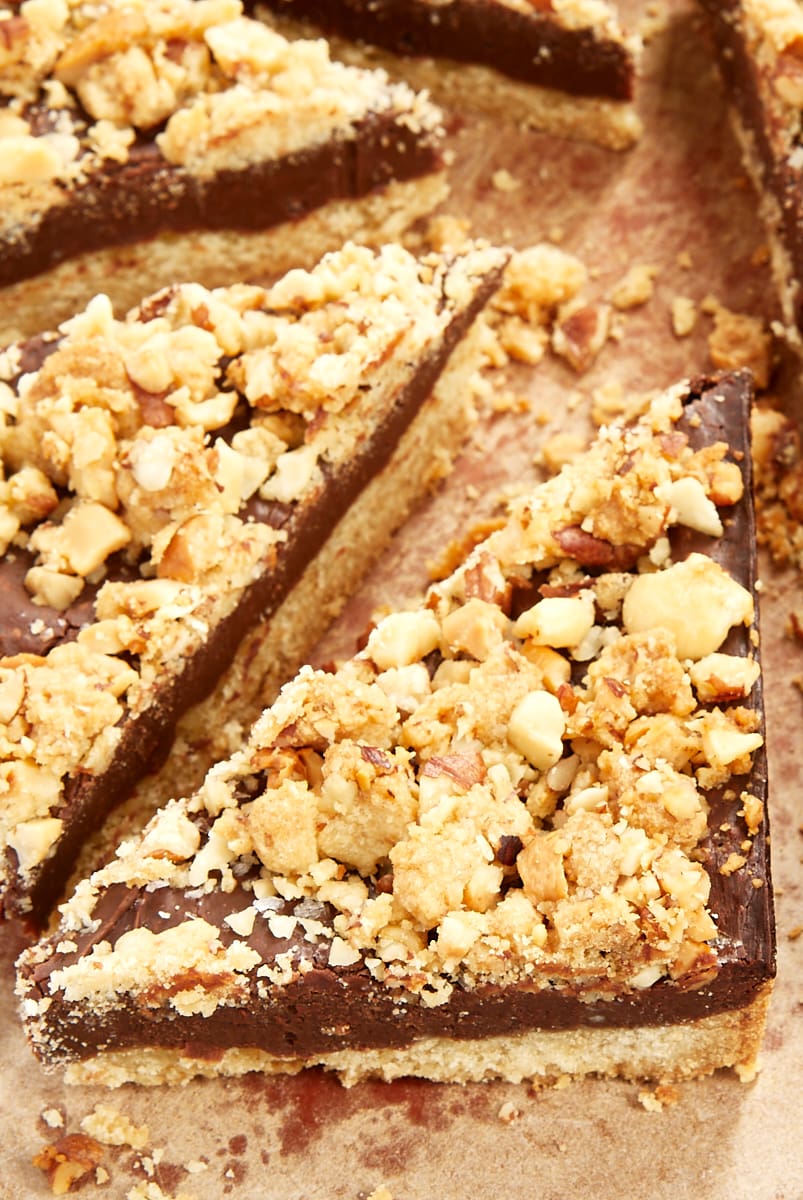 How to Make Fudgy Nutty Streusel Bars
You'll make these bars in stages, allowing time for some parts to chill while you prepare others. Despite the different layers, these bars come together quickly and easily!
Prepare the pan. Grease a 9-inch square pan. If you like, also line the pan with parchment paper and grease the paper.
Combine the dry ingredients. Whisk together the flour, baking powder, and salt.
Combine the wet ingredients. With an electric mixer on medium speed, beat the butter, brown sugar, and egg yolk until the mixture is combined and smooth.
Add the dry ingredients to the wet ingredients. With the mixer on low speed, gradually add the flour mixture to the butter mixture. The dough will be crumbly. Use your hands to finish mixing the dough until it holds together.
Form the crust. First, set aside 1/4 cup of the crust mixture to use for the topping. Press the remaining dough into the bottom of the prepared pan. Place the pan in the refrigerator.
Make the topping. Add the chopped nuts to the reserved crust mixture. Mix well, and then crumble into large clumps onto a plate and place in the refrigerator.
Make the filling. Place the chocolate and condensed milk in a medium saucepan, and cook over low heat until the chocolate melts and the mixture is smooth. Transfer the mixture to a bowl and cover with plastic wrap, placing the plastic directly onto the mixture. Set aside to cool slightly.
Prepare for baking. Heat the oven to 350°F.
Assemble. Spread the cooled chocolate filling over the chilled crust. Sprinkle with a few pinches of coarse salt. Sprinkle the topping over the filling.
Bake. Place the pan in the oven, and bake 40 to 45 minutes. The bars should be golden brown.
Cool. Place the pan on a wire rack, and allow the bars to cool before cutting into bars.
Tips for Success
Here are some of my tips to help make sure your Fudgy Nutty Streusel Bars turn out perfectly!
Line the pan with parchment paper. You certainly don't have to do this, but it does simplify removing the bars from the pan so you can make clean slices.
Use good quality chocolate. Choose one that has a good flavor and melts well.
Adjust the salt to your tastes. When sprinkling the coarse salt over the filling, you can easily adjust how much you use to make these bars more or less salty. I like to use a few pinches.
Getting good slices. Use a sharp knife and make decisive cuts, not a sawing motion. A pizza rocker works well, too. Cut the bars into traditional rectangles or go with triangles for something a little different.
How to Store
Once the bars have cooled, place them in an airtight container. They should keep at room temperature for up to 3 days.
Can These Bars Be Frozen?
Yes, you can freeze these bars. After they've cooled completely, wrap them in plastic wrap and then place them in an airtight, freezer-safe container or bag. Properly stored, the bars should keep up to 3 months in the freezer. Thaw for a couple of hours at room temperature before serving.