March 18, 2014
Hummingbird Oatmeal Cookies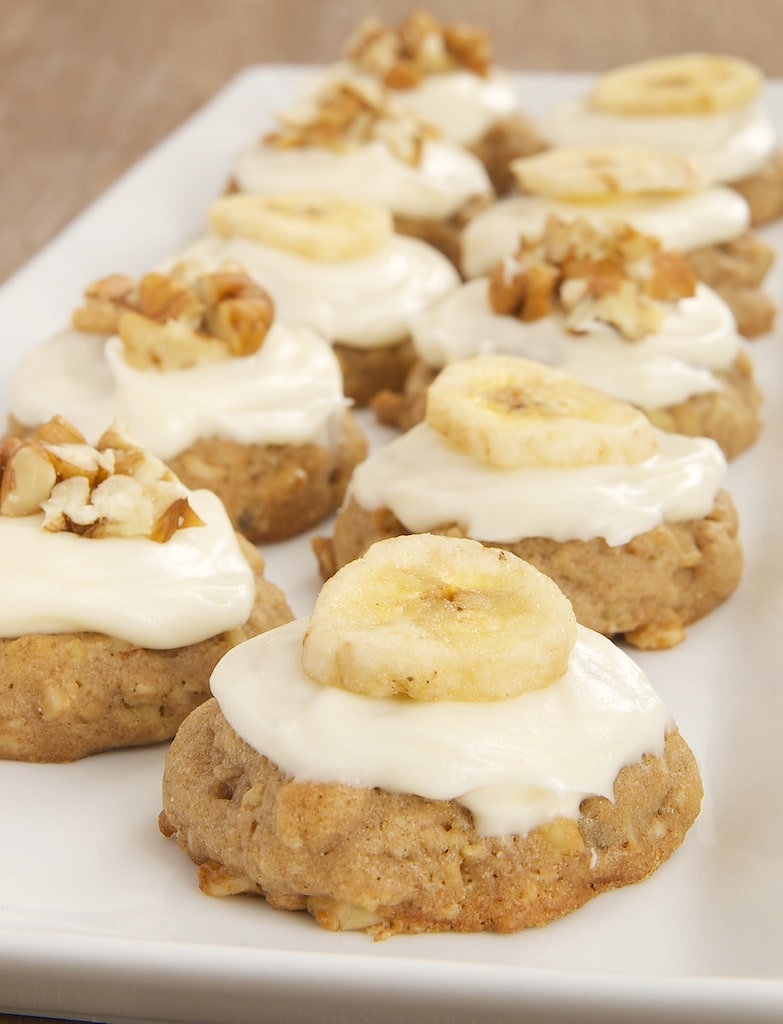 I'm not blessed with an abundance of patience. I just have a hard time waiting for things. Anyone else have this problem?
You see, the plan was to share these cookies with you later this week when it's officially spring. They just seemed like such a lovely way to usher in the new season.
But, I couldn't stop thinking about them, and I just couldn't wait any longer. So, sure, it's a couple of days shy of spring. If you don't mind, then we'll just go with it.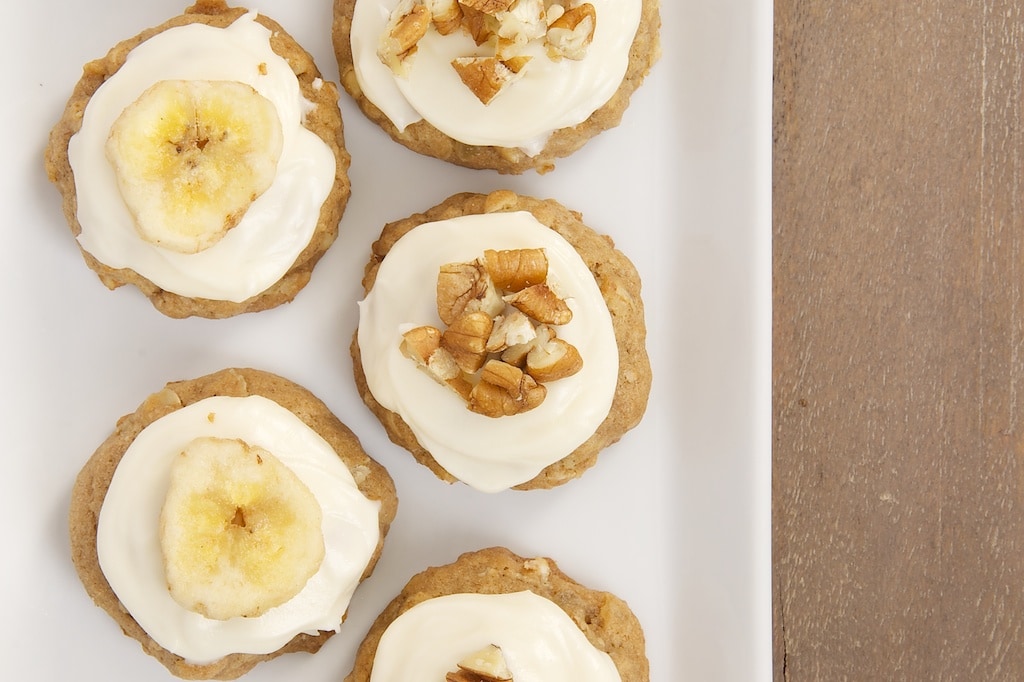 One of my favorite cakes is Hummingbird Cake. I've made it in both cupcake and Bundt form. I'd never thought of translating those flavors into cookie form until I came across this recipe in a recent edition of Southern Living. I knew that I'd be moving these to the top of my to-bake list.
If you aren't familiar with the whole Hummingbird idea, it's a wonderfully delicious combination of bananas, pineapple, cinnamon, and nuts, all topped off with cream cheese frosting. And, it is so, so good.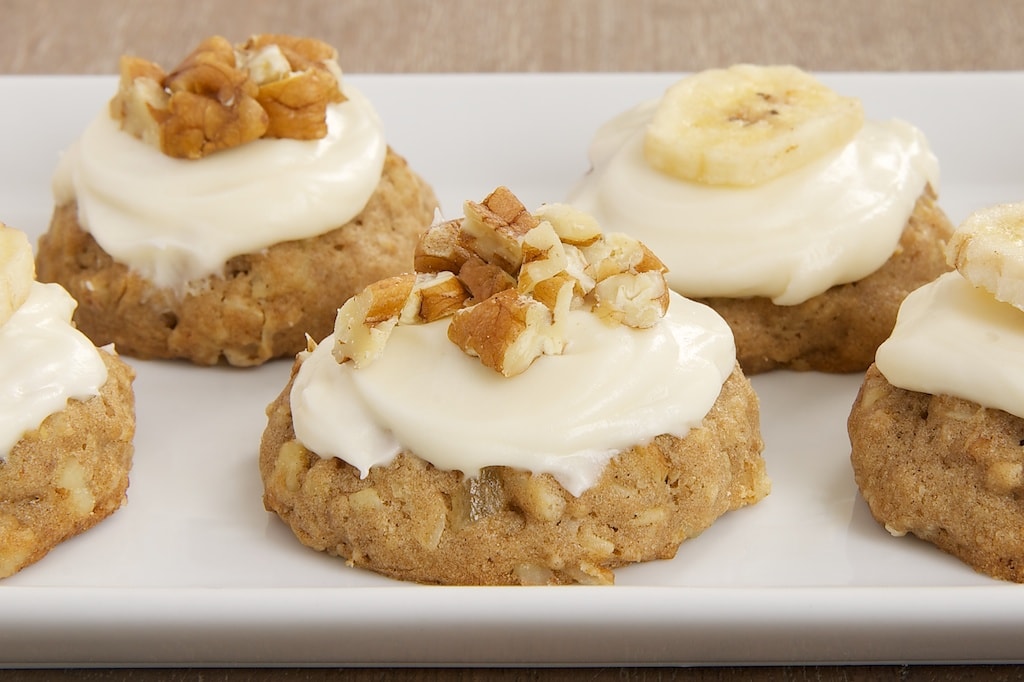 These cookies are a great variation on those flavors with a soft oatmeal cookie with banana and cinnamon and dried pineapple. Then, each one is topped with its own dollop of cream cheese frosting. You can dress them up a bit with toasted nuts or banana chips.
No matter the season, I encourage you to make these delicious cookies. They're a perfectly lovely sweet treat for most any occasion. In fact, this very moment may be deemed worthy of one of these for me.
Hummingbird Oatmeal Cookies
Yield: about 4 dozen cookies
Prep Time:25 minutes
Cook Time:14 minutes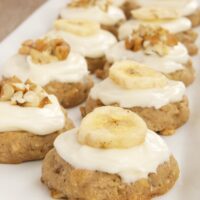 Ingredients:
For the cookies:
2 cups all-purpose flour
1 tablespoon ground cinnamon
1 teaspoon baking soda
1/2 teaspoon salt
1 cup unsalted butter, softened
1 cup packed light brown sugar
2 large eggs
1 teaspoon vanilla extract
1/2 medium ripe banana, mashed
1 & 1/2 cups old-fashioned rolled oats
1 cup finely chopped pecans, toasted
1/2 cup finely chopped dried pineapple
For the frosting:
4 ounces cream cheese, softened
1/4 cup unsalted butter, softened
1 & 1/4 cups confectioners' sugar
1/2 teaspoon vanilla extract
garnish: banana chips, chopped toasted pecans
Directions:
To make the cookies:
Preheat oven to 350°. Line baking sheets with silicone liners or parchment paper.
Whisk together flour, cinnamon, baking soda, and salt. Set aside.
Using an electric mixer on medium speed, beat butter and brown sugar until light and fluffy. Add eggs, one at a time, mixing well after each addition. Mix in vanilla. Mix in banana.
Reduce mixer speed to low. Gradually add flour mixture, mixing just until combined. Stir in oats, pecans, and dried pineapple.
Drop dough by tablespoonfuls onto prepared baking sheets. Leave about 2 inches between cookies. Flatten each cookie slightly.
Bake 12 to 14 minutes, or until cookies are lightly browned. Cool on pans on wire racks for 10 minutes. Then, transfer cookies to wire racks to cool completely.
To make the frosting:
Using an electric mixer on medium speed, beat cream cheese and butter until well-blended and smooth. Mix in vanilla.
Reduce mixer speed to low. Gradually add confectioners' sugar, mixing until smooth.
Spread about 1/2 tablespoon of frosting on top of each cookie. If desired, garnish with banana chips or toasted pecans.