I've really resisted the whole desserts-in-jars thing. I'm not sure why exactly. I guess I just never got that excited about them. But, I spied some beautiful Weck jars at Fishs Eddy (my favorite store in all of NYC) and felt like I just had to have them.
With limited storage at home, I try to buy things only when I can think of a specific place for storage or when I can justify that I really need it. You know, for the sake of this blog. How unselfish of me, right?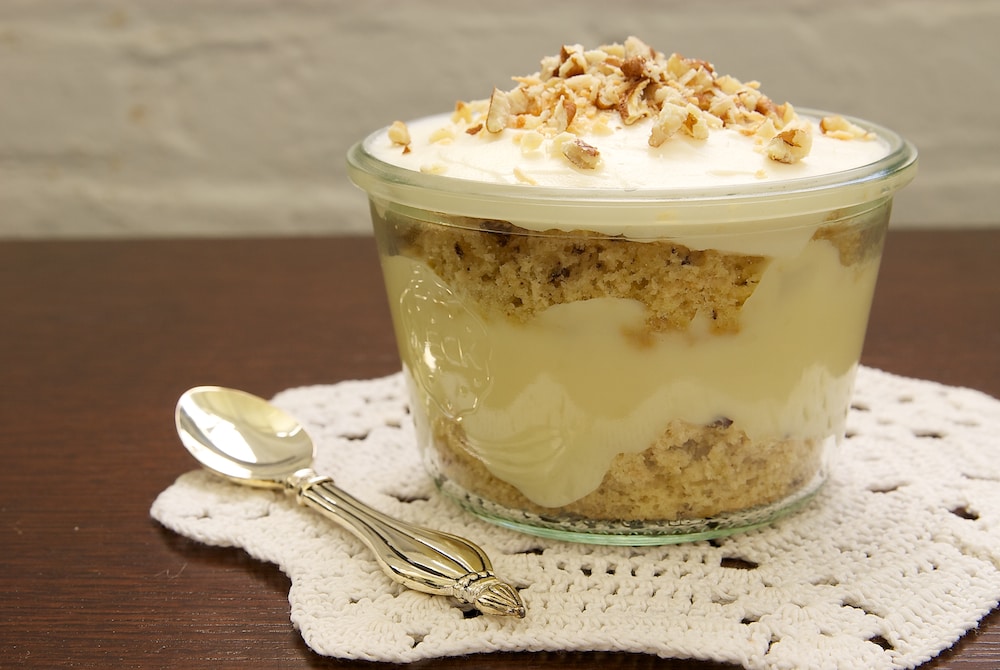 So, as I headed home with my inevitable purchase, I began thinking of a good use for them. Italian Cream Cake came to mind pretty quickly. I adore Italian Cream Cake. If you are familiar with some of my favorite dessert ingredients, that's probably not a surprise. Pecans, coconut, and cream cheese make for a pretty perfect dessert in my book. I've seen lots of deconstructed desserts layered in jars, but I wanted to change it up a bit to make it seem more appropriate for a jar versus just making the dessert in the traditional way.


I decided to add another element to the traditional cake by layering in homemade vanilla pudding. Pudding doesn't show up all that much on a baking blog, but I am a huge fan of homemade pudding. While I might use the boxed stuff as an ingredient every once in a while, you cannot beat the deliciousness of the homemade version.
That awesome vanilla pudding is layered between layers of a cake that's full of coconut and pecans. Then, it's all topped off with cream cheese frosting. The total package is really quite good. I love the added flavor and richness from the pudding.
While the recipe appears a bit long, it's not difficult at all. For efficiency's sake, I'd suggest making the pudding a day in advance, as it needs to chill for a bit anyway. Depending on the jar or bowl you use, you may need to make some adjustments to assembly. My Weck jars are 2 & 3/4" tall with a 3 & 7/8" opening and roughly a 1-cup capacity.
As you can see, I overfilled my jars for aesthetic purposes. If you're making these ahead of time, keep in mind that you'll need to cover them. You can make them so that they are just shy of the total depth of the jar, or just leave off the frosting until you're ready to serve.
This recipe was developed for Go Bold with Butter, where I am a paid contributor.