September 5, 2013
Flourless Chocolate Cake with Chocolate Ganache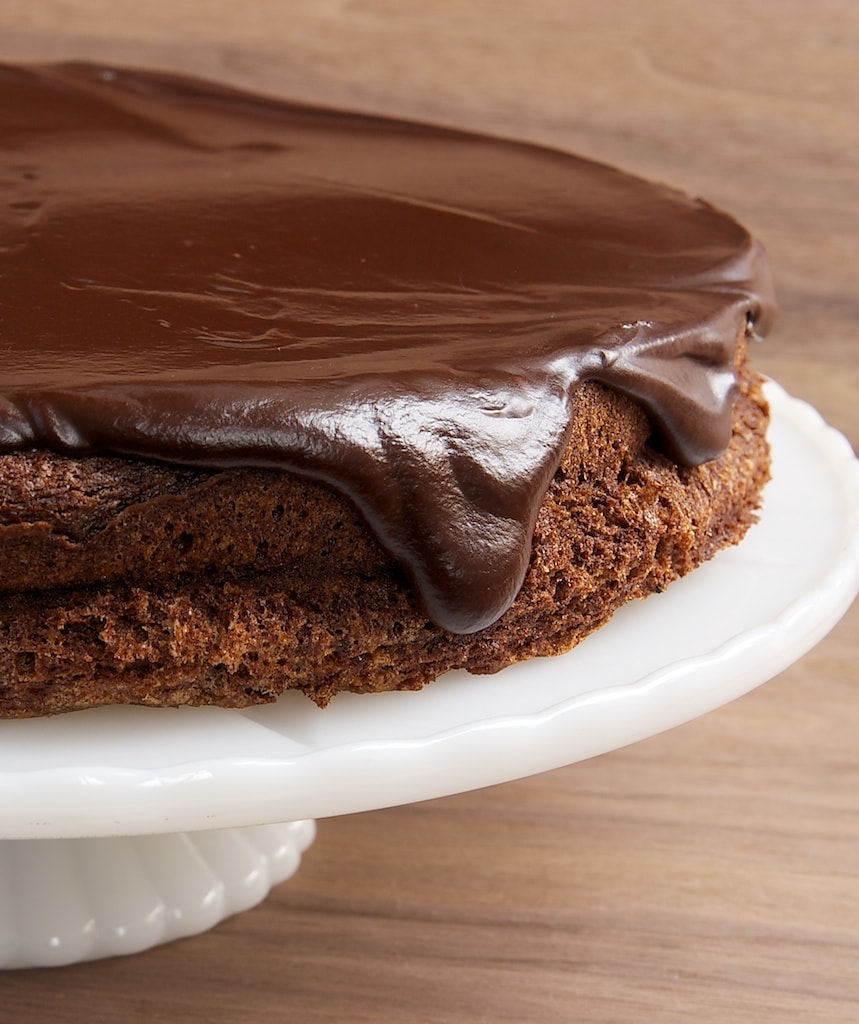 As much as I've been all about baking with fruit this summer, only chocolate would do for my birthday cake last week. Chocolate has to be in the picture somewhere for birthdays, at least as far as I'm concerned.
I had my mind set on a flourless chocolate cake after I recently enjoyed a slice at Rubirosa here in NYC. As part of my collaboration with Haagen Dazs' Moment for Me project, Quinn and I enjoyed a date night at Rubirosa, a quaint Italian restaurant in Nolita. We both love Italian food, so it was a great choice for us.
The theme of August's Moment for Me box was "Love the Ones You're With," and we were so happy to have the opportunity to have a nice dinner at a new-to-us place. We do so enjoy going to dinner and just enjoying the food and the company for a couple of hours. Of course, special occasion dinners absolutely warrant dessert, and that's how I found myself devouring an amazing slice of flourless chocolate cake.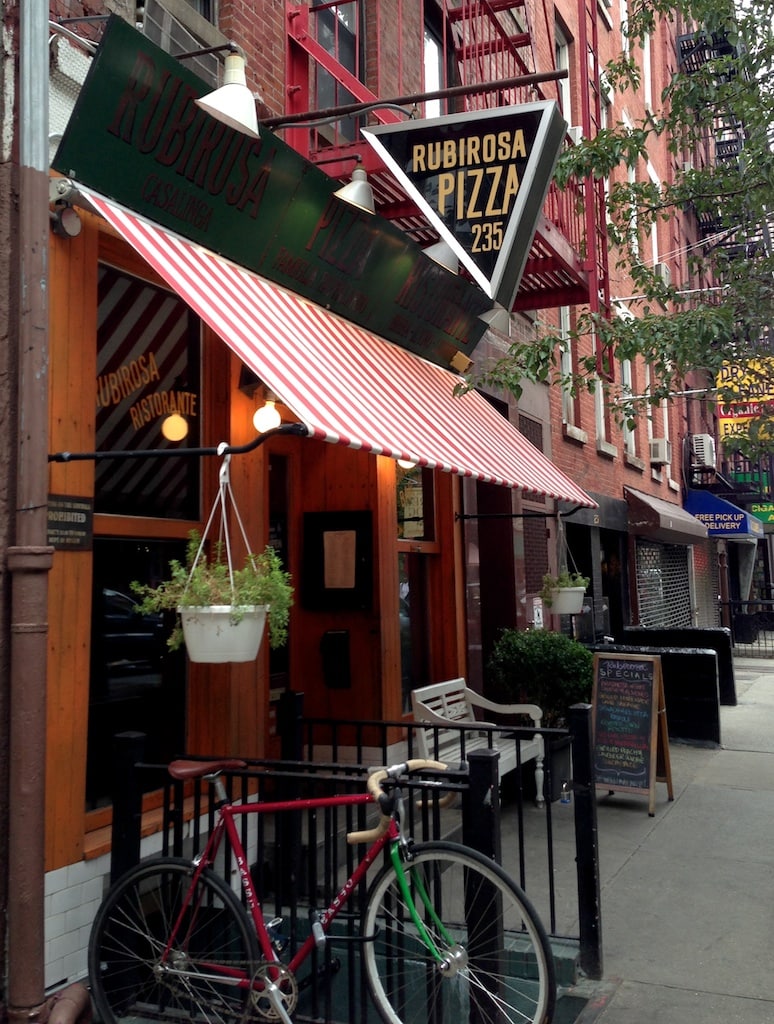 I chose to make Baked's recipe for this kind of cake. I've always had success with their recipes, and playing it safe sounded like a plan.
This cake did not disappoint. It's rich and dense and fudgy and so over-the-top chocolate. The cake is plenty of chocolate on its own, but the ganache really pushes it to the next level of chocolateness.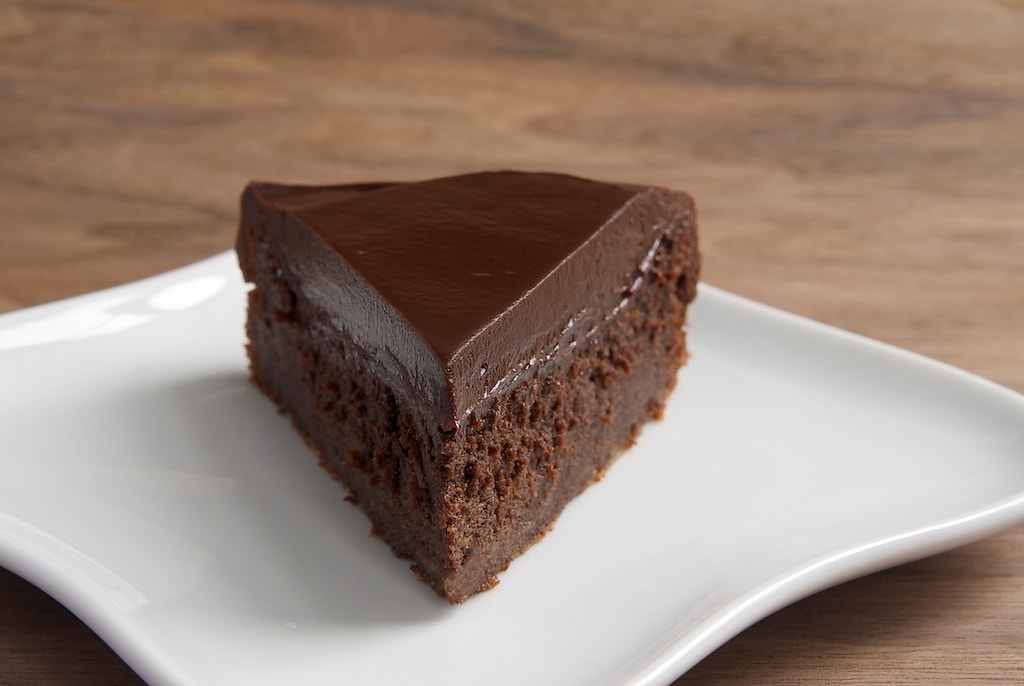 This particular recipe also includes a ganache topping. Now, that is absolutely optional, but it is pretty amazing. If you'd prefer to skip that extra step, then this cake is perfectly lovely served with ice cream or even just topped with a sprinkling of confectioners' sugar.
Quinn and I teamed up on baking this cake. After all, it was my birthday so surely I don't have to make my birthday cake all by myself, right? There are several steps involved in making it, but none of them are difficult. Plus, it goes pretty quickly when you have help.
Scroll past the recipe for the latest Baker's Bookshelf Giveaway!
Flourless Chocolate Cake with Chocolate Ganache
Yield: 8 to 10 servings
Prep Time:30 minutes
Cook Time:40 minutes
If you want a full-out chocolate dessert experience, look no further than this Flourless Chocolate Cake with Chocolate Ganache.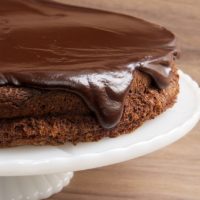 Ingredients:
For the cake:
10 ounces dark chocolate (60-70%), coarsely chopped
10 tablespoons unsalted butter, softened
1 cup granulated sugar
7 large eggs, separated
1 teaspoon vanilla extract
1 teaspoon salt
For the ganache:
9 ounces dark chocolate (60-72%), coarsely chopped
1/2 cup heavy cream
1/4 cup light corn syrup
1 tablespoon vanilla extract*
Directions:
To make the cake:
Preheat oven to 350°F. Generously butter the bottom and sides of a 9-inch springform pan. Line the bottom of the pan with parchment paper. Butter the parchment.
Place the chocolate in a microwave-safe bowl. Heat at half power in microwave in 30-second increments until the chocolate melts when stirred. Set aside to cool.
Using an electric mixer on medium-high speed, beat the butter and sugar until light and fluffy.
Reduce mixer speed to low. Add the egg yolks, one at a time, mixing well after each addition. Scrape down the sides of the bowl as needed.
Add the cooled chocolate and mix until combined. Mix in the vanilla.
In a large bowl, whisk the egg whites and salt to stiff peaks. Gently fold about 1 cup of the whipped whites into the chocolate mixture. Add the remaining egg whites and continue folding gently just until combined.
Transfer the batter to the prepared pan and smooth the top evenly.
Bake 30-35 minutes, or until the top of the cake is set. Do not overbake.
Transfer the pan to a wire rack to cool completely. Once it has cooled, use a thin knife to loosen the cake from the sides of the pan. Then, remove the sides of the pan.
Invert the cake onto a wire rack and peel off the parchment paper. Use another rack or a plate to flip the cake upright.
To make the ganache:
Place the chocolate in a large heatproof bowl. Set aside.
Combine the cream and corn syrup in a small saucepan. Bring to a boil over medium heat.
Remove the cream mixture from the heat and pour over the chocolate. Allow to sit for 2 minutes.
Slowly stir the cream mixture and chocolate until the chocolate has melted and the mixture is combined and smooth. Whisk for 2-3 minutes to cool the ganache slightly. Stir in the vanilla.
Place the cake on a wire rack, and place the rack on a parchment-lined baking sheet.
Pour about 3/4 cup of the ganache over the cake. Use an offset spatula to smooth and spread the ganache just to the edges of the cake. Place the cake in the freezer for 5 minutes to set the ganache.
Then, pour the remaining ganache over the cake, allowing the glaze to run down the sides of the cake. You can use an offset spatula to smooth the ganache evenly on the top and sides of the cake, or just let the ganache pour over the sides naturally.
Chill the cake for 2 hours, or until the ganache has set.
Serve and store at room temperature.
Notes:
*The original recipe uses Kahlua. I think that sounds lovely, and I wish I had had some when I was making this ganache. Oh, well. Next time!
Baker's Bookshelf Giveaway
In last month's
newsletter
, I gave subscribers the chance to choose the next book for the Baker's Bookshelf Giveaway. The result was decidedly in favor of
Baked: New Frontiers in Baking
. As coincidence would have it, that landslide vote coincided with my craving for this cake, which just happens to be one of the many amazing recipes in this book. Delicious things like
this cake
and
these cookies
.
I am the proud owner of all of Baked's cookbooks. They are all just amazing. And, I'm so happy to be giving one of you a copy of Baked: New Frontiers in Baking!
Please read all of the entry details and conditions below. Note that the winner must be a U.S. resident 18 years or older. Please add bakeorbreak at gmail dot com to your address book so that a winning email from you doesn't end up in your spam folder. If the winner does not respond within 48 hours, another winner will be chosen.
If you are unable to see the raffle widget below, please make sure your browser is updated or try using another browser.
Good luck!
I have been chosen by Haagen Dazs as an ambassador for their Moment for Me campaign. I was provided with a gift card for Rubirosa. This post is not sponsored by or affiliated with Rubirosa or Baked. All opinions are my own.
Be sure to share your own #HDMoment on social media. Your moment may be featured by Haagen Dazs!
This post contains affiliate links.