March 11, 2013
Oatmeal Cookie Bars with Peaches and Crème Frosting {Plus a Duncan Hines Giveaway}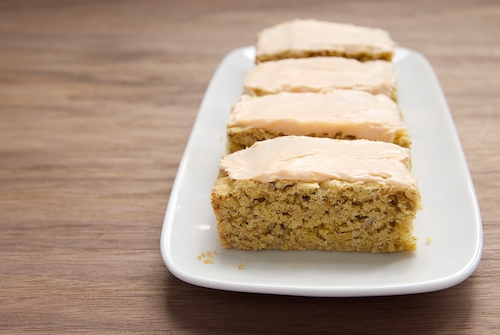 Cake mixes can be a great baking shortcut and sometimes a big life saver. It's also a sentimental thing to me. My mother was a big believer in cake mixes. Just the smell of a freshly opened mix brings back many childhood memories.
If you're a cake mix believer, too, then we are about to become very good friends. I was recently asked to join Duncan Hines' Passionate Blogger program. Ten bloggers have been chosen to participate, and I am thrilled to be a part of the program and be among some great blogger company.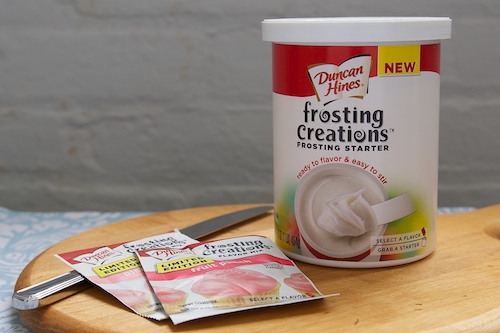 Duncan Hines has just introduced new spring flavors of their Frosting Creations. For any of you not familiar with Frosting Creations, you begin with a Frosting Starter and add in a flavor pack to make a quick and easy frosting. The spring flavors are Pink Lemonade, Key Lime, Peaches and Crème, and Fruit Punch.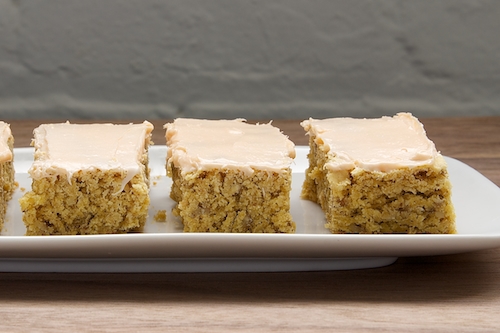 To help launch these great new flavors, I made these simple and delicious bars and topped them off with Peaches and Crème Frosting. The bars themselves start with a yellow cake mix and are packed with nuts and oats. Their not-too-sweet flavor is a great complement to the sweet peach frosting. It's almost like eating peach cobbler in bar form.
Scroll past the recipe for a great Duncan Hines giveaway!
Oatmeal Cookie Bars with Peaches and Crème Frosting
Yield: 24 1 & 1/2" x 3" bars
Prep Time:20 minutes
Cook Time:25 minutes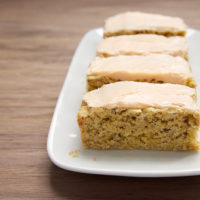 Ingredients:
1 16.5 ounce package yellow cake mix
1 & 1/2 cups quick-cooking oats
1/2 cup packed light brown sugar
1/2 cup unsalted butter, melted
2 large eggs
1 teaspoon vanilla
1 cup chopped pecans
1 can Duncan Hines Frosting Creations Starter
1 package Duncan Hines Peaches and Crème Flavor Mix
Directions:
Preheat oven to 350°. Lightly grease a 9″x 13″x 2″ baking pan.
Mix cake mix, oats, and brown sugar in a large mixing bowl. Add butter, eggs, and vanilla, and mix until combined. Stir in pecans.
Spread batter evenly in prepared pan. Bake 20-25 minutes, or until bars are set and lightly browned.
Cool completely in pan on wire rack.
Add flavor mix to frosting starter, and mix well. Spread frosting over cooled bars.*
Notes:
You can frost the bars before or after they're cut.
Duncan Hines also has a special treat for a Bake or Break reader. They will be giving one of you a fabulous Sweet Treat package that's sure to get your creativity going with all kinds of ways to use the new Frosting Creations flavors. Here's what will be included:
Please read the details for entering below. And, check back for another Duncan Hines giveaway soon. Good luck!
Disclaimer: This post is sponsored by Duncan Hines. They provided me and one of you with a Sweet Treat package. All opinions are my own.