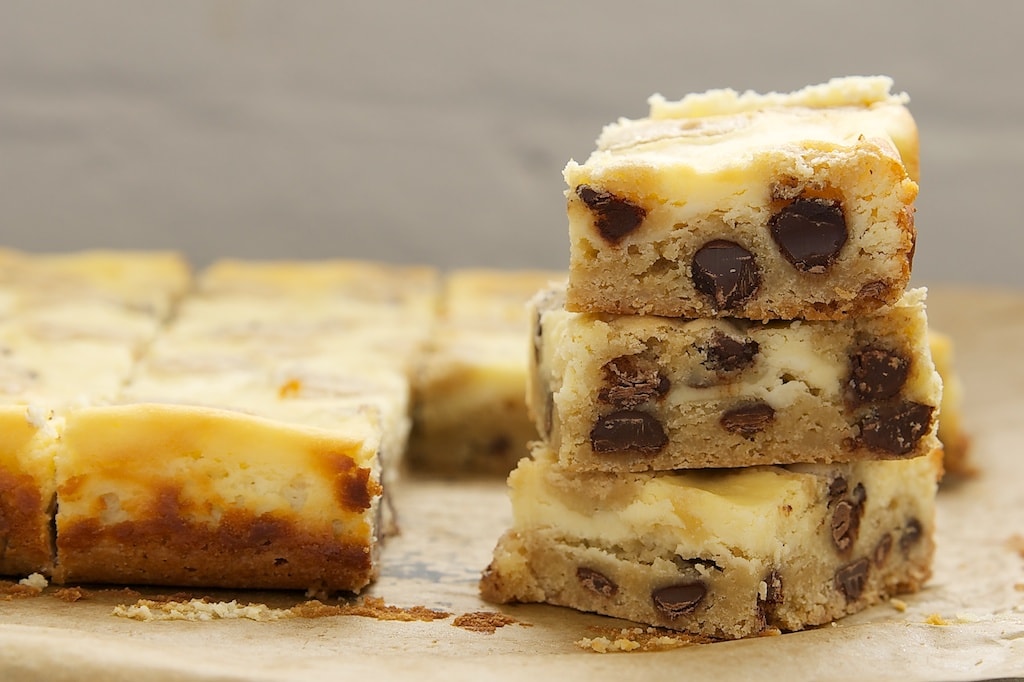 Do you ever find yourself wavering when faced with a choice of desserts? Do I want cookies? Do I want cheesecake? With this dessert, you can have both.
Rather than a traditional graham cracker crust, I decided to up the chocolate chip ante and make a chocolate chip cookie crust. So, underneath all that cheesecake goodness, there's a big, thick layer of chocolate chip cookie.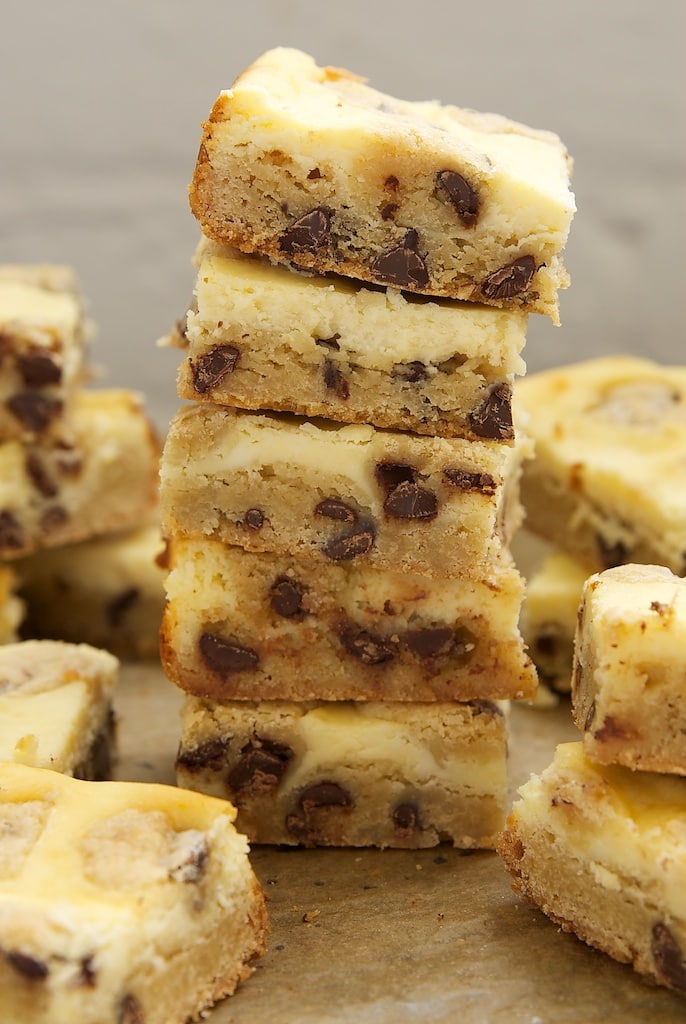 And, for good measure, the cheesecake is topped off with a little extra cookie dough. I know, right? What's not to love about these?
This is the kind of dessert you can use to make new friends. Or make current friends even better friends. If you decide not to share, just don't tell anyone about them and keep the friends you have.
Yield: 16 2-inch bars
Prep Time: 30 minutes
Cook Time: 40 minutes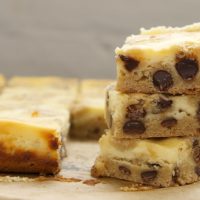 For the crust:
1 & 1/4 cups all-purpose flour
1/2 teaspoon baking powder
1/4 teaspoon salt
1/2 cup unsalted butter, softened
1/2 cup granulated sugar
1/2 cup packed light brown sugar
1 large egg
1/2 teaspoon vanilla extract
1 cup semisweet chocolate chips
For the filling:
8 ounces cream cheese, softened
1/4 cup granulated sugar
1 large egg
1/2 teaspoon vanilla extract
Directions:
To make the crust:
Preheat oven to 350°. Lightly grease an 8-inch square baking pan. Line with parchment paper or aluminum foil, leaving an overhang on two opposite sides. Lightly grease lining.
Whisk together flour, baking powder, and salt. Set aside.
Using an electric mixer on medium speed, beat butter, sugar, and brown sugar until light and fluffy. Add egg and vanilla, and mix well.
Reduce mixer speed to low, and gradually add flour mixture. Mix just until combined. Stir in chocolate chips.
Reserve about 1/2 cup of crust mixture. Press remaining crust mixture evenly into bottom of prepared pan.
To make the filling:
Beat cream cheese and sugar with an electric mixer until well-blended. Mix in egg and vanilla, beating until smooth.
Pour filling on top of crust and spread evenly. Drop reserved crust mixture over the top of the filling.
Bake 35-40 minutes, or until edges are lightly browned and center is set.
Cool completely in pan. Then, using the overhanging liner, lift bars out of pan onto a cutting board. Use a sharp knife to cut into bars.
Store tightly covered in your refrigerator.
Notes:
If you are feeding a crowd, this recipe is easily doubled to be baked in a 9"x 13"x 2" pan.