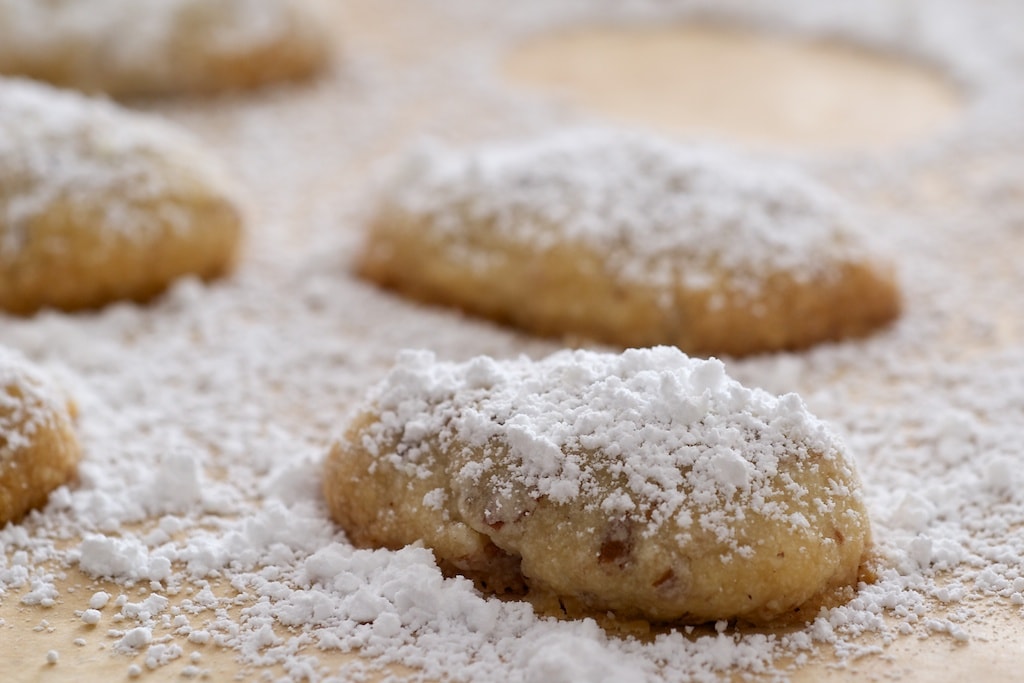 With Mother's Day approaching, I want to share one of my favorite recipes I used to bake with my mother and let you get to know her a little bit. For more Mother's Day baking ideas, click here.
My mother was not what most would consider an exceptional baker. While we did often have baked goods in the kitchen, they were never anything elaborate. She took the "less is more" mentality and applied it to baking.
Slice and bake was not uncommon. Shortcut ingredients were frequently used. Our cakes were almost always made from a mix and in a 9"x13" pan. Topped with store-bought frosting, of course. I never had any reason to question that, because to me they were as good as anything I'd ever had. In fact, I would still maintain that they were that good.
She did have a few "from scratch" recipes stuffed in her recipe box. Still, those were simple recipes. Quick and easy with a short list of ingredients seemed to be the basic requirements for making it into her recipe collection.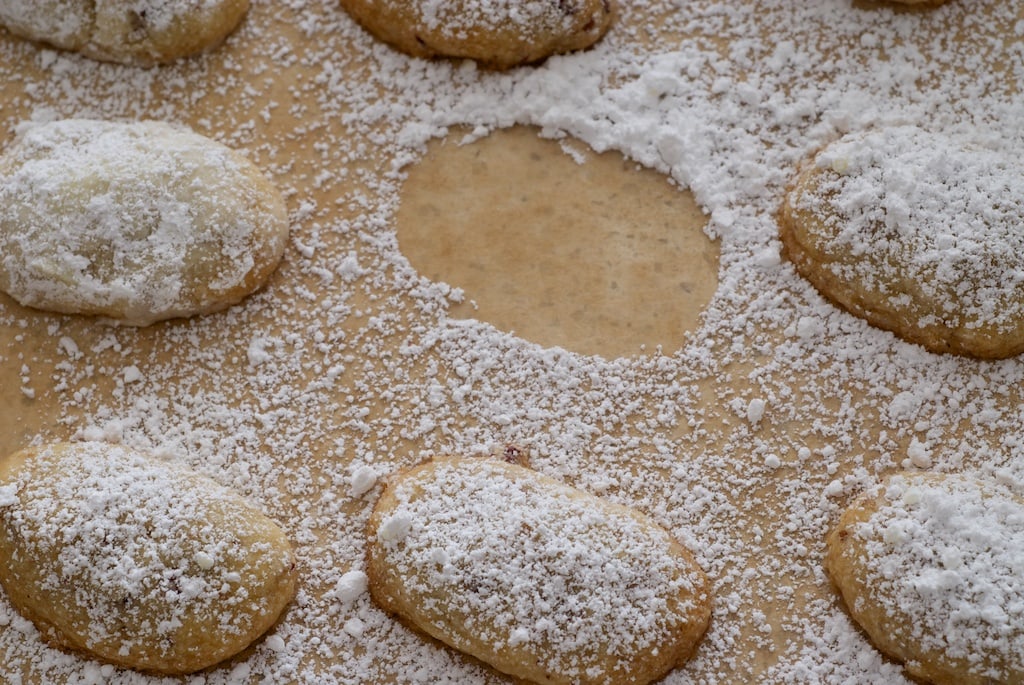 Most of my baking experiences have come in the last several years and without my mother. Now, as I occasionally sort through my mother's recipe box, I am amused by the differences in our approach to cooking and also tracking recipes. I have multiple binders divided, tabbed, and overly organized. My notebooks used for recipe development are even color coded. It probably seems way over the top to most, but it works for me. In stark contrast, I find recipe cards in my mother's handwriting that list ingredients with vague quantities, general directions, and sometimes no title. While that would cause me to lose sleep, it worked just fine for her. The method suits the baker.
As I have learned and continue to learn to bake, I have found that I am more of a made-from-scratch baker. I do take my mother's simple approach, too. I've found that those two baking theories can live together quite harmoniously.
These cookies are one of her recipes from her jumbled recipe box. They are a simple, buttery, nutty cookie with just a few basic ingredients that get mixed in one bowl. Honestly, the best thing about these cookies is their simplicity, both in flavor and preparation.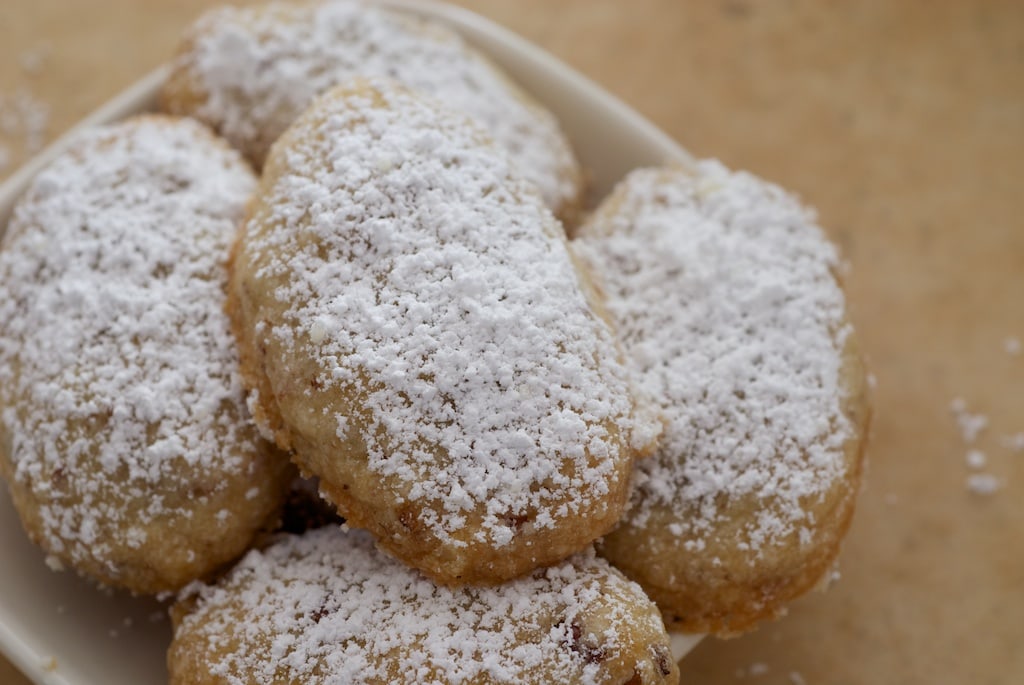 I frequently helped out with baking by measuring, stirring or, more importantly, licking the beaters. These cookies, however, were an easy way to get me even more involved. The last phase of mixing the cookie dough involves mixing with your hands. What kid doesn't want to stick their hands in dough? After mixing, the fun continued by shaping the dough into logs. Plus, there's the messy-yet-fun step of dousing them with confectioners' sugar.
Many versions of these cookies exist with many different names. I have tried a lot of those. None of them come close to these. What portion of that opinion is based on taste and how much comes from nostalgia, I don't know. My mother called these Sand Tarts. But, in her typical fashion, the recipe exists in that recipe box under the name Cocoons and also Yule Logs. And filed under A.
Find more cookie recipes in the Recipe Index.
Sand Tarts
Yield: about 36 cookies
Prep Time:20 minutes
Cook Time:15 minutes
Sand Tarts are simple, delicious cookies made with just a handful of ingredients.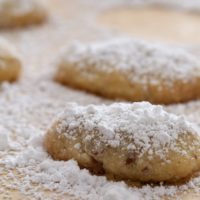 Ingredients:
1 cup unsalted butter, softened
1 cup confectioners' sugar, plus more for dusting
2 teaspoons vanilla extract
2 cups all-purpose flour
1/2 teaspoon salt
1 cup chopped pecans
Directions:
Preheat oven to 350°F. Grease or line baking pans.
Using an electric mixer on medium speed, beat the butter and sugar until light and fluffy. Add the vanilla, and mix well.
Reduce mixer speed to low. Add the flour and salt, mixing until almost combined. Stir in the pecans. Finish mixing the dough with your hands.
Pinch off about 2 teaspoons of dough and roll into balls using a circular motion with your hands. Roll the dough balls using a back and forth motion to shape into logs. Place the dough on prepared baking pans.
Bake for 15 minutes, or until the edges are lightly browned. Allow the cookies to cool for about 5 minutes on baking pans. Then transfer them to cooling racks. While the cookies are still warm, sprinkle with confectioners' sugar.