January 15, 2012
Black Bottom Brownies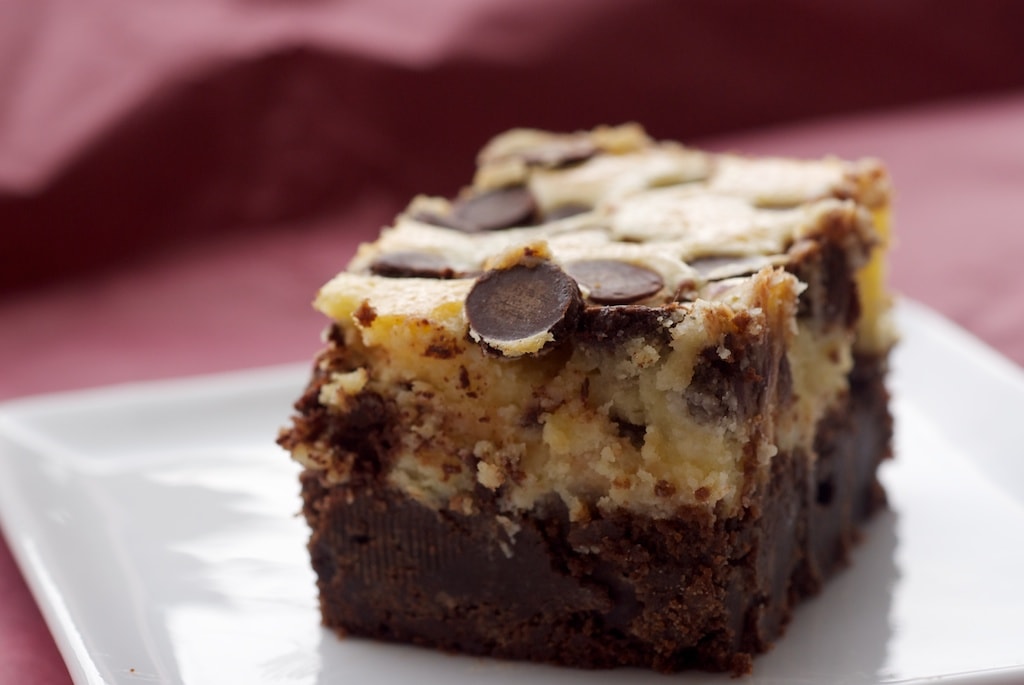 When we moved to New York just over a year ago, I was forced to whittle down my cookbook collection. Believe me, losing 3000 square feet of living space will make you whittle down a lot of things. I spent a lot of time and thought considering what books would make the cut.
My collection is about 85% baking books. One of my favorite kinds of baking books is bakery cookbooks. To me, those are just the best. I'm pretty sure all of those made the cut. An old favorite of mine is The Sweet Melissa Baking Book. From that book, I share with you these brownies.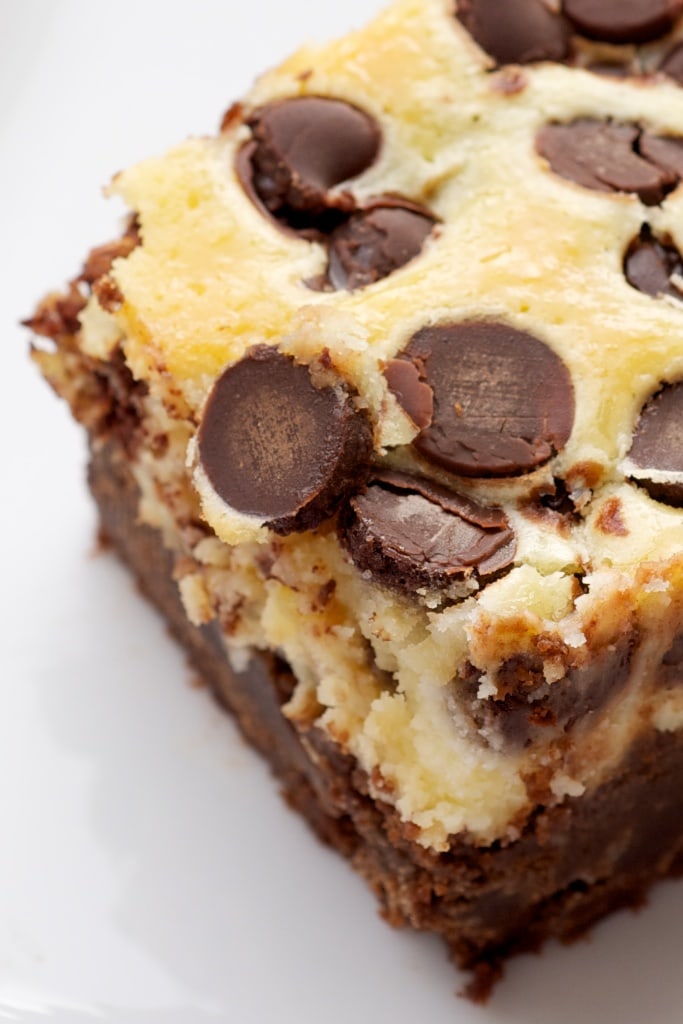 For all of you brownie and cheesecake fans, these will give you the best of both worlds. The bottom layer is a divine dark-chocolate brownie. That's topped off with a dense cheesecake layer sprinkled with chocolate chips.
These are tall, thick, dense, delicious bars. This is the kind of brownie that can be a great casual snack or a perfect ending to a big, fancy meal. They are more than capable of holding their own for any dessert course.
Black Bottom Brownies
Yield: 24 brownies
Prep Time: 25 minutes
Cook Time: 1 hour 15 minutes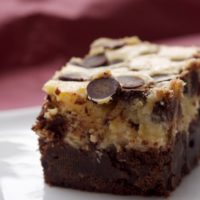 Ingredients:
For the brownies:
6 ounces unsweetened chocolate
1 cup unsalted butter
1 & 2/3 cups all-purpose flour
1/2 teaspoon baking powder
1/2 teaspoon kosher salt
4 large eggs
2 large egg yolks
2 cups granulated sugar
1 tablespoon vanilla extract
For the filling:
16 ounces cream cheese, at room temperature
1 & 1/2 cups granulated sugar
1/4 teaspoon kosher salt
6 large eggs
1 & 1/2 teaspoons vanilla extract
2 cups (12 ounces) semisweet chocolate chips
Directions:
To make the brownies:
Preheat oven to 325°. Lightly butter a 9″x 13″ baking pan. Line with parchment paper or aluminum foil.
Melt chocolate and butter in a double boiler or in the microwave. Set aside to cool.
Whisk together flour, baking powder, and salt. Set aside.
In a large bowl, whisk eggs, egg yolks, sugar, and vanilla. Pour chocolate mixture into egg mixture, whisking to combine. Add flour mixture and stir just until combined.
Pour batter into prepared pan. Spread evenly.
To make the filling:
Using an electric mixer, beat cream cheese, sugar, and salt until light and fluffy (about 5 minutes). Add eggs, 2 at a time, mixing well after each addition. Stir in vanilla.
Pour cheesecake mixture over brownie layer. Sprinkle evenly with chocolate chips.
Bake for 1 hour & 15 minutes, or until lightly golden. Cool completely on wire rack before cutting into bars. Store brownies in refrigerator. Serve cold or at room temperature.