June 19, 2018
Brownie Cookie Sandwiches
If you're a fan of serious chocolate treats and sweet frosting, then you're going to be smitten with these Brownie Cookie Sandwiches. These beauties combine extra fudgy cookies with a simple cream cheese frosting to make a pretty fantastic sandwich cookie.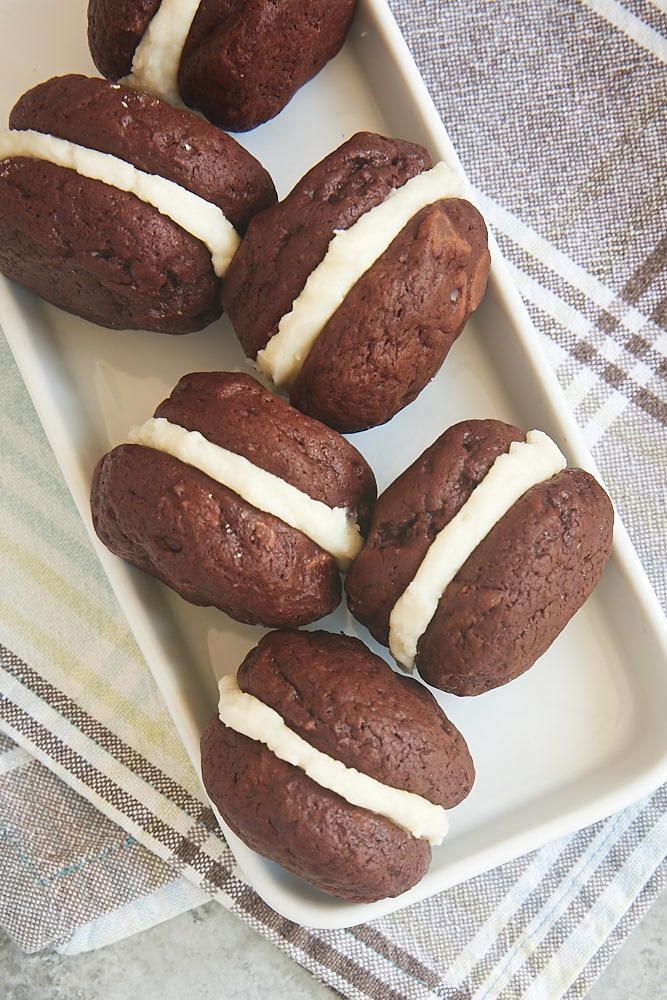 I love both cookies and brownies, so you can bet that I adore brownie cookies. Just like the name says, these are cookies that are so rich and dense and chocolatey that they are as much brownies as they are cookies. They're wonderfully soft and extra fudgy with big, big chocolate flavor. These brownie cookies are pretty darn good all on their own, but let's make them even better.

Between these rich cookies is a simple cream cheese frosting. I like to use vanilla extract in the frosting, but you can easily change that to something else if you like. Try using another extract like almond or coconut. You could even try something so simple as stirring in some chopped, toasted nuts for something a little different.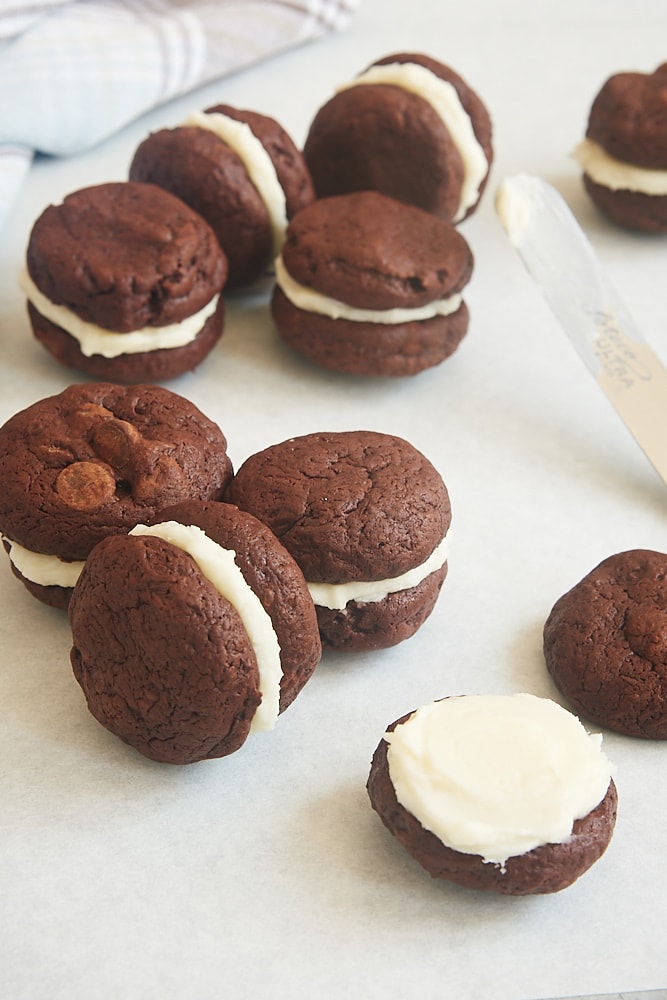 I recommend making these cookies small. Just a tablespoon of dough per cookie is just right in my experience. They're so rich that a little goes a long way. And with a sandwich cookie, you're getting two cookies at once. Your sweet craving will be more than satisfied with just one of these little cookie sandwiches.
These sandwich cookies are an ode to one of baking's simplest yet best flavor combinations. Chocolate and vanilla are always a winning pair. With these cookies, you get plenty of chocolate in those fudgy cookies and a good dose of vanilla in the frosting.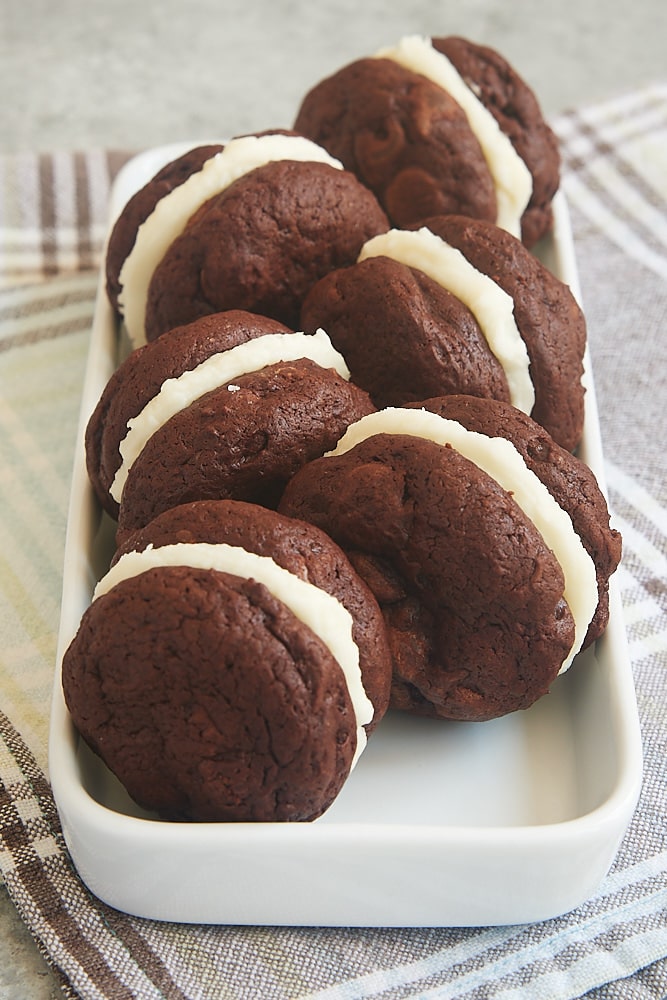 I love to make these cookies when I need a sweet treat to share with friends. These cookies are too good to risk having around without eating far too many! If you love chocolate treats in a big way, then I think you'll love these Brownie Cookie Sandwiches as much as I do!
Find more cookie recipes in the Recipe Index.
More Cookie Sandwiches
Brownie Cookie Sandwiches
Yield: about 15 sandwich cookies
Prep Time: 25 minutes
Cook Time: 10 minutes per pan
Brownie Cookie Sandwiches feature rich, fudgy cookies sandwiched around a simple cream cheese frosting. These little guys pack a huge flavor punch!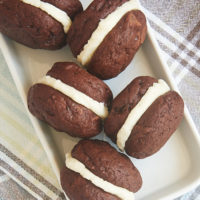 Ingredients:
For the cookies:
1 & 1/2 cups (9 oz by weight) bittersweet chocolate, roughly chopped
2 tablespoons unsalted butter
1/4 cup + 1 tablespoon all-purpose flour
1/4 teaspoon baking powder
1/4 teaspoon salt
1/2 cup firmly packed light brown sugar
2 large eggs
1 teaspoon vanilla extract
1/4 cup semisweet chocolate chips
For the frosting:
2 ounces cream cheese, at room temperature
2 & 1/2  tablespoons unsalted butter, softened
1/4 teaspoon vanilla extract
1 to 1 & 1/2 cups confectioners' sugar, sifted
Directions:
To make the cookies:
Place the chopped chocolate and butter in a microwave-safe bowl. Heat in the microwave at half-power in 30-second increments until the butter has melted and the chocolate melts when stirred. Stir until smooth. Set aside to cool slightly.
Whisk together the flour, baking powder, and salt. Set aside.
Using an electric mixer on medium speed, beat the brown sugar and eggs until thoroughly combined. Gradually add the chocolate mixture, and mix well. Mix in the vanilla.
Reduce mixer speed to low. Gradually add the flour mixture, and mix just until combined. Stir in the chocolate chips.
Refrigerate the dough for 15 minutes to allow it to firm up a bit.
Preheat oven to 350°F. Line baking sheets with parchment paper or silicone liners.
Using a tablespoonful of dough at a time, roll the dough into balls and place on the prepared pans. Flatten the top of each cookie slightly.
Bake 8 to 11 minutes or until the edges appear done but the centers are still soft.
Cool on the pans for 10 minutes. Then transfer the cookies to a wire rack to cool completely.
To make the frosting:
Using an electric mixer on medium speed, beat the cream cheese, butter, and vanilla until thoroughly combined and smooth.
Gradually add 1 cup confectioners' sugar, and mix well. Add more sugar to reach the desired consistency and flavor.
Spread the frosting on the bottoms of half of the cookies. Top with remaining cookies to form cookie sandwiches.