October 3, 2016
Pecan Pie Bundt Cake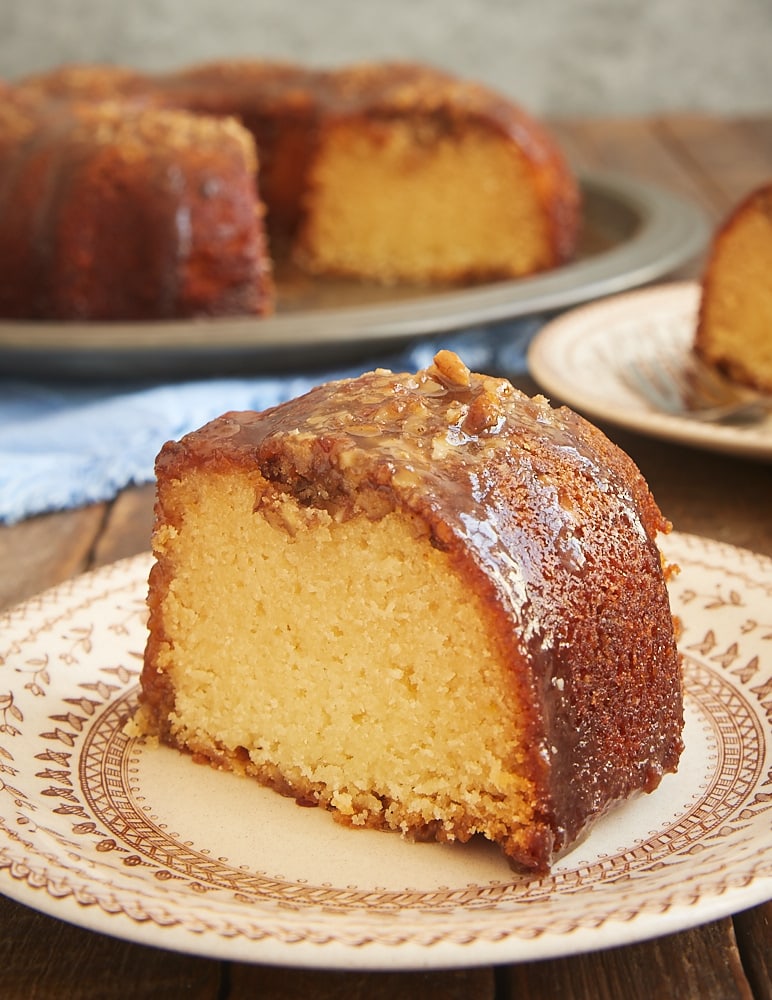 I have an abiding love of pecan pie. I just love all that gooey, nutty deliciousness. As much as I enjoy the traditional version, I also like finding other ways to enjoy the flavors of pecan pie. When I happened upon a recipe that applied those tastes to a Bundt cake (another favorite!), I couldn't make it quickly enough.
First and foremost, I must tell you that the flavor is amazing. And it does taste remarkably like pecan pie! It's sweet and nutty and just wonderfully delicious. If you're a fan of all things pecan, you'll definitely want to make this one again and again.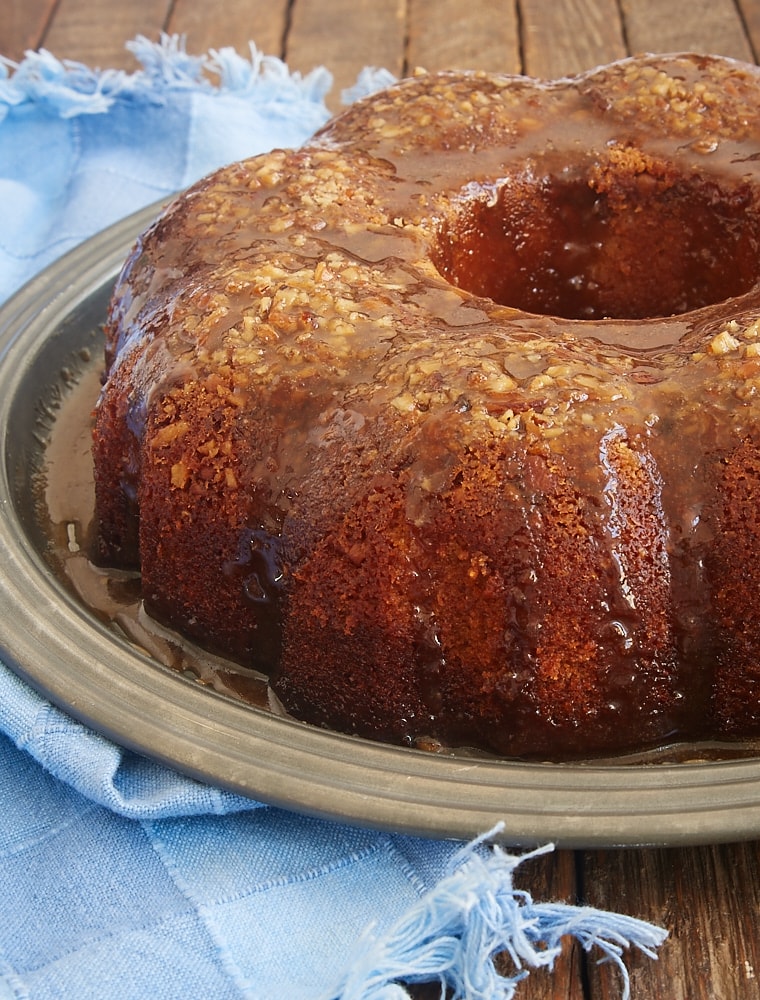 If you've made pecan pies before, you'll recognize some similar ingredients. Of course, there are pecans. They get sprinkled into the bottom of the pan so that they top off the finished cake. There is also corn syrup, which is a pecan pie staple. I don't use it frequently, but I do keep it on-hand mostly for pecan pie purposes. And there's brown sugar in the glaze for that hint of caramel-like flavor.
This is a solid, significant cake. It manages to be dense yet soft at the same time. I really love its texture. And, of course, the glaze just makes it even sweeter and tastier!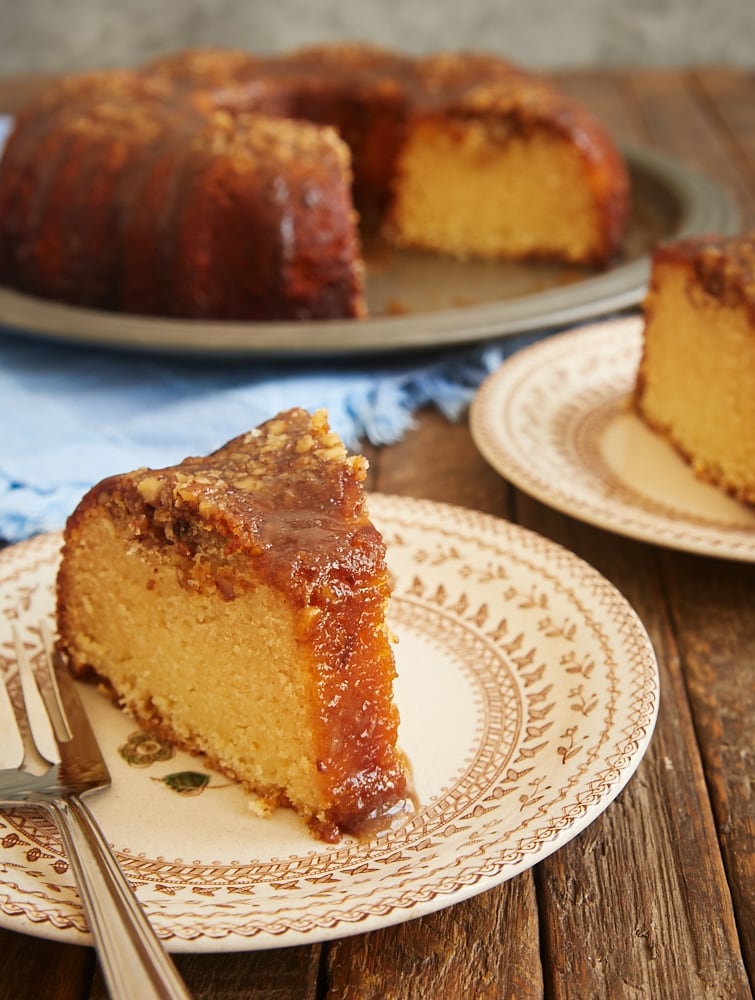 The recipe suggests adding the glaze as soon as it's ready, but I found that it worked a bit better if I let the topping thicken just a bit. That allowed it to hang onto the cake better. If it's too thin, it may tend to roll right off the cake.
I shared this cake with some of my usual taste testers, and they made quick work of devouring it. I always view that kind of response as the ultimate recipe endorsement.
Be sure to save this recipe for a special occasion. It would be perfect for a holiday dessert or a sweet ending to a special meal with friends. Or make any day special with a slice of this fantastic cake!
Find more Bundt cake recipe in the Recipe Index.
Pecan Pie Bundt Cake
Yield: 10 to 12 servings
Prep Time: 25 minutes
Cook Time: 1 hour
Pecan Pie Bundt Cake takes the flavors of the classic pie and packs them into a simple, delicious cake.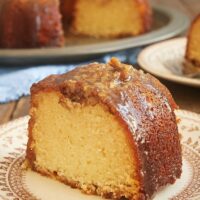 Ingredients:
For the cake:
1 cup finely chopped pecans
2 cups all-purpose flour
1 teaspoon baking powder
1/2 teaspoon salt
3/4 cup light or dark corn syrup
1/2 cup buttermilk
1 cup unsalted butter, softened
1 & 3/4 cups granulated sugar
4 large eggs
1 tablespoon vanilla extract
For the glaze:
1/2 cup firmly packed light brown sugar
1/4 cup unsalted butter
2 tablespoons heavy cream
pinch of salt
Directions:
To make the cake:
Preheat oven to 325°F. Generously grease a 10-cup Bundt pan.
Sprinkle the pecans in the bottom of the pan.
Whisk together the flour, baking powder, and salt. Set aside.
Stir together the corn syrup and buttermilk. Set aside.
Using an electric mixer on medium speed, beat the butter and sugar until light and fluffy. Add the eggs, one at a time, mixing well after each addition. Mix in the vanilla.
Reduce mixer speed to low. Add the flour in three portions, alternating with two portions of the buttermilk mixture. Mix just until combined.
Transfer the batter to the prepared pan. Bake for 1 hour, or until a pick inserted into the center comes out with a few moist crumbs.
Cool the cake in the pan for 10 minutes. Then invert the cake onto a wire rack to continue cooling.
To make the glaze:
Place the brown sugar, butter, cream and salt in a small saucepan. Bring to a boil, stirring frequently.
Remove from the heat and allow to cool for a couple of minutes until it has thickened slightly.
Drizzle the glaze over the warm cake.