December 18, 2012
Dulce de Leche Cheesecake Bars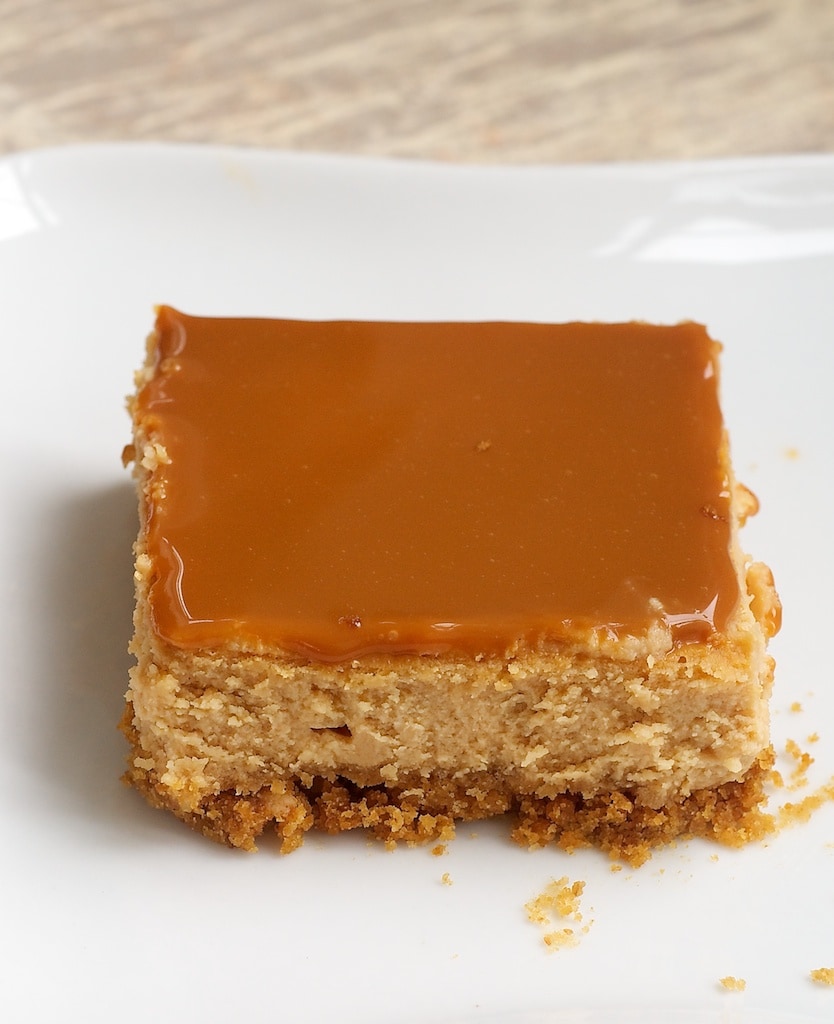 Recently, I was asked which I would be more willing to give up forever – cheese or chocolate? My first instinct was cheese, but then I thought to ask if cream cheese would be included. I have to tell you, cream cheese would be a pretty tough thing to give up, even for a short time.
The most cream cheese for your baking money is, of course, cheesecake. In the case of this dessert, we're talking cheesecake bars. You still get the awesomeness of cheesecake, but in a slightly simpler form.

This is a straightforward cheesecake recipe, but with one small but huge exception. Dulce de Leche. I don't know about you, but I adore that rich caramel goodness.
Not only does the cheesecake itself have a good dose of dulce de leche mixed into it, but there's a rich dulce de leche topping as well. Oh, it's good. Seriously good.
One little word of warning… These are very gooey and hard to cut smoothly. You can likely tell that from my photos. Use a sharp knife and wipe it off between cuts.
Now, this part is going to come as a shock. The original recipe suggested sprinkling the tops of these bars with a little sea salt. I didn't do it. I know, right? I do so love the sweet and salty thing, but I decided to try the bars without the salt. After I tasted them, I just couldn't bear to change anything about them. So, no salt. But, feel free to sprinkle away when you bake them. I'm sure it's divine.
Dulce de Leche Cheesecake Bars
Yield: 24 bars
Prep Time:30 minutes
Cook Time:52 minutes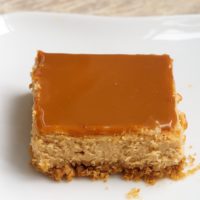 Ingredients:
For the crust:
2 & 1/4 cups graham cracker crumbs
2 tablespoons granulated sugar
1/4 teaspoon ground cinnamon
10 tablespoons unsalted butter, melted
For the filling:
24 ounces cream cheese, softened
1 cup granulated sugar
3 large eggs
1/2 cup dulce de leche
2 teaspoons vanilla extract
For the glaze:
2/3 cup dulce de leche
3 tablespoons heavy whipping cream
sea salt, optional
Directions:
To make the crust:
Preheat oven to 350°. Spray a 9″x 13″x 2″ baking pan with cooking spray.
Mix graham cracker crumbs, sugar, and cinnamon. Add melted butter. Stir until combined.
Press crust mixture firmly onto bottom of prepared pan. Bake 10 minutes. Cool on wire rack.
To make the filling:
Using an electric mixer on medium speed, beat cream cheese and sugar until smooth and creamy. Add eggs, one at a time, mixing well after each addition. Mix in dulce de leche and vanilla.
Spread batter evenly over partially baked, cooled crust. Bake 38-42 minutes, or until center is set and edges are puffed and slightly cracked. Cool completely on wire rack.
To make the glaze:
Place dulce de leche and cream in microwave-safe bowl. Heat in 10-second intervals until melted. Stir until blended. If mixture is too thick to pour, add more cream, a teaspoonful at a time, until pourable.
Pour glaze over cooled cheesecake. Spread evenly. Refrigerate 1 hour or until chilled. Note that the glaze will not become firm.
Cut into bars. Sprinkle with sea salt, if using.
Notes:
Dulce de leche can be found in most supermarkets. Look near the condensed milk or in the specialty foods section. I used most of a 15.85 ounce jar.