July 9, 2006
Cinnamon Bun Scones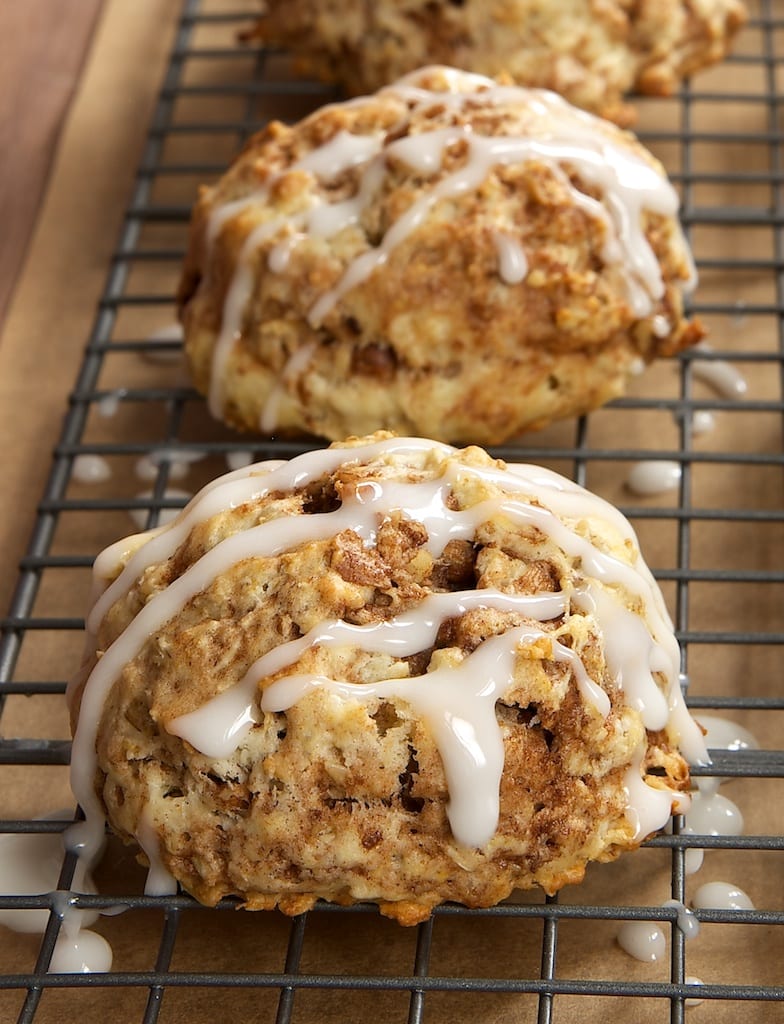 Like so many, I adore cinnamon rolls. All that gooey cinnamon-y-ness is just irresistible. Unfortunately, I don't make them that often. Actually, that could be a good thing considering how very much I enjoy them.
In any case, cinnamon rolls are a labor of love for me. These Cinnamon Bun Scones, however, are low on the labor scale yet high on the deliciousness scale. Now that's the kind of breakfast baking I can really love.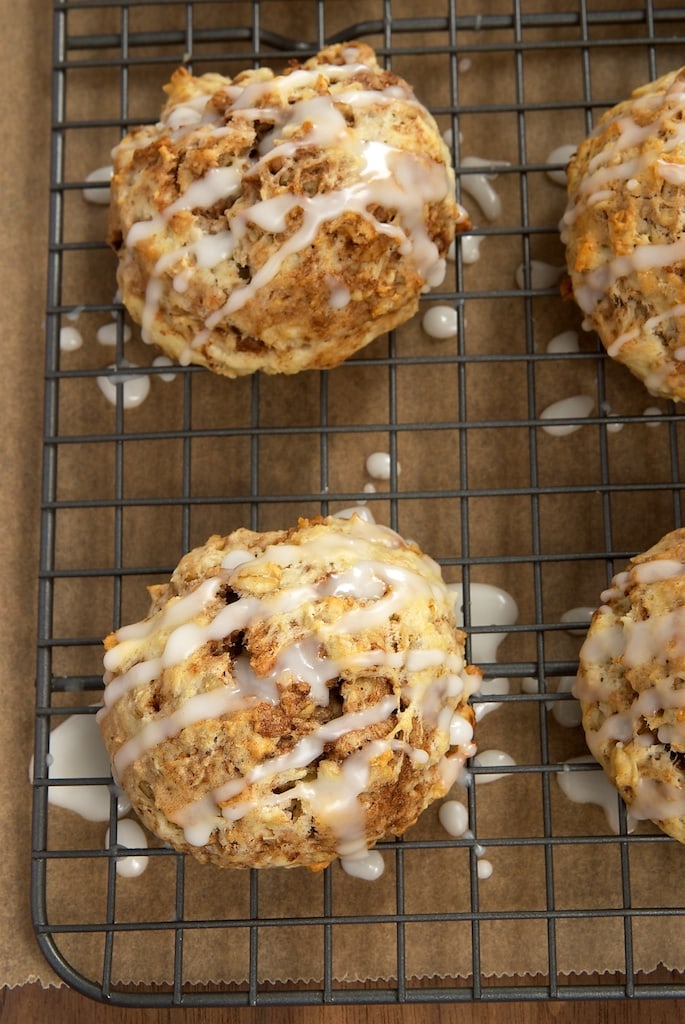 I happened upon this recipe as I was looking for something quick and easy for Sunday breakfast. I was intrigued by the simple ingredients and the promise of something that would taste like cinnamon rolls without all the work.
I was so not disappointed.
These scones taste so much like cinnamon rolls without actually being cinnamon rolls. I'm so completely amazed by them. They're really simple to make from ingredients you're likely to have on-hand. And the taste is phenomenal. I just love that sweet cinnamon swirl and the vanilla glaze.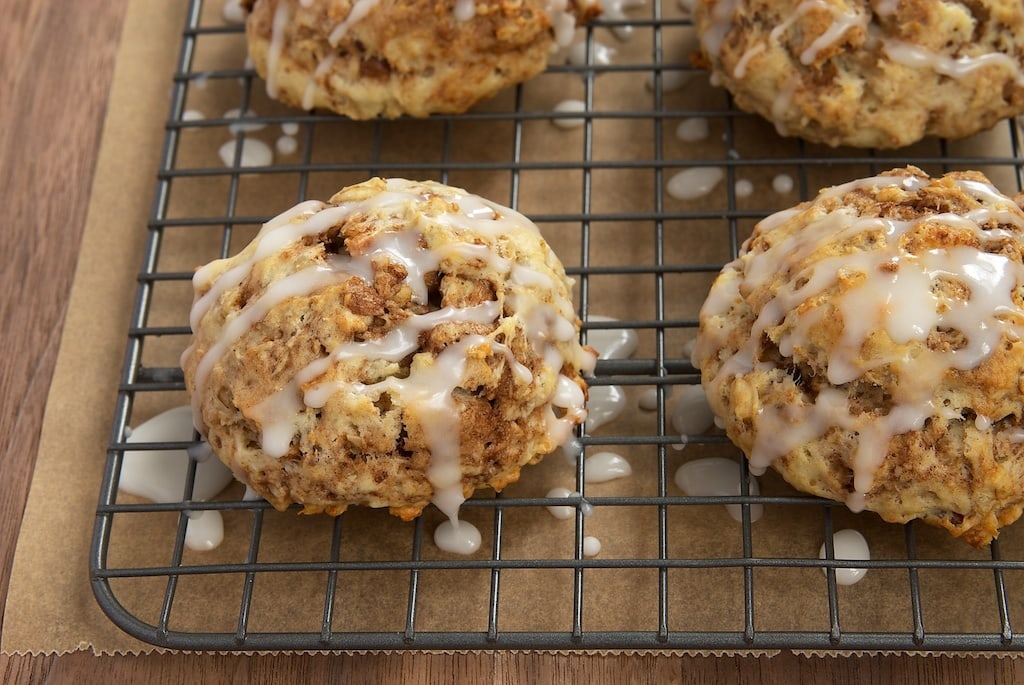 Do yourself a favor. Make these as soon as is humanly possible. Seriously, they are that good. The oats and cinnamon and vanilla and pecans all just come together into one of the best things I've had for breakfast in a very long time.
Find more breakfast treats in the Recipe Index!
Cinnamon Bun Scones
Yield: 12 scones
Prep Time: 20 minutes
Cook Time: 13 minutes
Simple to make and a pleasure to eat, Cinnamon Bun Scones are a fabulous sweet, cinnamon-y treat for breakfast or for snacking!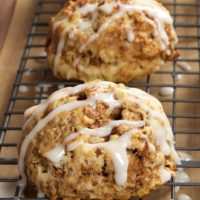 Ingredients:
For the scones:
1/2 cup toasted chopped pecans
2 tablespoons packed light brown sugar
2 teaspoons ground cinnamon
2 cups all-purpose flour
1 cup old-fashioned rolled oats
1/4 cup granulated sugar
1 tablespoon baking powder
1/4 teaspoon salt
1/2 cup unsalted butter, cold and cut into 1/2-inch cubes
3/4 cup milk
1 large egg, lightly beaten
1 teaspoon vanilla extract
For the glaze:
3/4 cup confectioners' sugar, sifted
3 to 4 teaspoons milk
Directions:
To make the scones:
Preheat oven to 425°F. Line baking sheets with silicone liners or parchment paper.
In a small bowl, combine the pecans, brown sugar, and cinnamon. Set aside.
In a large bowl, combine the flour, oats, sugar, baking powder, and salt. Add the butter and mix with a pastry blender or a fork until mixture resembles coarse crumbs.
Combine the milk, egg, and vanilla in a small bowl. Add to the flour mixture and stir just until combined.
Sprinkle the cinnamon mixture over the dough. Gently stir until the batter is just swirled with the cinnamon mixture.
Drop the dough by 1/4-cup portions* onto prepared pans. Leave about 2 inches between scones.
Bake 11 to 13 minutes, or until golden brown.
Cool the scones on a wire rack for 5 minutes while you make the glaze.
To make the glaze:
Combine the confectioners' sugar with 3 teaspoons milk. Add more milk if needed to achieve pouring consistency.
Drizzle the glaze over warm scones.
Recipe slightly adapted from Quaker.
This post contains affiliate links.