July 17, 2017
Strawberry Shortcake Cheesecake Bars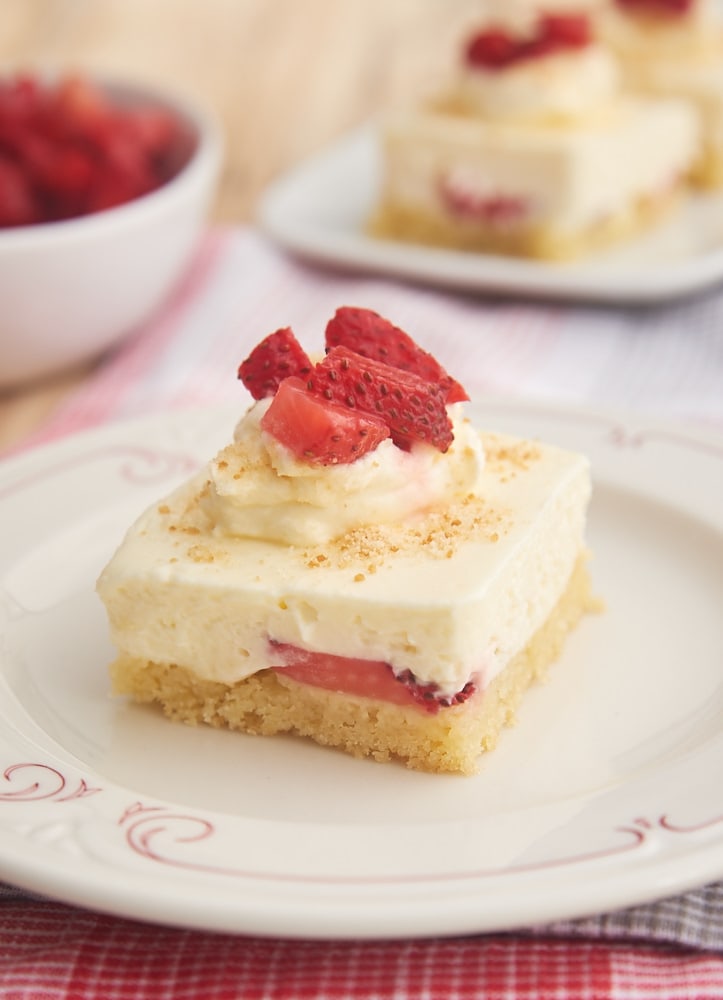 As much as I try to be organized, sometimes I have planning fails when it comes to baking. Recently, I thought I had everything I needed for a recipe, only to realize that I'd forgotten to get a key ingredient. That left me with lots of strawberries that I didn't want to go to waste. They ended up in these Strawberry Shortcake Cheesecake Bars, which are so amazingly good that my original recipe plans are now forgotten.
These bars combine two favorite desserts, strawberry shortcake and cheesecake bars, into one cool, creamy, sweet, so-very-summery treat. If you're looking for a crowd-pleasing summertime dessert, this is it!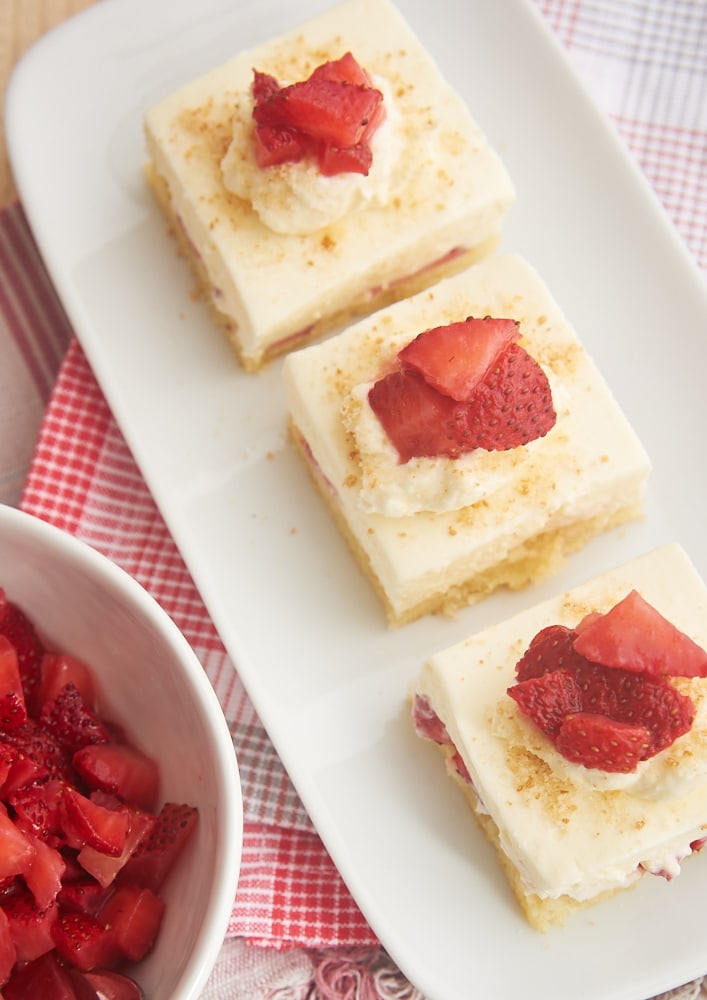 It all starts with a simple, thin layer of pound cake. This is a fairly basic pound cake scaled down to be a perfect starting layer for these bars. I like to use vanilla extract in the cake, but almond extract or a bit of lemon juice would be great, too.
Next comes sliced strawberries. Use as many as you like here. I prefer a single layer that's not too crowded. That will take about a half pint of berries, so that's what I've listed in the recipe. If you want to add more, go for it!
On top of that is an easy no-bake cheesecake with just a hint of fresh lemon juice added. I like that little bite of lemon to brighten it up a bit. If you prefer to use vanilla extract instead of lemon, I'd suggest using about 2 teaspoons.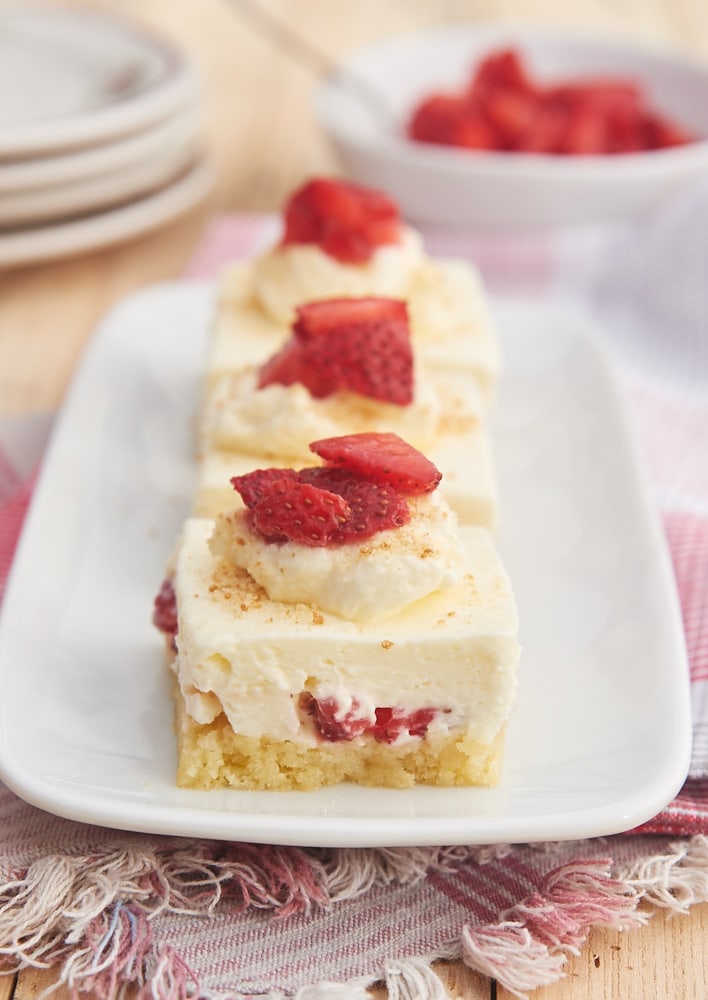 Then, it's garnish time with a dollop of sweetened whipped cream, a sprinkle of vanilla cookie crumbs, and some sweetened strawberries. I am not one to dress up desserts with lots of garnish. This is about as much as you'll see from me. The whipped cream and berries are plenty on their own, but I just adore that sprinkle of cookie crumbs. Not only do those crumbs add a little more flavor, but they're also a nice aesthetic touch.
The finished product is impressive looking without being difficult to make. It's just the kind of dessert to share at a summertime gathering with friends and family.
Find more cheesecake bar recipes in the Recipe Index.
Strawberry Shortcake Cheesecake Bars
Yield: 24 2-inch bars
Prep Time: 30 minutes
Cook Time: 22 minutes
Have your shortcake and your cheesecake, too, with these phenomenal Strawberry Shortcake Cheesecake Bars!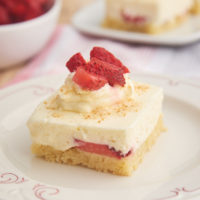 Ingredients:
For the pound cake:
1 cup all-purpose flour
1 teaspoon baking powder
1/4 teaspoon salt
1/2 cup unsalted butter, softened
1 cup granulated sugar
2 large eggs
1/2 teaspoon vanilla extract
For the filling:
8 ounces strawberries, cut into 1/4-inch slices*
16 ounces cream cheese, at room temperature
1 cup granulated sugar
1 teaspoon lemon juice
1 cup heavy cream
For serving:
1 to 2 tablespoons vanilla wafer crumbs
5 or 6 chopped or sliced strawberries**
Directions:
To make the cake:
Preheat oven to 350°F. Grease a 9″x 13″x 2″ baking pan.
Whisk together the flour, baking powder, and salt. Set aside.
Using an electric mixer on medium speed, beat the butter and sugar until light and fluffy. Add the eggs, one at a time, mixing well after each addition. Mix in the vanilla.
Reduce mixer speed to low. Gradually add the flour mixture, mixing just until combined.
Spread the batter in the bottom of the prepared pan. Bake 18 to 22 minutes, or until the edges are browned, and a pick inserted into the center comes out clean. Allow the cake to cool completely.
To make the filling:
Place the sliced strawberries in a single layer over the cooled cake.*
Using an electric mixer on medium speed, beat the cream cheese, sugar, and lemon juice until thoroughly combined and smooth.
In a separate bowl, use an electric mixer with a whisk attachment to whip the cream on high speed until soft peaks form.
Fold about a third of the whipped cream into the cream cheese mixture. Then, gently fold in the remaining whipped cream. Be sure not to overmix.
Spread the filling smoothly and evenly over the strawberries and cake. Refrigerate at least 4 hours before serving.
To serve:
Cut the chilled cheesecake into squares.
Add a dollop of sweetened whipped cream. Sprinkle a couple of pinches of cookie crumbs and add strawberries.
Notes:
*This amount of strawberries will make a single layer of berries that's not too crowded. If you want more or fewer strawberries, then just adjust to your preference.
**It's optional, but I like to sprinkle the berries for the topping with just a bit of sugar (1/4 to 1/2 teaspoon) to sweeten them up a bit. If you're preparing in advance, you can combine the strawberries with the sugar and store them covered in the refrigerator until you're ready to serve.