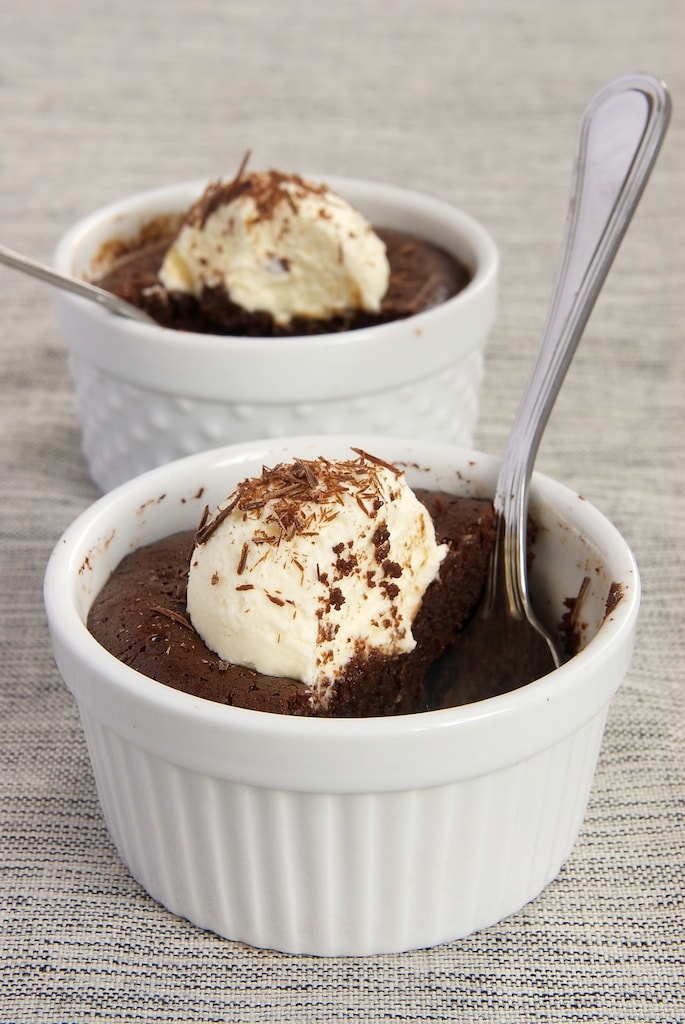 A couple of weeks ago, I told you that Quinn and I don't really celebrate Valentine's Day. We never have. But, I didn't tell you why we don't celebrate. Honestly, I was sparing all of you the eye rolls and gag reflexes.
So, here it is. We don't celebrate Valentine's Day because we don't need to celebrate it. We do plenty of sweet, thoughtful, fun things with and for each other all the time. Sorry, guys. Don't say I didn't warn you.
Anyway, while these little cakes might have been more appropriate to share with you leading up to Valentine's Day, I'm sharing them now because a) it seems wrong to hang on to them until next Valentine's Day and b) there are many other reasons to celebrate with individual chocolate desserts.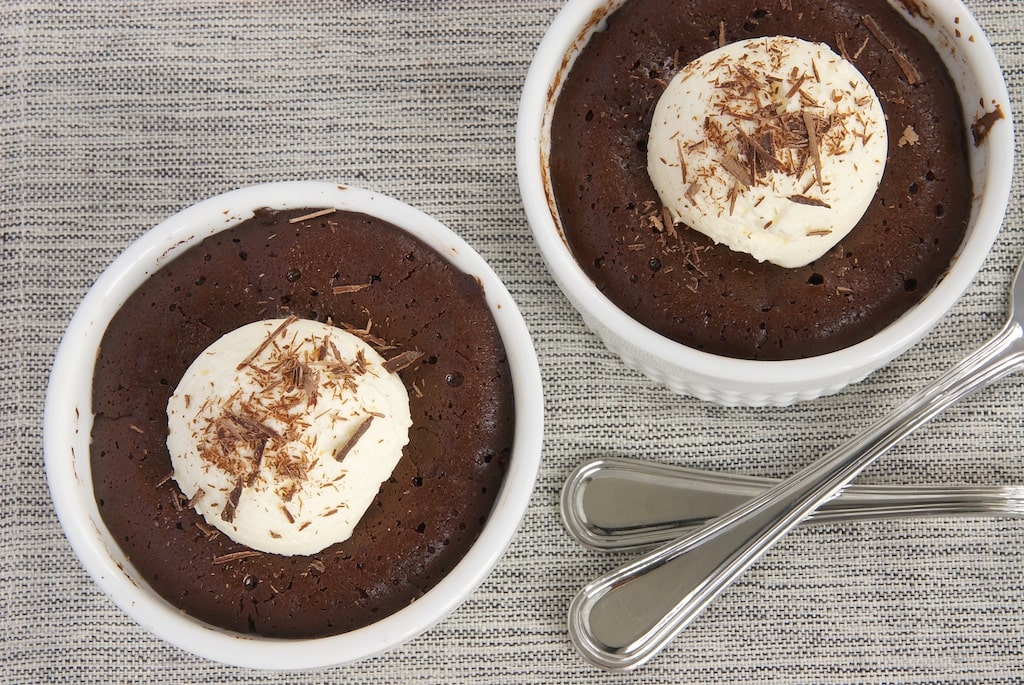 With all of that said, let's talk cake. Specifically, this kind of cake is one of my favorites. It makes no apologies for being all about the chocolate. It's rich and dense and just plain delicious.
I like to serve these still in their ramekins, although you can certainly remove them easily and plate them however you like. I highly encourage a nice dollop of sweetened whipped cream and maybe some chocolate shavings. Then, just grab a spoon and dig in.
While these are a perfect ending to a special meal-for-two, the recipe is also easily scalable if you need to make more for a small gathering.
Yield: 2 servings
Prep Time: 15 minutes
Cook Time: 25 minutes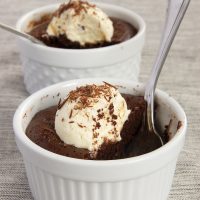 2 tablespoons unsalted butter, plus more for the ramekins
unsweetened cocoa powder, for dusting the ramekins
2 ounces bittersweet chocolate, chopped
1 & 1/2 tablespoons granulated sugar
1 tablespoon packed light brown sugar
1 large egg
1/2 teaspoon vanilla extract
1/4 teaspoon salt
sweetened whipped cream, for garnish
chocolate shavings, for garnish
Directions:
Preheat oven to 350°. Butter two 5- or 6-ounce ramekins. Dust with cocoa powder and shake out the excess.
Place chocolate and 2 tablespoons butter in a microwave-safe bowl. Heat at half-power in microwave in 30-second increments until butter has melted and chocolate melts when stirred. Stir until smooth. Set aside to cool slightly.
Using an electric mixer on medium speed, beat sugar, brown sugar, egg, vanilla, and salt until combined. Add chocolate mixture and mix until smooth.
Divide batter evenly between prepared ramekins.
Bake 20 to 25 minutes or until cakes are set.
Serve warm in the ramekins. Garnish with whipped cream and chocolate shavings.
This recipe was originally developed for Go Bold with Butter, where I am a paid contributor.