December 30, 2013
Pecan Pie Coffee Cake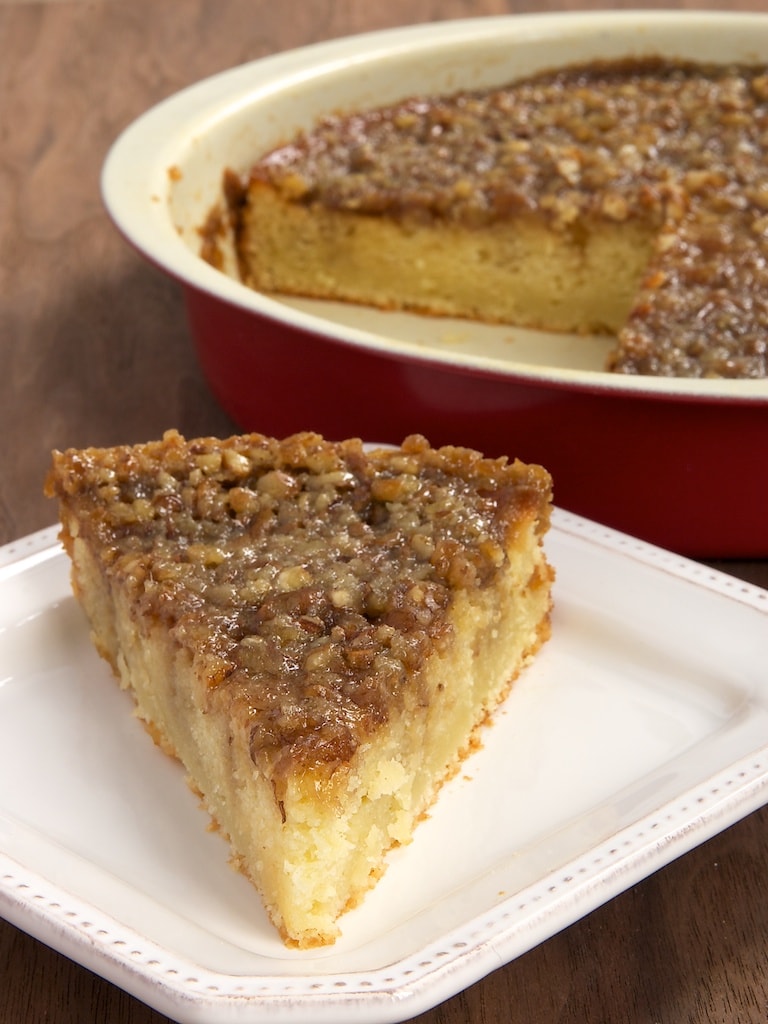 With all the baking I did leading up to Christmas, I took a little break for a few days to enjoy the holidays. I kinda figured you'd all be okay with a few dessert-less days from me.
Of course, it wasn't long until I couldn't fight the urge to get back to baking. So, I thought I'd ease us back in with a coffee cake. Those always seem so innocent to me. It is, after all, a cake designed to be eaten with an afternoon cup of coffee or for brunch.
This particular coffee cake may not be so innocent. You see, it's topped with pecan pie filling. So much for easing us back in, huh?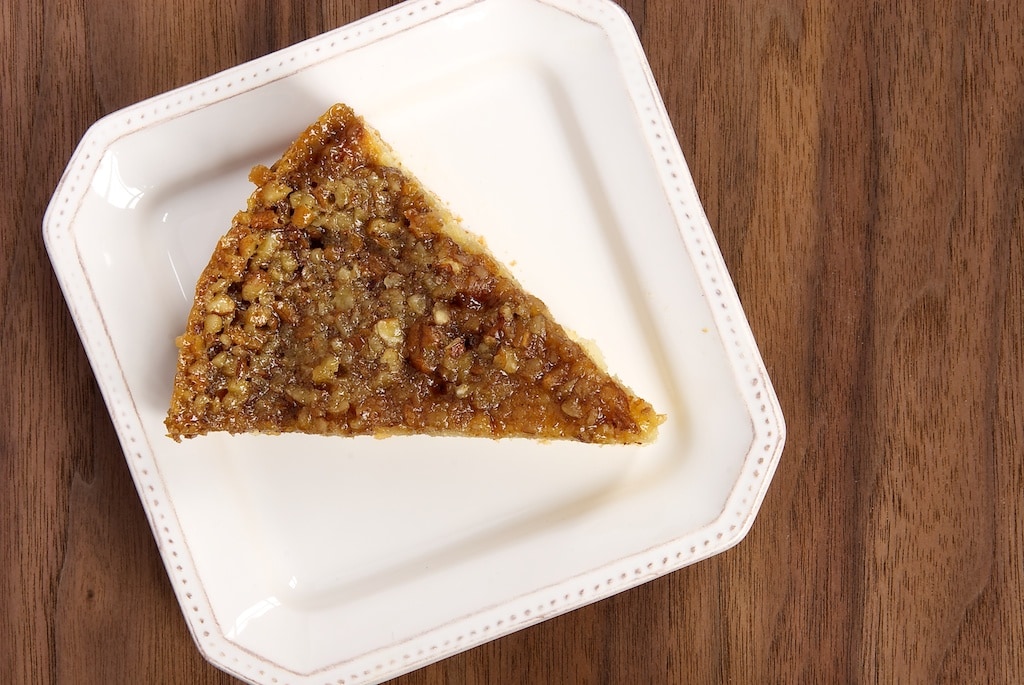 The cake itself is very good on its own. It's moist and flavorful and delicious. There is a little bit of cream cheese in the cake, and I'm always for that.
Then, there is the topping. After the cake is baked, poke lots of holes in the cake. Then pour on a gooey, nutty topping and let it soak into the cake. A little more time in the oven, and then there's a magical layer of pecan pie filling right on top, with a little bit soaked into the cake to make it even better.
Visit the Recipe Index for more coffee cake recipes!
Pecan Pie Coffee Cake
Yield: 10 to 12 servings
Prep Time: 25 minutes
Cook Time: 45 minutes
Pecan Pie Coffee Cake is a delicious cake with a layer of pecan pie filling right on top!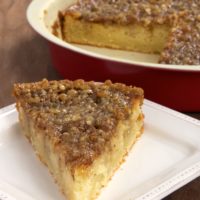 Ingredients:
For the cake:
1 & 1/4 cups all-purpose flour
1/2 teaspoon baking powder
1/4 teaspoon baking soda
1/4 teaspoon salt
3/4 cup granulated sugar
3 tablespoons unsalted butter, softened
2 ounces cream cheese, softened
1 large egg
1 large egg white
1 teaspoon vanilla extract
3/4 cup buttermilk
For the topping:
1/3 cup light corn syrup
1/4 cup packed dark brown sugar
2 tablespoons unsalted butter
1/3 cup finely chopped pecans
1 large egg, lightly beaten
pinch of salt
Directions:
To make the cake:
Preheat oven to 350°F. Grease a 9-inch round cake pan.
Whisk together the flour, baking powder, baking soda, and salt. Set aside.
Using an electric mixer on medium speed, beat the sugar, butter, and cream cheese until light and fluffy. Add the egg and egg white, one at a time, mixing well after each addition. Mix in the vanilla.
Reduce mixer speed to low. Add the flour mixture in 3 portions, alternating with 2 portions of buttermilk. Mix just until combined.
Transfer the batter to the prepared pan. Bake 30 to 35 minutes, or until a pick inserted into the center comes out clean. Set the pan on wire rack.
To make the topping:
Reduce oven temperature to 325°F.
Place the corn syrup, brown sugar, and butter in a large microwave-safe bowl. Heat in the microwave for 1 minute. Stir until the butter melts and the mixture is smooth.
Stir in the pecans, egg, and salt.
Use a wooden skewer* to poke multiple holes in the top of the cake.
Pour the topping over the top of the cake.
Bake for 10 minutes. Cool completely on a wire rack before serving.
Notes:
*Use a skewer with a larger diameter than a toothpick. The topping mixture is a bit thick and will need slightly larger holes to soak into the cake.