With Thanksgiving in the books, my thoughts are now firmly on Christmas baking. To me, that means lots of festive cookies and cakes and brownies and pies and such. But, really, it's all about the cookies.
Red velvet has become synonymous with the holidays. I'm sure these aren't the only red desserts you'll be seeing around the interwebs in the next few weeks. Red Velvet Cake is one of my favorite cakes, although I am pretty sure I've never made one. Note to self: Let's fix that one of these days. But, I digress….
With these cookies, you can enjoy all the flavors of classic Red Velvet Cake in a cute little sandwich cookie.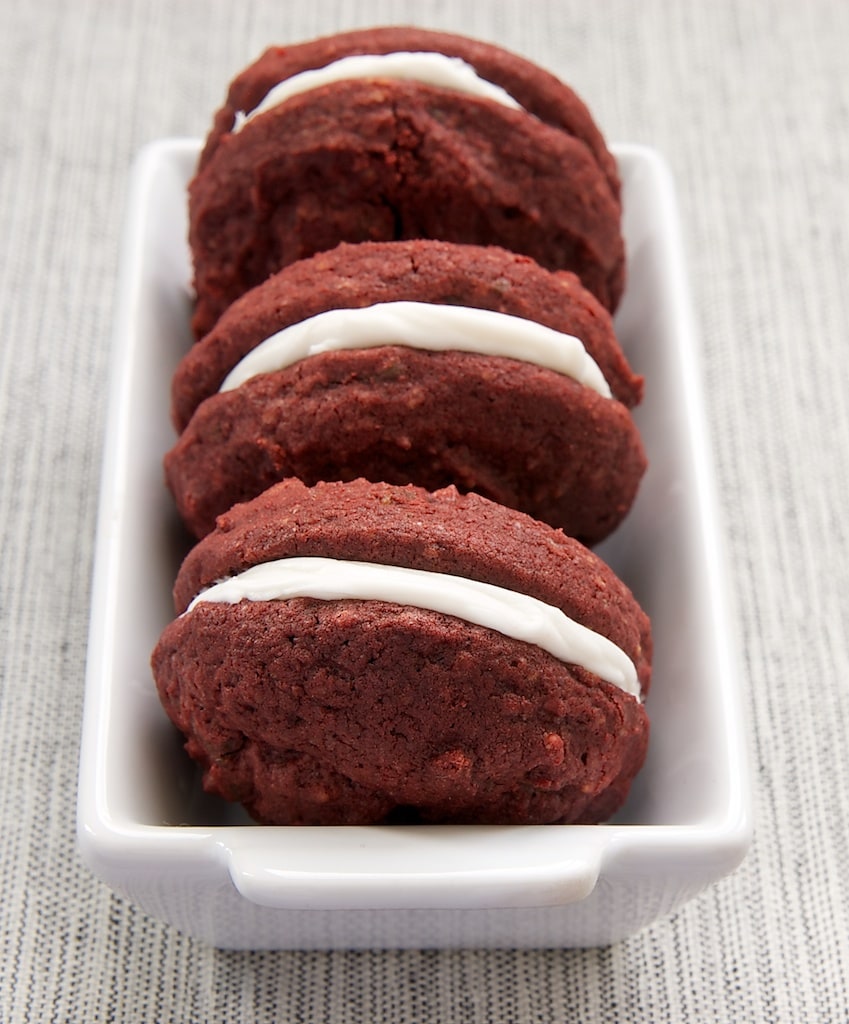 You may recall that I recently partnered with Betty Crocker to have some fun creating recipes using their new Betty Crocker-Hershey's products. I used their new Chocolate Chunk Cookie Mix, added a little cocoa powder and red food coloring for the cookies. Then, I sandwiched them around cream cheese frosting. The result is a compact and portable cousin of Red Velvet Cake!
These cookies are amazingly delicious. I don't often use cookie mixes, but I was quite pleased with this one. For another shortcut, you can use canned frosting. If you want to make your own frosting, I suggest this one.
I love how festive these are! I think they would be just lovely packaged for a holiday gift or on a cookie tray at a holiday party. Plus, using a cookie mix makes them a great quick treat.
For more recipes using Betty Crocker-Hershey's mixes, be sure to see these Cookies and Cream Filled Cupcakes and S'mores Swirl Brownies.
Disclosure: Betty Crocker provided me with products and compensation for recipe development. All opinions are my own.